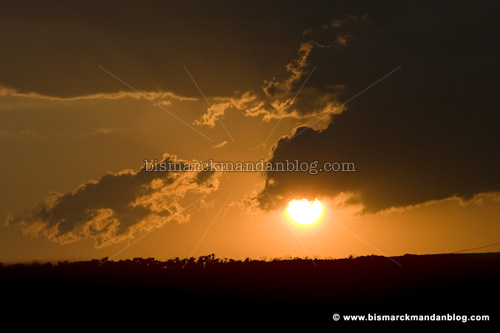 This was the scene as I headed out tonight, looking for some overdue sunset photos. At this point we were barely over a week since
the last supercell flew past Bismarck
, as documented in an earlier post. But oh, another one was on its way.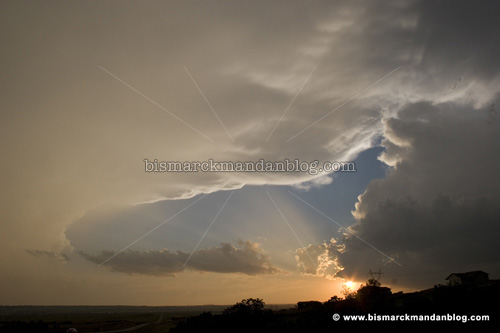 While running around with my boy this evening, I noticed a few key ingredients for some meteorological action: heat, humidity, and odd clouds, as shown above. As I ventured out in my truck, I noticed quite a few other people parked along the way, cameras in hand. I bet they got some great shots, but alas…none of them had my favorite vantage point!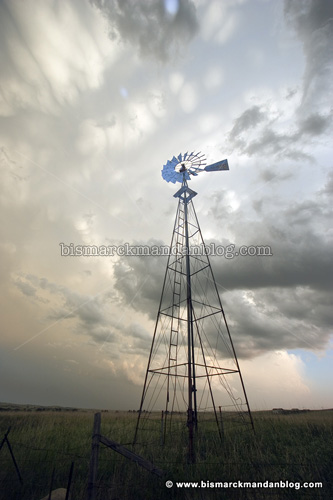 I ventured up to one of my favorite windmills to get a shot of the weird, marshmallow-like clouds that were hovering overhead. By this point already I could see that some damage was looming on the northern horizon.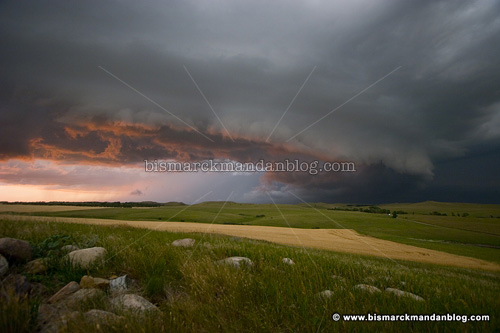 Here you can see the last remnants of the evening's sunset on the left, and the pure nastiness that was brewing on the right. This was a textbook supercell, just like last Saturday's, and it was on the move. Quickly. If you look closely you can see the headlights of a truck heading south in an effort to flee the storm. As they passed me, I realized two things: the storm was bearing down on me incredibly quickly, and I was a LONG ways from my truck.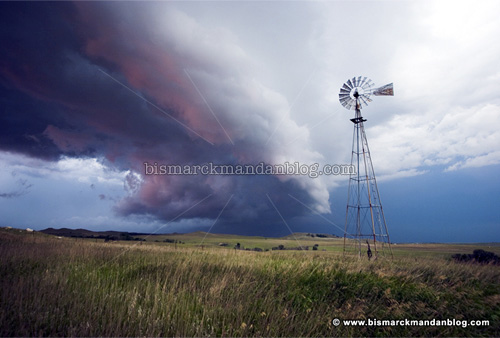 So there I found myself: on a hill, beneath a tall metal object, with a nasty storm overtaking me faster than I could ever hope to run. I'm sure after my post on homosexuality, there are plenty of people who would have liked to see some lightning enter this story, but such is not the case. This storm came so fast, I literally RAN, with my camera still on the tripod, toward the truck. I was past the rusty windmill when I heard a nasty, metallic sound. I whipped around to see that the wind had spun the head of the windmill around, and that's when the blast of cold wind hit me. It almost knocked me off my feet, but I have to admit the cold air felt good. So of course I took some pictures. Oh, come on…you would, too!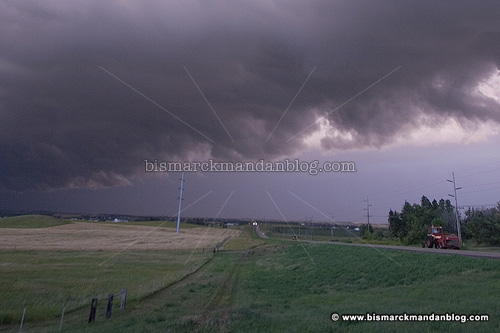 Then I REALLY dashed for the truck. I ran several different events in track back in high school, but none were this frantic. By this time the wind was almost pushing me over, and the rain was starting. I dashed to the truck, did a hasty
Rockford
after what seemed like an eighth-mile in reverse, then booked it back to town. I stopped along Highway 1804 to take this shot, then hurried back home. By this point I was seeing horizontal rotation on the leading edge of the storm, and some funnels dancing along the edge as well. By this point, however, it was obvious that the storm would miss Bismarck.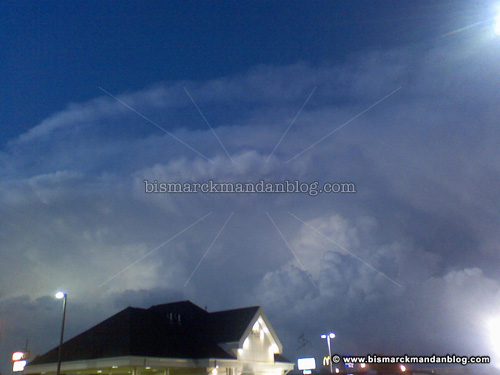 As I post this, I got this PIX message on my cellphone of the tail end of the clouds. Looks like quite a system! Once again I got an eyeful of a major storm development, a few pictures to boot, and managed not to catch a lightning bolt or a hailstone. People have told me that North Dakota thunderstorms are among the most beautiful of sights, and after tonight I think I'd have to agree.