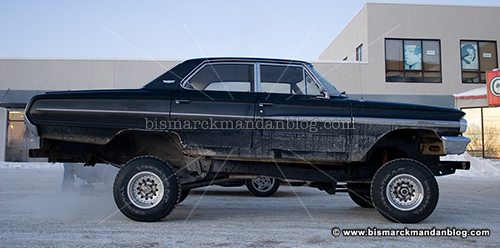 If you've read this blog for a while, you know that I take great amusement from seeing the different 4×4 creations and amalgamations that I occasionally spot around town. My boys and I were out in the truck tonight and spotted this creation just before sunset: a Ford Galaxie on a '79 Ford F150 chassis!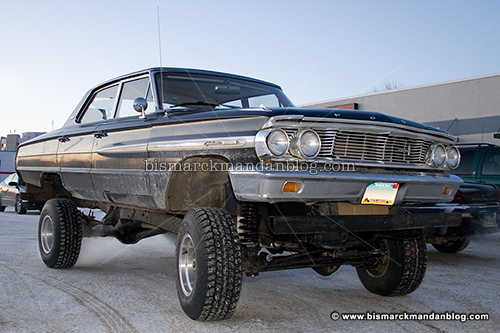 I got to talk to the owner of this beast for a minute, and he said that the transformation took a mere four days due to a lot of planning. It's a really nice piece of work, I must say. This creation was only recently finished, but I bet you'll spot it around town soon!
I'd say this whole homemade 4×4 thing is getting out of hand…but isn't that the point? I'd hate to discourage this kind of creativity and ingenuity. Besides, it's exactly the opposite of what liberals want us to do, drive silly little death traps in a vain attempt to "save" the planet they worship.
For any of you who haven't seen them all, here are a few of the other creations I've spotted in Bismarck-Mandan: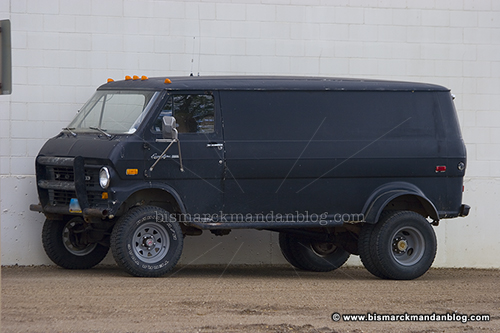 My boys and I spotted this rugged looking Ford Van conversion last year. Yep, it's a dually; it's got four tires on the back. I guess it's ready for some heavy cargo, since it can't pull a fifth wheel trailer. Interesting.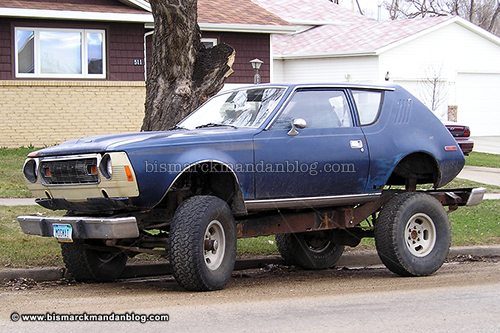 This little Gremlin conversion scores big points for the license plate: MOGWAI.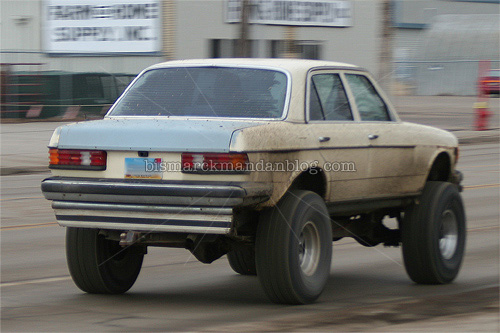 Nothing says class like a Mercedes sedan. Apparently if you don't like the ride height, it's possible to give it a little boost (along with some four wheel drive for good measure).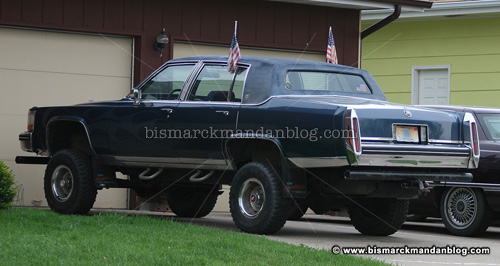 Equally classy is the Cadillac sedan, which happens to bolt on to a Suburban (by the look of things) chassis. The step rails are a bonus in my book. This is in the nicest shape of all the conversions I've seen.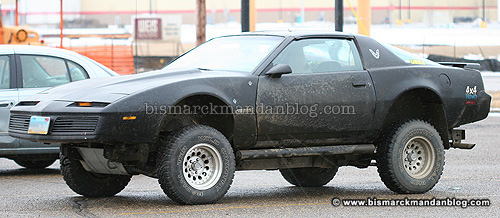 Knight Rider had a lot of gadgets, but I'm pretty sure that four wheel drive and a Vortec V6 were not among them. There's a ZR-2 model S-10 chassis underneath this Firebird.
There's one other 4×4 I haven't seen around here since the mid 1990s: a pinkish-red pearl El Camino, or possibly Ranchero, which was last seen on the used car lot at Cedric Theel. Who knows where it eventually ended up. If I spot that one, I'll count my collection complete. Of course, that's what I said before I saw the Gremlin.