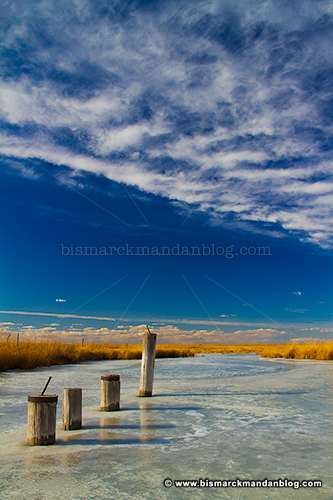 In February I posted this photo of some old bridge pilings sticking out of the ice southwest of Mandan. I liked the lines of the sky and progression of the height of the wood protruding from the ice, as well as the color. This was shot as part of a monthly photo contest themed "shadows." Shortly thereafter I decided to play around and came up with a couple of alternate versions.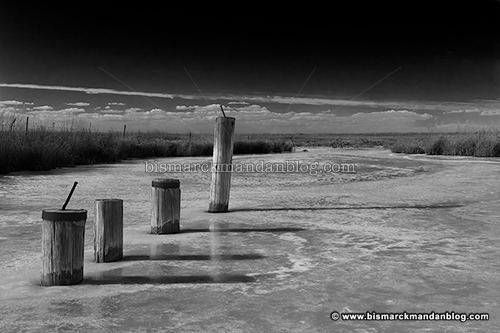 First, I thought I could better illustrate the shadows by converting to black and white. That made the sky look empty between the horizon and clouds so, in an effort to focus the eye more on the shadows of those wooden pilings, I decided to crop it to landscape proportions. It also allowed me to capitalize on the apparent emptiness of the distant sky.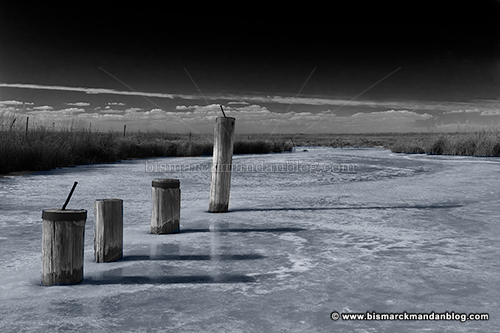 Then, to illustrate the cold of the ice a little more, I put a 12% blue overlay on it. I almost think that I was a bit too heavy-handed with the blue, since I'm going for a subtle effect, but here it is. While I maintain the bleak black and white look of the photo overall, I think it helps make the ice look even cooler than its surroundings. If not, it still allows the ice to stand apart from the rest of the photo.
Photography doesn't end once the shutter is clicked, or even once the photos are processed. Any photo can be revisited and cropped, processed, colored, or even manipulated in countless ways. That's part of the appeal for me. While I save the "manipulation" part for a select few photos, it is occasionally fun…as long as it's used stylistically and not deceptively. Photoshop is easily as fun as photography itself.