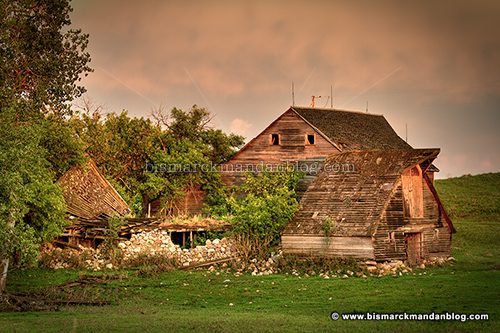 So there I was, blazing down a county road in the new truck, trying out the dynamic stability control from time to time (cool!), trying to reach the first of two abandoned prairie churches I wanted to investigate and photograph that evening.  As I dove through a valley I noticed this beautiful old farmstead nestled in the trees along a hill to the east.  Wow!  I just had to stop and shoot a quick shot from the road (I mark them in my hiking GPS for future reference).
As you can see in the background, the sunset was already starting to develop, splashing color across the sky.  I didn't have time to do this site justice, so I filed it for later and moved on…but I will definitely be taking another look at it in the future.  This breathtaking site has loads of potential!
Oh yes, the photos of the two churches turned out quite nicely.  You'll see those soon.