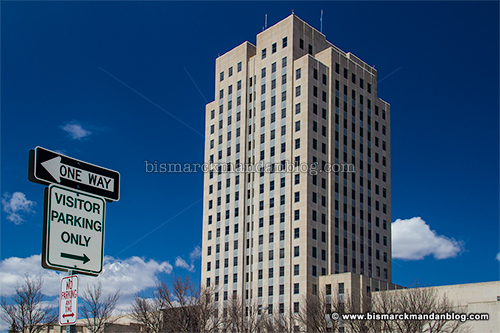 This sign could work well as a picture metaphor of the state legislature and property tax "reform". They're throwing hundreds of millions of dollars in "relief" at a problem which isn't inherently theirs.
- The state legislature doesn't assess property values;
- The state legislature doesn't levy property taxes;
- The state legislature doesn't collect property taxes...
And yet they've managed to not only tie the noose of public anger at property taxes, but they've also stuck their head in the loop and tightened the knot. Meanwhile, the culprits behind high property taxes at the county level get a free pass without any accountability.
I'd expect another Measure Two type initiated measure to appear on the radar soon. In fact, while I opposed Measure Two on the last ballot I would certainly vote for the abolition of property taxes in North Dakota. I just saw the bad mechanics of the last attempt and didn't want to put the state in a bind. If it had simply said "No governing entity may levy property taxes" I'd have voted yes. I imagine that a lot more people will be voting yes for whatever property tax measure hits the ballot, regardless.
I met one of my representatives for coffee back when Governor Hoeven got this ill-fated "reform" shell game started and pretty much predicted the debacle we're facing now. I warned that the legislature will assume responsibility for the tax & spend behavior of the counties, and will be the bad guys in the eyes of voters no matter what they can and can't do to relieve property tax burdens. Here we are.
Some days the legislature makes just about as much sense as the signs pictured above - and those signs would work even better as a descriptor of the failed transparency bills in this session, but I'm not going there...yet.
[ add comment ]
|
permalink
|
Click a dot to rate this entry:





( 4.6 / 12 )
---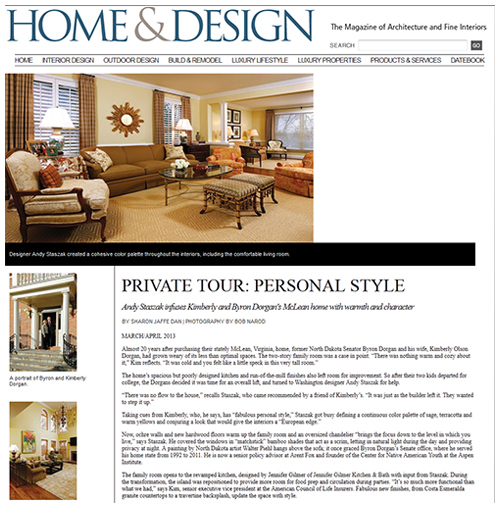 Now that he's no longer carpetbagging for a North Dakota senate seat, Byron Dorgan can finally be honest about where he's
really
lived for the last twenty years: Virginia.
The former senator's home has been featured in Home & Design magazine.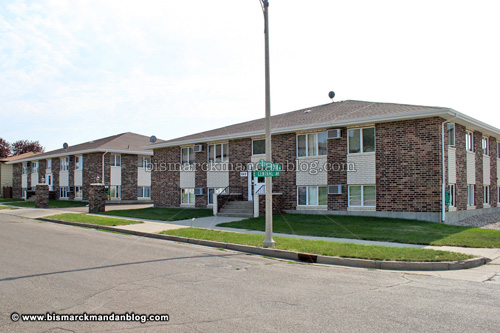 It may be news to you, but the meager apartment buildings above are where Senators Conrad and Dorgan
claimed
to live "on paper" so they'd be eligible to run for office as representatives of North Dakota. I lived in one of these buildings, and (if the Senators' appliances were the same olive green as mine) they were hardly what one would expect of a United States Senator. No worries, though...I never ran into either of them while living there, and I doubt these apartments were more than a technicality to facilitate their re-election. They are the addresses they used to claim residency.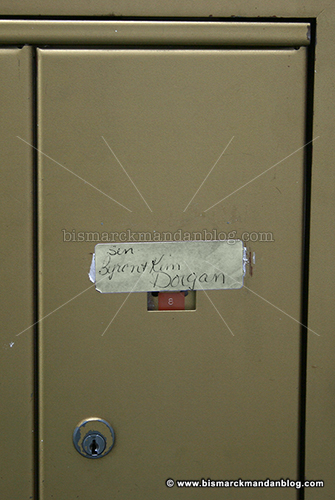 This ornate hand-written address label no longer exists, so I suppose the Senator and Kim have moved on. After all, there's no reason to have a North Dakota address anymore. Certainly these lavish accommodations in no way compare to their Virginia mansion.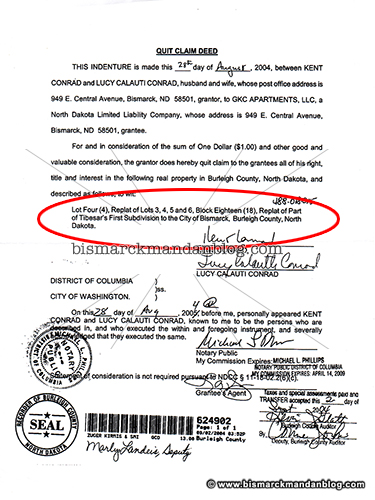 In case you're a new reader, you probably don't know that former senator Kent Conrad actually owns these two buildings via an LLC that he formed. If you only frequent North Dakota media, you probably don't know that Senator Conrad was under ethics investigation for a sweetheart mortage deal from Countrywide Financial on this property, which consists of sixteen units in two buildings, even though the company's policy for the rest of us is to finance nothing larger than a four-plex.
Democrats even went to the point of changing the locks on committee room doors to prevent Senator Conrad's conduct from being discovered!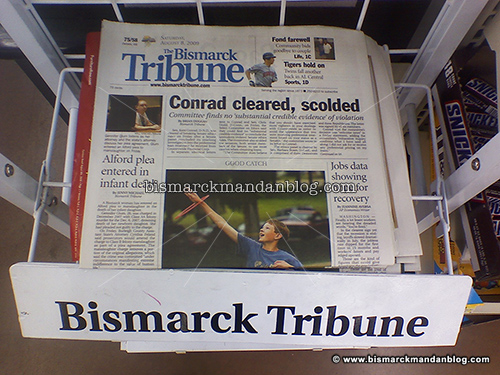 Isn't a corruption investigation involving a United States Senator from our state newsworthy? Apparently not. Oddly enough, KFYR/KXMB/WDAY seemed uninterested in this circus; same with the Tribune, Forum, or other state newspaper groups. In fact, this scandal didn't seem newsworthy to them until
after
a Democrat committee chaired by a co-conspirator let Kent Conrad off the hook. THEN it was front-page news. If I was an assignment editor or news director at one of these organizations, I'd be asking myself some tough questions after either missing this or willfully ignoring it. If some blogger with a few minutes of spare time and a Google search can come up with piles of relevant information but their newscasts and printed pages contained nothing, isn't that cause for a little self-examination?
Oh, and about Senator Gaylord "Kent" Conrad: don't think that he was left out of the "expensive east coast mansion" situation.
He has a million dollar house on a Delaware beach that didn't show up on his financial disclosure reports
.
I wonder if newly-elected "independent voice™" Heidi Heitkamp is paging through the real estate pages out there on the east coast?
[ add comment ]
( 3 views ) |
permalink
|
Click a dot to rate this entry:





( 3.5 / 201 )
---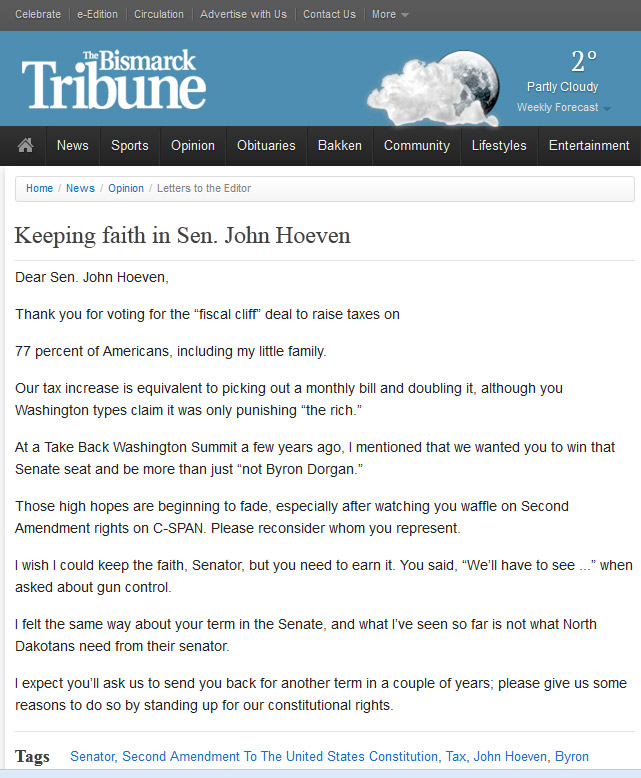 About a week ago a letter I wrote to the editor of the Bismarck Tribune was printed. In it I called upon Senator John Hoeven to back North Dakotans' view of gun control, reminding him to do more than just be "not Byron Dorgan." I just posted the video of that original exhortation a few days ago, so scroll down if you haven't seen it.
My writing style tends to be verbose at times, albeit not nearly to Clay Jenkinson levels, so I chose my words carefully. The original letter is posted below:
Dear Senator Hoeven,

Thank you for voting for the "fiscal cliff" deal to raise taxes on 77% of Americans, including my little family. Our tax increase is equivalent to picking out a monthly bill and doubling it, although you Washington types claim it was only punishing "the rich."

At a Take Back Washington Summit a few years ago, I mentioned that we wanted you to win that Senate seat and be more than just "not Byron Dorgan." Those high hopes are beginning to fade, especially after watching you waffle on 2nd Amendment rights on C-SPAN. Please reconsider who you represent: North Dakotans want no part of the gun control Senator Heitkamp's ilk are proposing.

I wish I could keep the faith, Senator...but you need to earn it. You said, "We'll have to see..." when asked about gun control. I felt the same way about your term in the Senate, and what I've seen so far is not what North Dakotans need from their Senator. I expect you'll ask us to send you back for another term in a couple of years; please give us some reasons to do so by standing up for our constitutional rights.
I've seen longer letters to the editor, so I figured that I was within limits and likely to see my entire letter printed. So it was, minus one line inconvenient to North Dakota Democrats:
"North Dakotans want no part of the gun control Senator Heitkamp's ilk are proposing."
To whom am I referring? It could be the North Dakota Democrats who introduced their own weapons and magazine ban legislation in the state legislature this session:
House Bill 1415
and
House Bill 1416
(click on them to read the text in PDF format on the legislature's website). These bills have since been yanked without discussion to avoid embarrassing Democrats.
On the national stage, who is it that's talking about "gun control" (actually "people control" if they're honest)? Democrats.
Who's been quoted as saying that the American people need to be "brainwashed" when it comes to guns? Attorney General Eric Holder, a Democrat.
Who has said, "If I could have gotten 51 votes in the Senate of the United States, for an outright ban, picking up everyone of them (every gun) Mr. and Mrs. America, turn 'em all in. I would have done it"? Senator Feinstein, a Democrat.
Who is taking to the stages across America and lecturing us once more on what we "need" - this time for hunting? Democrats.
Senator Heitkamp herself has had to perform an intricate dance in order to placate the fringe groups who helped her win her Senate seat as well as her party masters in Washington, DC who want to charge full-tilt toward gun control...all while trying to cling to the "independent voice for North Dakotans" mantra on which her campaign was based within our state's borders. If she wants help from the Democrat National Committee in another five years, she'd better deliver on the liberalism. Doing so will remind North Dakotans what happens when you send another partisan leftist to DC our behalf.
Given the fact that Heitkamp's support came largely from out-of-state organizations seeking to enforce a Democrat majority in the Senate, I expect her loyalties to continue to lie with those whose values oppose those of North Dakotans, as do the loyalties of Democrats even within our own legislature. For some reason, making even a passing remark about this association is too much for the Bismarck Tribune to let slide.
[ add comment ]
( 1 view ) |
permalink
|
Click a dot to rate this entry:





( 3.1 / 137 )
---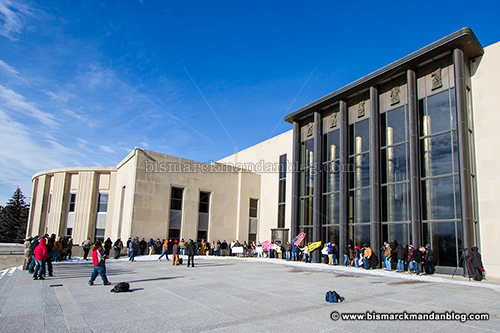 Saturday was cold, and Saturday was windy...but that didn't stop patriots from arriving and speaking up for their freedoms guaranteed by the Second Amendment. Many huddled as close to the capitol as possible to escape the biting wind, which the National Weather Service reported as sustaining 26 mph with gusts to 44 mph for the hour. Brrrr. The wind actually blew my lens cap all the way across the steps.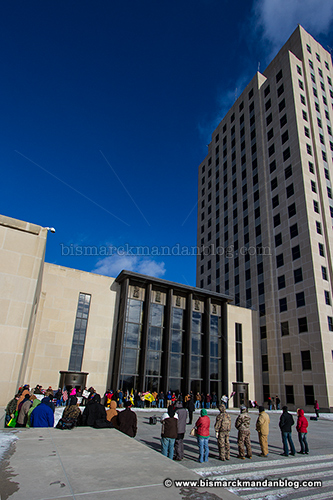 One thing that nobody talks about in regard to these rallies held by conservatives groups such as as the TEA Party, Guns Across America, or others: we've co-opted one of the left's biggest tools and turned it back on them.
Remember when any ragtag bunch of hippies would get together for some sort of cause, and the media would be there to inflate their numbers and use it to try to sway public opinion? Well, now your average everyday Mom and Pop are there, they strike a clear contrast to the filthy and disrespectful "Occupy" movement, and they're showing up in even greater numbers.
The same media used to try to minimize these rallies and their numbers or ignore them altogether, but both local TV news teams and the newspaper were there on Saturday. It's getting harder and harder to ignore the fact that people who were content to just live their lives as everyday Americans are sick and tired of having liberal progressives intrude further and further into their lives every day.
The brisk North Dakota winter air wasn't the only wind blowing this weekend. The winds of renewed patriotism and an awakened electorate are sweeping the country as well, and I believe we've got what it takes to sweep away the bogus, counterfeit Hope™ and Change™ that are threatening our nation.
[ add comment ]
( 2 views ) |
permalink
|
Click a dot to rate this entry:





( 3 / 132 )
---
CSPAN has put together remarks by Senator "Not Byron Dorgan" on the upcoming assault on the Second Amendment:
and:
Pretty wishy-washy and non-specific. What I'm looking for is, "My constituents are firm in asserting their rights under the Second Amendment of the Constitution of the United States, and as their duly elected representative in the Senate I plan to stand by and fight for their convictions on the chamber floor."
Instead we've got a big question mark hanging over us. What will we get in return for sending Governor Hoeven to the United States Senate?
[ add comment ]
( 2 views ) |
permalink
|
Click a dot to rate this entry:





( 3 / 96 )
---
| 1 | 2 | 3 | 4 | 5 | 6 | 7 | 8 | 9 | 10 |
Next>
Last>>