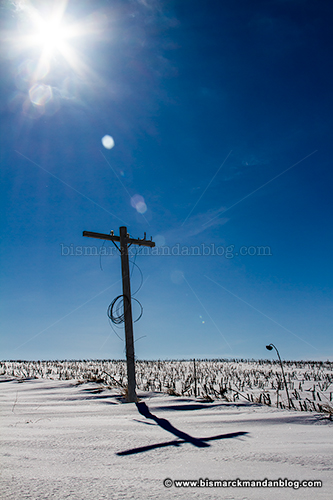 While on the way back from a photo shoot last Friday I stopped to check out an interesting former Cold War site near Regan, North Dakota. On the way I spotted one of those things that seems to just jump out at me: a disconnected power and/or telephone pole.
Combined with the angle of the sun and resulting shadow, the brilliant blue sky, and a few J.J. Abrams-style lens flares, and I had a nice little souvenir of my trip to bring home to Photoshop.
[ add comment ]
( 4 views ) |
permalink
|
Click a dot to rate this entry:





( 3.5 / 172 )
---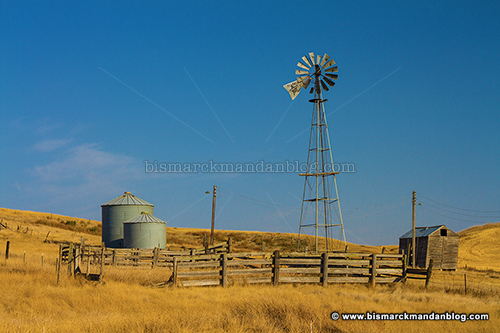 Because I can tie an old windmill to just about anything, here's a shot of an old abandoned farmstead that I located just south of Watford City on Highway 85. There...I think I've made my rustic windmill photo quota, so here's my interesting story about the past several weeks in Bakken Country.
We've all heard the horror stories about the Wild West: the crime, the traffic, the overcrowding. I don't doubt that many of those growing pains, and many of the reports thereof, had basis in fact. Oil production in Bakken country has slowed somewhat recently for a number of reasons, and perhaps that's why my experiences there departed slightly from the tales.
My first impression of Williston was that sure, it was crowded with heavy traffic...but their equivalent of State Street, the divided Highway 85 that runs north out of town to Highway 2, was completely closed down on the southbound side for resurfacing. Of course it would be crowded with half the roadway available. In fact, I was able to get served faster at McDonald's in Williston than I have been in Bismarck lately. While working with the security manager at the facility I was in, he gave the following advice: "Oh, sure...it's not so bad here. But you should see Watford City!"
The very next day I found myself working in Watford City. I needed some accessories to build some 50 amp power cables, so I stopped in at the RV store located at the busiest intersection Watford City has. I noticed that I had no problem getting in/out of his parking lot onto Highway 85, despite a lot of traffic. It just wasn't as bad as I'd been told. "Oh sure," said the owner. "...it's not so bad here. But you should see Williston!"
Now just a doggone minute here. The person I spoke to in each town thought the other one was the madhouse. In neither case did I see the kind of problems that I've heard so much about. Of course I'm sure traffic gets insane when there's a blockage on the road...but I have spent dozens of hours on the road in northwestern North Dakota and never experienced any such issues. I'm not saying they don't exist, I'm saying they're not a 24/7 phenomenon.
I know that the medical system and first responders are overwhelmed in the area. I acknowledge that many aspects of life have seen great upheaval since the boom took hold. What I suspect happens, however, is what I call
"REO Speedwagon Syndrome": the tales grow taller on down the line.

By the way, if infrastructure is so far behind, and they can't afford to catch up, then
why in the world is Williston breaking ground on a $70 million recreation center?
Is that the greatest need, or do they simply have a fetish akin to the Bismarck City Commission's? I think it hurts their cause when they claim they can't keep up with critical needs but they certainly have more money than you or I will ever see to start building indoor pools.
Of course my limited time up there didn't give me the chance to see the whole picture. Again, I acknowledge the upheaval northwestern North Dakota has experienced. I also acknowledge that we can't believe everything we hear about the Bakken boom without experiencing at least a little bit of it for ourselves.
[ add comment ]
( 3 views ) |
permalink
|
Click a dot to rate this entry:





( 3 / 138 )
---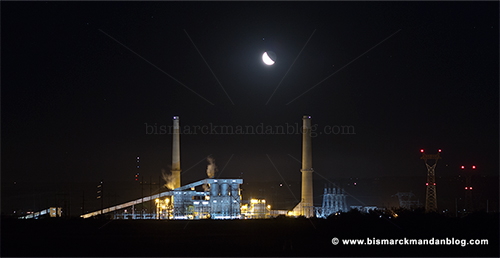 I couldn't help but give a little tribute to the 80s band with the title of this post. It's relevant, after all; a power plant can be described quite simply. Despite all the wires, pipes, belts, machines, and computers, the purpose of a power plant is to make steam. The steam turns a turbine or two in order to generate electricity, but all the complex and massive functions of the plant essentially exist to make water really, really hot.
I was on my way to the Harmon Lake area to see if some astrophotography was in order when I spotted this view of Heskett Station. I pulled over at the nearest approach, took the Hoof Express back to a good camera location, and snapped a few shots. The moon was in just the right spot, and so was I. From there it was only a short hop north to Harmon and the decision that Saturday night was far too cold for this would-be photographer to be standing outside in a hoodie and light jacket. Thanks to the view above, though, I didn't come home empty handed.
[ add comment ]
( 4 views ) |
permalink
|
Click a dot to rate this entry:





( 2.9 / 170 )
---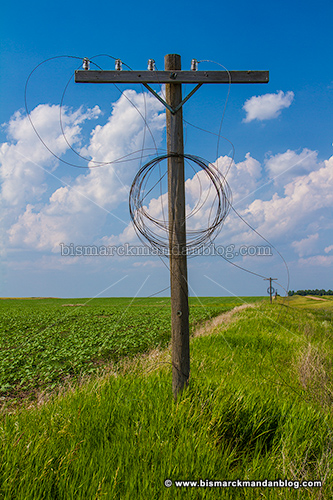 Looks like the end of an era along this stretch of road near Regan. These wires have actually been disconnected for a while, but this is the best opportunity I have had to stop and get the right photo of them. The sun, sky, and green fields were all in perfect form for this shot, and I was there on one of the motorcycles with a camera to take advantage of the good fortune!
Here's one for you: even those these lines have clearly been in place long enough to perform their intended service to the point of becoming obsolete, there are still federal subsidy programs in place from the 1930s to provide telephone and electric connections to rural areas. Once a federal program like that comes to life, look out: you're probably going to pay for it forever.
[ add comment ]
( 4 views ) |
permalink
|
Click a dot to rate this entry:





( 3 / 98 )
---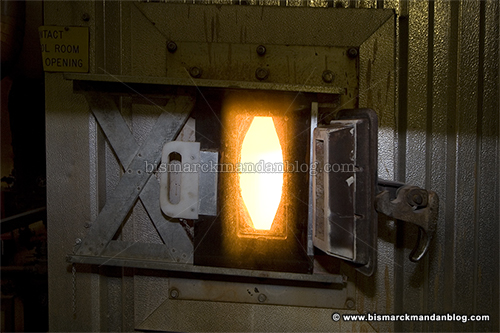 This is a view that few people get to see. The glowing red on the other side of that smoked glass is a vortex of 1,000 degrees Fahrenheit reaching over two hundred feet high. It burns powdered coal which has been cleaned and dried, making it a very efficient and clean source of power. And it's right here in North Dakota. You could put the state capitol building inside this boiler!
When you hear about "clean coal technology" you should note that North Dakota is pretty much the epicenter of innovation. At this particular power plant, by the way, over $200 million has been spent over the past thirty years on development of environmental technology. New processes have been brainstormed here that are of interest to power generation companies all over the world!
By the way, April 22nd is called "Earth Day" by some. This day was so named in order to fight global cooling back in 1970. That should tell you right there how much credibility the global
cooling
warming
climate change movement has. Add to the mix the fact that
it falls on Lenin's birthday
and mounting evidence that the "environmentalism" movement is merely a home for displaced socialists, and it all starts to make sense. After all...no matter what manifestation of global weather crisis is used to incite panic, the ONLY purported solution has always been global socialism.
Back to the photo. The power coming from plants like this powers homes, businesses, hospitals, schools...you name it. It provides life-saving heat in the winter and cooling in the summer. It powers information technology, life support systems, manufacturing, and who knows what else. Yet there are those deranged individuals who wish to vilify the energy industry and treat such technical innovation with disdain. They're truly detached from reality and I welcome them to relocate to a third world country if they find nobility in primitive living.
Incidentally, the Bible talks of people who worship creation rather than the Creator in Romans chapter 1. This is nothing new. Actually, the people pushing this climate agenda wouldn't be pushing it at all if the solution wasn't global socialism. That's why I choose to have a
Festivus
of sorts, one that recognizes the value of the technology and innovation that makes this country great. I'm not the one who brainstormed this answer to Earth Day, but I am certainly on board. Happy Industrial Revolution Day and/or Romans Chapter 1 Day!
[ add comment ]
( 10 views ) |
permalink
|
Click a dot to rate this entry:





( 2.9 / 352 )
---
| 1 | 2 | 3 | 4 | 5 | 6 | 7 | 8 | 9 | 10 |
Next>
Last>>