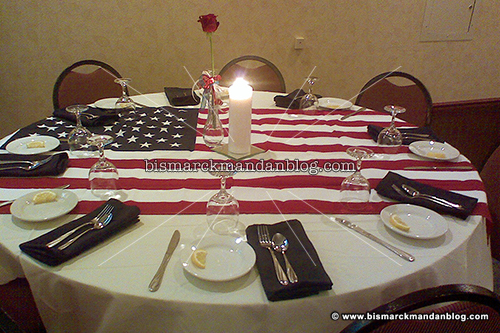 At the state EMS banquet last spring, a table of honor was set for those first responders who lost their lives - some in the act of protecting or assisting others.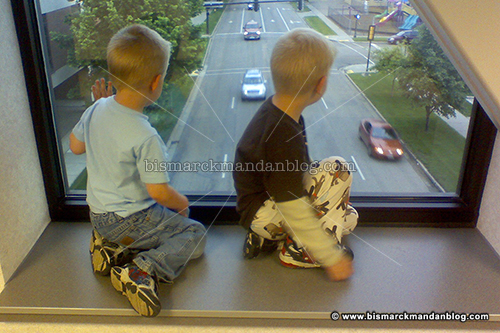 When you're a little boy, watching cars go under the skyway can be entertaining for a long, long time. Especially if you count the yellow ones.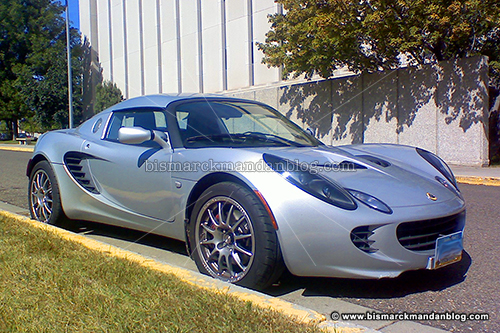 A trip to the capitol over lunch brought a surprise discovery - a Lotus! I've driven one of these many times...on my Xbox.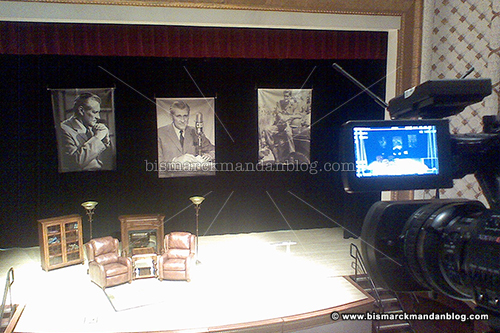 Shootin' the Eric Sevareid Symposium at the Belle Mehus. I made the DVD set of the keynote and other festivities from the week. Everyone apparently tried to ignore the fact that participant Dan Rather used forged documents to try to affect the outcome of a presidential election when he was CBS News' anchor.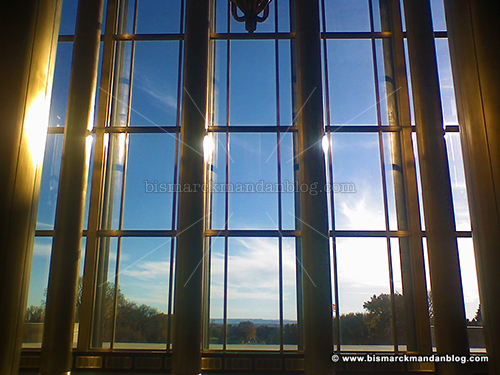 The Great Hall of the capitol. Soon there will be an enormous Christmas tree here.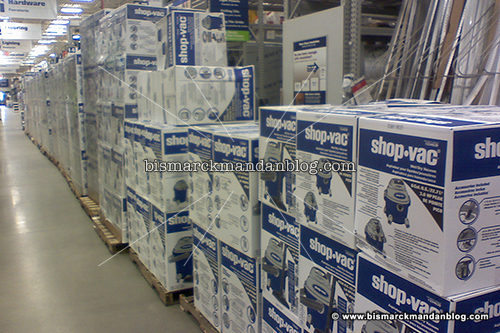 Lowes was ready with plenty of Shop Vacs after the flood.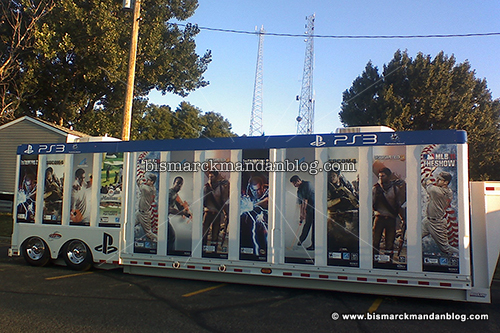 The Playstation 3 truck was in town, its driver apparently staying at the Kelly Inn.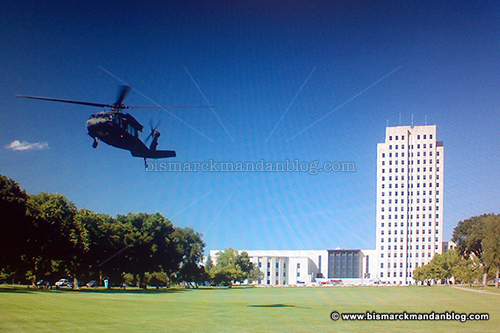 It's not every day you see a Blackhawk helicopter buzzing the lawn of the capitol mall. It's even rarer to be standing beneath it!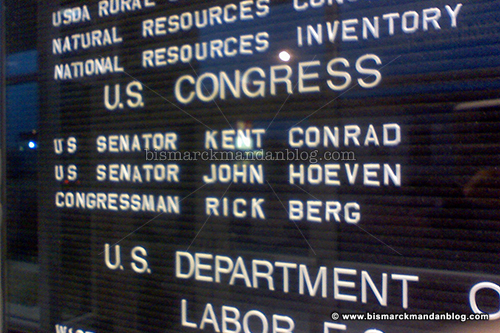 Two down, one to go.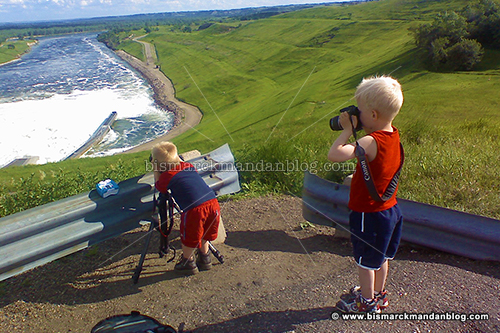 My little boys are absorbing their Daddy's love of photography. Their toy cameras are starting to bore them; they more frequently ask to use one of my "big cameras."
[ add comment ]
( 5 views ) |
permalink
|
Click a dot to rate this entry:





( 3.2 / 147 )
---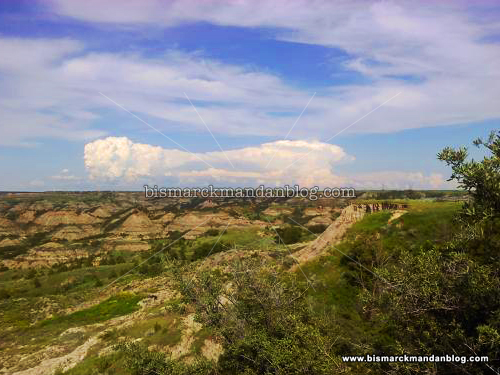 You know you're getting pounded with serious thunderstorms when your friends send you pictures of them from
MONTANA
!
[ add comment ]
( 2 views ) |
permalink
|
Click a dot to rate this entry:





( 2.9 / 249 )
---

Click the image for the full size version
I set out before sunrise with my camera today, logging about 150 miles of rural roads and a LOT of trudging through the snow with my gear. I got a lot of great shots, but this actually came from my cell phone late in the day. Upon my return home early this afternoon, I ditched the camera bag and took my little boy outside to build a snow fort. Once that was satisfactory, we went to Tom O'Leary hill for some sledding. One last stop at the airport to watch a jet take off, and we were set for home. That's when I noticed the really cool sunset. All I had was my cell phone, so I did the best I could and headed for home base. I've got both toddlers bathed and in their pajamas, and they get to watch a Thomas the Train movie tonight. What a satisfactory day, and I haven't even had a chance to look at the photos I took earlier!
[ 1 comment ]
( 20 views ) |
permalink
|
Click a dot to rate this entry:





( 3.1 / 338 )
---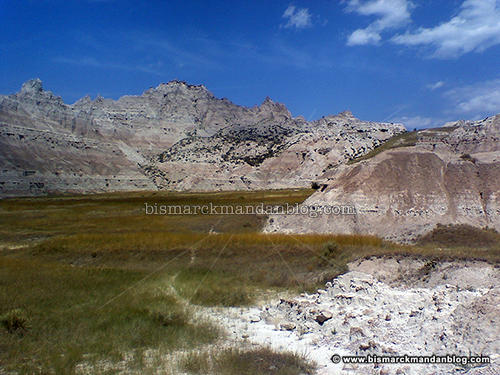 This is a picturesque section of the Badlands National Park near the entrance in Cactus Flats, South Dakota. Right after this a wind storm blew in that literally ripped campers and motorcycle trailers apart on the interstate as we drove toward Pierre! I have pics of those, too.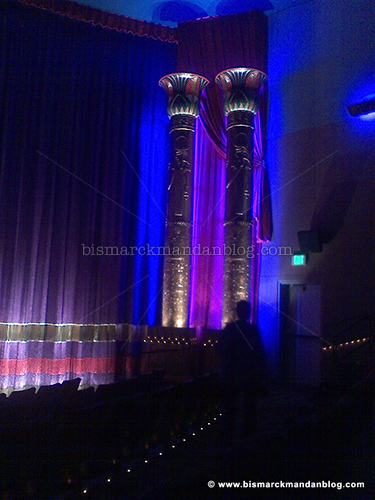 Eight bucks is just too darn much for a movie ticket, but if you're going to spend eight bucks it had better be at the Grand Theaters. At least they built a facility that gives me the impression that they value my eight bucks. They make going to the movies an experience.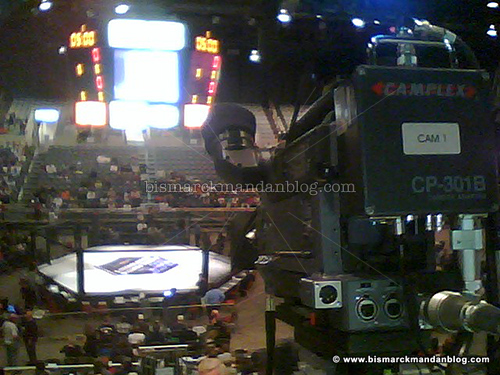 I ran top camera as well as ringside camera for the Mixed Martial Arts thing that came to town. It was quite a ride. Two heavyweight fighters rammed into the chain link wall of the Octagon so hard that it bowed out far enough to bonk my video camera! Thankfully the viewfinder didn't give me a black eye...we'll save those for the guys
inside
the ring.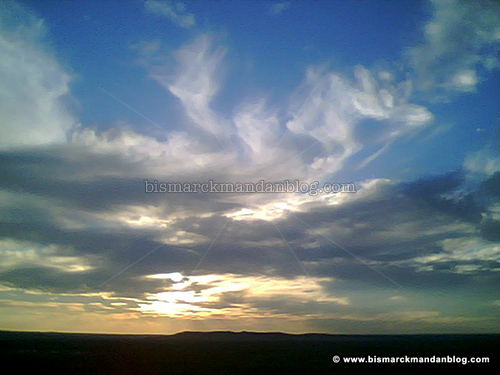 North Dakota continues to have the best skies. Of course, I give all the credit to the God who created them for His pleasure (Revelation 4:11).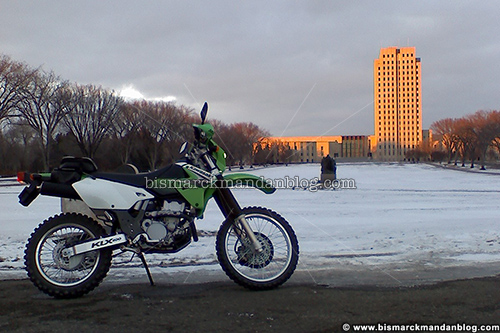 A couple of Christmases ago I was able to ride my motorcycles and document the occasion. It was a little icy in places but that's no problem.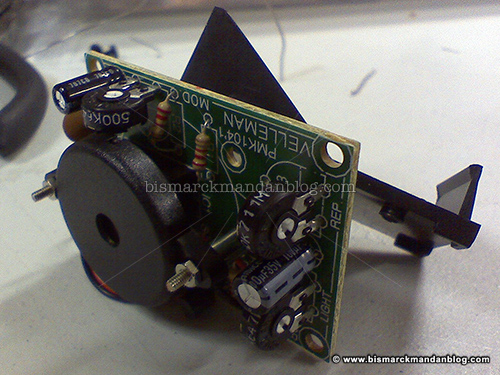 I built this little electonic "cricket" that chirped until it sensed light. I then deposited it at a friend's house, who proceeded to check all his smoke detectors and stuff like that before finally discovering it. I score myself pretty highly on this one, but the victim is actually the guy who gave me the idea when he built one a long time ago to use on our coworker. Things came full circle for him, and now I'm the one watching my back!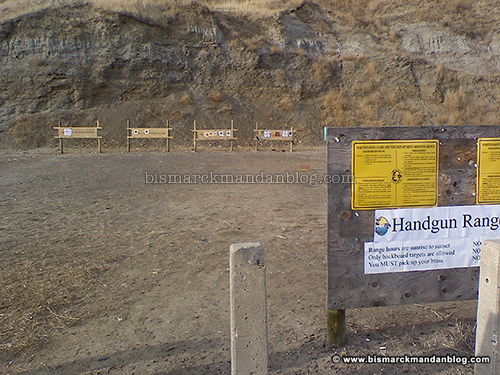 Of course I've got to have a picture from the handgun range. I don't spend nearly as much time here as I did when I was young and single, but I'm still quite handy with a pistol.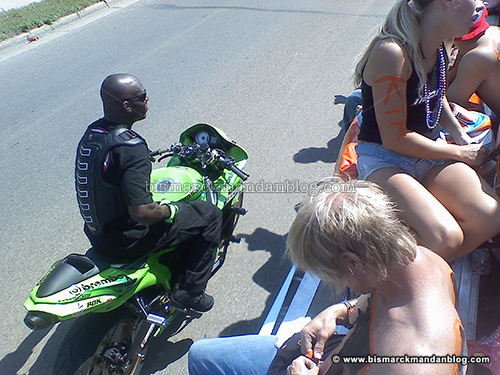 I did lots of photography for the event when Jason Britton (of "Superbikes" on the Speed Channel) came to town. He and his buddy Tony did lots of stunts during the July 4th Parade last year and I was along for the ride. This is after the parade, riding the Cycle Hutt float back to the shop with Jason. That's Amos (of the 5-Oh variety) in the foreground.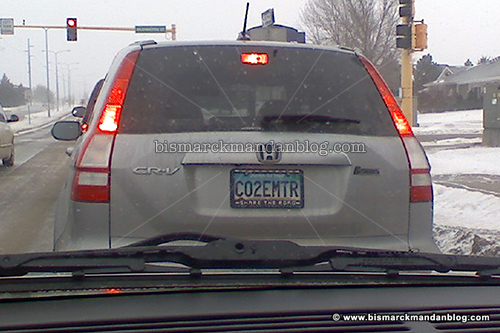 I'm all for a funny license plate; I've had a few myself! Guess what? We're
all
CO2 emitters. Climate change is a hoax. And some people are able to have a sense of humor about it. Good on 'em.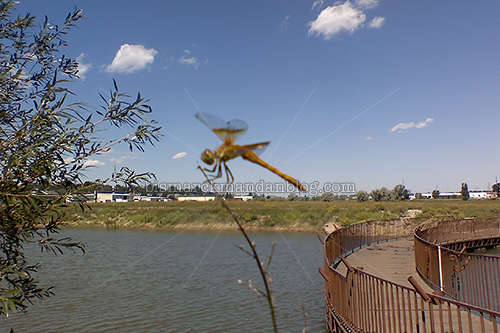 The Red Dragon. No, I'm not referring to the Thomas Harris novel. This particular dragonfly stood so still at the Game & Fish Headquarters OWLS lake that I was able to take pics with my camera
and
my phone.
That almost exhausts my noteworthy cellphone photos. Almost As luck would have it, interesting and quirky things present themselves to me on a daily basis (especially the mirror) and I try to capture them the best I can. More to come...
[ 3 comments ]
( 27 views ) |
permalink
|
Click a dot to rate this entry:





( 2.9 / 310 )
---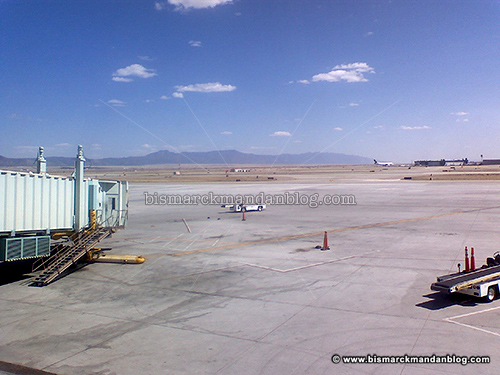 Waiting to fly home from either Albuquerque or Vegas, I can't remember which. They were both grueling (but rewarding) video shoots.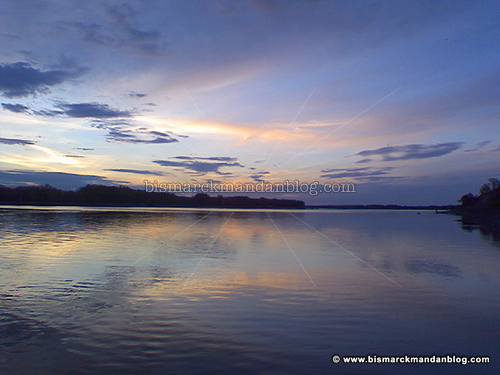 Missouri River, anyone?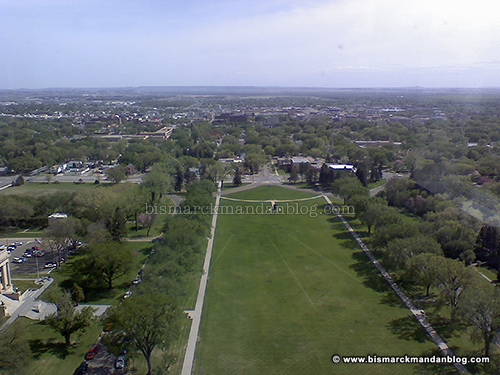 The view from atop the North Dakota State Capitol. This is from the 18th floor but I've shot from the roof a couple of times, too.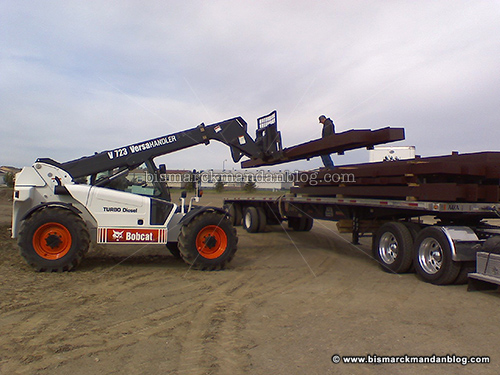 I had so much fun unloading these steel beams, but it was STRESSFUL! At times I had stacks of five or six beams on the forks. It was both fun and terrifying to lift those huge chunks of steel and try not to drop any. We unloaded SIX trucks full of steel without incident. Bobcat makes an amazing machine.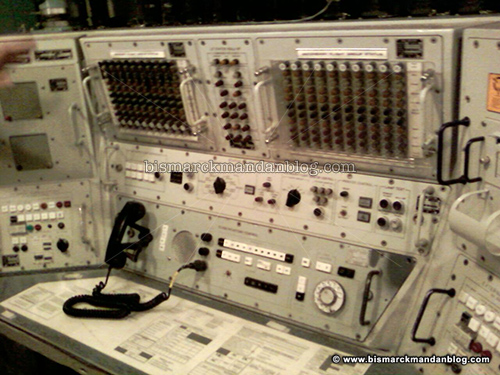 The missile control panel of a Minuteman I launch control facility.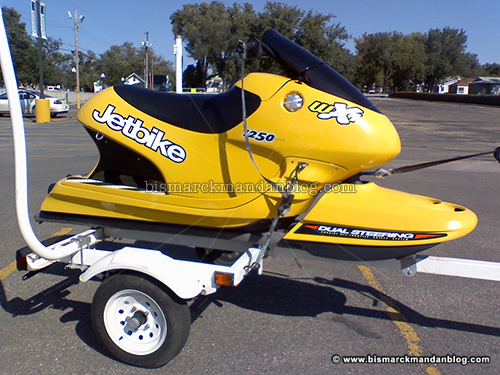 I spotted this parked near north 9th Street. Pretty neat, huh? It's made by a company called Aquajet.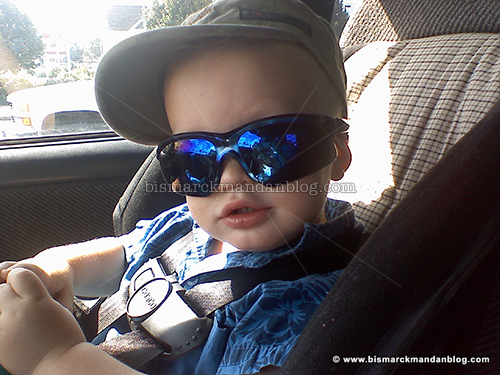 My one year old, sportin' a pair of Daddy's sunglasses while out on an adventure with me in the truck.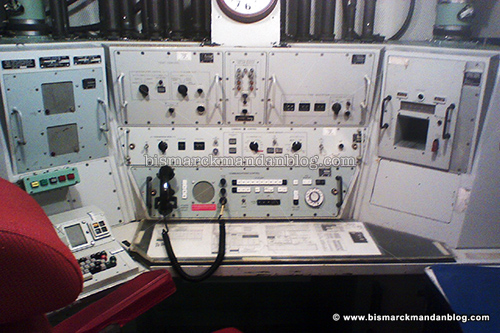 The communications panel of a Minuteman III launch control facility.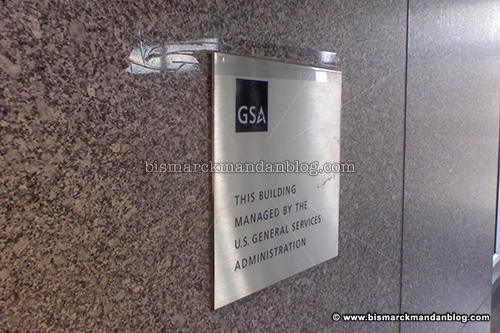 Yep, I just reposted this picture earlier. It's a "government fix" at the federal building on 3rd and Rosser.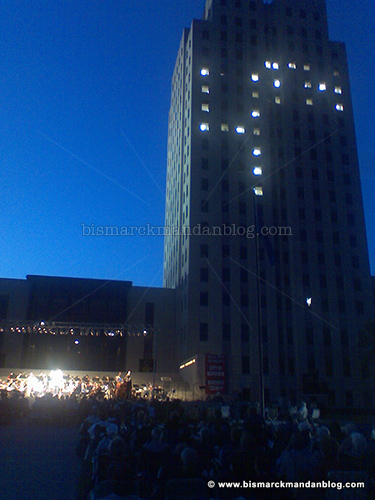 The Bismarck-Mandan Symphony performed for the Independence Day celebration festivities at the ND State Capitol. One of my photos of this event with my "real" camera was a winner in the Governor's Photo Contest this year.
I don't consider myself an old person, but I remember rotary phones. I became a teenageer in the early 1980s, when technology really started to take off. In just the short time of my teens I saw the Walkman, the cordless phone, the CD player, the cellular phone, and many other inventions become reality. Now I've got a phone the size of a Snickers bar that can take amazing photos and send them to whomever I choose. Ain't technology grand? Of course, I'm still waiting for my flying car.
[ add comment ]
( 5 views ) |
permalink
|
Click a dot to rate this entry:





( 2.9 / 239 )
---
| 1 | 2 | 3 | 4 | 5 | 6 | 7 | 8 | 9 | 10 |
Next>
Last>>