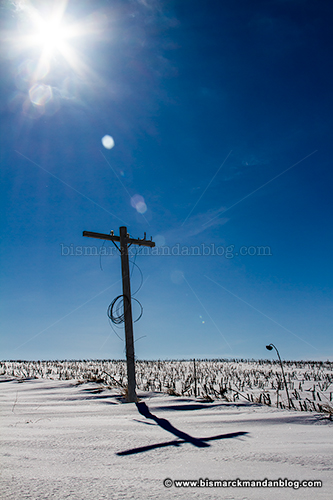 While on the way back from a photo shoot last Friday I stopped to check out an interesting former Cold War site near Regan, North Dakota. On the way I spotted one of those things that seems to just jump out at me: a disconnected power and/or telephone pole.
Combined with the angle of the sun and resulting shadow, the brilliant blue sky, and a few J.J. Abrams-style lens flares, and I had a nice little souvenir of my trip to bring home to Photoshop.
[ add comment ]
( 4 views ) |
permalink
|
Click a dot to rate this entry:





( 3.5 / 172 )
---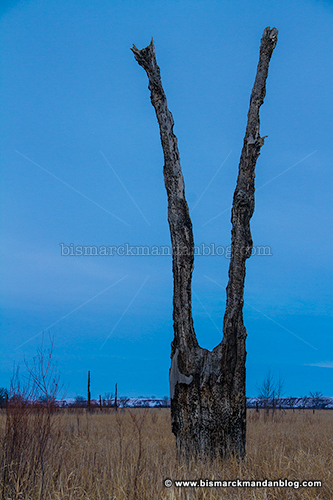 The river bottoms south of the gun range are an interesting place to roam. Fire swept through the area at one point, leaving an interesting picture of charred trees behind. This one stood out immediately. Whether your first impression of it is a tuning fork, a peace sign, or something else, it serves as a fascinating
Rorschach
and a pretty pleasing photo.
[ add comment ]
( 1 view ) |
permalink
|
Click a dot to rate this entry:





( 3.1 / 186 )
---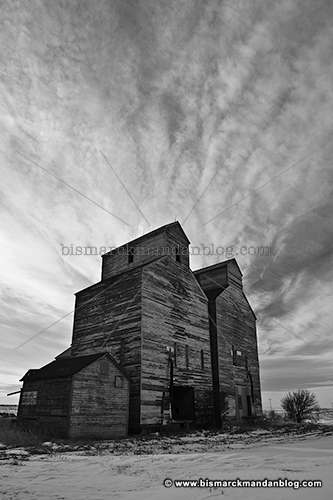 No, I wasn't listening to U2 when I began posting this...although now I have that song stuck in my head. No, this is simply a photo I chose to convert to black and white while playing in Photoshop. I haven't had much time to play with either my camera or my image editing software lately, so this was a nice diversion. With spring right around the corner, hopefully many outdoor photography days lie in store!
[ add comment ]
|
permalink
|
Click a dot to rate this entry:





( 3.1 / 106 )
---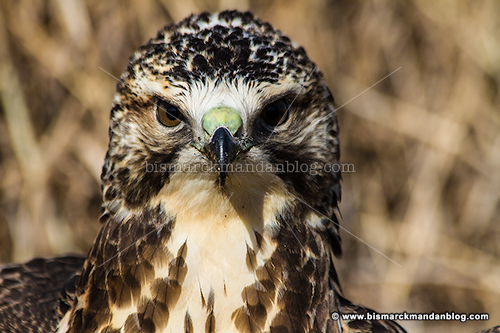 I got some of my closest photos of an enormous hawk a couple of weekends ago while on a roving photo trip. I was able to slowly approach within several feet of this big guy, although that's not how he would have preferred it. He even stayed uncharacteristically still for me, and there wasn't even a fresh kill nearby that he was trying to protect. In fact, he was trying to protect himself.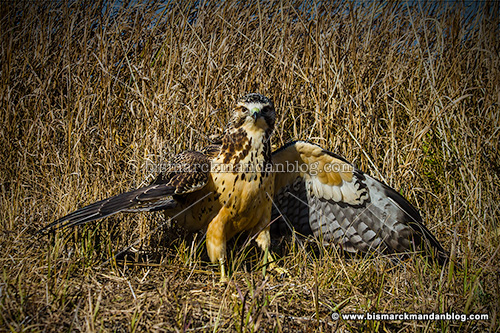 Sadly, this bird has a broken wing. I noticed him standing beside the road as I drove by and, since that sort of behavior is peculiar and I love trying to get close-ups of hawks, I stopped and got out to investigate. That's when I realized why this predator wasn't flying away like dozens of others who've seen me approach with my camera: it couldn't. This would be an amazing pose if it didn't mean he was wounded and trying to look intimidating so I'd go away.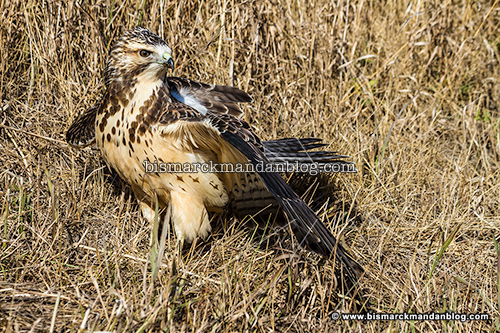 Many of you know that I'm particularly sympathetic to birds, even lean, mean, killin' machine birds, but I was unable to do something for this one. I was out in the absolute middle of nowhere, totally unequipped to try to catch him and take him to the zoo or somewhere, and nobody to call. I took a few pictures while talking to him for a bit, and then he vanished into the tall grass behind him.
I originally thought this bird had been shot, but didn't see any sign of a GSW. The wing simply looks broken. At first it was really exciting to be able to get so close to such a large and elusive critter, but in the end I just ended up feeling sad at its plight and my own inability to assist.
[ add comment ]
( 4 views ) |
permalink
|
Click a dot to rate this entry:





( 3.1 / 149 )
---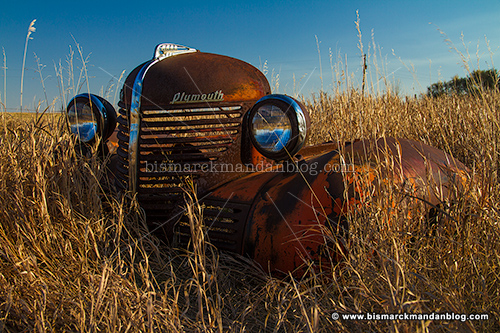 Out roaming and four-wheeling around a friend's land I spotted something very interesting in the grass near a section line: the complete front end of an old Plymouth truck! Very cool. The fenders and everything are all intact, just waiting for a photographer to wander by. I was happy to oblige.
Yes, I do know where the rest of this truck rests. I even spent some time photographing it where it resides under a tree, but didn't really have the light I was looking for. Sometime soon, however, I plan to time a visit for the light I desire and I'm sure I'll post the results here.
[ add comment ]
( 2 views ) |
permalink
|
Click a dot to rate this entry:





( 3.1 / 123 )
---
| 1 | 2 | 3 | 4 | 5 | 6 | 7 | 8 | 9 | 10 |
Next>
Last>>