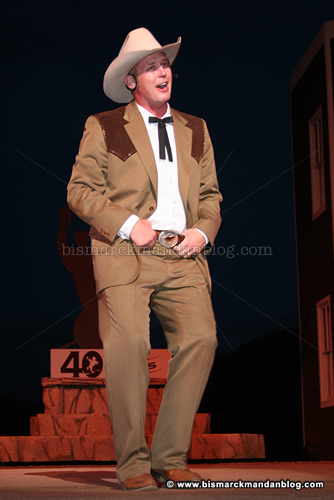 I miss Gentleman Wade Westin, a man who personified the term for which he was known. Fond memories of Sunday nights at the Chinese restaurant, or ribbing him about being the world's nicest guy, or watching him on stage in the Medora Musical. He passed away four years ago today. It was an absolute privilege to have been his friend.
I met Wade when he joined our production staff at KFYR-TV back in the 1990s; since then I've had many noteworthy memories, even though our opportunities to see each other grew farther and farther apart. Guys get busy, you know...that's just how it goes. I wish it wasn't so. A while before his passing, Wade and I met up at Taco del Mar and chatted it up about what we've been up to, fatherhood, and that kind of thing. We even talked about a possible project we could collaborate on, an idea I relished. That's the last time I got to spend time with Wade.
When we worked at KFYR-TV together we did a commercial for a furniture or mattress store, one where Wade played a guy who snuggled in under the covers of a comfy new mattress. It took a while for the nickname "Snuggly" to wear off. I had a printout of that shot somewhere in my souvenir box, but in my search for it tonight I came up empty handed. Bummer.
The photo above was from the Medora Musical on my honeymoon trip with my wife. I'd booked front row center tickets of course, planning a Medora weekend on our way back from a week in the middle of nowhere back in my beloved Rocky Mountains. We drove past the turn to Wade's home near Grenora, ND and it prompted me to call his cell phone and say hi. When he heard we were coming, he arranged the VIP treatment and a backstage tour for us, and we got to chat with him and his family briefly before he left to prepare for the night's show. He then congratulated us during the show. That's just the kind hearted, generous guy that Wade's friends will all remember.
We used to hit the China Wok restaurant in Mandan on Sunday evenings, striking a friendship with the owners over time. When their visas came up for renewal, Wade took it upon himself to get his friends from the Sunday night dinners to sign testimonials to aid in their renewals.
It's a shocker to have a friend and fellow family man snatched away so suddenly and so early. Of course one tries to make sense of it, but there's no sense to be had. What we can do is take comfort in the message from his CaringBridge page: "Thank you for your love, support and prayers. Wade is at peace with God His Father and Jesus His Savior in the healing presence of the Holy Spirit." The Bible talks about a peace that passes all understanding...I pray for that peace for his family and everybody who misses Gentleman Wade.
I have a copy of a TV commercial Wade did for KNDX (Channel 26) back when they first went on the air. It was a "dance contest" making fun of contestants with the numbers of other local TV channels. It features Wade being Wade. I attached a brief tribute at the end. It isn't much, but it's a token of my respect for a friend. The music is a portion of "In the Sweet By and By" performed by my friend Sarah.
I know there are lots of people out there who are touched by Wade's passing as they were by his personality. Hopefully this will trigger some of your best memories as well.
[ 1 comment ]
( 18 views ) |
permalink
|
Click a dot to rate this entry:





( 3.1 / 222 )
---
Looking back at one of the most memorable Memorial Day addresses I've heard UPDATE: Now with text of his address available for download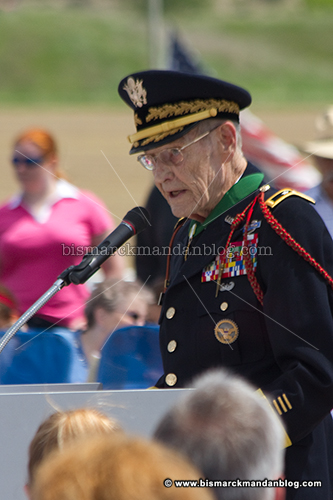 Let's not forget that Memorial Day is about one thing: honoring fallen heroes who died defending our freedom. I typically attend the ceremony held for such purpose at the Veterans' Memorial Cemetery each year, the most memorable of which was in 2010. It was during that ceremony that I witnessed a stirring address by C. Emerson Murry, former Major General of the ND National Guard. He was the keynote speaker of the event, and a very memorable one at that.
The words that struck me the most from his keynote address are best paraphrased as follows: "To be born free is an accident. To live free is a responsibility. To die free is an absolute obligation." That made me set my camera in the grass and hastily type it into my phone so I wouldn't forget it. Maj Gen Murry fulfilled that obligation, and it's due to such men and women of our armed forces that we enjoy the freedoms we take for granted.
The National Guard provided me with the text of his remarks in PDF format from an issue of the Guardian magazine, and I'm pleased to be able to provide you a link to that PDF:
(Click Here)
It was the last chance I had to hear him speak; Maj Gen Murry passed away in September of that year. You ought to take the time to read about the life of this remarkable man
by clicking here
.
[ add comment ]
( 2 views ) |
permalink
|
Click a dot to rate this entry:





( 3 / 119 )
---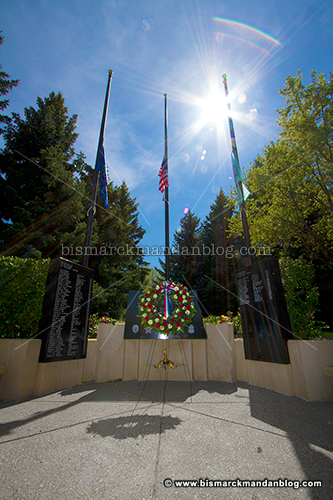 Yesterday marked the date of the Peace Officers Memorial ceremony here in North Dakota. It's held annually at the monument on the capitol grounds in honor of law enforcement officers who have perished in the line of duty. Most years it is a solemn look back at distant history...this year it was a reflection on the tragic losses of two officers within the past year. I can't say anything that hasn't already been said, so I'm just going to share a few photos and let them do the speaking.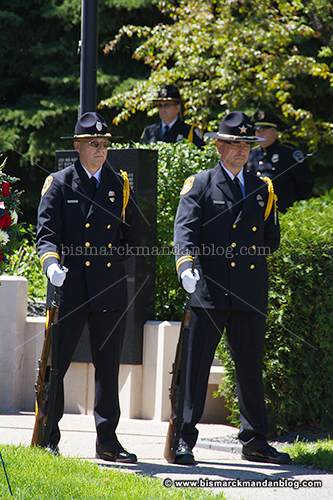 Standing at attention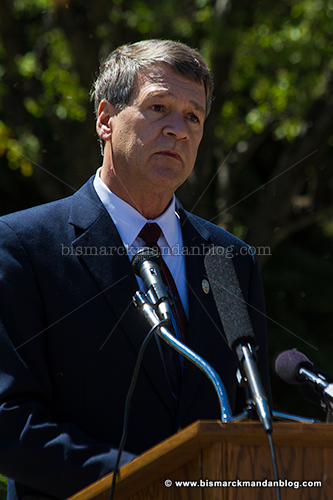 Heartfelt thanks and condolences by Attorney General Stenehjem and others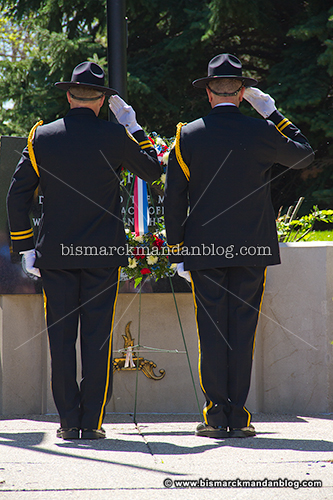 Wreath presentation before the memorial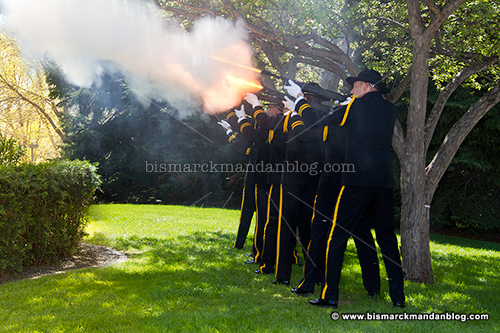 21 gun salute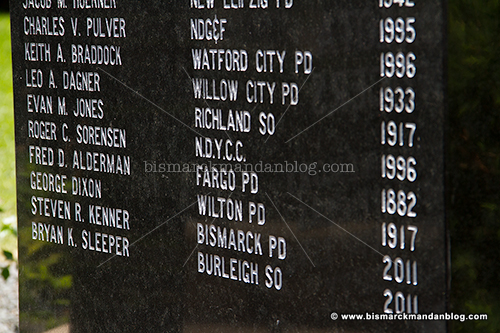 Two names added
I'll gladly admit that I'm a tireless cheerleader for law enforcement personnel here and all across our great nation. Some of them give it all in the line of duty, and this memorial honors that sacrifice. The national memorial ceremony is next week, and since there are two North Dakota families traveling to attend that ceremony, the North Dakota commemoration was moved to this week. Next week is Law Enforcement Week here in North Dakota and all across the USA, so please take any opportunity you get to thank them for their service on our behalf.
[ add comment ]
( 5 views ) |
permalink
|
Click a dot to rate this entry:





( 3 / 152 )
---
This post is bumped from last year - I'm lining up a video project for today and don't think I'll be able to make it to the Veterans Memorial at the state capitol this year, but I wanted to share a little account of last year. God Bless our Veterans!

Clint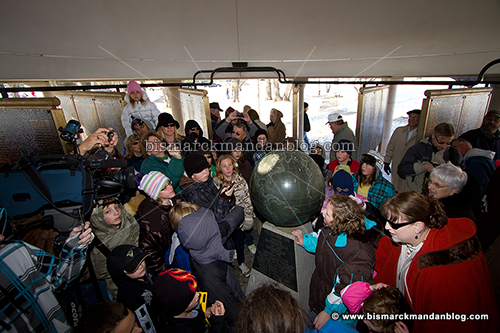 I didn't think I'd make it to the memorial at the capitol today, but I did. I had plenty of company. Showing up twenty minutes early turned out to be a pretty good plan, as it really packed in with people (including a LOT of kids) waiting to see the phenomenon!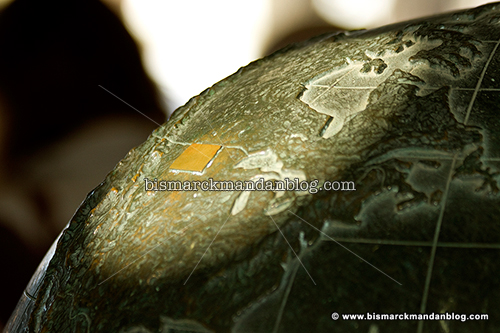 This is the circular beam of light which is cast by the sun thanks to a tube in the side of the memorial
(see this post for more details)
. At 11:00 it is centered on North Dakota, which is a raised and somewhat polished portion of brass on the globe in the monument's center.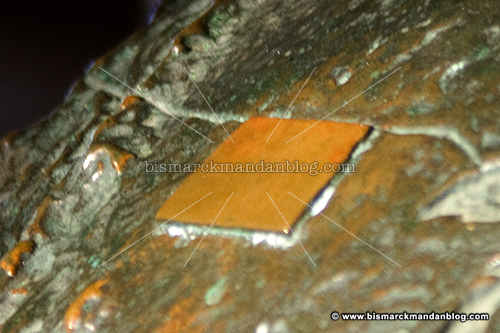 The globe itself has seen better days. The brass North Dakota is tarnished and needs to be polished & coated. There are also bird droppings on it, something I figured would be corrected before Veterans' Day arrived. I figured wrong. If a volunteer is needed, I'll put my name on the list.
This was a neat event, but let's not forget that today is about the nation's soldiers. Thank every veteran and soldier you encounter today!
[ add comment ]
( 9 views ) |
permalink
|
Click a dot to rate this entry:





( 3 / 208 )
---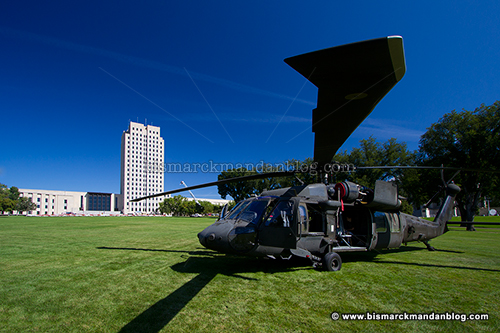 I spent the afternoon at the commemorative ceremony at the capitol Sunday. It was an appropriate memorial of the terrorist attack on our nation (not just a "tragic event" as some say) and focused on honoring our nation as well as those who have died in its service. Here's a brief photo narrative of the day: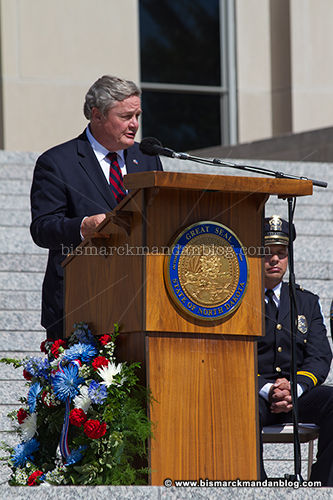 Governor Jack Dalrymple and his wife Betsy hosted the event.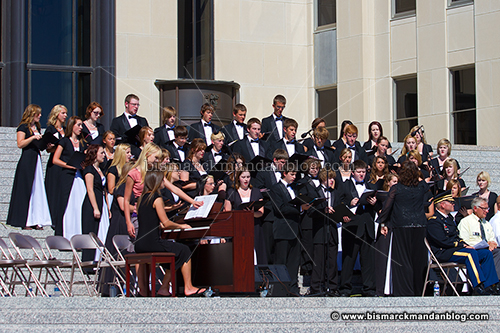 The Mandan High School Concert Choir provided stirring music, with my friend Becca at the piano.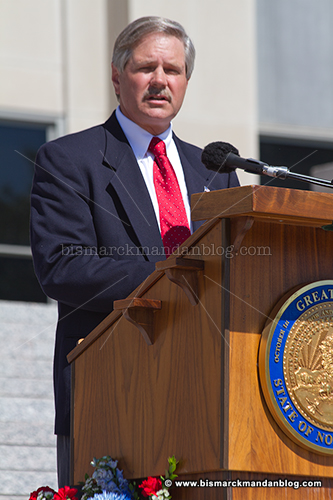 US Senator John Hoeven gave his remarks.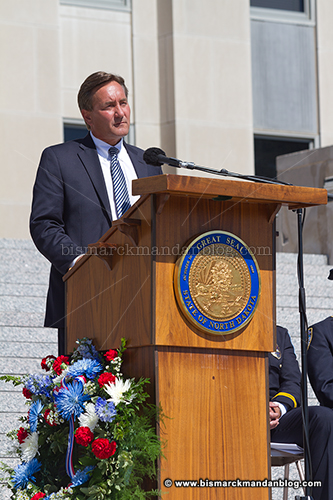 US Congressman Rick Berg also spoke.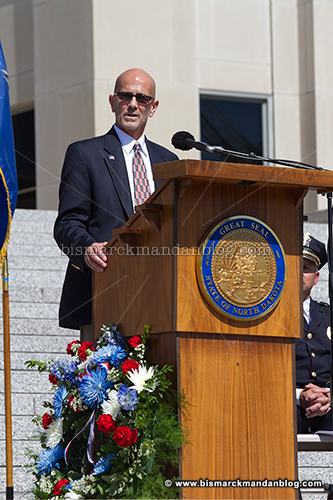 Bismarck City Commissioner Mike Seminary represented the City of Bismarck.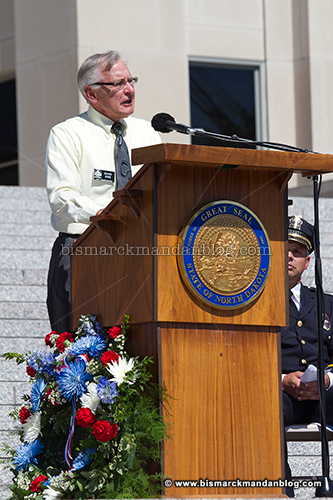 Mandan City Commissioner Dennis Rohr. Of course, I'll always know him as Chief.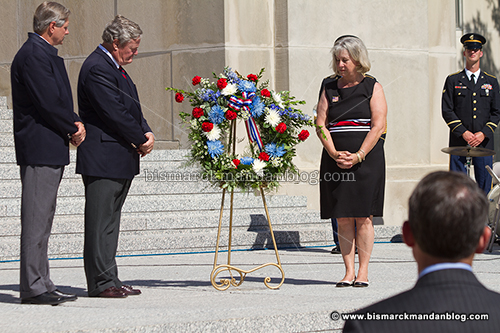 The Governor and First Lady stand with Senator Hoeven during the presentation of a wreath to commemorate the day. Lt. Governor Drew Wrigley is looking on in the foreground.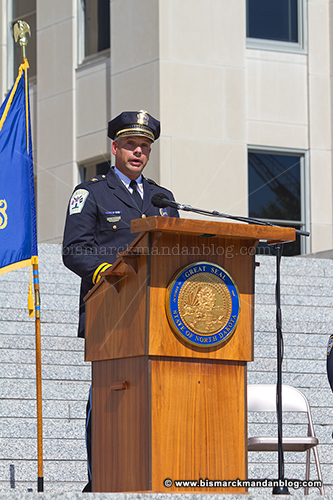 Bismarck Police Chief Keith Witt spoke on behalf of first responders.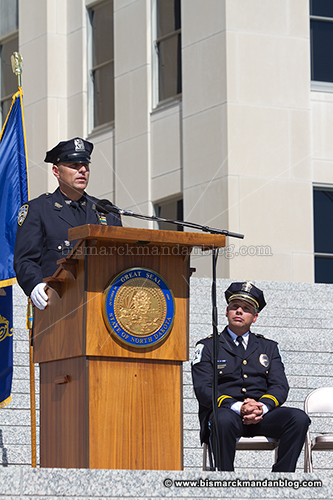 Lincoln Police Officer Marcel Sim gave an account of that day,
when he was working at Ground Zero for the NYPD.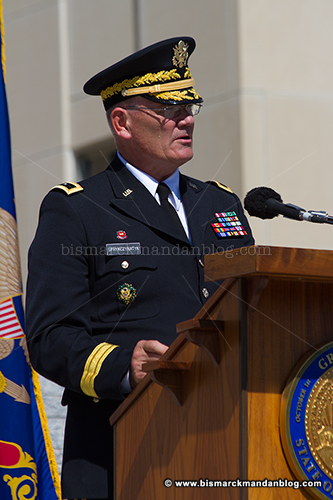 Maj. General Spry has thousands of soldiers fighting not only the Global War on Terrorism
but also natural disasters here at home.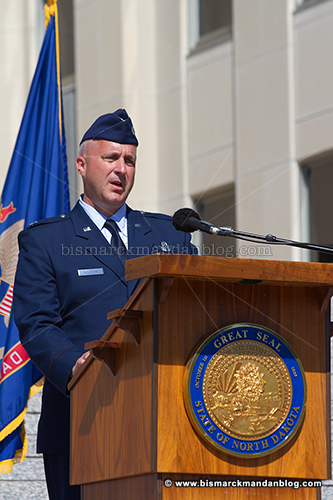 Lt. Colonel Dean Eckmann described going to battle stations and flying CAP sorties
over Washington DC that day with the NDNG Happy Hooligans.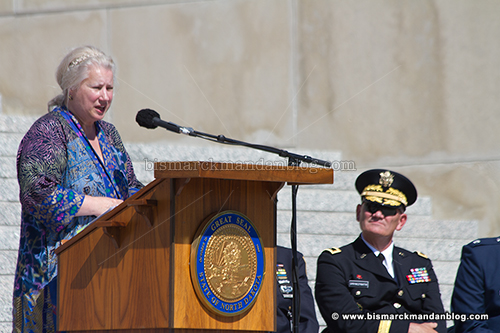 Jenette Nelson spoke of the loss of her daughter and how her memory lives on.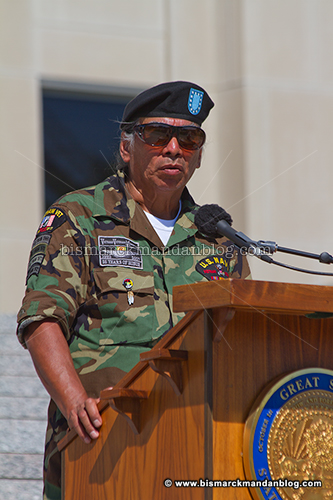 Paul Goodiron gave perhaps the most stirring speech of the day, honoring not only those who serve
but also the families who serve with them and endure their loss.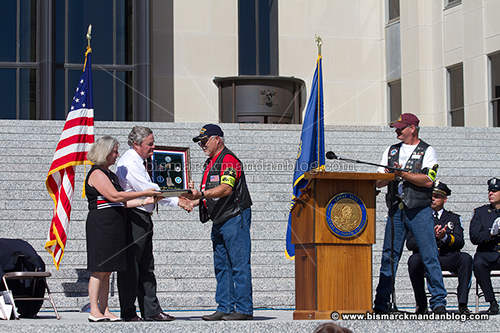 The Patriot Guard Riders had a presentation of their own to the office of the Governor.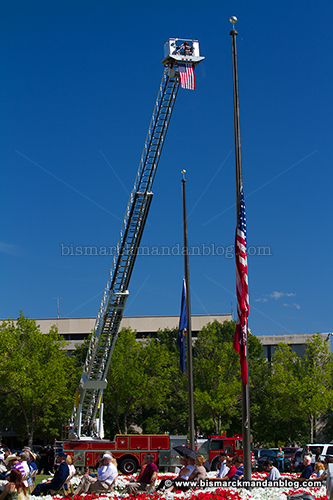 First responders from fire, ambulance, and local law enforcement were in attendance to commemorate the day as well. I got to hang out with one of my favorite law enforcement friends and take photos.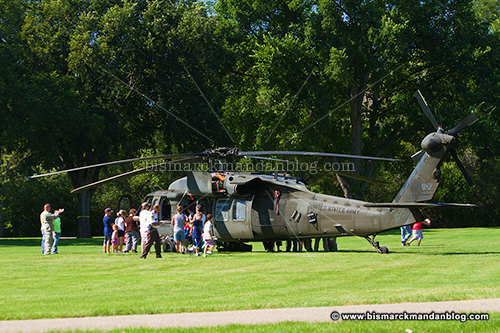 One popular part of the day was a Blackhawk helicopter on the capitol mall, available for all to see.
Its crew were on hand to answer questions and explain the operation of the aircraft.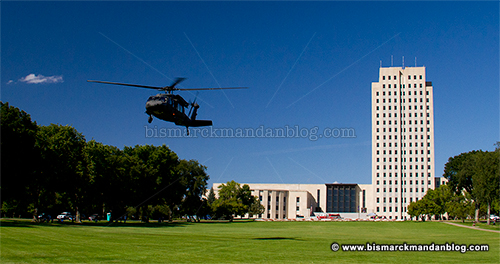 Then it was time to go home, tribute given and memories shared.
[ 1 comment ]
( 44 views ) |
permalink
|
Click a dot to rate this entry:





( 3.2 / 203 )
---
| 1 | 2 | 3 | 4 | 5 | 6 | 7 | 8 | 9 | 10 |
Next>
Last>>