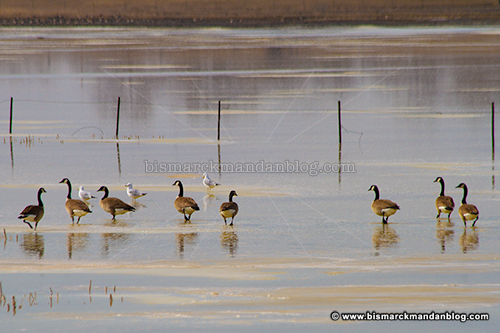 What do you do when the water's still too hard to sit in? These migratory birds were spotted simply mulling around near Menoken when my boy and I were out on a recent photo exploration. Instead of being able to drift around cozily in one of the Prairie Pothole region's many wetlands, these poor creatures had to resort to simply meandering aimlessly about.
[ 1 comment ]
( 11 views ) |
permalink
|
Click a dot to rate this entry:





( 3 / 65 )
---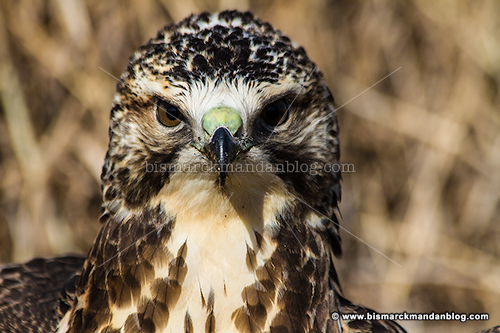 I got some of my closest photos of an enormous hawk a couple of weekends ago while on a roving photo trip. I was able to slowly approach within several feet of this big guy, although that's not how he would have preferred it. He even stayed uncharacteristically still for me, and there wasn't even a fresh kill nearby that he was trying to protect. In fact, he was trying to protect himself.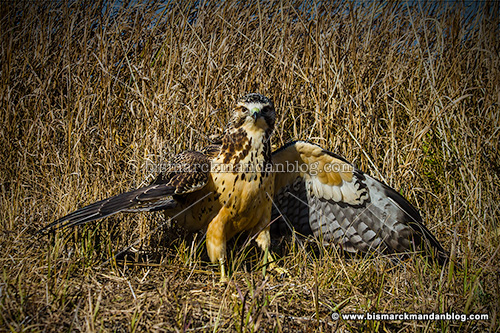 Sadly, this bird has a broken wing. I noticed him standing beside the road as I drove by and, since that sort of behavior is peculiar and I love trying to get close-ups of hawks, I stopped and got out to investigate. That's when I realized why this predator wasn't flying away like dozens of others who've seen me approach with my camera: it couldn't. This would be an amazing pose if it didn't mean he was wounded and trying to look intimidating so I'd go away.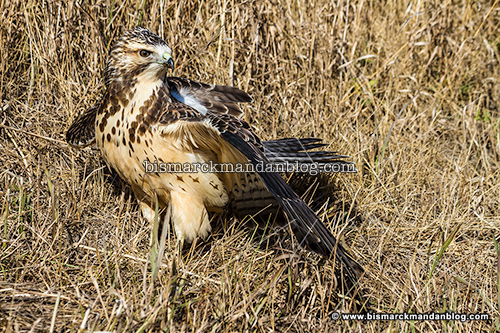 Many of you know that I'm particularly sympathetic to birds, even lean, mean, killin' machine birds, but I was unable to do something for this one. I was out in the absolute middle of nowhere, totally unequipped to try to catch him and take him to the zoo or somewhere, and nobody to call. I took a few pictures while talking to him for a bit, and then he vanished into the tall grass behind him.
I originally thought this bird had been shot, but didn't see any sign of a GSW. The wing simply looks broken. At first it was really exciting to be able to get so close to such a large and elusive critter, but in the end I just ended up feeling sad at its plight and my own inability to assist.
[ add comment ]
( 4 views ) |
permalink
|
Click a dot to rate this entry:





( 3.1 / 149 )
---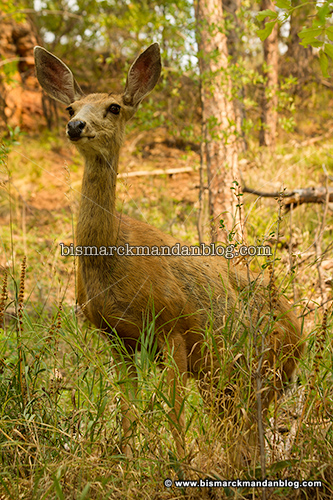 We had some welcome house guests during our family Black Hills retreat last weekend. As I rolled into the driveway I saw a doe hanging out behind the deck, and sprang out with my camera without even unlocking the house and dashed to the backyard.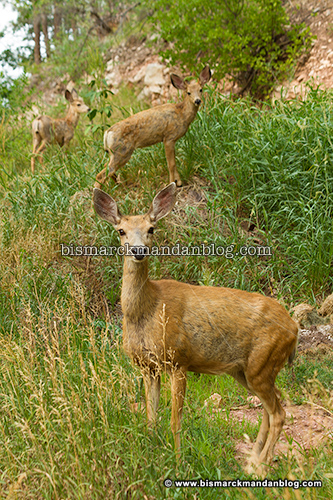 As it turns out, there were two does as well as two bucks and two fawns. With ample grazing in the yard (and apple trees over the deck) they were always rummaging about in the morning and evening.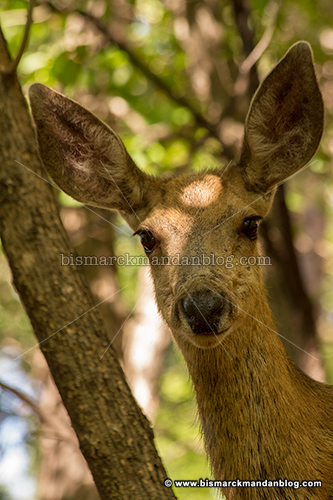 Of course, after climbing all over the side of the mountain that suffices as a backyard, I realized that it was teeming with poison ivy.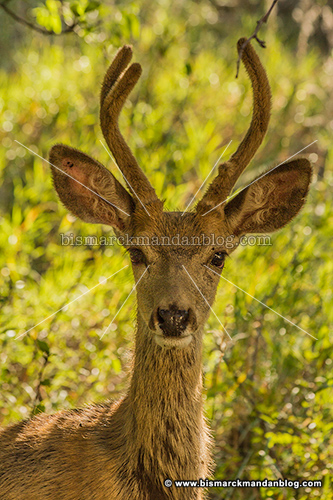 I've had poison ivy so many times that it doesn't even really bother me any more. I had one itchy spot on my ankle for a few days and, since I didn't scratch it, it didn't spread. I was tempted a few times but stayed strong.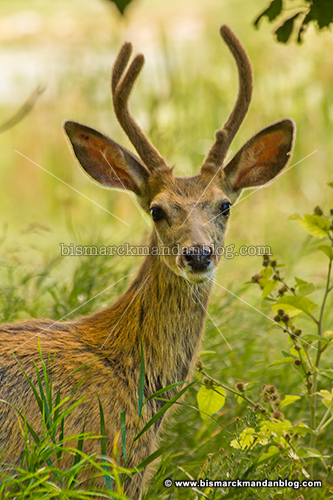 I wish I had this kind of luck with human subjects; the deer posed so nicely and, since they're deer, remained relatively still. Since we were throwing them apples from the trees by the deck from time to time, we didn't appear to pose much of a threat.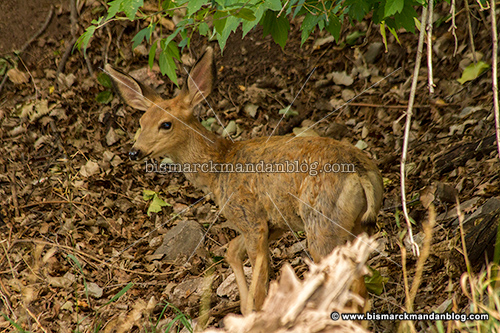 The fawns were the most skittish, the hardest to find, and the least likely to approach the house. I only saw them a few times and they rarely left me an opportunity to point the camera at them. When not moving they blended into the background so well that they were hard to spot even when near.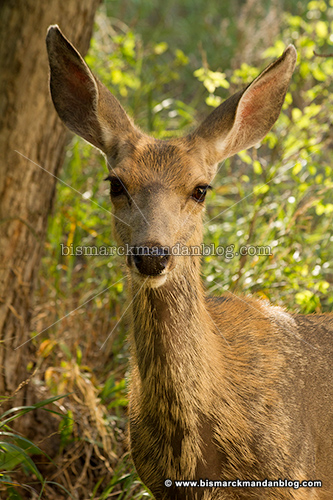 Since we pretty much left them alone and there was plenty of good grazing around, they hung out with us for the week. They seemed to be okay with me wandering around nearby with my camera as long as the fawns were hidden.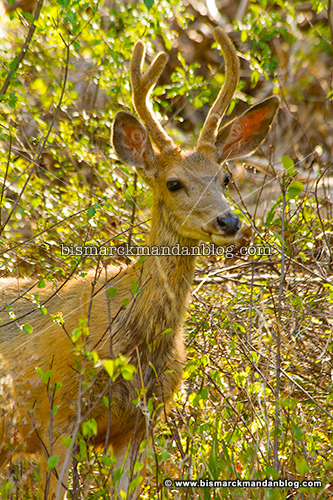 I've pretty much had my fill of deer photos now, except I wouldn't mind having a nice close-up session with the fawns again sometime. Unfortunately they weren't about to give me that opportunity this time around. Maybe next time. Until then, I'm pretty satisfied with my little mountainside deer-chasing adventure.
[ add comment ]
( 11 views ) |
permalink
|
Click a dot to rate this entry:





( 3.1 / 128 )
---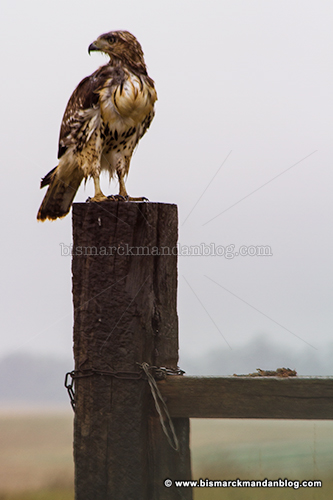 It looks like I may have interrupted lunch...notice the remnants of a raptor snack on the horizontal fence post. This particular bird didn't look to enthused to have me stopping the truck nearby, and took off shortly after this shot. He sure looked pretty scraggly with his feathers wet and matted! I think it made him look even more stern and cranky than a hawk usually looks.
It sure was a soaker last Saturday; when I'd get out of the truck in the middle of a rural Morton County gravel road, I'd leave footprints. Yes, a lot of four wheel drive was employed. I credit the cold, soggy day for the hawk's reluctance to simply fly away as soon as I got close. Most of the other ones I saw that day were gone as soon as I began to slow down.
[ 1 comment ]
( 22 views ) |
permalink
|
Click a dot to rate this entry:





( 3 / 73 )
---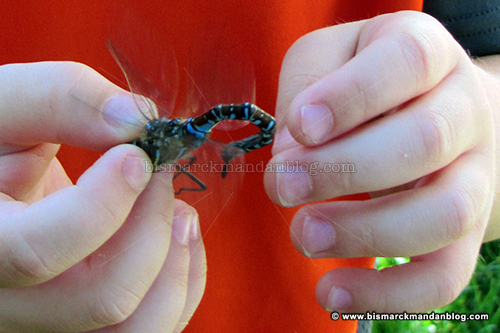 My four year old has a knack for catching bugs...any kind of bugs. Recently he proved that he can catch a fly, and this afternoon he proved that he can catch a dragonfly too. I've chased these things with my cameras enough to know that they can be skittish, but this one proved no match for my little guy. He isn't afraid to grab even the creepiest, crawliest bug, either...even to hold them by the eyes sometimes, like this one. Naturally it was beating its wings like a hummingbird with indignation.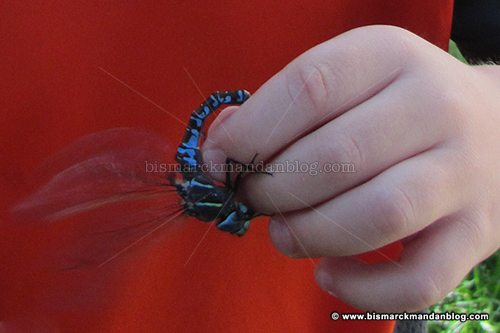 So I suppose it was predictable that when little J modified his grip on the dragonfly to the tail that it would say, "Hey, cut it out!" in the only way available to it: with a bite. That got my boy's attention in a hurry, he let the dragonfly go to resume catching mosquitoes in our back yard, and I had to chuckle because (of course) I had a camera to document the entire encounter.
[ add comment ]
( 1 view ) |
permalink
|
Click a dot to rate this entry:





( 3.1 / 84 )
---
| 1 | 2 | 3 | 4 | 5 | 6 | 7 | 8 | 9 | 10 |
Next>
Last>>