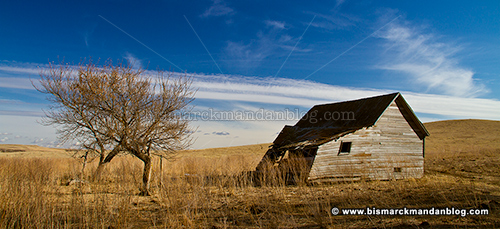 How many crooked things can you find in this photo? No, there are no politicians hiding in the background!
It's sad to chart the progress of dilapidation in many of my more prized photo spots. I've always had a fondness for the "Fallen Farms" series of photos (see the Categories list on the right), and many of my favorite subjects are in various stages of leaning and even collapse.
That's one of many reasons why it's important to document these structures: not just for artistic value, but because they may not remain for long. It's noteworthy to observe what happens to a house, even a relatively recent construction, when it becomes uninhabited. It's as if the former residents took something intangible with them, something that kept the structure intact by their indwelling. As many of these structures collapse and disappear, they take something intangible away from the North Dakota landscape as well.
[ add comment ]
( 4 views ) |
permalink
|
Click a dot to rate this entry:





( 2.9 / 128 )
---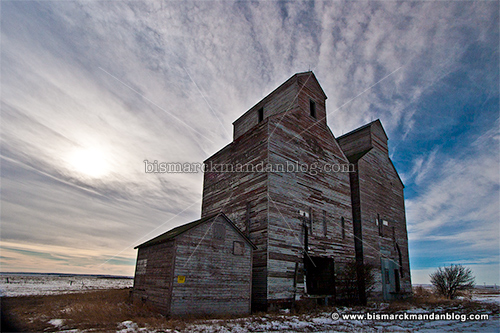 These old elevators fall into my "Fallen Farms" category more and more, as the little ones fade from our landscape. The State Historical Society is working on a preservation website featuring these structures. I didn't enter, but a lot of talented people did. You can view the photostream here:
www.flickr.com/groups/shsndphotocontest/pool/
[ add comment ]
|
permalink
|
Click a dot to rate this entry:





( 3 / 112 )
---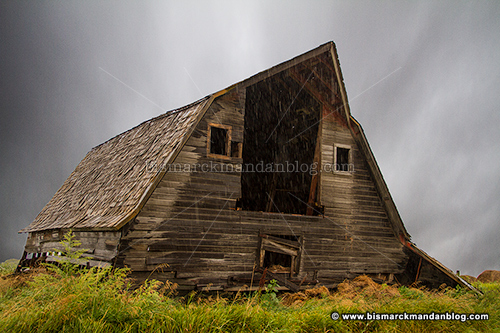 Last weekend I took quite the soggy (and muddy) road trip with my cameras. While I did the majority of my shooting southwest of Mandan, I actually began north of Wilton. You may recognize this (especially if you're a photographer) as a familiar old barn north of Wilton a few miles on Highway 83. Sadly, it has now collapsed. It was intact enough, however, to grant me this really nice shot - the streaks of falling rain are more apparent in front of the opening on the full sized version. It may not even look collapsed at all, if you're not familiar with this structure.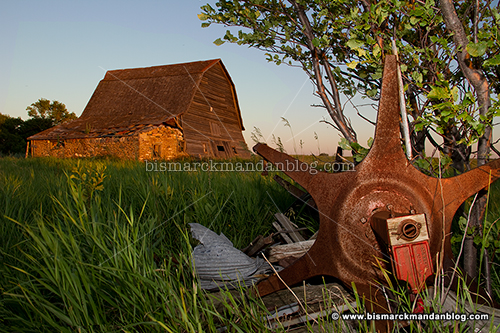 Here's how it looked just a short while ago. Notice the stone addition on its east side, which is now completely collapsed and gone. While the barn looks intact, it's actually several feet shorter. Bummer. As you can see, it's a very photogenic piece of work, and I'm sure it attracts lots of photographers. I for one continue to visit it from time to time and document its eventual demise. In some ways it seems to get even more photogenic with age.
[ add comment ]
( 9 views ) |
permalink
|
Click a dot to rate this entry:





( 3.2 / 86 )
---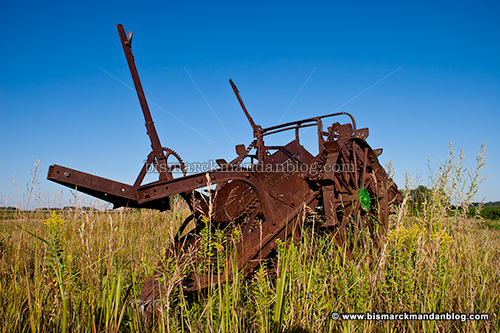 North Dakota has some characteristic features dotted across its varied landscape, and aside from my favorite windmills and wellheads I have to admit I have a soft spot for old farm equipment. This particular piece looks pretty wild, with chains and gears and levers and pullies and stuff like that. Note the absence of safety guards on everything... that was a different era. Nowadays there are plenty of people who wouldn't go near something like this without a tetanus shot!
[ add comment ]
( 11 views ) |
permalink
|
Click a dot to rate this entry:





( 2.9 / 146 )
---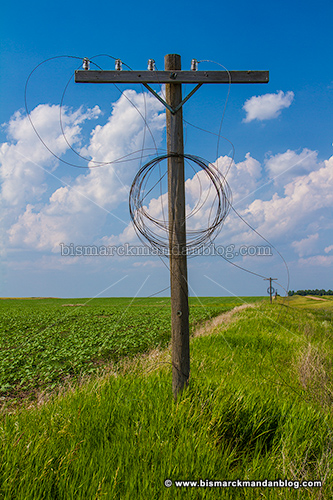 Looks like the end of an era along this stretch of road near Regan. These wires have actually been disconnected for a while, but this is the best opportunity I have had to stop and get the right photo of them. The sun, sky, and green fields were all in perfect form for this shot, and I was there on one of the motorcycles with a camera to take advantage of the good fortune!
Here's one for you: even those these lines have clearly been in place long enough to perform their intended service to the point of becoming obsolete, there are still federal subsidy programs in place from the 1930s to provide telephone and electric connections to rural areas. Once a federal program like that comes to life, look out: you're probably going to pay for it forever.
[ add comment ]
( 4 views ) |
permalink
|
Click a dot to rate this entry:





( 3 / 98 )
---
| 1 | 2 | 3 | 4 | 5 | 6 | 7 | 8 | 9 | 10 |
Next>
Last>>