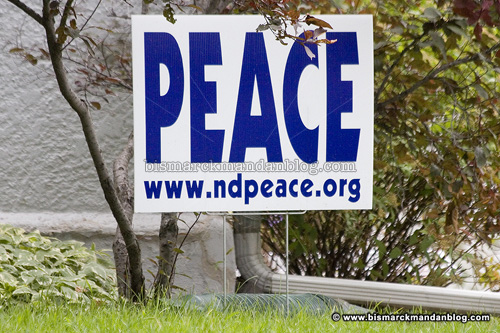 (Bismarck) The North Dakota Peace Coalition called for immediate withdrawal from North Dakota this week, after describing the situation here as "a quagmire with no end in sight." In light of numerous homicides and other violent crimes in 2007, said NDPC representative Karyn Van Possum, "the continued cost of the North Dakota occupation in the lives and health of our citizens is exceeding our expectations...not that the deaths of North Dakotans should have ever been within our expectations."
When asked if a resolution in the state legislature along the lines of the Mathern/Kretschmar Pacifism Resolution was being considered, Van Possum indicated, "...that's certainly a possibility. What better way to demonstrate support for our citizens than to get them out of harm's way? Staying in North Dakota will not work and is not worth the price."
Van Possum continued: "The list of atrocities committed in North Dakota include: an asphyxiated newborn in December, the high profile killings of two college coeds in Minot and Valley City, the beating to death of a man in Grand Forks in October, and the April slaying of a Sykeston couple in which their home was burned to the ground in an effort to conceal the crime. That's only the tip of the iceberg. Even now, the local news is reporting a possible kidnapping in central North Dakota. In August, someone hit a young man in the head and tried to run him over with a pickup. Obviously North Dakota is not safe for North Dakotans. We need to keep our citizens safe. We support North Dakotans, just not their mission. It's time to bring them home...er, well, somewhere safe, anyway."
When not busy fighting to end all fighting, many of the ND Peace folks keep busy by forming an endless array of coalitions, councils, and other "dot orgs" to champion such causes such as deviant sexual practices and preferences, pseudo-peace through capitulation to all enemies of freedom, and the worship of the Earth rather than its creator. Populating these organizations, attending the occasional protest and/or drum circle, and standing in black in front of the capitol keep many of them too busy to find a productive place in society. "But we care," stressed Van Possum, "and that's the important part."
While they concede that our presence in North Dakota is unlikely to diminish any time soon, the peaceniks vow to remain resolute. "There's no giving up on giving up," Van Possum said. "It takes courage to stand up for running away."
(I didn't have time for a new April Fool's joke, so I decided to recycle a little satire from an earlier post. It doesn't take an intellectual giant to make these people look silly. They do 99% of the work themselves.)
[ 1 comment ]
( 12 views ) |
permalink
|
Click a dot to rate this entry:





( 3 / 305 )
---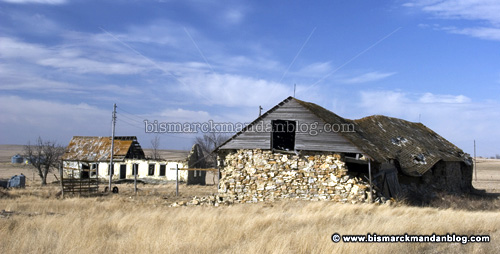 I'm so drawn to buildings like this...not because I'm a National Geographic reporter trying to push an agenda of a dying prairie, but because I find them charming. Someone constructed this farmstead, lived here, and worked here. That's what I find so alluring. I like to wonder what it looked like when it was new, when there was a family here, and what circumstances caused its inhabitants to move on. It's really more about the people, now that I consider it.
This is the first stone barn I can remember featuring. It caught my eye from the road and was not on posted land, so I was able to hike in. This is as close as I came to the buildings; I don't actually try to enter any of the buildings I photograph. First is out of respect for the owners, second is a matter of safety. To capture their spot on the beautiful North Dakota prairie is fulfilling enough.
[ add comment ]
( 3 views ) |
permalink
|
Click a dot to rate this entry:





( 3 / 296 )
---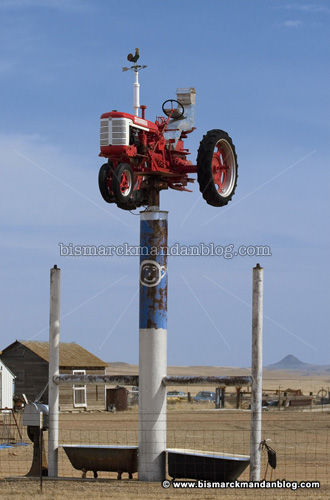 I can't explain why this Farmall tractor is perched atop a pole any more than I can explain the bathtubs at its base! It sure is eye-catching, though.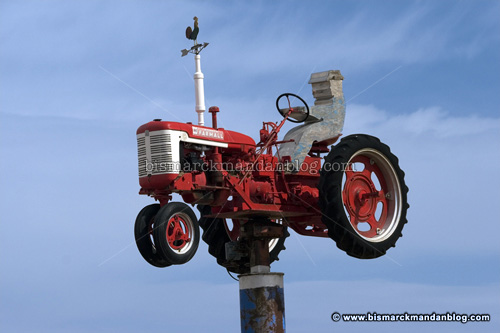 The wooden farmer perched atop this tractor has an almost Lego-like appearance. It looks like the weather has worn away at him a bit; it would be cool to see him with a new paint job!
I spent a few hours poking around west and southwest of Bismarck-Mandan this Saturday. That's when I had the opportunity to photograph this tractor on the outskirts of Glen Ullin. I found lots of other fun things at which to point my camera, and they'll show up here soon as well. None of the other ones involve boxy wooden farmers, though.
[ add comment ]
( 7 views ) |
permalink
|
Click a dot to rate this entry:





( 3 / 580 )
---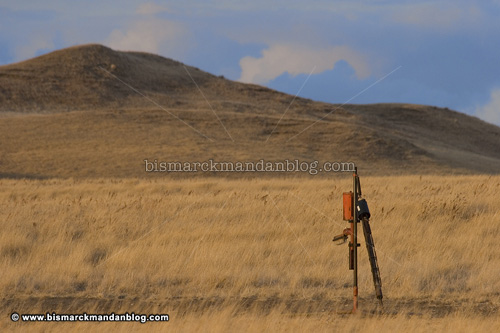 This contraption sits atop a hill near Double Ditch. At a glance from the highway, it looks like a well. Upon closer examination, however, it appears to be something else entirely. I'm not sure what...but what looked like the spout of a well is actually a brush. I'm sure it must have some sort of ranch-related use, but I'm too much of a city kid to surmise what that might be.
[ 2 comments ]
( 87 views ) |
permalink
|
Click a dot to rate this entry:





( 3.1 / 568 )
---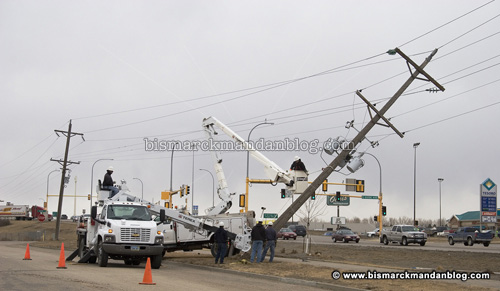 I heard the forecast and knew it was going to be windy. I didn't know it was going to be THIS windy! Not only did it make things inconvenient for an outdoor videotaping session today, I also noticed this while driving away from where I was taping.
This power pole is adjacent to the Bismarck Expressway, near Capital RV. The lines held, and the pole seems intact, so it's just a matter of getting it upright and reinforcing the soft ground. I would not want to be the guy in the bucket truck that had to lean over that thing and attach a tow line to it!
[ add comment ]
( 19 views ) |
permalink
|
Click a dot to rate this entry:





( 3.2 / 476 )
---
<<First
<Back
| 197 | 198 | 199 | 200 | 201 | 202 | 203 | 204 | 205 | 206 |
Next>
Last>>