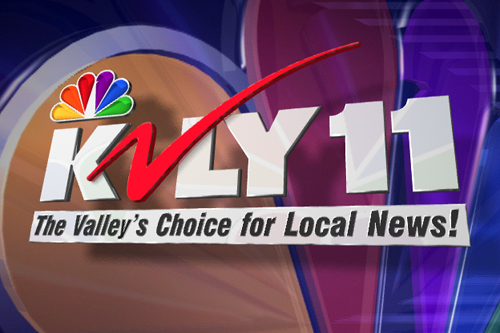 I'm told that KXMB announced last night that meteorologist Hutch Johnson would be leaving, although they declined to say where. Although it was announced last night, it's been the word in the broadcasting / media community that he's going to
KVLY
in Fargo, hired to replace "Too Tall" Tom Szymanski. Since KVLY is owned by the same company as KFYR-TV here in Bismarck, I can see why they'd be reluctant to mention that. Although they apparently mentioned it last night, it's actually old news. It came up in a conversation with some other TV folks last weekend, actually.
This also brings up an interesting question of mentioning the competition only when it suits them. While I don't normally see shoplifting stories on KXNet, I did happen to catch
this article
in which Cliff Naylor Junior was accused of felony shoplifting charges. Perhaps that's someone in the KX newsroom thumbing their nose at Cliff Naylor and Monica Hannan. I remember KFYR covering stories of Reiten goof-ups, so I suppose it's all part of the back & forth of competing newsrooms.
Another interesting wrinkle is that KXJB, the Fargo CBS affiliate, is run by the same folks that run KVLY. It's similar to an arrangement in Bismarck between the FOX and ABC stations. I suppose that limits cooperation between the Fargo CBS affiliate and the ones out west, which are owned by a competitor in this market.
I'm pretty much Switzerland in the whole station vs. station thing, even though I still freelance for the NBC guys sometimes. (I absolutely love the KVLY/KXJB gang, but don't really know anyone at KXMB.) It might be interesting to watch, but I actually don't watch much local TV. I'm sure KXMB will work hard to get another meteorologist up to speed to go head to head with Kevin Lawrence (or "K-Lo" as he's affectionately nicknamed) in time for the winter storm season. Let the competition continue! Oh, and if the industry rumors are true, Hutch...have fun and best wishes in Fargo.
[ add comment ]
( 6 views ) |
permalink
|
Click a dot to rate this entry:





( 3 / 314 )
---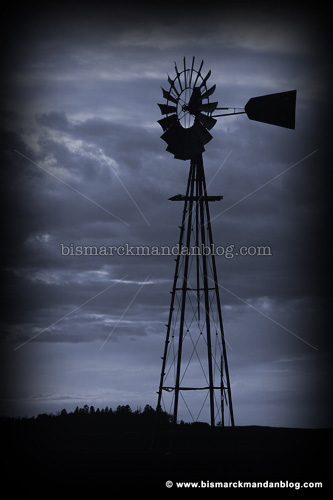 It never fails: the day after I clean and apply Armor All (or any other shiny tire protectant) to the tires of my truck, I find myself out on a gravel road. Do you know what happens then? Yes, I come home with a truck that looks like it's rolling on 31-inch donuts with dust sprinkles stuck to them. Today was such a day.
There were some redeeming moments to the trip, however, such as the few minutes I spent on north 26th Street where it turns to gravel. That's where this windmill stood, with some darkish clouds rolling in from the west. That's where I got tonight's photo. I did a run-n-gun kind of thing where I didn't even get out of the truck. I simply rolled down the window, shot away, and moved along. Sometimes I can take an amazingly crisp handheld photo, even with one of the cheaper lenses in my arsenal. This was one of thoes days, too.
I was going to do some sort of sunset thing, but that really didn't pan out. It's rare that one can actually plan a photography outing, so we take what we can get. I also found some other neat stuff to photograph. Some I'll have to go back for, but that's why I keep a GPS stuck to my camera bag or clipped into the dash of the truck. When the opportunity arises, I'll be there!
If you haven't tried 26th Street all the way north, I highly recommend it. Have fun...it goes a LONG ways!
[ 1 comment ]
( 26 views ) |
permalink
|
Click a dot to rate this entry:





( 3 / 323 )
---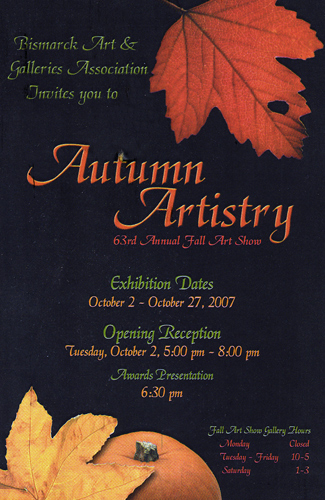 Today marks the start of the Fall Art show at the BAGA gallery in downtown Bismarck. The event kicks off with an artists' reception at 5. The show will take place from today, October 2nd, through the 27th. I don't know what day that is, because I just looked up at the catalog in my office and saw that it's on July. Time flies, doesn't it?
[ 1 comment ]
( 25 views ) |
permalink
|
Click a dot to rate this entry:





( 3 / 332 )
---
I took some time after the University of Mary homecoming game today to venture over to the Missouri River Natural Area trail. It's tucked next to the Interstate in Mandan, near the refinery exit. To get to the trail, however, one must go into Mandan from the east and turn right by the Bonanza restaurant. The road goes east along I-94's westbound lane, takes a sharp left, and passes some residential neighborhoods before snaking beneath the Interstate. Right after going under the highway, turn right down the short gravel road and you're at the trailhead. I find this the better end of the trail from which to start, since the other end involves navigating around the Memorial Bridge construction.
Next to the trailhead is a little inlet that looks quite manmade (and quite old). My friend Joe told me that this is one place where people used to drag ice out of the river way back when. It's hard to see in this pic since I sized it down so much, but there a bunch of aged wooden pilings along the rocks as well as some metalwork and cables protruding from the dirt. I'll get back to his part later.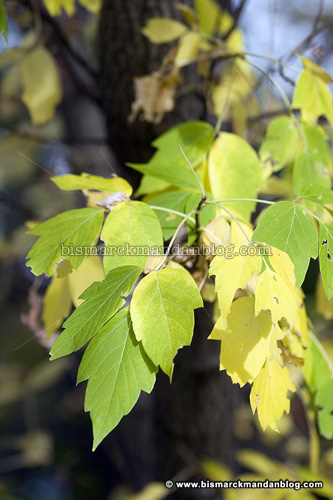 I was worried that I was going to miss all the colors, but that hasn't happened. I had a birthday party to attend today so I barely got into the trail before I had to work my way back out, but here's a sample of some of the leaves that are turning from green to gold. The red ones I saw all looked pretty ratty, so I hope to get photos of them later on.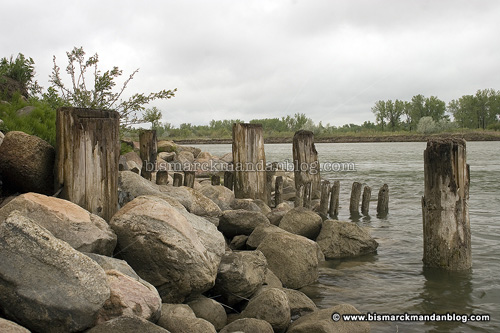 Back to the ice ramp. This is a shot from water level at the point where the pilings stick up from the rocks. I'm sure this was a dock of some sort, or perhaps just a platform. Obviously nature didn't pile all these rocks here, so this area was definitely used for something in the distant past.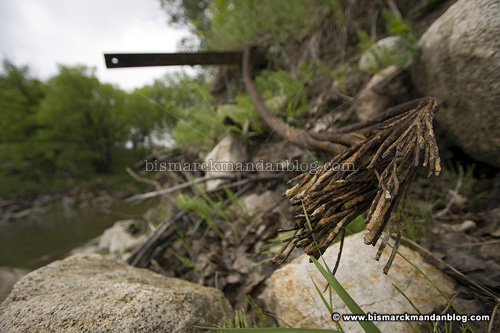 Here's one of the large cables still protruding from the dirt. Oh, if only they could talk! I am going to have to poke around and see what exactly transpired at this place. Either that or I'll ask someone who knows what they're doing to find out for me!
There you have it...a great idea if you want a nice walk with fall colors all around you. There will be plenty of birds and deer and stuff, too! But don't wait too long...it seems that the truly colorful part of autumn lasts about a week here in Bismarck-Mandan!
[ add comment ]
( 6 views ) |
permalink
|
Click a dot to rate this entry:





( 2.8 / 447 )
---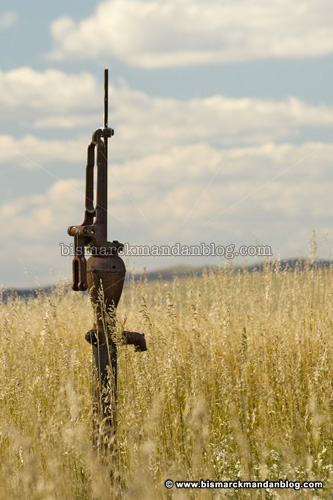 In my travels around the Bismarck-Mandan area, I have now had two occasions where I'm surprised by a well sticking out of the middle of a wheat field. I'm no farm kid, but it seems a little odd to me. Why would a hand-pump well be sticking out of a seemingly arbitrary spot in the middle of a field? Isn't it a pain cutting around it? I guess not.
This is a different well from the one I spotted
north of Bismarck early this summer
. Both are logged in my GPS in case there are some dramatic skies that could benefit from being photographed with a well in the foreground!
[ add comment ]
( 7 views ) |
permalink
|
Click a dot to rate this entry:





( 2.8 / 442 )
---
<<First
<Back
| 220 | 221 | 222 | 223 | 224 | 225 | 226 | 227 | 228 | 229 |
Next>
Last>>