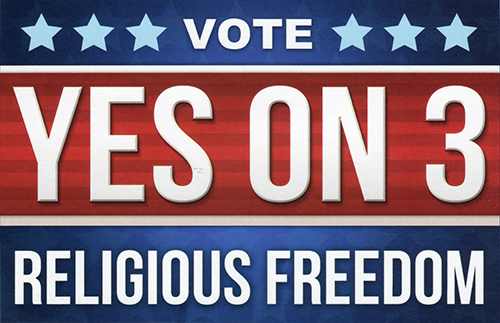 With the estimated amount of blood money poured into North Dakota by abortion factory "Planned Parenthood" organizations approaching
one million dollars
, you can imagine there's plenty of misinformation bouncing around out there. Of course, it's all put out there by the pro-abort propaganda mill who see faith and religion as their primary adversary. No shocker there.
An informational sheet has been put together answering some direct questions that should probably address any concerns one might have about Measure 3. Those concerns would most likely be brought on by the disinformation campaign waged by the pro-abort bunch.
Click here to download the short one-page PDF file.
If you have Adobe Acrobat Reader installed, you're good to go. It may take a little bit for the program to load, but the file should download reasonably quickly. Click on the icon below to download the free Adobe Reader if necessary.

Now onto the video. This addresses some of the same disinformation sneaking around out there but can actually give more background:
There you go. This measure basically provides protection against people passing laws to stifle faith and religion, a war which is being waged heavily here in North Dakota right now, and does not do any of the weird things the pro-abort groups claim it does. Please vote YES on Measure 3.
[ add comment ]
( 8 views ) |
permalink
|
Click a dot to rate this entry:





( 2.9 / 121 )
---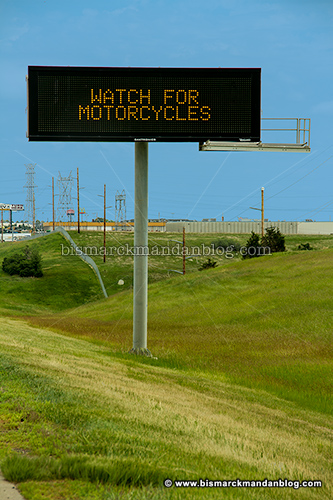 As a motorcycling advocate I was pleased to see this sign on I-94 this weekend. During the pleasant riding months we have a lot of motorcyclists in the area, and I'm sure attractions like Buggies 'n' Blues (photos forthcoming) and the ABATE Menoken Rally brought a measurable increase in numbers of two-wheeled motorists this weekend. Whenever I hit an unmarked section of chip-seal gravel around Bismarck I tend to think that we bikers are forgotten...but not by the DOT this weekend!
[ add comment ]
( 6 views ) |
permalink
|
Click a dot to rate this entry:





( 3 / 131 )
---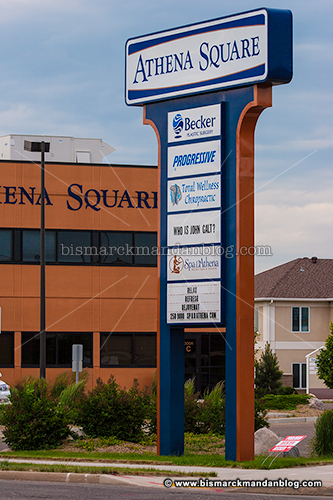 I noticed something interesting when driving by this sign the other day, so last night I made an effort to actually have a camera with me and sought it out once again...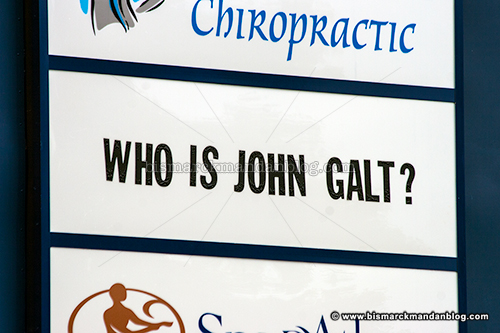 This line from
Atlas Shrugged
jumped out at me the instant I saw it (the first time). Plenty of rumors abound regarding
Mr. Galt
, I guess we can add his chiropractor visit or spa appointment to the list. Even revolutionary fictional characters need a massage or an alignment every now and then! :)
[ add comment ]
( 5 views ) |
permalink
|
Click a dot to rate this entry:





( 3 / 125 )
---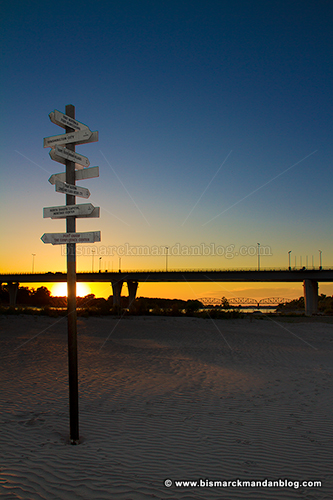 Despite the efforts of my friend and Burleigh County commissioner Mark Armstrong, the city tore down the former Wilton train depot, known for the past twenty-plus years as the Meriwether's building. It also doubled as the ticket office and souvenir for the various incarnations of riverboat which docked thereby. One interesting feature in the area was the sign you see above, which the Big Muddy decided to relocate far south during its flooding rampage last year.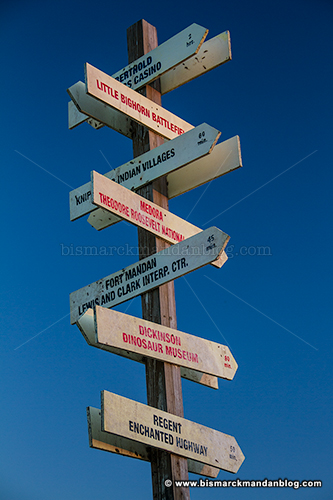 It was Mark, in fact, who tipped me off to this sign last year already. Obviously it's taken me quite a while to find the time to get down there and see it up close for myself. I finally did, however, while taking my little boys on a sandy walk to throw rocks into the water and enjoy a warm sunset. Someone apparently found this sign, which had been washed from the vicinity of the Grant Marsh bridge to a sandy stretch well south of the Memorial Bridge, and decided it to stick it into the ground. It's stayed there ever since, a testament to its resilience.
As far as the plight of the Meriwether's building goes, I can't say I have any feelings one way or the other about it. The last restaurant I remember in the building was driven out of business by the closure of River Road when a section slid, and I can't remember anything ever taking its place. The building is a pretty remote location for a business in all but the warmest few months, so I'm not sure it would have been a good candidate for business even if it had been restored.
I was on board one hundred percent when Phil and Mark were the super-duo on KFYR AM 550 radio and they set about
preserving the Provident Life Weather Beacon
. That's a piece of history well known to thousands of people, one which many of us still consult when we want a snapshot of what the weather forecast holds in store. The old depot down by the river? I'm not sorry to say that I doubt many people held the same attachment to it. Sure, there were parts of it that were pretty cool...but one of the best of those has found itself a home about a mile down the river.
[ add comment ]
( 4 views ) |
permalink
|
Click a dot to rate this entry:





( 3.1 / 144 )
---
Surprise: Abortion groups put FOUR HUNDRED THOUSAND DOLLARS in blood money against Measure 3. UPDATE: It's now being reported as $700,000.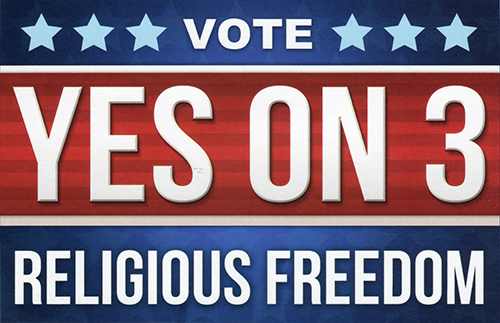 Measure Three, on the ballot this primary season, is sometimes referred to as the Religious Liberty Restoration Amendment. The key word in this title is "Restoration" as the measure seeks to restore protections for people of faith that have been slowly stripped away by the federal government. Similar measures have been passed in twenty-seven states,
Opponents of the measure claim it's going to legalize wife beating, denial of medical care, and all sorts of other things that it will not do. They clearly have a vested interest in limiting religious freedom in North Dakota. Who's the group who has the most to lose from strong religious protections in North Dakota? Easy: the abortionists.
If you click on
this link on the Secretary of State's Office website
, you'll be able to find a list of who's bankrolling the opposition. It's exclusively "Planned Parenthood" (wow, what a sterile misnomer) groups from North Dakota and elsewhere.
You can also
download the PDF here
(I'm hosting a copy on this blog) to examine it for yourself.
If you haven't paid close attention to the Measure 3 debate, let this one fact smack you square between the eyes: the ones spending the huge money opposing it are people who support killing children. That single fact should be enough to convince you to vote in support of this measure in the June primary.
UPDATE:
According to this article
, the amount now is around $700,000. That's a lot of blood money! They want to stop the only barrier remaining to their infanticidal death cult.
[ 1 comment ]
( 17 views ) |
permalink
|
Click a dot to rate this entry:





( 3.1 / 146 )
---
<<First
<Back
| 27 | 28 | 29 | 30 | 31 | 32 | 33 | 34 | 35 | 36 |
Next>
Last>>