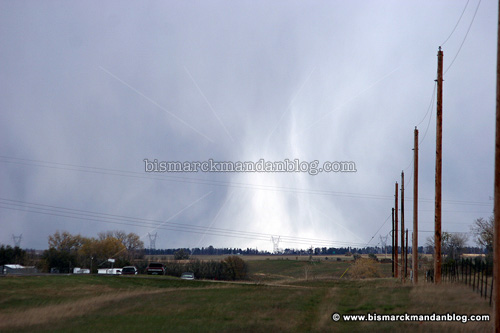 Today's snowfall came in an unusual, spotty fashion. As I watched the waves of snow roll by, I noticed this big column down ol' Highway 10. While I stood taking this photograph, it felt like a similar column of cold and snow rolled right over the top of me! With highs today almost 30 degrees below the statistical normal, it sure was a chilly day. Not chilly enough, however, to keep the camera in the bag.
[ add comment ]
( 3 views ) |
permalink
|
Click a dot to rate this entry:





( 3 / 459 )
---
Factory work has never struck me as particularly stimulating. I've always considered that the reason that I know a lot of people who like making Bobcat money, but don't really claim to love their job there. But there are plenty of people hiring around town...if you're unhappy with your job, thankfully there are plenty of other places hiring.
What's that, you say? They aren't paying as much as Melroe at those other jobs? You mean those other places don't pay you a signing bonus every time the union's collective bargaining agreement comes up for renewal? Then what are you people so darn upset about?
I worked happily at KFYR-TV for 14 years. When I left in 2003, I could have marched directly over to Melroe and started at
a dollar per hour MORE
than I had made after almost
a decade and a half
working at KFYR! And I dare say that editing commercials, generating graphics, and directing newscasts for a four-station TV network is a little more complicated than hanging parts on a paint rack.
Don't get me wrong...like I said, I worked
happily
at KFYR-TV for those fourteen years. I didn't leave because of money. I worked the same sort of silly hours that one would expect at Melroe. But yet I made do pretty well; before age 30 I owned a house, had 5 motorcycles and a beater car...and Scooter, of course. Maybe the people picketing right now need to learn to be content with what they have, because I can guarantee they're making a
lot
more than many other Bismarck-Mandan workers.
I tried the union thing once...in fact, I was even the shop steward at KFYR. The lesson I took from it was that people who work very hard get treated the same as people who don't. Other than that, I really didn't see a huge benefit. We had even less leverage than the Bobcat workers due to our smaller numbers and, after realizing it was a joke, all the employees let their memberships lapse.
So...now these people want their entire health care paid for by Melroe. I don't get health insurance
at all
from my current employer, and I knew that when I tried very hard to get hired there. I've never figured it's his obligation to provide it, either. Employers offer benefits like a health plan as an incentive to hire employees...in this case, there were far greater incentives for me to join the company. If health insurance ever gets that important to me, well...then I suppose I'll look for a similar job that offers health insurance benefits. But I'm certainly not going to storm into my boss' office and
demand
that he provide it. I'd be even less likely to stand outside our office with a sign whining about how unfair he is for not acceding to my demands.
My unsolicited advice for the striking Bobcat workers is to shut up and go back to work, or shut up and go get a job that provides everything that you demand. If you find such a job in the Bismarck-Mandan area, let me know. I'm pretty sure all my readers would like an application and an address to which they can sumbit their resume'.
[ 6 comments ]
( 139 views ) |
permalink
|
Click a dot to rate this entry:





( 3 / 542 )
---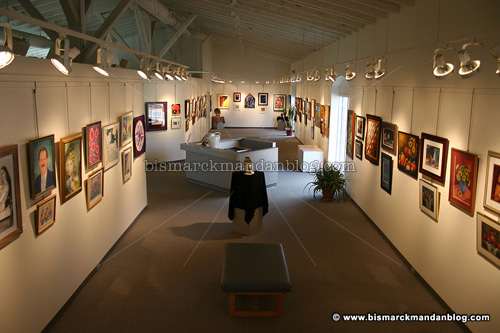 Have you heard of those people who have lived in New York City for a long time but never visited the Statue of Liberty or other landmarks? There are a lot of them, and I'm pretty sure that there are millions of local equivalents anywhere you go. In Bismarck-Mandan, I happen to be one of those people. While I'd like to think that I have been a LOT of the Bismarck-Mandan area's lesser known places, there are many commonly known places where I've never been. That's going to change.
One of my reasons for starting this blog, other than a place to park my photography and flex my writing skills a bit, was to kick myself in the rear and get out to visit things in the area I should have seen long ago. By visiting these people, places, and events and telling you about them with pictures to boot, I hope that everybody benefits. So far I've had a blast and learned a lot. Hopefully you do too!
BAGA, the Bismarck Art and Gallery Association, is one place I had never visited. Today I rectified that as I went in and purchased an artist's membership and wandered around the gallery. There's some really cool work in there! I highly suggest you check it out. This photo shows one part of the gallery, but by no means all of it. I plan to have a little display of some of my photography when the opportunity presents itself.
Are you feeling artistic? An artists' membership is only $25. If you're a fan of art, take the time to visit and see for yourself what local artists are doing. You can purchase certain works if you so desire. BAGA is a neat part of our community, and I think we should all pay them an occasional visit.
[ add comment ]
( 3 views ) |
permalink
|
Click a dot to rate this entry:





( 3 / 536 )
---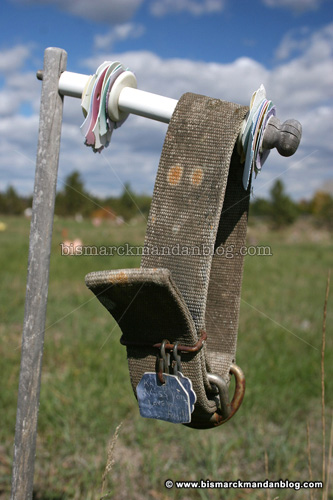 This memorial hangs atop a gravesite at the pet cemetery east of Bismarck, on the grounds of the McDowell Dam recreation area. There are two large sections of the pet cemetery there...many with the standard concrete grave marker, others with hand made memorials such as this one, and some with both.
I'll admit it...I was out there to inquire about a place for Scooter some day. Alas, they are no longer taking in any more critters...the place is full. So if you'd like to have a memorial for the special furry, finned, or feathered friend in your life, you'll have to find other options. I don't know the details on the cemetery next to Pioneer Park, but that's another possible option.
Obviously the Bible doesn't indicate that animals even have an afterlife, but let's face it...we have funerals and memorials and markers for the living. For many people, their relationship with their pet is as deep and meaningful as their relationships with most people. While I'm blessed to say I've got friends as true as any guy could ask, I also have a bird that has been faithfully by my side for almost nine years. In fact, his birthday (hatch day?) is coming up in exactly one week. So while I have no other reason than for my own closure, I'll likely have a memorial to him somewhere to remember all the good times and friendship. Hopefully God gives our family several more years with Scooter, but the awful fact is that we won't always have him. Then he'll be remembered in a memorial like this one.
[ add comment ]
( 3 views ) |
permalink
|
Click a dot to rate this entry:





( 3 / 579 )
---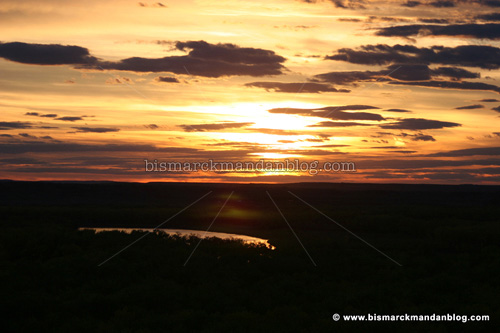 While I was busy running around the state with a video camera this week, the beautiful sunsets kept coming. We're now in a state of full moon, which means we're on track for a new moon (ie, no moon) for the Orionid Meteor Shower in a couple of weeks. We've had Aurora Borealis events lately, and I've actually captured some streaking meteors on film lately too!
Winters in the Bismarck-Mandan area tend to mean hazy skies filled with ice crystals, making stargazing difficult over much of the year. If you are fascinated by the sights above, we're truly winding down for the year. I'll be keeping my eyes on those North Dakota skies...how 'bout you?
[ add comment ]
( 3 views ) |
permalink
|
Click a dot to rate this entry:





( 3 / 494 )
---
<<First
<Back
| 279 | 280 | 281 | 282 | 283 | 284 | 285 | 286 | 287 | 288 |
Next>
Last>>