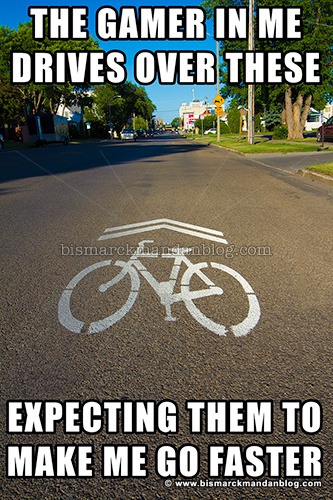 I was a "gamer" in the sense of the Atari 2600, Apple // and Commodore computers, a beta tester for a few Mac game companies, and begrudgingly even X-Box. While I don't own a modern game system or even have a clue about the major PC games out there these days, I do still have vintage game systems hooked up in the house and garage and a healthy collection of games on my iPod Touch. In that respect I guess I'm still a "gamer."
It must be a deeply rooted trait, since I had one instinct as soon as I saw these road markings denoting new "bike lanes" in certain parts of Bismarck. Okay, one instinct besides the apparent waste of money. While there are two or three different sets of markings, concerning in that they lack consistency, this particular set looks like a set of "boost arrows". These features, appearing in any number of driving games, cause wild acceleration once they're driven upon. Sounds right up my alley. Sadly, they are of no effect outside the virtual world.
Interesting side note: although these things are only weeks old, many of them are badly faded. It took a while to find one worth photographing. Perhaps the City Commission could have reviewed the bids more closely or something, because the paint clearly is not holding up in areas of significant traffic.
In any case, I figured I'd hop on board a common internet meme, select "Impact" as my font, and bang out a quick little graphic. Note the historic Provident Life Weather Beacon in the background. My contribution to "teh Intarwebz" this week is complete. Have a great weekend!
[ add comment ]
( 15 views ) |
permalink
|
Click a dot to rate this entry:





( 3.1 / 103 )
---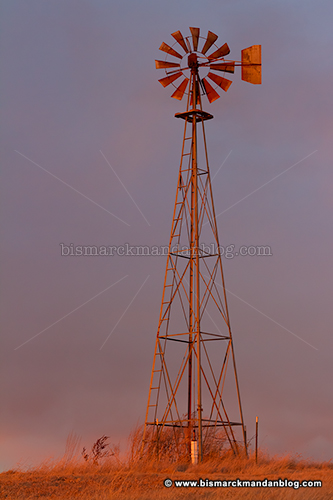 In February the sale of Farmers Livestock, located east of Bismarck, was announced. Along with the auction facility itself, located just off the Expressway on Yegen Road, was included a large parcel of property across the street which was essentially pasture. That parcel was of particular interest to me because it contained the area's most proximate windmill...one of my favorite photo subjects.
I surmised in this post back in February
that the sale of the land could bring with it the demise of this familiar object. As it turns out, I was correct.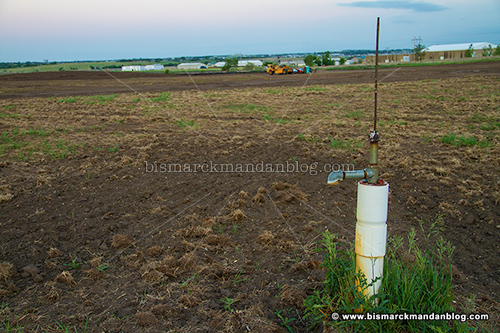 Imagine my surprise and dismay when, on a little photo trip along Apple Creek Road, I found the property was being prepared for development. All that remains of that beloved windmill is the well itself, for however long that may be. It's marked on my GPS as well as Google Earth, so it'll be interesting to see what ends up occupying this spot as well as the enormous chunk of land that has been cleared for development.
So, too bad we lost one. Don't worry about me, though...I've got more windmills marked in my GPS and in my head. I've got
lots
more. I'm just glad I had the forethough to bolt out and grab one more series of shots, where it's bathed in a brilliant orange sunset glow, before vanishing from the local landscape forever.
[ add comment ]
( 10 views ) |
permalink
|
Click a dot to rate this entry:





( 3 / 90 )
---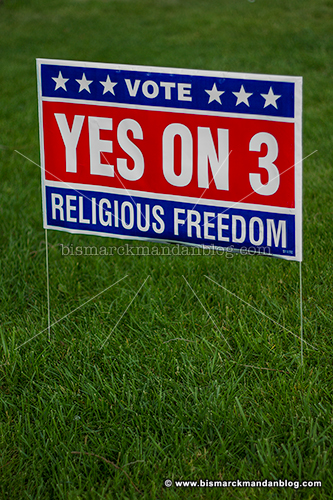 North Dakota has on its books a law which clearly infringes upon First Amendment protections of political speech. In
Century Code 16.1-10-06
the law states,
Any person asking, soliciting, or in any manner trying to induce or persuade, any voter on an election day to vote or refrain from voting for any candidate or the candidates or ticket of any political party or organization, or any measure submitted to the people, is guilty of an infraction.

The display upon motor vehicles of adhesive signs which are not readily removable and which promote the candidacy of any individual, any political party, or a vote upon any measure, and political advertisements promoting the candidacy of any individual, political party, or a vote upon any measure which are displayed on fixed permanent billboards, may not, however, be deemed a violation of this section. (Download as PDF)
Not only does this farcical law violate protections on free speech, but it also doesn't apply equally to all - ie, people with stickers on their car or "permanent" signs. The fact that this law even addresses such exemptions indicates that someone in the legislature realizes how ridiculous, unenforceable, and downright unconstitutional it is.
Of course, it doesn't apply to
Democrats buying gas cards or big screen TVs for people
or
giving college students free rides and pizza
, does it? Well, it looks like they eventually stopped the pizza thing when people found out what they were doing. I never heard of anyone actually being charged with a misdemeanor pursuant to Section 16 of the North Dakota State Century Code, however.
I took down my yard signs as we're all warned to do, simply because I want to use the parts for a project I'm working on in the Garage Majal. Here in my "digital yard", however, allow me to assert my political opinion as protected by the First Amendment:
Measure One: This is a clear
YES
. It says that as a politician I can't arrange to have a government job created, then later on assume that job. I also can't arrange to give a government job a disproportionate raise and then later assume that job. No-brainer.
Measure Two: This is ill conceived and a clear
NO
, even though I want property taxes abolished. If it had simply said, "North Dakota government entities may not derive income from the levying of a property tax." and left it there, I'd be urging everyone to vote yes. In this case, however, the proposed measure does some very BAD things:
- It places spending decisions in the hands of one large, central government;
- It puts fiscal responsibility in the hands of a state legislature which hasn't exhibited any such responsibility since the Schafer administration;
- It requires the legislature to make a "magic formula" which will somehow "properly fund" all North Dakota cities and towns, no matter how great or small, no matter how flooded or oil-rich;
- It will create a need for full-time legislators. Right now they serve part time and for little money. Imagine if it became a full-time job, doling out your money to whoever lobbied them the best? That's how the United States Congress ran off the rails!
- Codifies itself into the Constitution, where it can not be modified without another Constitutional ballot measure. What to do in the mean time?
Again, if Measure 2 simply said "No more property taxes" and left it up to the legislature to react within its means, I'd be on board. As it stands, it pulls the rug out from under them while also handcuffing them at the same time. It's a recipe for disaster.
Measure 3: Again, a clear
YES
. This measure simply restores protections for faith and religion which have gradually been eroded by the federal government. It has passed legal muster after examination by entities at Harvard, Stanford, Notre Dame, U Virginia, et al. It sets a legal standard by which people are protected from new laws which would, for instance, force photographers like me to photograph homosexual "weddings" against our convictions. No, it doesn't mean I can beat my wife or marry a twelve year old. And remember,
its financial support comes from close to a million dollars in blood money from the abortion factories at Planned Parenthood
.
Measure 4: This one is convoluted, but vote NO to KEEP the UND Fighting Sioux Logo. The administration of UND and the State Board of Higher Education have been nothing but misleading in this regard, claiming that we wouldn't be allowed into the NCAA Big Sky Conference when we've already been ratified members for over a year. They're still claiming the sky will fall on UND athletics when they've been playing under sanctions already without ill effect. We need to stand-up for out of state liberal politically correct" types who think they know more about what's offensive to Indians than the actual Native American tribes themselves, which have never been allowed to meet with them!
There we go. Since I'm not a Democrat, I'm now a dissident and a criminal. But wait, I
did
take down my yard signs as ordered! If you feel so moved, please click on the Donate link to the right and chip in some bail money. After you do so, please go to the nearest poll - remember, the polling places have CHANGED for many of you, and
you can find your new polling place here
. Vote YES, NO, YES, NO, and sit back to watch the TV stations try to beat each other with the best election coverage. See you when I get out.
[ add comment ]
( 8 views ) |
permalink
|
Click a dot to rate this entry:





( 3 / 88 )
---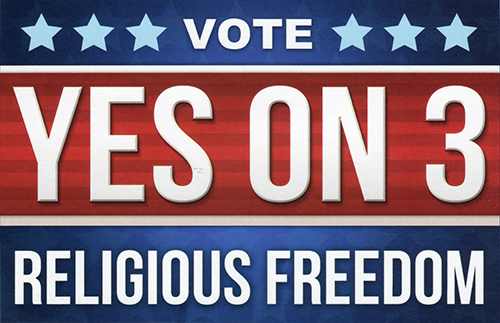 With the estimated amount of blood money poured into North Dakota by abortion factory "Planned Parenthood" organizations approaching
one million dollars
, you can imagine there's plenty of misinformation bouncing around out there. Of course, it's all put out there by the pro-abort propaganda mill who see faith and religion as their primary adversary. No shocker there.
An informational sheet has been put together answering some direct questions that should probably address any concerns one might have about Measure 3. Those concerns would most likely be brought on by the disinformation campaign waged by the pro-abort bunch.
Click here to download the short one-page PDF file.
If you have Adobe Acrobat Reader installed, you're good to go. It may take a little bit for the program to load, but the file should download reasonably quickly. Click on the icon below to download the free Adobe Reader if necessary.

Now onto the video. This addresses some of the same disinformation sneaking around out there but can actually give more background:
There you go. This measure basically provides protection against people passing laws to stifle faith and religion, a war which is being waged heavily here in North Dakota right now, and does not do any of the weird things the pro-abort groups claim it does. Please vote YES on Measure 3.
[ add comment ]
( 8 views ) |
permalink
|
Click a dot to rate this entry:





( 2.9 / 121 )
---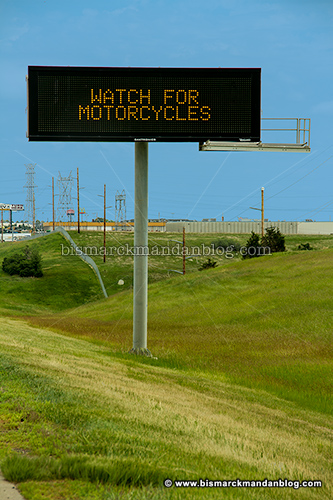 As a motorcycling advocate I was pleased to see this sign on I-94 this weekend. During the pleasant riding months we have a lot of motorcyclists in the area, and I'm sure attractions like Buggies 'n' Blues (photos forthcoming) and the ABATE Menoken Rally brought a measurable increase in numbers of two-wheeled motorists this weekend. Whenever I hit an unmarked section of chip-seal gravel around Bismarck I tend to think that we bikers are forgotten...but not by the DOT this weekend!
[ add comment ]
( 6 views ) |
permalink
|
Click a dot to rate this entry:





( 3 / 131 )
---
<<First
<Back
| 26 | 27 | 28 | 29 | 30 | 31 | 32 | 33 | 34 | 35 |
Next>
Last>>