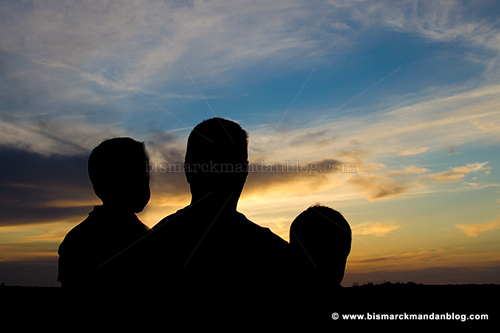 That's what little PJ says it's all about these days. We took their bikes out for a ride and watched the sunset, airplanes flying overhead, and even stars beginning to show up in the darkening sky. While we do plenty of family stuff too, it's nice for Mommy to get all three guys out of her hair for a while and give her a break while we explore the world.
We're really thankful for this pleasant weather...a guy's gotta roam, whether he's four or forty. Now that we can do it without freezing little noses or other extremities, the possibilities are opening up quickly. Add to that the fact that our city isn't battling a flood this time around, and we should be able to draw a stark contrast between this summer and "the summer that wasn't" of last year.
I was distressed to find out that the Minot Air Force Base's "Northern Neighbors Day" air show
has been CANCELLED for this year
- I've been looking forward to it since 2009 - but I'm determined to make this summer one for the record books anyway.
[ add comment ]
( 21 views ) |
permalink
|
Click a dot to rate this entry:





( 3.1 / 221 )
---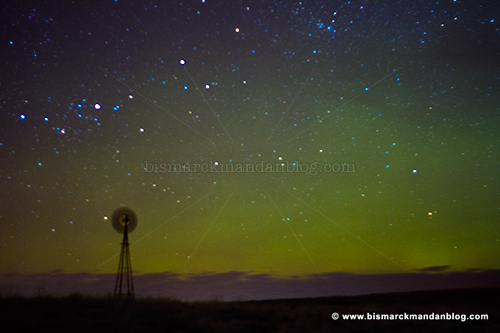 I decided to go out on a limb and head out on this breezy night in the hopes of seeing some auroras. I spotted a dull glow in the northern sky and set up to take a quick shot. As you can see from the blurred windmill, the breeze was blowing tonight. The auroras didn't ever do anything for me other than cast a dull green glow near the horizon, so I started coming home. I did, however, spot something really cool...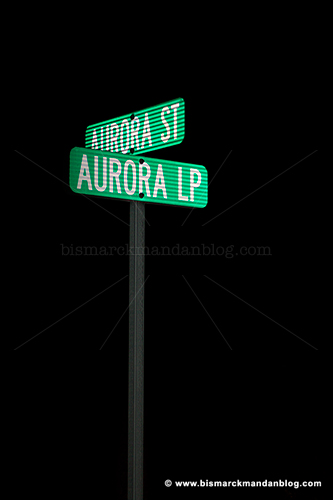 Too bad I couldn't get the Northern Lights in the background of this shot, because that would simply be too darn cool. I could Photoshop it, but that's not how I operate. In any case, I came home with a unique "Aurora" photo to show you!
[ add comment ]
( 12 views ) |
permalink
|
Click a dot to rate this entry:





( 3 / 258 )
---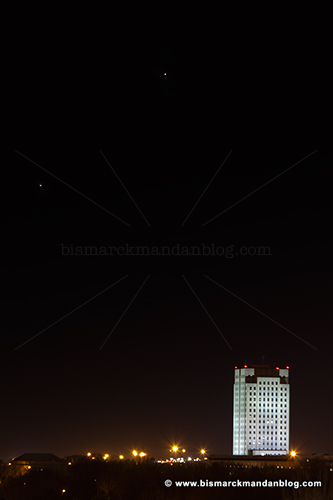 I spent the past couple of nights trying to find the right timing, location, and conditions to show the alignment of the planets Venus and Jupiter with the capitol building in the foreground for context. Clouds got in the way for a couple of nights in a row, but tonight I solved that issue somewhat by choosing a lower vantage point. It seems that no matter what, when the planets approach the horizon some distant clouds creep in and block them from view.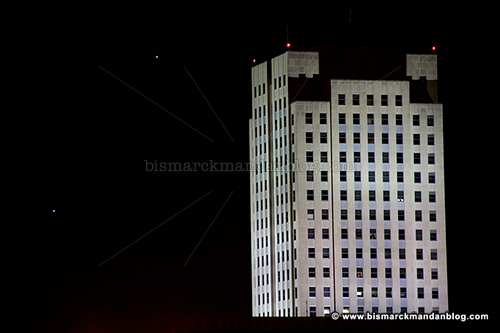 The funny thing is, while I tried very hard and somewhat patiently to get a shot of them close to the capitol, I think I like the distant shot even better. Ideally I'd choose a point in between, but there isn't one with sufficient elevation to look over the treetops.
Some things just never line up quite the way you'd like, and in my case I think this event is one of them. I'd like to be able to get a distant shot of the capitol with the planets beside it while their alignment is as close as possible, but available vantages and prevailing sky conditions have conspired against me. Oh well, I think I got a couple of decent shots. It's time to move on to another challenge.
[ add comment ]
( 11 views ) |
permalink
|
Click a dot to rate this entry:





( 2.9 / 239 )
---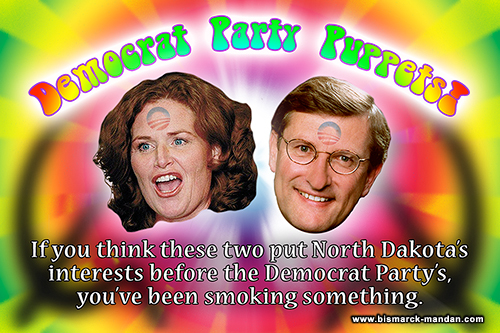 I originally brainstormed the root idea for this post a month and a half ago - I actually made this graphic on February 3rd - but in light of a bunch of other posts I'm reading around the web coming to the same conclusion, I figured I'd finally get around to a little stream-of-consciousness here.
My friend Rob
and I are
not the only ones
noticing that there are two Heidi Heitkamps running for office this year: there's the relatively conservative, "North Dakota Values" type of Heidi Heitkamp running here in North Dakota, while there's a "leftest of the leftists" Heidi Heitkamp running on the national stage.
She's been going on a
magical mystery tour
with a bunch of leftist Democrat women "standing up for women's rights" out of state, while
claiming support for a religious exemption here at home.
Notice in the Fargo Forum article I linked here, that even the stenographers and apologists at the Forum are forced to point out that she's one candidate here and a totally different candidate nationally...although from a sympathetic point of view (natch).
Lest you forget, here's Heidi addressing a bunch of her "progressive" buddies and union front groups after Obamacare was stuffed down our throats against the wishes of a vast majority of North Dakotans:
And here's a recent ad in which she appears along with some of the more radical elements of the Democrat party in support of forcing the American people to pay for other people's contraception and abortion-inducing drugs despite their religious objections:
By the way - has anyone actually tried to ban contraception? Nope. We just don't want to pay for it. Apparently in the eyes of Heidi Heitkamp, that's a sin. Notice how they will NOT mention the abortifacients: no, they know they'd lose that battle in a landslide. Instead, they re-frame and misrepresent the argument, claiming that Republicans want to BAN contraception entirely.
By the way, North Dakota has a LOT of people who profess one manner of religious faith or another...does Heitkamp really think that they'll enjoy being forced to finance the sexual habits of everyone else including abortion-inducing drugs? Apparently she does, at least outside of North Dakota's borders where she espouses that view.
Then you've got good old Gaylord "Kent" Conrad. For years he harped on President Bush about deficits that look like a monthly allowance next to the spending habits of the Democrat-controlled Congress since 2006. At President Obama's behest it's only gotten worse, with deficits so huge they have to be expressed in numbers typically only used in astronomy!
Don't expect any accountability on these folks, either: Kent Conrad has been under ethics investigation forever, but the Democrats have buried it the best they could...even to the point of changing the locks on the committee room doors so that Republicans couldn't join the investigation hearings! The Democrats have so far managed to whitewash the whole thing and claim nothing happened. How did this appear in the North Dakota media? It didn't, until: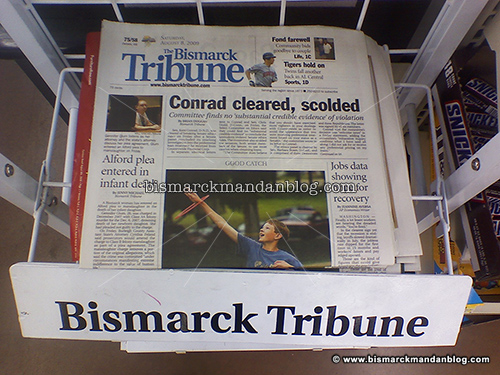 As far as I recall, he wasn't "cleared" - the investigation was merely dropped. If you want to see the tip of the iceberg on his misdeeds that even a blogger from Bismarck can uncover,
click here
.
Which brings me back to my original point: you cannot afford to elect a Democrat, not even for dog catcher or meter maid. Why? You don't want to be responsible for advancing their political career even one tick, because before you know it you'll have a Byron "Abramoff Skybox" Dorgan, Kent "Countrywide Mortgage" Conrad, Earl "Union Owned & Operated" Pomeroy, or Heidi "Two-Face" Heitkamp.
Regardless of how Heidi Heitkamp campaigns in North Dakota, or what she really believes, look at how she already behaves outside the state! At this very moment she's walking in lockstep with radical leftist Democrats who have next to nothing in common with the values of the average North Dakotan. They're the ones whose money and support she needs to try to get elected, and they are the ones to whom she will be indebted if (God forbid) she ever gets elected. Who do you think she'll listen to before voting on legislation: you, or the Democrat Party machine which she needs to keep her in office?
If you think that a Senator Heitkamp would be any less duplicitous as Candidate Heitkamp, then you're fooling yourself. If you doubt me, simply look at how Dorgan, Conrad, and Pomeroy played that same two-faced game for decades. They'd throw on a flannel shirt when they come to ND, talk about "our North Dakota way", then jet-set back to Washington and vote 90% of the time with Kennedy, Pelosi, et al...while
getting most of their campaign funding from out of state
.
If you still aren't convinced, let me put it another way:
- People who support abortion, including "partial birth" abortion where a child is delivered up to the neck and then killed with a spear to the brain, even to the point of killing a child who survived an abortion because "that was the mother's original intent" anyway - vote Democrat.
- People who hate oil, coal and gas, want us to pay European gasoline prices ($8-10/gallon), want to shut down American power plants and kill American oil exploration while handing out billions to their "green energy cronies" - vote Democrat.
- People who want to
promote homosexuality in schools
, including "fisting" and other techniques (
such as the group Obama's "Safe Schools" czar founded
) - vote Democrat.
- People who want freedom
from
religion instead of freedom
of
religion... people who think "separation of church and state" (which appears in NO official document) applies to banning prayer from schools or the Ten Commandments from public property, but does
not
apply to the goverrnment forcing churches to pay for abortions against their doctrines - vote Democrat.
- People who want to "reinterpret" or abolish the 2nd Amendment and disarm the American people - vote Democrat.
- People who want to tell a landowner what they can and can't do on their property if they discover an endangered bug, vermin, or other critter on it - vote Democrat.
- People who scream "keep your laws off my body" but want to force their government healthcare system on yours - vote Democrat.
- People who scream "keep the government out of my bedroom" but want you to pay for what they do in there - vote Democrat.
- People who claim that America is the source of evil in the world, want to dismantle our national defenses, and treat dictators and Islamic theocracies as moral equivalents to the United States - vote Democrat (or Ron Paul).
I could go on and on, but you get the picture...and it ain't pretty. It doesn't matter if some local Democrat candidate sounds somewhat decent in their campaign for local or state office: at the end of the day, they're beholden to the activists and perverted ideologies I listed above.
North Dakota Democrats have to follow their party leadership and ideologies, which is the same bunch of twisted activist radicals who have put us in this current predicament. You elect a Democrat, you're giving all the above a foot in the door...a foot which will someday occupy the boot on your neck.
[ add comment ]
( 23 views ) |
permalink
|
Click a dot to rate this entry:





( 3 / 230 )
---
I'm sorry this isn't iPhone enabled (silly that they won't display Flash content) but I'll have to work on compatibility another time. I uploaded this video to
my blog's Facebook page
but they really destroy the video quality so I wanted to post it where it looks decent.
I'm a firm believer in applying enough bandwidth to make the video look decent in detail. I'd love to put it on YouTube or Vimeo, but there are problems with that. As a result, I'm hosting it myself in Flash Video (FLV) format. This will display on pretty much every device out there EXCEPT my beloved Apple devices - iPod, iPhone, iPad... bummer, but at least I maintain ownership of my content.
What's that, you say? YouTube and Vimeo assume ownership of your content? Not exactly...but what they DO assume is a perpetual license to keep, use, distribute, and make new videos from your content. Once you upload to them, you're without any rights whatsoever.
Here's how you sign your rights away by uploading to YouTube, according to their Terms of Service page:
"However, by submitting Content to YouTube, you hereby grant YouTube a worldwide, non-exclusive, royalty-free, sublicenseable and transferable license to use, reproduce, distribute, prepare derivative works of, display, and perform the Content in connection with the Service and YouTube's (and its successors' and affiliates') business, including without limitation for promoting and redistributing part or all of the Service (and derivative works thereof) in any media formats and through any media channels. You also hereby grant each user of the Service a non-exclusive license to access your Content through the Service, and to use, reproduce, distribute, display and perform such Content as permitted through the functionality of the Service and under these Terms of Service. The above licenses granted by you in video Content you submit to the Service terminate within a commercially reasonable time after you remove or delete your videos from the Service. You understand and agree, however, that YouTube may retain, but not display, distribute, or perform, server copies of your videos that have been removed or deleted. The above licenses granted by you in user comments you submit are perpetual and irrevocable."
(YouTube Terms of Service page)
Vimeo's policies are equally disturbing:
"By submitting a video, you grant Vimeo and its affiliates a limited, worldwide, non-exclusive, royalty-free license and right to copy, transmit, distribute, publicly perform and display (through all media now known or hereafter created), and make derivative works from your video for the purpose of (i) displaying the video within the Vimeo Service; (ii) displaying the video on third party websites and applications through a video embed or Vimeo's API subject to your video privacy choices; (iii) allowing other users to play, download, and embed on third party websites the video, subject to your video privacy choices; (iii) promoting the Vimeo Service, provided that you have made the video publicly available; and (iv) archiving or preserving the video for disputes, legal proceedings, or investigations."
(Vimeo Terms of Service Page)
So...have you uploaded something containing yourself, your kids, your friends, or anything else personal to you? Congratulations; you just signed away your rights to it. But it gets even worse; check out these two clauses:

"To the extent permitted by applicable law, you agree to defend, indemnify and hold harmless YouTube, its parent corporation, officers, directors, employees and agents, from and against any and all claims, damages, obligations, losses, liabilities, costs or debt, and expenses (including but not limited to attorney's fees) arising from: (i) your use of and access to the Service; (ii) your violation of any term of these Terms of Service; (iii) your violation of any third party right, including without limitation any copyright, property, or privacy right; or (iv) any claim that your Content caused damage to a third party. This defense and indemnification obligation will survive these Terms of Service and your use of the Service."
and,
"You will indemnify, defend, and hold harmless Vimeo and its affiliates, directors, officers, employees, and agents, from and against all third party actions that: (i) arise from your activities on the Vimeo Service; (ii) assert a violation by you of any term of this Agreement; or (iii) assert that any content you submitted to Vimeo violates any law or infringes any third party right, including any intellectual property or privacy right."
"Indemnify"
means that if you post a video and someone decides to sue you for some reason - that could be that you used an Enya track without license, you showed someone in the video who did not give you permission to post their likeness on the Internet, or somehow otherwise prompted someone else to legal action - not only do you hold YouTube and Vimeo unaccountable, but you also
agree to pay their legal expenses
if they get sued for hosting your content. Do you have the money to pay for YouTube's (ie, Google's) or Vimeo's legal team?
In the case of the video above, I take it (as with all my photography) very personally. That's why I typically put those annoying watermarks on my photos; I got tired of seeing them pop up on people's website or MySpace pages. I have no desire to give Google, Vimeo, or anyone else a legal license to do whatever they want with it. And, although I'm using the music under license, I don't want to possibly expose myself to some huge corporation's legal expenses.
By the way, Facebook has similar language but within different parameters (ie, subject to your Privacy settings). When it comes to Pages, which is how my blog operates there, it appears that Facebook makes no such assertions. Otherwise no other corporation would open up a Page there on Facebook because they're not willing to relinquish their intellectual property rights either. However, if your personal Facebook account is public, so is your data - photos, posts, whatever - and you give them the rights to use them accordingly.
I have posted stuff to YouTube in the past, but not stuff that's personally important to me. The exception to that would be
my tribute to Sergeant Steve Kenner of the Bismarck PD
, a video that I wanted to share with the community. When it comes to things like this though, where I want to reserve all rights of ownership and use, I've got to host it myself and suffer some compatibility issues. It doesn't work the best across all platforms, but it remains mine.
[ 1 comment ]
( 37 views ) |
permalink
|
Click a dot to rate this entry:





( 2.9 / 204 )
---
<<First
<Back
| 34 | 35 | 36 | 37 | 38 | 39 | 40 | 41 | 42 | 43 |
Next>
Last>>