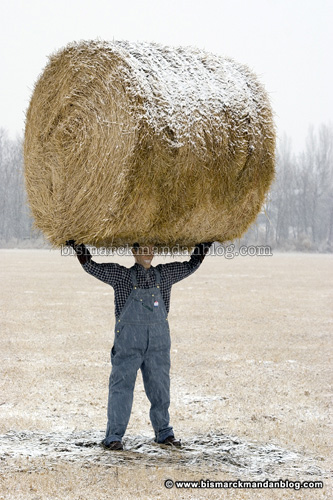 This poor fella stands along south 12th Street, sort of an agricultural Atlas who refuses to shrug. I bet he's cause some serious rubbernecking, though!
Hat tip to Brucellosis for featuring this on his blog. You beat me to the punch! I took some photos of this a while back but hadn't posted them yet, and I'm glad I waited to catch him in the snow. It helps with the fact that the background's pretty unappealing.
This is part of a political campaign display, and is accompanied by a sign for a hopeful candidate. His message: help keep District 30 strong! I'm not showing the sign, though...no free advertising. Especially considering that our three representatives down here are Republicans, so this challenger is presumably a socialist, I mean Democrat. Same difference.
I have since found out that Arnie Zent was vying for a Republican nomination for a vacated seat. My presumption was wrong, as is often the case. That drives home the old lesson: When you presume, you make a pre out of you and me!
[ add comment ]
( 18 views ) |
permalink
|
Click a dot to rate this entry:





( 3 / 472 )
---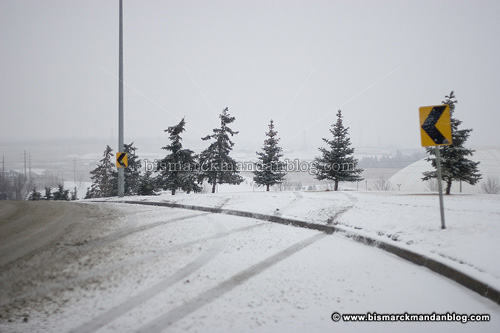 Gateway Avenue is the street that goes past Basin Electric on its way from State Street to 19th Street. At the crest of this hill the road curves to the left a little, and it's off camber as well. Naturally it becomes very treacherous when icy, as a couple of people found out tonight.
I've never made contact with either the lightpost or the tree, but I did discover the danger of this curve early on in my driving career. Thankfully I filed that information permanently in my melon, because it was particularly slick there tonight! In fact, I saw a 4x4 go by all stepped out as they tried to avoid the curb. Unlike the people whose wheel tracks appear in this photo, they were successful. The person who connected with the lightpost left some parts behind!
[ add comment ]
( 7 views ) |
permalink
|
Click a dot to rate this entry:





( 3 / 387 )
---
Will Smith has a new DVD coming out, "I Am Legend." The industry would like to get you into a Will Smith mood, so this weekend the various channels aired the following movies: Men in Black; Legend of Bagger Vance; I Robot; and Enemy of the State. I think there may have been one more, but I'm not exactly firing on all cylinders at the moment.
Tommy Lee Jones has two DVDs coming out: one of those loser anti-war movies that went nowhere in the box office (Valley of Elah) and an Academy Award Winner (No Country for Old Men). So he's appeared this weekend in features such as Men in Black (bonus Will Smith overlap), US Marshalls, JFK, and perhaps a few that I've missed.
It's pretty obvious anytime a blockbuster movie is about to be released in the theaters or on DVD. The work of the movie's stars will appear on the entertainment networks in the week or two preceding the release. That way you'll be reminded how much you like Will Smith or Tommy Lee Jones, for example. As if I needed a reminder. But it kinda gets you in the mood to run out and spend twenty bucks on the new DVD release, or forty if you're going to a movie with a date.
I'm not saying it's a big conspiracy, but it is clever nonetheless. I don't think there's anything sinister about it, either. It's just noteworthy. The next time you're flipping through the channels, watch for the patterns. They're pretty obvious once you start looking. In fact, if you see six Pierce Brosnan movies on in one week, it might be a good heads-up that he's got a new one on the horizon that you didn't know about.
[ 1 comment ]
( 13 views ) |
permalink
|
Click a dot to rate this entry:





( 3 / 277 )
---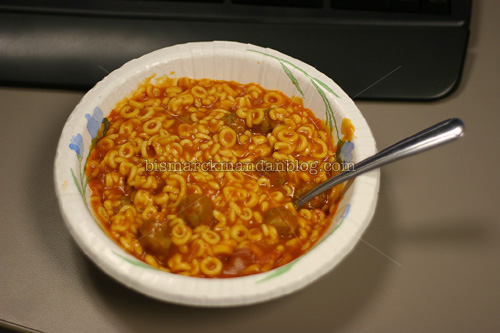 Apparently my bout with influenza B isn't over. Thursday I started coughing pretty heavily, which was really awkward considering I was the tech for a studio recording session. I soldiered through it, but managed to spike a fever of 104 degrees by Thursday night. Bleah. Therefore, I've been a couch pilot for the past two and a half days, leaving me with plenty of time to explore the 'net and my satellite TV. The former is where I found out about this story:
the creator of Spaghettios has passed away.
Since my days in television, I've been notorious for keeping a locker full of various Chef Boy Ar Dee, Franco American, or Hormel products. Much of that was the result of working long hours with no real breaks, so I could just nuke something and eat while I work. I still prefer to do so now that I have a job where I get a lunch break. While I don't have a locker like I did at KFYR, I have a plastic rolling bin with lots of cans in it.
Anyway, about "soup guru" Kurt Eberling, I'm grateful that he came up with Spaghettios. I have a feeling they were the start of a lot of the funky pasta meals served in a can over the years. But the guy was also a scout leader and an artist, and it seems like he was a nice guy. When I get back to work, I think I'll crack open a can of Spaghettios in his honor.
[ add comment ]
( 3 views ) |
permalink
|
Click a dot to rate this entry:





( 3 / 261 )
---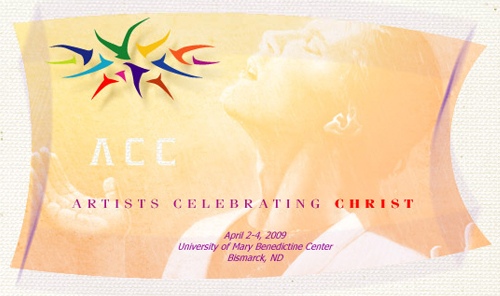 Just in time for easter, it's an art show with a Christian theme. It's time for the Artists Celebrating Christ show, which is being held at the Benedictine Center out at the University of Mary. For those of you unfamiliar with the campus, it's that building all the way on the south end of campus with the big concrete whatsit out front.
I've got a pair of pieces in this year's show, one of which was actually taken out at the University of Mary. I'm a little late posting this because I've been home with my boys tonight instead of out at the Meet the Artists night. The show continues through Friday and Saturday, however.
You can find a complete schedule of the goings-on at this event and other information at
www.accartshow.com
.
[ 1 comment ]
( 22 views ) |
permalink
|
Click a dot to rate this entry:





( 3 / 271 )
---
<<First
<Back
| 198 | 199 | 200 | 201 | 202 | 203 | 204 | 205 | 206 | 207 |
Next>
Last>>