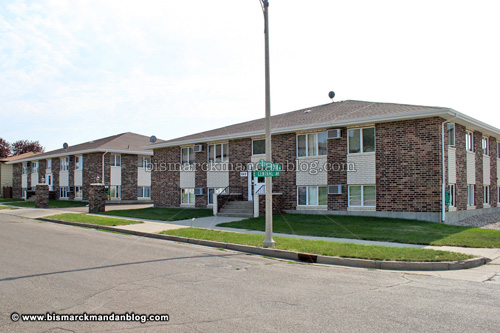 This inconspicuous little pair of buildings at the corner of Central Avenue and Constitution Drive has a distinctive quality: it's the "home" of both of North Dakota's US Senators. Or is it?
When I lived here, the nice lady who managed the property told me that these buildings are owned by "the Senator's brother." I originally understood that to mean Byron Dorgan's brother because he's the Senator that "lived" in my building, but further investigation at the County Records room showed me that the Conrad Brothers owned it. They filed a Quit Claim Deed in 2004 to form an LLC titled "GKC Apartments, LLC." I assume GKC stands for
Gaylord Kent Conrad
, which is Kent's real full name. So, apparently Senator Conrad has some ownership in these two buildings...and does his fellow Senator a favor by providing him a nominal North Dakota address as well.
Like I said, I used to live in one of these apartment buildings, and rather enjoyed my time there. One thing I never saw, however, is either of our esteemed Senators in the building. I'm not saying they were never there, but in the time I lived there I never saw them. I hardly think that this is where a United States Senator would live. That raises the question: are they really North Dakota residents, or just DINOs, Dakotans in Name Only?
In the building where I lived, mailbox #6 is reserved for "Sen. Byron and Kim Dorgan." I did a lot of laundry out in the hallway, and spent a lot of time running out to my garage and back while wrenching on the motorcycles. I would have recalled passing a United States Senator in the hallway, or perhaps seeing his wife doing a load of the whites in those dependable washers & dryers in the hallway. Sadly, I don't recall a single instance of either.
There is a mailbox in the adjoining building, reserved in for "Senator Kent Conrad & Lucy Calauitti." While I wasn't in the same building as Senator Conrad or Lucy, I never saw either of them near the buildings or in the enclosed parking lot, either. Perhaps I was just inattentive, I don't know.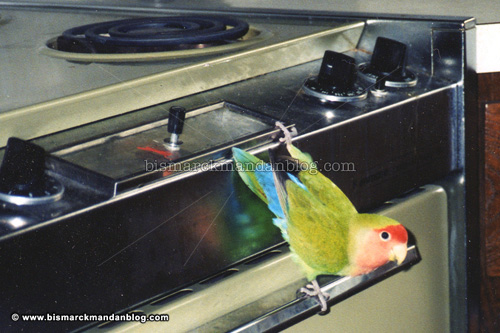 Scooter and I were wondering if perhaps the Senators had the same lovely olive green appliances etc. that the rest of us plebes had? I don't mean to engage in class warfare or anything...I just thought it might be an interesting. As you can see, Scooter was rather fond of my green stove, and if the bird of the house is happy, everyone's happy.
I've often thought of North Dakota's senatorial delegation as Dakotans In Name Only, regardless of where they claim to live.
When you examine the voting records of these Senators,
you see that:
- Senator Conrad voted the same as Ted Kennedy 96.4% of the time, John Kerry 87.5% of the time, and Chuck Schumer 87.9% of the time.

- Senatord Dorgan voted the same as Kennedy 92.9% of the time, Kerry 84.4% of the time, and Schumer 87.9% of the time.

- Americans for Democratic Action, a group that claims to be America's oldest liberal lobbying organization, rated Dorgan 95 out of 100 and Conrad 90 out of 100. Kennedy, Kerry, and Schumer all got 100s.

Maybe someone can shed some light on their actual residence. If these are just convenient places to "hang out" while back in ND on business, and not their residences, then I stand corrected. But would they list their wives' names on the mailbox of such a place? Doubtful. Rather, I'd think that they would leave their names off the mailboxes entirely for privacy. In this case I think it appears as a thinly veiled attempt to maintain North Dakota residency on paper while living it up in Washington...in the company, I remind you, of east coast liberals with whom they vote the vast majority of the time.
I'm not typically in the business of political blogging, but the US Senate is where the playing field is even for North Dakotans. If North Dakotans vote to continue sending a couple of east coast liberals out there to fight for our interests, we're doing our state a disservice. (I didn't vote for either of these two when I voted early last week - scroll down a few posts). The only time I ever see either of these two guys is when they fly back to scare the pants off of old people and farmers. I'd like to see them lose their bid for re-election, and see how long they live at the corner of Central Avenue and Constitution Drive.
[ 4 comments ]
( 115 views ) |
permalink
|
Click a dot to rate this entry:





( 3 / 539 )
---
<<First
<Back
| 274 | 275 | 276 | 277 | 278 | 279 | 280 | 281 | 282 | 283 |
Next>
Last>>