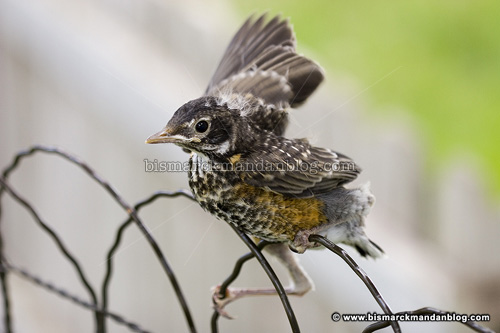 It is with great joy that I discovered an empty nest when I came home from work today. The four baby robins that were nesting above one of my motion sensor lights are out and about! In fact, I don't know if they even return to the nest at this point. They're all feet, have dull colors as natural camouflage, and are still being tutored on flying and pecking for their own food...but they're out of the nest.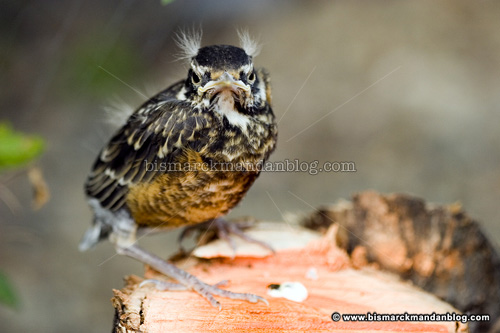 They still have those little white tufts of downy feathers and that downward tilt to their beak that makes them resemble grumpy old men! I spotted two of these little birdies but haven't walked around enough to find the other two. We have so many trees here that I might never find them. I was going to mow the lawn tomorrow, but get to put that off so I don't mistakenly find one with the mower.
Well, the nesting part of this story was a huge success. I'm glad I climbed up and took photos of their parents feeding them when I did; that time came and went pretty quickly! As a parent myself, I know just how that goes. At the moment we're transferring videotapes of our little boys to DVD and it's amazing to watch videos of PJ from only a year and a half ago, when he was a newborn. I don't even want to think of what it'll be like when our two boys leave the nest! I'm told that time is coming faster than we think.
[ add comment ]
( 3 views ) |
permalink
|
Click a dot to rate this entry:





( 3 / 262 )
---
<<First
<Back
| 187 | 188 | 189 | 190 | 191 | 192 | 193 | 194 | 195 | 196 |
Next>
Last>>