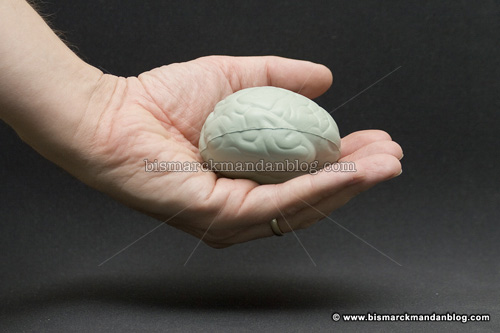 No, I didn't get it from the Wizard of Oz, although some may allege a resemblance to
the scarecrow
. Ignore them. I got this brain-shaped spongy stress ball from a satisfied client last week after doing a video about traumatic brain injuries.
It turns out I've got experience there, after decades of bouncing my body off the earth (and whatever else gets in the way). I've stuffed my skull slightly through a friend's windshield, trashed a few motorcycle and mountain bike helmets, taken a few hits to the head in karate (you can't block 'em all), and I don't even remember what else. I probably don't remember because of my history of traumatic brain injuries! I've had some extended hospital stays to nurse my bruised melon in Montana and North Dakota. As far as I can tell, however, there has never been any permanent dain bramage.
Side effects of TBI's can include headaches, nausea, dizziness, impulsiveness, difficulty finishing tasks, memory loss, and I forget the other ones I highlighted in the video. Strange...I can't get past memory loss!
Anyway, I now have a brain. Stay tuned to see if I use it.
[ 1 comment ]
( 22 views ) |
permalink
|
Click a dot to rate this entry:





( 3.1 / 277 )
---
<<First
<Back
| 167 | 168 | 169 | 170 | 171 | 172 | 173 | 174 | 175 | 176 |
Next>
Last>>