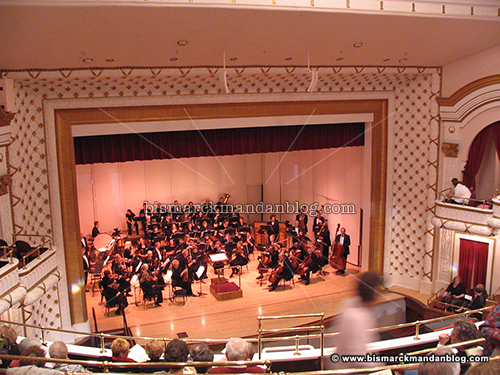 After a lovely dinner at The Walrus Restaurant this weekend, my wife and I took in a fantastic season finale at the Bismarck-Mandan Symphony Orchestra. Naturally I'm biased because my favorite violinist plays with the BMSO, but Saturday night held a particular treat.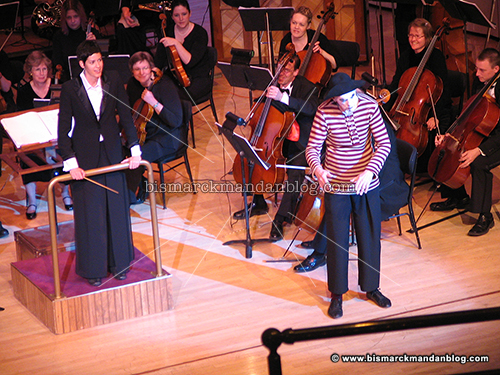 Performer Dan Kamin (
dankamin.com
) came to town last week to entertain children and adults alike, including his program "The Classical Clown" with the Symphony. The show itself is wonderfully assembled, and it was a real joy to experience firsthand!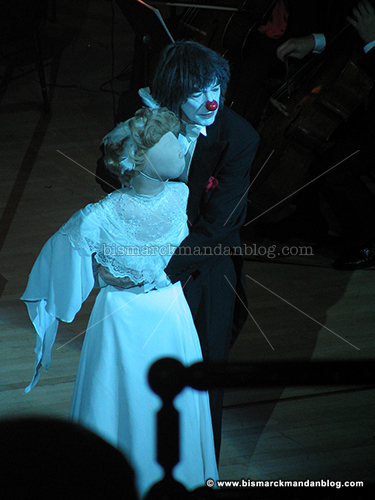 In addition to a variety of music selections and a fun ride with the character of the Classical Clown, the evening took a very colorful tone. It ranged from dancing...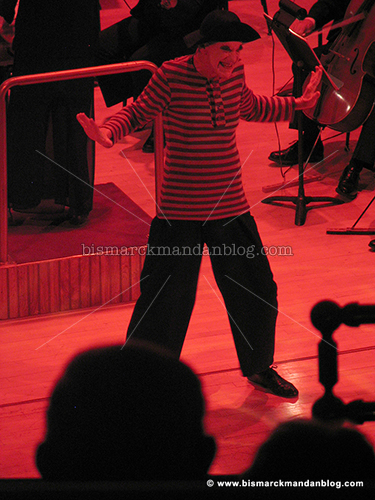 ...to a menacing, mime-frightening drama, complete with a walls-closing-in routine...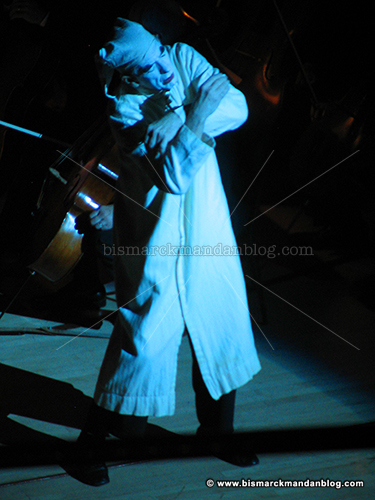 ...to some sweet lullaby relaxation. Mr. Kamin's character led us through the ups and downs of the selections performed by the Symphony, giving a new context to many familiar favorites.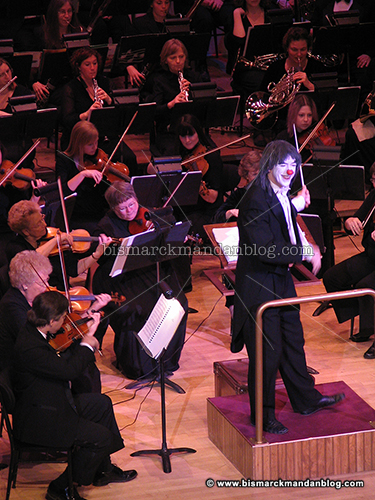 This is no ordinary clown, however; after a brief trip backstage, he returned with tuxedo and baton, ready to conduct the Symphony! And conduct he did...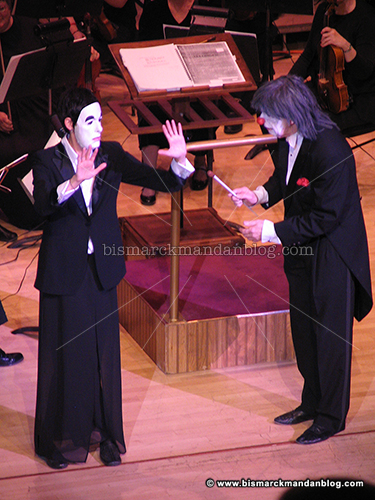 ...until our conductor, Dr. Beverly Everett, returned with a few tricks of her own! This is a challenging production in that the conductor needs to co-star and deliver a lot of dialogue. Dr. Everett performed brilliantly! She was captivating and a perfect partner for Mr. Kamin. The orchestra was able to get in on the act a few times, too, which I'm told was a real treat for them.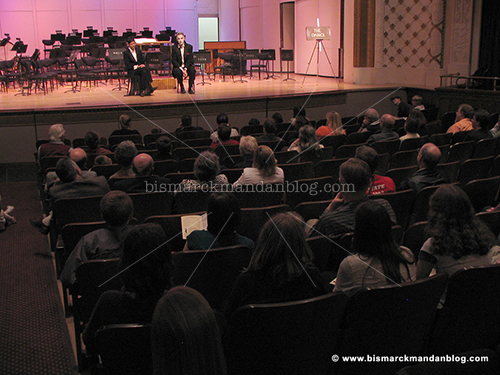 The "cherry on top" for the evening was a not-so-brief Q&A session with conductor and mime, where a bunch of us were allowed to ask questions to our hearts' content and hear Mr. Kamin describe his craft.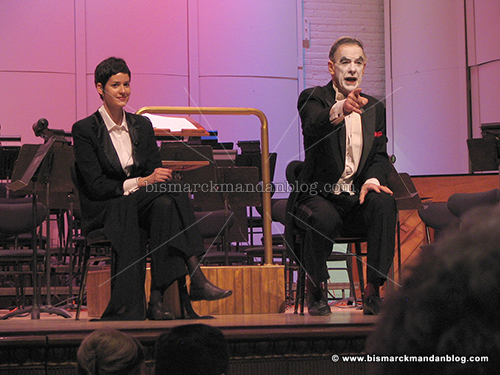 The show's star performers graciously took questions from the group until almost 9:45! We got to hear Mr. Kamin talk about his experiences teaching Johnny Depp how to do magic and mime routines for movies such as Benny & Joon (which I loved), including a trick he used during the Pirates of the Caribbean. He also taught Robert Downey, Jr. the skills he needed to star in the movie, "Chaplin."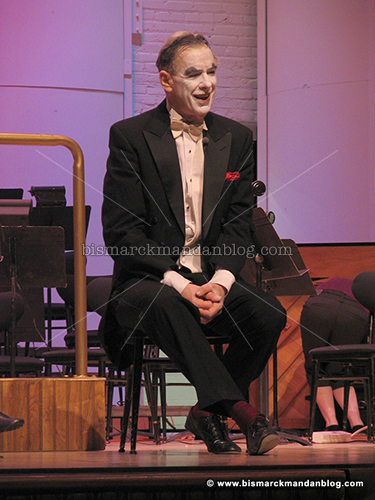 What a personable fellow! You can tell that Mr. Kamin really enjoys his work. He talked a lot about the history of his craft, relating silent movie stars with mimes and other genres of performing without words. He taught a little boy how to do the "moon walk" and explained how, while popularized by Michael Jackson, the move was actually invented by
Marcel Marceau
.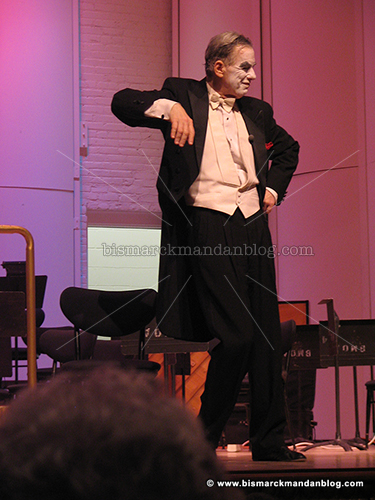 Like I said, he hung out with us for quite a while! In addition to talking about the history of mime, he also expounded on my comment about relating comedic timing to music timing in his work. He talked about how he runs into different and similar conventions in humor when performing in different parts of the world, as well as what it was like to perform for a deaf audience.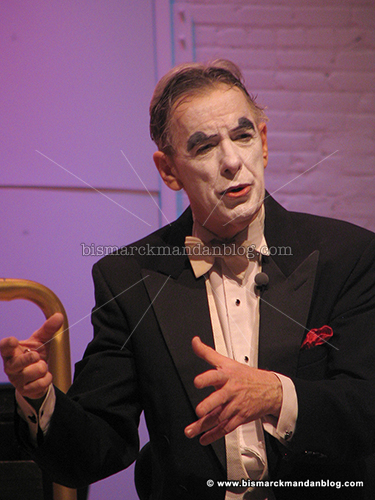 The art of mime couldn't ask for a better ambassador than Mr. Kamin. He said so many things I wish I could have written down. The one I was able to type into my phone, one of the best of the evening:
"I look at Mime in the greatest sense, as in it's what happens when you stop talking."
Well said. He compared the stereotypical "mime in white face" to the silent movie stars of old,
Cirque du Soleil
performers of today, and other styles that have existed for decades (if not longer).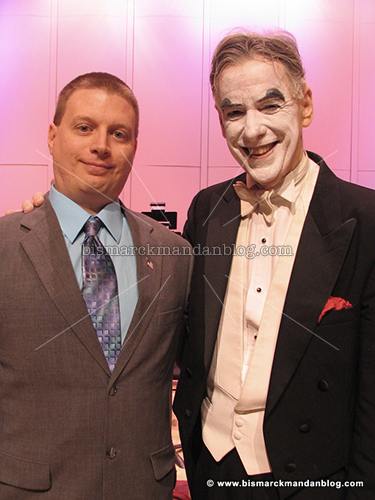 Naturally I wanted to thank Dan Kamin in person for a brilliant show, his gracious gift of time to answer questions, and his warm personality. I think I blurted part of that out as I mentioned how I liked the scenes he brainstormed for the aforementioned movies. Then it was time for a quick photo and good-bye. Now it's time to go out and rent Benny & Joon again...
(I hope these photos aren't too grainy. I didn't take my camera with me, instead relying on my wife's little point-n-shoot model. It doesn't perform in low light like an SLR, but I know how to extract the most from it when there's no room for my big camera.)
[ add comment ]
( 20 views ) |
permalink
|
Click a dot to rate this entry:





( 3.1 / 401 )
---
<<First
<Back
| 106 | 107 | 108 | 109 | 110 | 111 | 112 | 113 | 114 | 115 |
Next>
Last>>