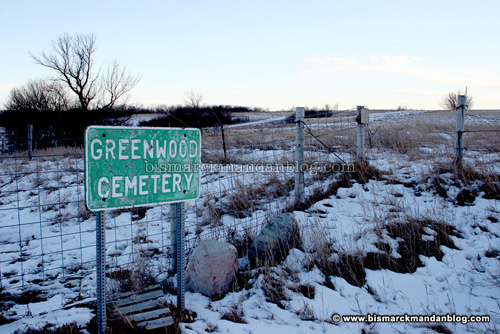 South of Mandan on the end of a short dirt trail is the entry to the Greenwood Cemetery. In fact, these days the access road to the cemetery passes through some seemingly private land (I don't know whose). But I doubt this cemetery ever sees many visitors.
There are only about a half-dozen tombstones remaining at this cemetery, all dating back to the mid to late 1800s. Most are in quite a state of disrepair. The cemetery is maintained, however. I may ask around to find out who...what's important is that it's not neglected. In fact, several of the stones have protective fences around them.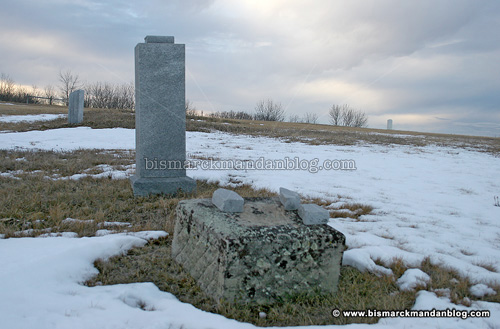 Here's a picture of a couple of the stones. The markings on these stones are really neat. The box with stones on it? I don't know what it is. I certainly wasn't going to tamper with it.
One thing I missed on this hike was a stone that lies flat and has all kinds of weird markings on it. I haven't been out to Greenwood Cemetery since I was a kid, so I don't have a clear recollection of this particular stone. So when there isn't any snow covering it (it's behind one of those protective fences) I'm going to get another picture of it.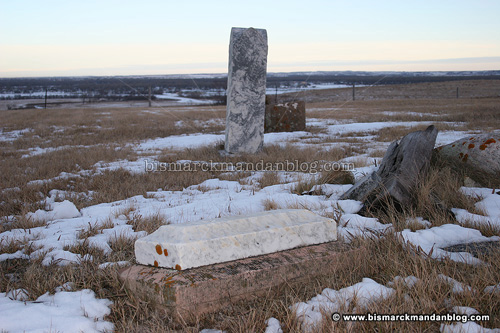 Only the base of this stone remains. It has a left-leaning cursive message on the white portion: "Gone home to glory: we mourn not as those who have no hope." Well, the glory of Greenwood Cemetery may have faded, but it still has a quiet charm about it. One can only wonder what's happened to the family lines of those who rest here.
Update: The verse on the base of that white stone is from I Thessalonians 4:13, which says: "But I would not have you to be ignorant, brethren, concerning them which are asleep, that ye sorrow not, even as others which have no hope."

That's where Paul is instructing Christians not to grieve those who have passed away because they have a place in the resurrection.

Verse 14 continues: "For if we believe that Jesus died and rose again, even so them also which sleep in Jesus will God bring with him."
Side note:
Theodore Hagerott
wrote a book about this cemetery. It may be available at the state library or the ND State Historical Society if you're interested in learning more. Greenwood Cemetery remains in my mind one of Mandan's best kept secrets.
[ 1 comment ]
( 32 views ) |
permalink
|
Click a dot to rate this entry:





( 3 / 585 )
---
Not that you'd be able to easily guess it, but they do have somewhat of a website at
www.bismanradio.com
. Apparently they didn't want to do KLXX.com and KBYZ.com and KKCL.com and KKCT.com ...or they're taken, I didn't check. All their stations are on that one site.
[ add comment ]
( 4 views ) |
permalink
|
Click a dot to rate this entry:





( 3 / 576 )
---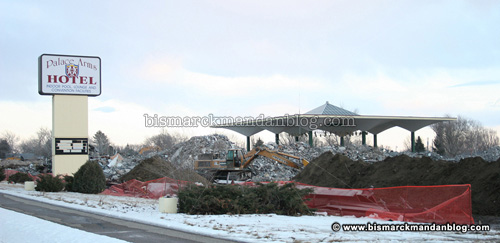 Pun intended. When I moved to North Dakota, this was the Holiday Inn. The Expressway Bridge hadn't been built yet, so this was prime real estate. That all changed in 1984. With so much of the inbound traffic heading into Bismarck over either the Grant Marsh or Expressway bridges, this poor facility was doomed to failure.
This building changed hands (and names) several times over the years and was most recently known as the Palace Arms Hotel. Much of the facility was not even in use at that time. The bar hosted a pretty good comedy club at one point but shut down as the Millenium club under some licensing circumstances (if memory serves me correctly). It has sat empty for quite some time.
This will now be the site of the Bank of North Dakota once the demolition is completed and construction can begin. That, combined with the upcoming replacement of the Veterans Memorial Bridge with a shiny new one, could revitalize this area somewhat. Since I love our fair city I hope this eventually comes to fruition.
[ add comment ]
( 4 views ) |
permalink
|
Click a dot to rate this entry:





( 3 / 558 )
---
If you click on the link to the right labeled 'Northern Lights' you will get a list of those sites. I've added a few more this morning. You now have nearly my entire bag of tricks at your disposal there. Unfortunately, none of those links can turn a cloudy night into a clear sky :-)
[ add comment ]
( 4 views ) |
permalink
|
Click a dot to rate this entry:





( 3 / 542 )
---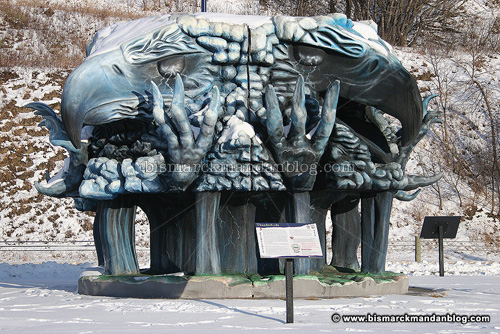 I'm not sure what this grotesque has to do with Lewis and Clark, thunderbirds, or anything else...but there it sits. No one I've talked to thinks it's anything but an eyesore. Now I hear rumors of a second one?
[ add comment ]
( 4 views ) |
permalink
|
Click a dot to rate this entry:





( 3 / 599 )
---
<<First
<Back
| 334 | 335 | 336 | 337 | 338 | 339 | 340 | 341 | 342 | 343 |
Next>
Last>>