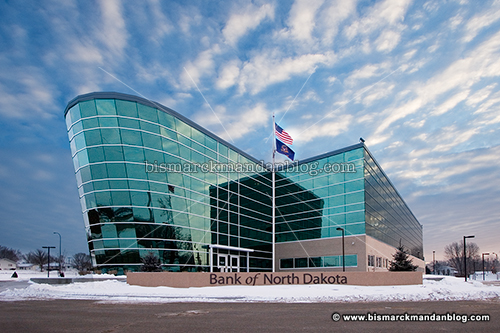 Among the many things that
Hugo Chavez
Barack Obama wants to nationalize, i.e. seize under government control: student loans. The problem for banks is that it takes a revenue stream and yanks it out from under them. Some banks, such as the Bank of North Dakota, derive 30% of their loan income from student loans. Hope™! Change™!
According to
this KXMB article
, there are 55 North Dakotans employed in relation to the bank's student loan activities. I wonder if they're feeling all hopey-changey right now.
Of course, one of our gallant Senators promises to ride to the rescue according to the same article, pledging to deliver an exemption for the nation's only state-owned bank. What about the other banks across the nation? Because they're not government entities, should they be treated this way?
I've been meaning to write on this for quite some time, so perhaps it's even a done deal by now.
If
BND is actually exempted, North Dakotans should still be upset at this latest attempt on the nation by the radical leftists running President Obama.
[ add comment ]
( 1 view ) |
permalink
|
Click a dot to rate this entry:





( 2.9 / 146 )
---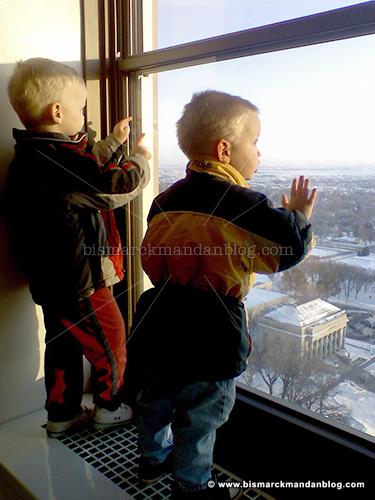 It's Friday...why not knock off a little early and go visit the 18th floor of the capitol building? It's warm and quiet, and it allows for multiple views of our frosty city.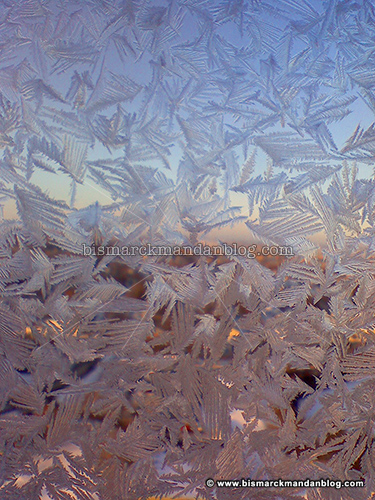 Speaking of frost, a few of the windows on the shady side of the building have some very nice frosty shapes formed on them! There are still plenty of available views in all four directions.
[ add comment ]
( 4 views ) |
permalink
|
Click a dot to rate this entry:





( 3.1 / 307 )
---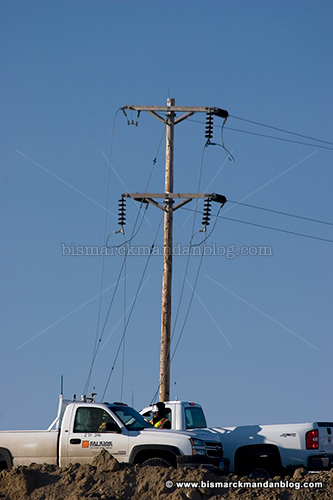 In order for Tuesday's dragline walk, enormous preparations had to be made. For instance, a gap in the power lines running parallel to Highway 83 had to be made. The machines are simply too tall to go under. The railroad tracks had to be covered as well.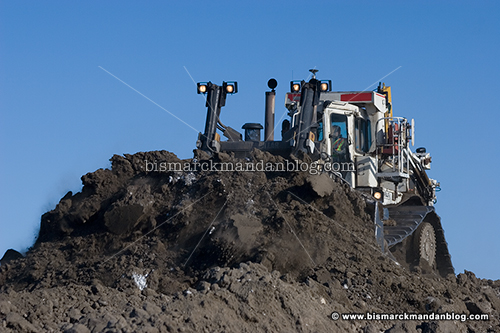 Next, a compacted dirt road several feet thick had to be constructed. This served the purpose of protecting the paved road as well as creating a level deck for the scoop and draglines to traverse.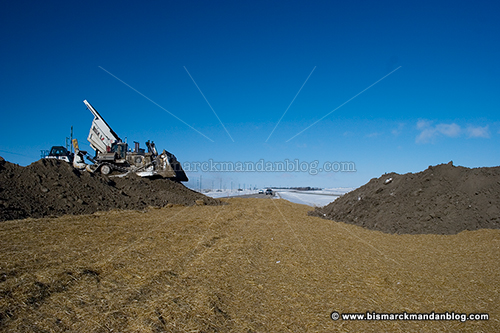 Crews worked from each side of Highway 83, meeting in the middle. Enormous excavators filled dump trucks, which deposited their dirt at the end of the constructed road on their side. Big dozers pushed it into place, and the biggest grader I've ever seen did the grooming.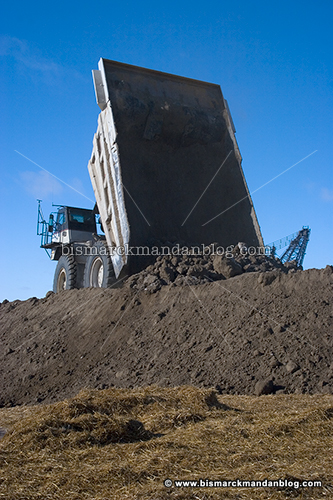 A bed of shredded straw was placed on the highway prior to the dirt work, presumably to aid in the cleanup. This way the dirt wasn't plastered onto the roadway below. I got to stand really close to where these guys were doing their dirt work, but at a safe distance. Of course I brought my hard hat, vest, and safety glasses with, and I had an escort the whole time to make sure I wasn't too close.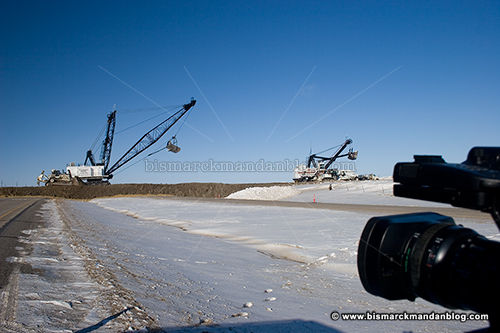 With the road complete, it was time to get the "small" stuff across. The two machines in this shot are on tracks, simply driving across instead of the meticulous "walking" of the big dragline.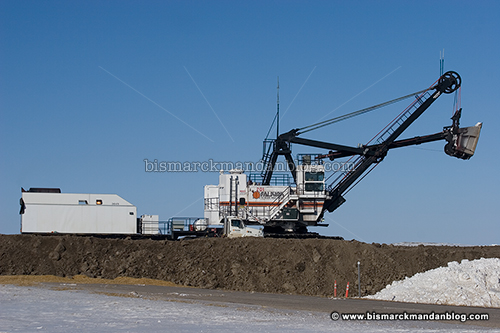 This equipment is electric, running with giant extension cords that lead back to the power plant. When they need to take a trek like this, the smaller ones are powered by a generator on a trailer. The truck follows dutifully behind or beside this scoop shovel as it tracks across.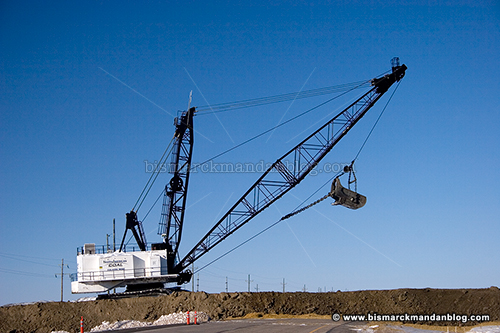 For bigger equipment such as this tracked dragline or the big Chief Ironsides, they operate tethered to their usual power source. There's a new power cable waiting for them on the other side.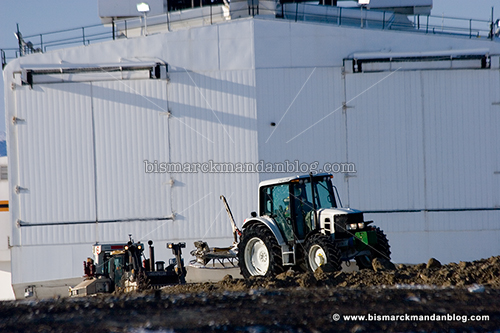 This "little" tractor isn't so little. Its sole purpose in life is to guide the electrical cable supplying power to the big dragline. It's got a hoop-shaped guide on the back that is used to push the cable around to where it needs to be.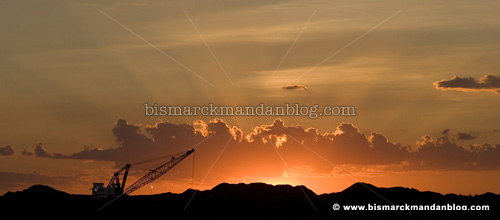 Now that everybody's across, they're working their way to the new mine site. Then it will be business as usual for at least another twenty or thirty years! There was a dedicated crew for this task; the rest of the mine's operations didn't skip a beat. Talk about a daunting task: close the highway, build a new road capable of handing a thirteen million pound load, get the equipment across, then remove that road...all within 24 hours. Great job, gang! That's an impressive day's work.
I'm so excited that I was able to be here for this occasion, since it isn't going to happen again for a long time. It was cold and windy, but it was worth it. I had to park the Suburban sideways with the camera in the back, shooting out an open window, for my time stuff. The wind was just a little too strong. Thankfully I dressed really warm, and had a real blast! See you in twenty or thirty years, I suppose.
[ add comment ]
( 4 views ) |
permalink
|
Click a dot to rate this entry:





( 3.1 / 351 )
---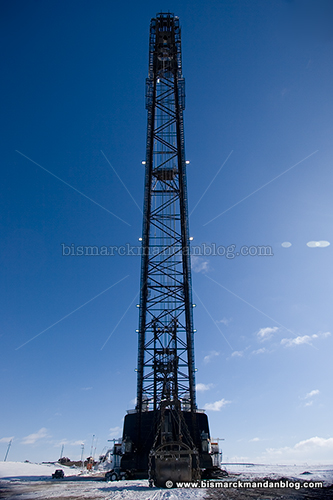 One thing I love about this business is being able to go where few are able. That was the case today as I was on site for the move of the Falkirk Mine's dragline "Chief Ironsides" from the west side of Highway 83 to the east side.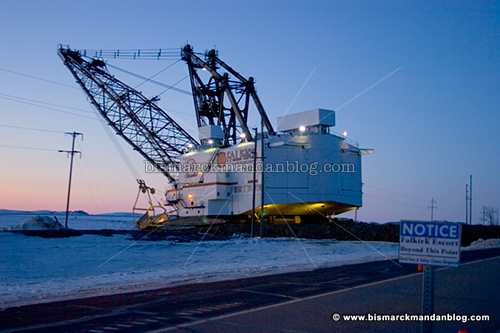 Weather delayed things a bit, but we finally got going just before sunset. That made for some challenges with shooting video. Stills are one thing in low light, but HD video is another. The main shot I was set up for was a time lapse of the roadway crossing, and the light was changing on me very quickly.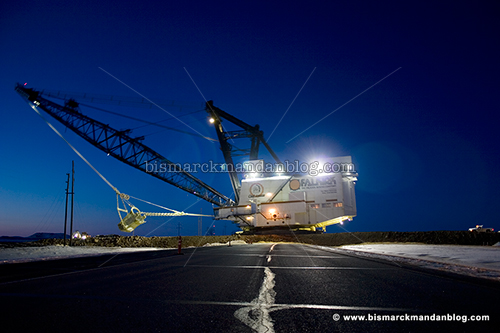 It was quite dark by the time the thirteen million pound behemoth, controlled by a woman named Melody, crossed the road. There was a thick dirt road constructed across Highway 83 just for this purpose, since the dragline needs a level deck for moving. It also protected the highway from the immense weight of the machine.
I froze myself silly, but I got the shots. I had one HD camera doing the 1080p time lapse while I ran around getting other angles and video footage with a second HD camera. Of course I kept my trusty still camera bag with me at all times. I can most more later, but right now I'm exhausted and glad to be out of that wind and cold.
[ 2 comments ]
( 23 views ) |
permalink
|
Click a dot to rate this entry:





( 3 / 310 )
---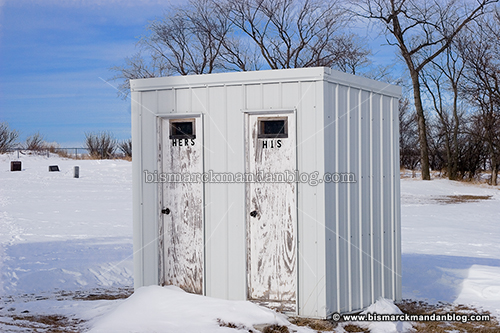 Granted, you might adhere to the seat in this cold...but at least there are equitable facilities for both genders! And it's unlikely that you'll encounter any waiting lines for the potty right now.
[ 1 comment ]
( 26 views ) |
permalink
|
Click a dot to rate this entry:





( 3.1 / 319 )
---
<<First
<Back
| 116 | 117 | 118 | 119 | 120 | 121 | 122 | 123 | 124 | 125 |
Next>
Last>>