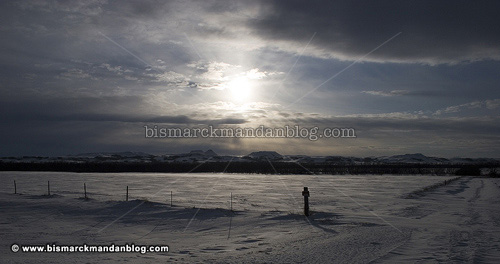 We're back into a cold snap - at least the bleak landscape makes for some interesting photography opportunities!
[ add comment ]
( 6 views ) |
permalink
|
Click a dot to rate this entry:





( 3.1 / 327 )
---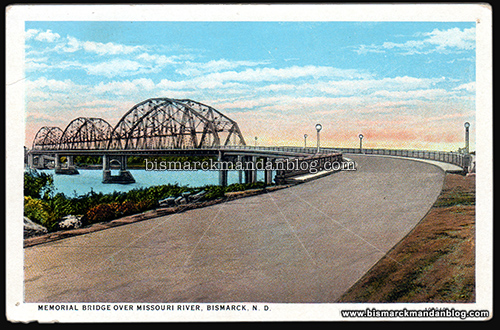 Poking around the other day I found a couple of new postcards. As you know, I've got a fondness for the old Liberty Memorial Bridge. This card features the bridge from way back...even before it connected to west Main Street! I'm too young to remember this, but I sure can appreciate it.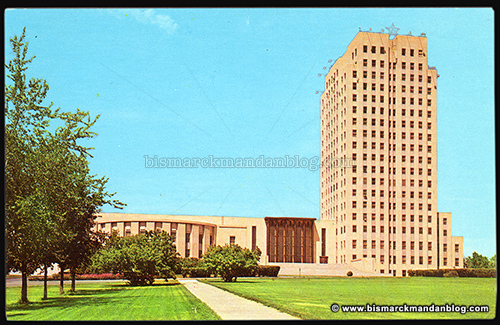 This incredibly blown-out and oversaturated post card is very important to me. Look at the top of the tower to see why: it's got lights hanging from the top edge of the capitol tower! It actually wasn't until I discovered an older postcard of the capitol that I discovered this interesting tidbit. I thought the tower had always been lit from below. I was wrong.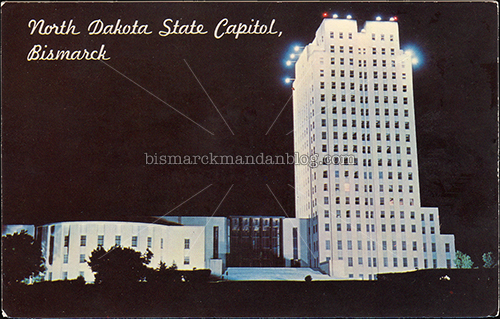 Here's a postcard I bought last year, the one through which I made my illuminative discovery. I'm so glad they light the tower from below now; those lights on the top look really cluttered! I bet it was no picnic changing bulbs, too!
I've got a couple more interesting old Bismarck postcards to share soon. Stay tuned!
[ add comment ]
( 8 views ) |
permalink
|
Click a dot to rate this entry:





( 3.1 / 337 )
---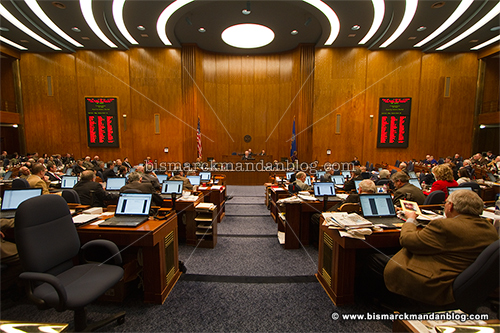 But here they are! I spent some time breaking in my press badge while perusing the legislature last week. This photo is from the House...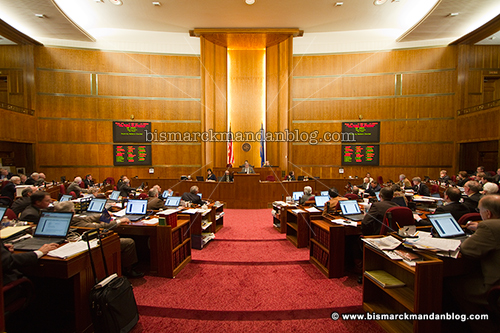 and this is the Senate. This was during a normal day's business, but I'm hoping that the legislature decides to participate in an event I've enjoyed during the past two sessions: Citizens Night at the legislature.
Curious? Check
this link
and
this link
for more.
[ add comment ]
( 10 views ) |
permalink
|
Click a dot to rate this entry:





( 3.2 / 308 )
---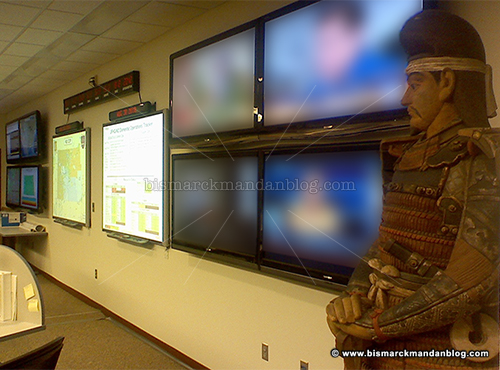 While working in the Joint Operations Center a while back I couldn't help but notice the large wooden Samurai standing in the far corner next to the monitors. Once we wrapped up I was given permission to take a couple of quick cell phone pics so I could do some background checking later. This particular statue is very important.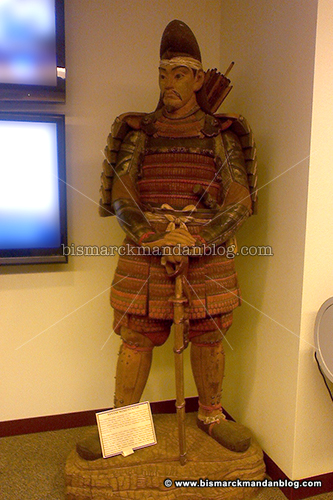 The Samurai portrayed here is
Kusunoki Masashige
, a warrior who was a legend and an inspiration to Kamikaze pilots during World War II. This particular statue originally stood in a Tokyo military school and was claimed by a North Dakota unit, the 164h Infantry Regiment, as a war souvenir. Given to the State Historical Society, it spent nearly forty years in their care and adorned the Liberty Memorial building on the capitol grounds. In 1986 it returned to the National Guard and now sits in a very high-tech setting at the JOC, one suitable for such a revered warrior.
[ add comment ]
( 3 views ) |
permalink
|
Click a dot to rate this entry:





( 3.1 / 332 )
---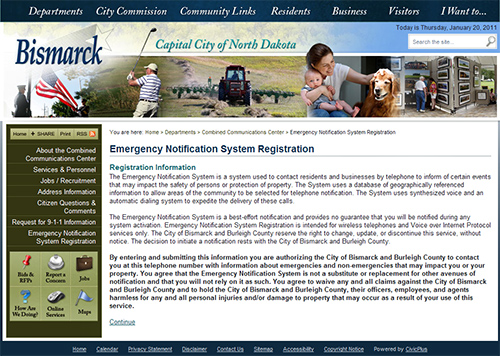 If you're like me or many of my friends, you cancelled your landline long ago (years, in my case) in favor of cellular. There are some drawbacks to going cellular-only, though, mostly in emergency situations. This should be of keen interest to all "cellular-only" residents of Bismarck.
A coworker emailed me the link to Bismarck's "Wireless Notification" form yesterday. This allows use of the "reverse-911" system, used to notify residents of a certain geographic area, to reach people who don't have a land line. It can also be useful if you'd like to receive notifications while away from home.
This could be extremely useful in cases such as the standoff in a south Bismarck trailer park earlier this month. With spring flooding around the corner, this can also be a critical tool in getting timely information out to people in an affected area.

You can check out the form by clicking here.
It's one tool in the arsenal, not a failsafe, but it's certainly a good way to help stay informed for those times when you need reliable information in a timely manner.
[ 1 comment ]
( 19 views ) |
permalink
|
Click a dot to rate this entry:





( 3 / 251 )
---
<<First
<Back
| 73 | 74 | 75 | 76 | 77 | 78 | 79 | 80 | 81 | 82 |
Next>
Last>>