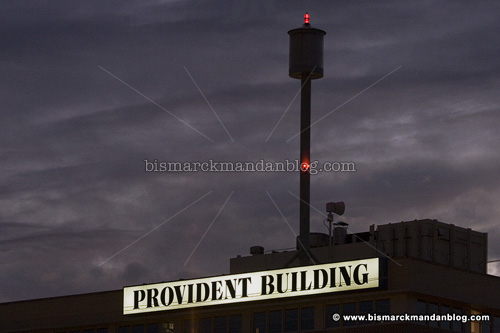 Driving around with my little boys tonight, we happened to drive through central Bismarck. It wasn't long before someon noticed that the Weather Beacon was not lit. My little guys' eyes frequently check for the Beacon no matter where we happen to be.
I reminded the boys that Daddy used to be responsible for updating the Weather Beacon five nights a week. There are a lot of cool things I've been able to do over the years, and this is one of them. As a result, I have a little bit more Beacon background than the average Bismarck-Mandan resident. That's why I occasionally shift into Weather Beacon History Mode. here's the lesson material:
The staff of KFYR 500 AM radio are in charge of switching it these days, but I don't think they have any way of verifying that the relays on top of the building actually switch as they've been instructed. Sometimes they don't. That's typically the issue when the weather beacon isn't up there indicating (or, as some surmise, generating) the next day's weather.
So...that thing doesn't really
make
the weather...does it?
It was fun to joke about that during my KFYR days. The TV station control operator (me, five nights a week) was in charge of changing the weather beacon to reflect the updated forecast throughout the broadcast day. On our program log in the control room, in between entries for commercials and programs, were occasional reminders to update the weather beacon.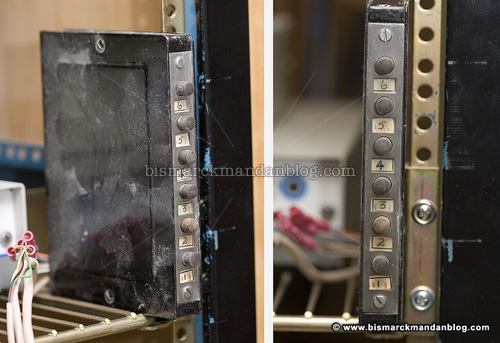 There was a panel in the weather room with six buttons on it: red, white, green, flashing red, flashing white, and flashing green. These switches are still in a rack at the TV station, even though they are have not been connected to the Beacon for quite some time. Last I remember, the KFYR Radio control guys switched it by dialing a phone number (no, I'm not posting that here).
The poor Beacon almost faded into history in 1997. It was showing its wear, and the cost of modernizing it was prohibitive. That was, however, until KFYR Radio rode to the rescue. Phil Parker and Mark Armstrong of the "PMS in the Morning" show headed an effort to Save the Beacon!
At this time, Meyer Broadcasting was still intact. While I was hard at work on the TV side of the building, I also freelanced the website for KFYR-AM Radio. As part of the campaign to save the Weather Beacon, we had a couple of pages on the website urging people to help donate.
You can click here to see the original Save the Beacon page from my archives.
Yeah, the Web has come a long way.
The campaign was a success in that it raised money toward the Beacon's restoration, increased public awareness of its plight, and served as a rallying cry to its rescue. While the entire cost of the Beacon's renovation was not raised, its importance to the community was indisputably proven. Through a matching grant from local government and plenty of donations, the project was underway.
As part of the KFYR website, we were happy to post that the Beacon would be saved. Cliff Naylor did a report on the Beacon that aired as part of a live telecast from the roof of the Provident Building, atop which the Beacon still sits.
You can click here to see the post-campaign page from my archives and watch the video.
As I recall, and the details in my head are quite murky, the Beacon was restored but still had some gremlins. I believe it was then refitted one more time and has functioned ever since. None of it would have been possible without Phil and Mark. To this day, the controls reside with KFYR Radio instead of the television station. In fact, why don't you call the Phil Parker Show on KFYR some morning and ask Phil about it?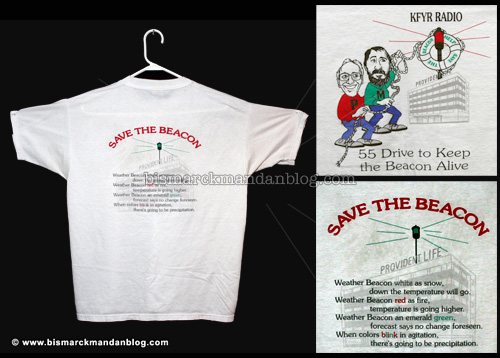 Oh yeah...the t-shirt. We had t-shirts made, and I still have mine. It has caricatures of Phil Parker and Mark Armstrong on the front, and a key to understanding the Beacon on the back:
Weather Beacon white as snow, down the temperature will go.
Weather Beacon red as fire, temperature is going higher.
Weather Beacon an emerald green, no change forseen.
When colors blink in agitation, there's going to be precipitation.

Provident Life used to sponsor TV spots featuring the Beacon and its rhymes, voiced by the dulcet tones of the late Ron Franke. Since they're no longer doing business there, the ads don't run. That means that the weather beacon itself is somewhat obscure now, with newer Bismarck-Mandan residents unaware of its history. For those of us who have lived here a long time, it's good to see the weather beacon standing tall. No matter what the forecast, there's something great about seeing it red in the spring, green when things are just right, and white when Thanksgiving and Christmas approach. Thanks to everyone who helped keep it up and running!
[ add comment ]
( 5 views ) |
permalink
|
Click a dot to rate this entry:





( 3 / 182 )
---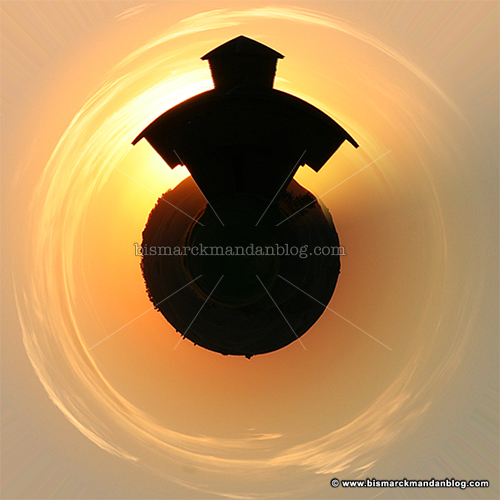 I wanted to try one of these funky polar images using a panorama of the sunset at one of Fort Lincoln's blockhouses. I think it turned out pretty well for a first attempt. In the course of wrangling this through Photoshop I learned a few things about how better to compose and exopse a shot for this sort of treatment, as well as get an idea of which types of shots will respond well and which won't work at all. Have a good weekend!
[ add comment ]
( 11 views ) |
permalink
|
Click a dot to rate this entry:





( 3.1 / 85 )
---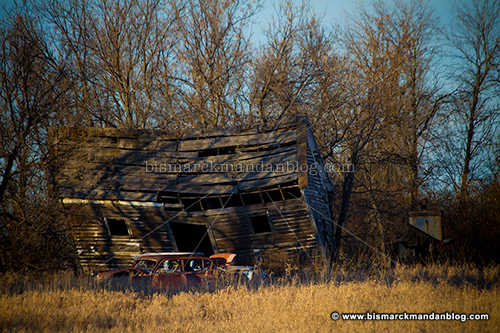 Today's music reference blog post title comes from the Mr. Big album. This farm sits north of town and was a point of interest for my youngest boy and me a short while ago. We couldn't go near, but of course I have a loooooong lens for situations like that.
I have a strict rule about obeying posted NO TRESPASSING SIGNS (and the law) when out on these photo hunts. I've found that if I discover a place where I want to take my camera, locating that sign and calling the landowner listed thereon will result in an invitation to proceed. Only once have I reached some drunk jackhole who thought it'd be fun to be rude, swear, and insult me rather than simply say "No."
If you are into photography, I suggest the same diligence when out with your cameras. It only takes one wandering uninvited photographer to tick off a landowner to the point of never allowing anyone on their property. Ask a hunter how that works out.
[ add comment ]
( 13 views ) |
permalink
|
Click a dot to rate this entry:





( 3 / 113 )
---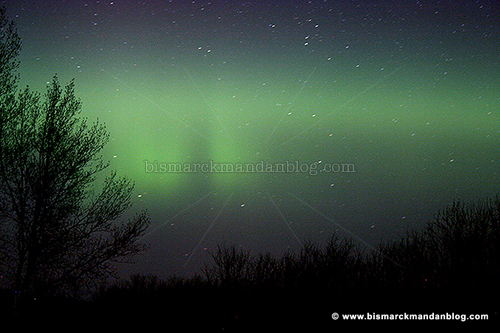 This is what I was hoping for last night; however, I spent the evening dozing off with an ice pack while waiting for an unsettled atmosphere to suddenly flare up. Horsing around with my boys, I managed to acquire a huge, swelling bruise that I needed to tame before any late night excursions. Thankfully, it worked...but I did end up sacking out for the night.
This photo is from the last time Northern Lights abounded in North Dakota: 2005. It's partially responsible for me getting a digital camera in the first place. I spent the previous solar maximum in the 1980s hanging out at Double Ditch with friends while breathtaking displays filled the sky overhead, and I wanted to capture the moment. Then, as if my purchase had single-handedly extinguished the sun, the solar activity period waned and I've waited ever since. I only got a handful of Aurora Borealis photos before things quieted down. Needless to say, I've been waiting as anxiously as all those scientists who've been scratching their heads and wondering why the solar maximum has taken so long to return!
Hopefully, now that I've almost totally ditched this head cold and managed to bring down the swelling of my brand new shiner, I'll be able to hit some of my favorite spots and put to use some of the best tricks I've learned in astrophotography over the past six years. Naturally I'll be treating you to the results as soon as they manifest - I hate posting recycled content!
[ add comment ]
( 13 views ) |
permalink
|
Click a dot to rate this entry:





( 3.1 / 148 )
---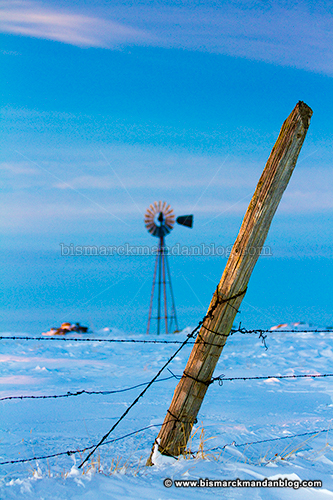 At last - some snow! It's a couple feet less than I prefer, having grown up in the middle of the Rocky Mountains, but it's a start. Of course, I set things in motion when I took my snowblower in for a tune-up...but this isn't even enough to bother with it. I have a little boy who LOVES to shovel snow, so we turned him loose instead.
I managed to capture this incongruous mixture of random rural elements while out on some remote gravel road, as usual. This particular photo is actually from quite a while back; I spent most of my weekend unconscious while trying to sleep some sort of cold/flu/sinus malady instead of outside with the cameras.
I sure was excited for the Northern Lights which resulted from a coronal mass ejection (CME) from the sun over the weekend - but of course it was cloudy! I actually don't mind that so much, since my ailment had me bedridden (or couch-ridden) anyway. If conditions had been right overhead and I'd missed the event due to illness, I'd have been plenty frustrated!
Here's to the start of another great week.
[ add comment ]
( 11 views ) |
permalink
|
Click a dot to rate this entry:





( 3 / 143 )
---
<<First
<Back
| 39 | 40 | 41 | 42 | 43 | 44 | 45 | 46 | 47 | 48 |
Next>
Last>>