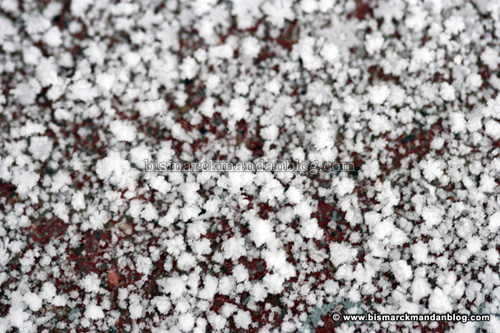 I shoveled a lot of snow today, but this was different. This is a kind of snow that really looks like someone cut open a giant bean bag and shook it over Bismarck-Mandan...some call it graupel.
As you can read in
this article from avalanche.org
, this snow can be hazardous because it causes fluidity in layers of snow.
When I lived at a ski resort in the rockies, we'd do out-of-bounds boarding on our days off. That basically involves getting an avalanche "beeper" locator, a shovel and pack, signing a waiver, and
digging a snow pit to test snow conditions
before descending. Layers of snow that look like they'll let loose are a good indicator to find another place to board or ski that day.
Naturally this isn't terribly relevant here in North Dakota, as our mountain ranges are conspicuously absent. But back at my old stompin' grounds, 10,000 feet and steep, this kind of snow would definitely be cause for concern.
[ add comment ]
( 11 views ) |
permalink
|
Click a dot to rate this entry:





( 3 / 615 )
---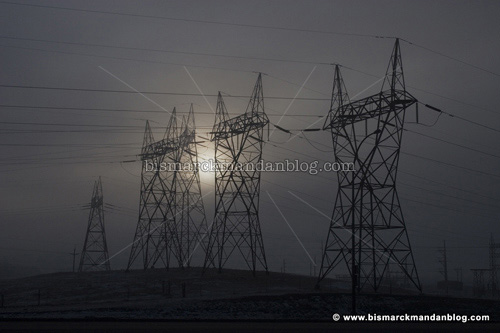 This is the time of year when the weather swings start to take place. Temperature swings of 40 degrees or more within a 24 hour period aren't that unusual. Tuesday morning's pleasant temperatures brought a haze of thick fog east of Bismarck, providing me with this shot of some of the transmission towers.
[ add comment ]
( 11 views ) |
permalink
|
Click a dot to rate this entry:





( 3 / 554 )
---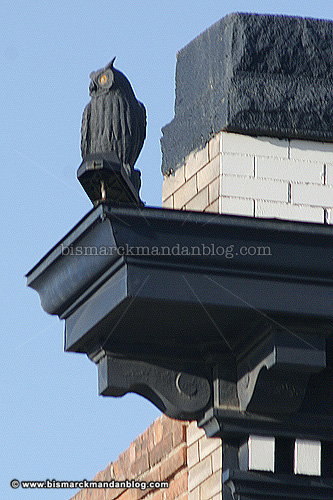 It's amazing how something can catch my eye now that I'm always on the lookout for cool photos. Take this owl, for instance. He probably perched atop the Newgard Chiropractic Building in Mandan long before I moved back to our fair state...yet it has taken me almost thirty years to really notice him. Am I that dense, or did I just forget? Odds are fifty-fifty on that one.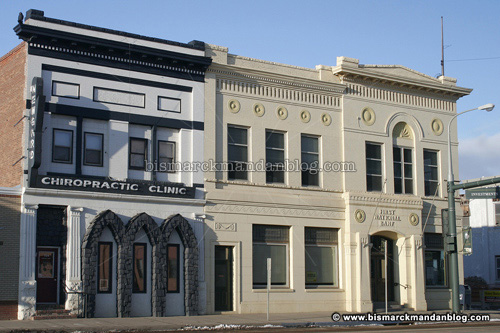 As I wrote in an earlier post regarding the old Mandan Library building, the old structures that make Mandan's Main Street special are full of character and should be preserved. I hadn't intended to follow it up with a post of this nature, but my travels took me to Mandan today and the tops of the buildings caught my eye. Thus it was natural for me to spot this owl.
I'm sure the coat of black paint on the building's features makes it especially important to keep birds from perching on the features of the building and...well, making it white. What better way to discourage other birds than by putting up a predatory bird like an owl? Perhaps it works.
Hopefully they're having better luck than the City of Mandan, who hung plastic versions of owls like this from the beams of the 6th Avenue underpass in hopes of chasing away the pigeons. It didn't take the pests long to figure out that there was no real threat, and the plastic owls dangled impotently beneath the railroad tracks to no avail. It was funny to see, though...the inability of man to control nature. Kinda reminds me of the people who swear we need electric cars and flourescent light bulbs or the planet's doom looms overhead!
[ 4 comments ]
( 56 views ) |
permalink
|
Click a dot to rate this entry:





( 3 / 552 )
---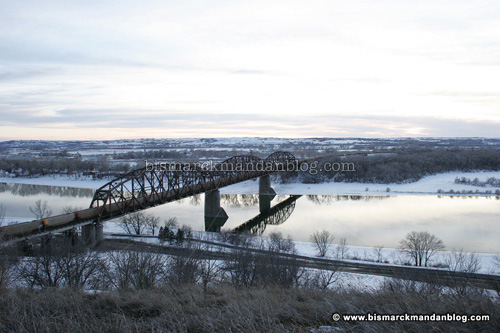 I didn't actually take this photo Monday morning, just posted it today. This bridge originally had a square shape to its sections, but when it could no longer support the weight of modern trains its spans were replaced with something a little stronger.
The hills above this bridge are riddled with mountain bike trails, one of which was my vantage point for this photo. Parts of those trails, mainly the area above Pioneer Park, were developed by Dakota Cyclery (with the help of some creative grant writing) into a race course later used for the Prairie Rose State Games.
Those trails are quite muddy now, but this spring they'll provide an ample workout for those looking to get back in shape. See ya there.
[ add comment ]
( 3 views ) |
permalink
|
Click a dot to rate this entry:





( 3 / 109 )
---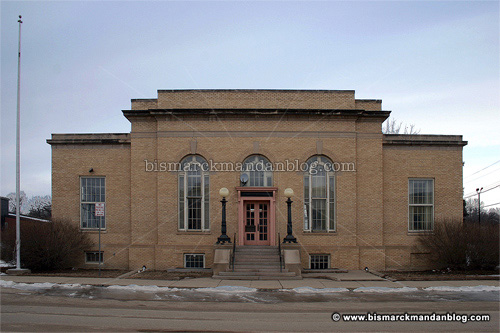 I know it was time for a new building. The old one was small, deteriorating, and lacking accessibility for people with disabilities (you can't say handicapped any more or you're a hatemonger). But it's a shame to see the old building go the way it has.
For those of you who remember this building, or even better - were able to spend time here as kids, you'll know what I'm talking about. It was fun to play on the steps before going in or after coming out, with the slanted concrete along the steps. There was a narrow spiral staircase leading to the children's section downstairs, tucked into such a narrow nook that it looked like Bruce Wayne built it for secret crime fighting purposes. Then there's just the old familiarity of the place and the ladies that staffed it. So there's the old sentimentality kicking in.
I don't know how the building is being used now, but it sure looks dilapidated inside, with stuff strewn all over the place. I'd hate to see it torn down, which I guess has been on someone's agenda for a while. There's a shortage of truly historic buildings in the Bismarck-Mandan area; only Mandan seems to have an interest in keeping them around. I'd prefer to see the old Mandan Library become a museum or something of sorts...then I could show my little boy some of the features that I loved about the place when I was a boy.
[ 8 comments ]
( 130 views ) |
permalink
|
Click a dot to rate this entry:





( 3.1 / 645 )
---
<<First
<Back
| 253 | 254 | 255 | 256 | 257 | 258 | 259 | 260 | 261 | 262 |
Next>
Last>>