I'd just like to ask a quick question: if someone forces you to take them somewhere against your will, using a shotgun, and firing a shot in the air as they leave...what does their race matter?
Stating someone's race to help identify the perpetrator of a crime is prudent, but the voice on that 911 recording sounded to me like they were especially traumatized that the person who had just fired a gun while stealing their car was of Native American descent.
The young man stated in court that he's seen nothing but violence all his life, and I'm sure he's not the only one in his situation. A person like that could be more prone to violence, I don't know. But the voice on that recording didn't know anything about Jeff Brown Otter, even who he was. He could have been from anywhere, not necessarily a South Dakota reservation. In other words, the voice on that recording didn't cry out anything other than that there were "Indians out there."
Obviously there's no excuse or defense for the crime spree. I doubt that the women could help it if they were more scared of Native American criminals than anyone else. Stereotypes have a way of sticking around even on a subconscious level. I just heard the recording and thought it was noteworthy. It's sad to report, but I'm pretty sure of what I heard.
This reminded me of the same sort of ear-catching moment I had in high school. Our speech, art, and drama students at Mandan High were getting together for a trip to Minneapolis. We were visiting lots of museums, seeing some plays and musicals, and doing some shopping. In a pre-trip meeting at the school, the issue of safety came up. One of the teachers related an example of a mugging incident in the downtown area. During the course of the story, I remember the phrase "and it was a black guy..." and was flabbergasted. First off, does it matter who mugs you? You still get mugged. Second, I was sitting next to my friend Andre, who happened to be the only black guy attending Mandan High. I couldn't help but think...how did that make him feel? I was too embarrassed to ever mention it, but I never forgot it.
I have Native American friends who are doctors or other sorts of professionals. I have Native American friends and acquaintances that are some of the most selfless folks I've ever met. I can't help but wonder what some people might think if they saw these people outside at night. Would they be scared? If so, would they even know why?
As my previous writing should show, I'm not a bleeding-heart multi-culturalist. I think "political correctness" is a farce. That's probably a major reason why I'm a die-hard UND Fighting Sioux logo proponent. But I hate seeing people judged, stereotyped, or feared because of their skin color. In this situation, Jeff Brown Otter
was
a scary person. I just wish he hadn't scared someone even more simply by being Native American. That's what stuck in my mind after hearing that 911 recording tonight.
Here's a link to the original KXMB story (video).
As always, feel free to comment...but remember, I moderate the comments. If there's even a touch of racism in a submitted comment, it'll never see the light of day. I allow comments that are critical of me or disagree with my opinions, as long as someone has the guts to sign their comment. But I don't allow profanity or inappropriate language and I never will.
[ 1 comment ]
( 62 views ) |
permalink
|
Click a dot to rate this entry:





( 2.9 / 421 )
---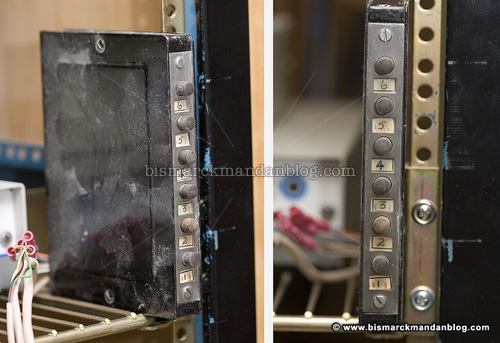 This dusty little box of switches doesn't look like much. They're probably fifty years old. Despite being housed in a small, slim housing, they're actually VERY heavy for their size. They bear only handwritten numbers as their labels, and they've been banished to an almost-forgotten equipment rack in the back of what used to be the KFYR-TV weather center (before we built the First Warn Forecast Center). In fact, the narrow room itself has a history, as it once served as the KYYY-FM control room. But I digress...back to the switches.
These switches once served a very important purpose: they switched the Provident Life Weather Beacon. See the little colored markings next to some of the switches? They were: 1-Red, 2-Flashing Red; 3-Green, 4-Flashing Green; and 5-White, 6-Flashing White. When on duty at the station, I used to update the Weather Beacon every few hours. A reminder showed up on the station's program log at the appropriate times. I'd duck around the corner and push the corresponding button if a change was needed, the heavy action of the pushbutton switches confirming my action. Nowadays, the KFYR-AM staff have to rely on a telephone-based touchtone system, and get a confirmation tone that isn't 100% foolproof. Gotta love that old-school hardwired technology!
I still freelance for the company that owns the North Dakota NBC stations, and still have my keys and electronic pass for the station. A while back I asked my friend and former co-worker ("Spiderman" is his nickname) if the switches still existed. He dug around in the aforementioned rack and found that yes, they're still around...they just aren't hooked to anything on the roof of the Provident Building any more. He invited me up to take a look. They were behind a panel, but we stood them up for these photos.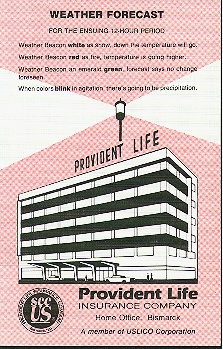 Thinking about this post got me on a hunt for one of my more treasured Bismarck souvenirs: a little red and white pamphlet from the Provident Life Co. which describes the Weather Beacon. It has the jingle on it, and everything. But I can't find it! I've checked my files, my safe, my lockbox, my bookshelves...no luck. I know it's around here somewhere, and I'll keep looking frequently until I find it someday. The scan of it above is from one of my
Beacon pages,
which I saved from my days as KFYR Radio's webmaster.
Yeah, I asked if I could have the switches. No such luck. Hopefully, now that someone at the station knows about them, they'll find their way to a display case as a part of the station's history. It would be a shame to have them disappear back into the racks again, or to be discarded by someone who doesn't know what they are. I'm not worried; I think they'll be in good hands. Spidey likes local history just as much as I do.
[ 1 comment ]
( 40 views ) |
permalink
|
Click a dot to rate this entry:





( 3 / 402 )
---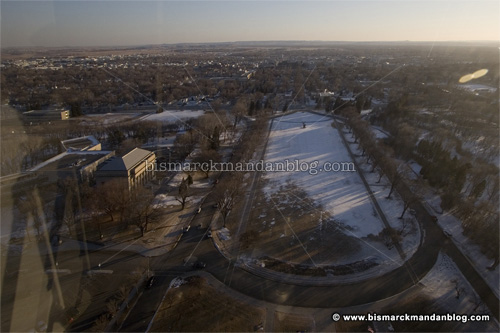 During one of our recent cold snaps, I managed to make my way to the newly updated observation deck of the North Dakota state capitol building. As you may already know, the 18th floor was closed for months while renovations to the upper floors of the capitol building were performed. People from the affected floor would be moved up to 18 while their floor's work was done. With the updates completed, we get our observation area back...and, in fact, areas that were previously closed up as offices are now wide open. That gives us more windows from which to peer down on Bismarck. That is, of course, when they're not frosted over.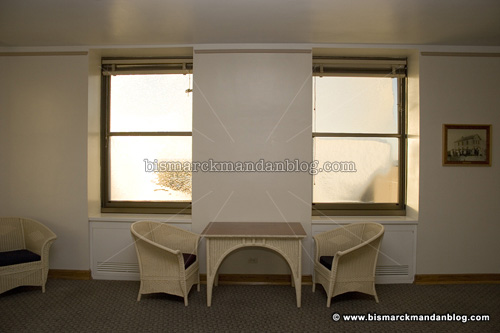 Frosted over is exactly how I'd describe the majority of the windows that day. Sure, I got the shot looking south that I used to open this post, but that's such a typical view. I wanted to look out the other windows, but they hadn't received enough sunlight during the day to rid them of their frost. I'd hiked two hundred and twenty feet for nothing? No. I took the elevator. But my GPS indicated that I went from 1805 feet at the front door of the capitol to 2025 feet on the 18th floor.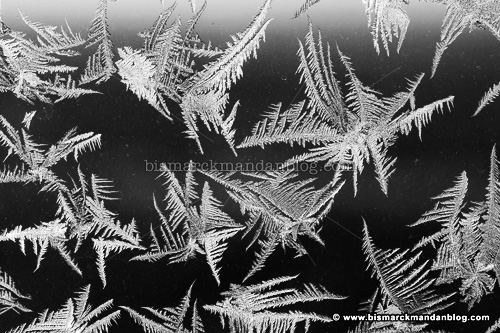 So what do you do when the windows are frosted over? As the title of this post suggests: take frost photos. I have a bunch, but don't care to post them all. I have a little boy dozing off in here, so it's time to make sure he gets a proper tuck-in and a good night's sleep. I don't know what a one year old boy dreams about, but I hope it's about running around with Daddy and his camera once the weather gets nicer. Maybe he'll earn himself another cameo on a Dakota Beacon cover!
[ 1 comment ]
( 18 views ) |
permalink
|
Click a dot to rate this entry:





( 3 / 435 )
---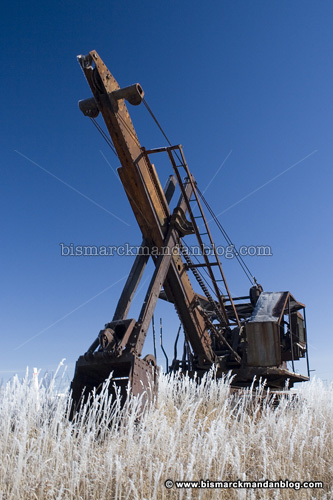 Poking around southwest of my beloved Mandan, I came across this behemoth. It's actually not that big by today's standards, but it's still a formidable hunk of metal. Driven by a small two-cylinder engine, with two spark plugs per cylinder, this machine probably hasn't moved in years. I suspect it will soon, however.
Check it out: chain drive on the bucket arm! Pretty cool. I took a lot of pictures of this piece of hardware, but don't have time to post them here just yet. Somehow I resisted the urge to climb all over the thing. It's a lot bigger than the ones I used to play with in my sandbox as a kid! I guess the little boy in me is still mesmerized by heavy equipment such as this.
[ add comment ]
( 6 views ) |
permalink
|
Click a dot to rate this entry:





( 2.9 / 545 )
---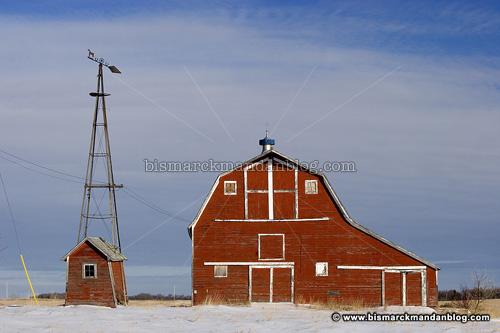 This barn sits along north 26th Street, a road which doesn't end at Divide Avenue. You can catch up with it again on Highway 1804 north of town, where it remains a paved road for quite some time. It was on the paved portion of the road that I noticed this barn, or the weather vane pointing at it.
Some say a glass is half empty. Others say it's half full. Those first fellas would say that the weather vane is droopy and probably not working right. I choose to join the second half and attribute a sort of charm to it, and instead label it the Barn Indicator. From the look of things, it's pointing exactly where it needs to.
[ 2 comments ]
( 38 views ) |
permalink
|
Click a dot to rate this entry:





( 3 / 440 )
---
<<First
<Back
| 200 | 201 | 202 | 203 | 204 | 205 | 206 | 207 | 208 | 209 |
Next>
Last>>