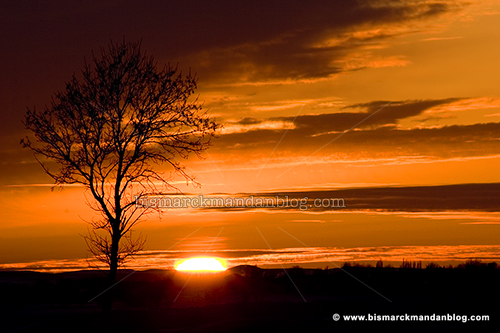 My little boys wanted Daddy to take them out in the truck tonight, so out we went. They got to see their share of trucks and heavy equipment and snowblowers, and Daddy go to stop and take a picture of the sun setting. They're both old enough to walk now, one of 'em is talking up a storm, and we're both sick of winter. That combines into a chance for some more photographic opportunities these days, as we're actually getting out of the house more. The sunsets are starting to resemble summer more than the bluster of a North Dakota winter!
[ 2 comments ]
( 34 views ) |
permalink
|
Click a dot to rate this entry:





( 3 / 349 )
---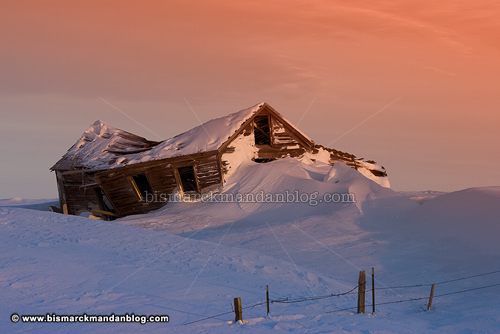 I'm actually glad we got more snow today. I finally caved and bought a beefy snowblower this year, after 30+ years of shoveling, and I was itchin' to get some more use out of it. We always get drifts along our property, so it doesn't take much snow to require such a beast. After all...if it's this cold, it might as well be snowing too, right? Besides, as shown above, it can provide some very lovely pictures at sunrise and sunset.
[ add comment ]
( 8 views ) |
permalink
|
Click a dot to rate this entry:





( 3.1 / 293 )
---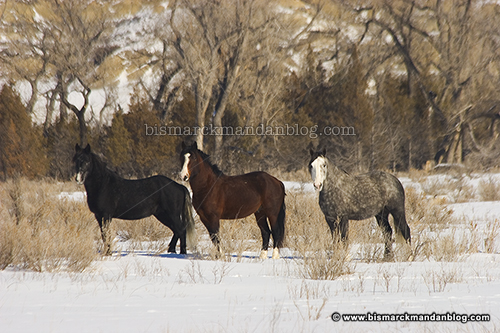 Not only could wild horses not drag me away from my camera, as the tired cliche' goes, but in this case they were the object of my photography passion. These are some of the wild horses inhabiting the South Unit of the ever-popular Theodore Roosevelt National Park.
While the loop road through the park is still closed, some of the horses stray close enough to the open roads to be worth the short hike to chase them. In this case they didn't really do anything spectacular. It was neat to get up close to them, though. I've hiked a long ways out into the middle of the park in the summer while chasing these beasts, but never in the crusty snow. Before this past weekend, that is. Thankfully they weren't far away. It was COLD! Trudging through crusted ice and snow in the Badlands' already uneven terrain is one heck of a workout as well.
[ add comment ]
( 5 views ) |
permalink
|
Click a dot to rate this entry:





( 3.1 / 249 )
---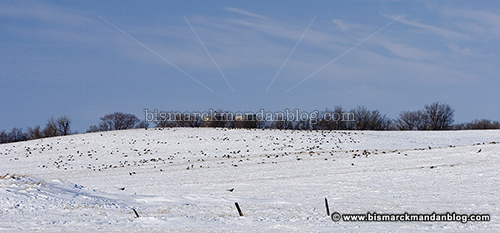 I wouldn't have believed it myself if I hadn't seen it with my own eyes. Every single dark blotch in the snow of the picture above is a pheasant or two. Not only was this eye-catching, it wasn't exactly an anomaly; I encountered field after field like this on Saturday. The phenomenon surfaced on our way south of Lefor and continued all the way south and east until we approached Glen Ullin from the south. In fact, we took one through the grille of my friend's car just north of Elgin. The sides of the roads were lined with hungry pheasants as well as one who lost their encounter with traffic.
This is good news for any hunters who worried about the heavy snowfall preventing the pheasants from getting to their food. Apparently they're still doing quite alright.
[ add comment ]
( 8 views ) |
permalink
|
Click a dot to rate this entry:





( 3 / 284 )
---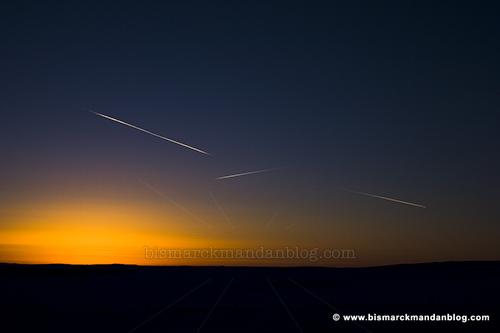 I took a 400+ mile photography road trip around western North Dakota with a friend on Saturday. You'll see the fruits of the trip, trust me. But this photo put a fantastic exclamation point on the journey. We got some dramatic shots hiking the wintry Badlands, including wild horses and bison, but for some reason I knew right away that this was my favorite. I was in the passenger side of the vehicle on our way north out of Elgin, so I didn't see this. My friend Ken is the one who glanced westward as he drove, spotting this geometrically pleasing array of jet contrails. That's the mark of a good photographer: having the eye to spot each photo opportunity. Wait until you see some of the other crazy stuff we spotted!
[ add comment ]
( 4 views ) |
permalink
|
Click a dot to rate this entry:





( 3 / 242 )
---
<<First
<Back
| 157 | 158 | 159 | 160 | 161 | 162 | 163 | 164 | 165 | 166 |
Next>
Last>>