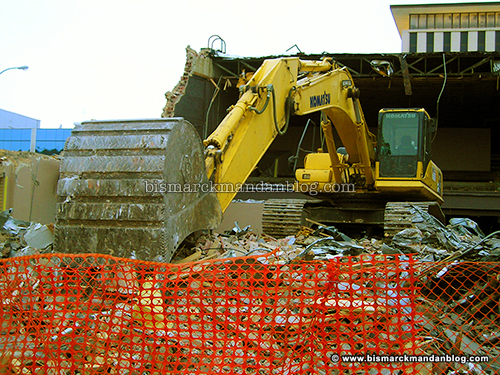 The title of this post is inspired by one of my favorite early 80s songs by The Call. It seems appropriate since the building pictured above ws very important to me during the early 80s. While many people know this building as the Boneshaker Coffee, Epic Sports, Simply Salads building, or (heaven forbid) the CineBar building, its most important function for me was as the Dakota Twin Theater.
The last movie I remember seeing in this building was Sylvester Stallone's "Demolition Man" with a bunch of friends from the karate dojo. My most vivid memory of the place was a lady who worked the ticket counter with iron-fisted notoriety. In the early days of the PG-13 rating, she was an unapologetic enforcer of what we kids thought was age discrimination. She was the gatekeeper between those things certain kids wanted to see and what the rules allowed them to see.
While I wasn't inclined to sneak into movies rated for more mature audiences, I did look extremely young for my age (and still do). That was a problem even for a PG movie; without a parent present, I could have a hard time getting a ticket! Oh, the tribulations of youth.
I was more saddened when the Dakota Twin closed and the building remodeled than I am to see its shell finally coming down. The real tragedy for me was when it ceased serving its purpose as a movie theater, one for which it was solely designed. It wasn't suited for much of anything else, which is why I believe it sat vacant for so long. Now it will be replaced with something else, but for me the demolition really began many years ago.
By the way...while I was outside my truck looking for a good angle with my camera, my four year old rolled down his window and shot the above photo from his booster seat in my truck. I didn't have to level it, crop it, or anything aside from a slight color correction. I couldn't be more proud of my little boy's knack for photography! I have not taught him anything per se, choosing instead to simply hand him a camera and wait eagerly to see how life appears to him through the viewfinder. It appears he's a natural!
[ 2 comments ]
( 48 views ) |
permalink
|
Click a dot to rate this entry:





( 3 / 338 )
---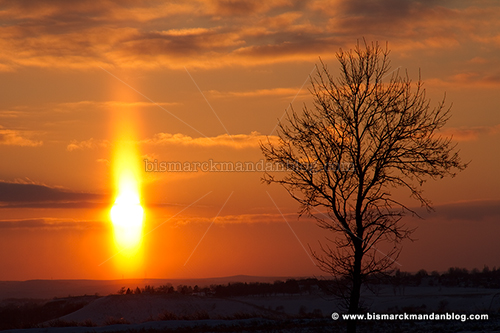 A perfect set of circumstances came together to provide a streaky sunset for us. My two little boys and I caught it just in time before going home.
[ 1 comment ]
( 20 views ) |
permalink
|
Click a dot to rate this entry:





( 3 / 372 )
---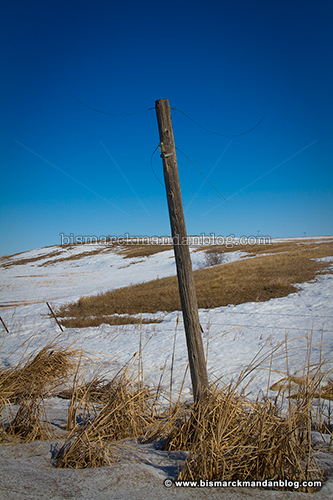 I had some errands to run over lunch a while back and figured I might as well grab a quick photo along the way. It may not look like it, but this old telephone pole is actually right on the edge of city limits! It took five minutes to get to it, leaving plenty of time to maneuver for the right angle and polarizing filter to take a pleasing photograph. It was a nice accent to an already good day.
[ add comment ]
( 21 views ) |
permalink
|
Click a dot to rate this entry:





( 3 / 352 )
---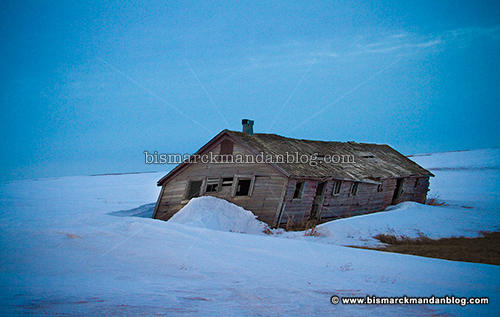 Well, actually I mean four year old
photographer
. I took one of my little boys out in the truck last Friday to show him the sunset, and we found ourselves near this "falling farm" just west of Mandan Airport.
I took a few shots but he wanted to try as well, and I'd much rather showcase his work as a proud Daddy. My camera is very heavy, so I helped him support the weight, but the framing and actual shot are all his. Naturally, Daddy did the Photoshop processing once we got home. I couldn't be more proud...maybe little PJ will be a photographer someday!
[ add comment ]
( 4 views ) |
permalink
|
Click a dot to rate this entry:





( 3.1 / 363 )
---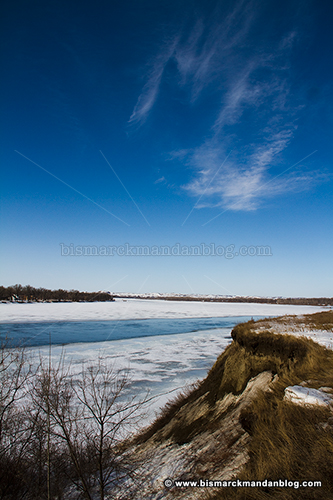 I took place in a photo shoot at Double Ditch a couple of days ago and saw something interesting as packed up and departed. Can you see it in this shot? Out on the ice? Of course not...I couldn't, either - and I was there!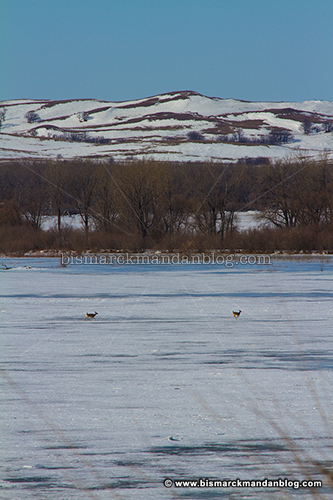 It wasn't until we were almost back on the highway that we spotted these two deer bolting across the river on the ice. We stopped for a second so I could grab my biggest telephoto lens and snap a quick shot.
These two critters slowed down and walked very tentatively across the shore ice. I didn't stay more than a few seconds so I don't know if they made it without breaking through. I suspect they may have bolted across because of a pair of coyotes we saw out on the ice earlier. Neither are something you'd expect to see while out along the river on a nice, sunny afternoon!
[ add comment ]
( 3 views ) |
permalink
|
Click a dot to rate this entry:





( 3.1 / 451 )
---
<<First
<Back
| 71 | 72 | 73 | 74 | 75 | 76 | 77 | 78 | 79 | 80 |
Next>
Last>>