At the time I lived north of Century in the vicinity of Montreal Street. Since only the major roads were cut open, I had to hike around six blocks down to Century Avenue, where the big KFYR-TV 4x4 engineering truck was waiting to transport me to work. As you can imagine, we were pretty busy in a news capacity at that point.
It was a surreal walk down to Century Avenue. The snow was taller than even full size pickups parked along Montreal Street, and as I walked down the road I noticed that I wasn't leaving any footprints. The snow was made of such fine snow crystals and packed so tightly that I wasn't breaking through the surface. Every now and then I'd see part of a pickup cab poking up through the snow, but for the most part I couldn't even tell where the street was, much less where cars were parked.
After the roads were beginning to clear, a crazy friend picked me up in his Escort GT and we went out to document the whole thing. At this time I had merely a little Canon point-and-shoot film camera, but I think it tells the story: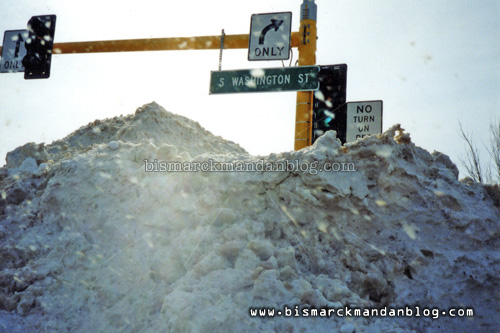 The perspective on this one is slightly misleading, since I was sitting in a compact car. But you get the idea.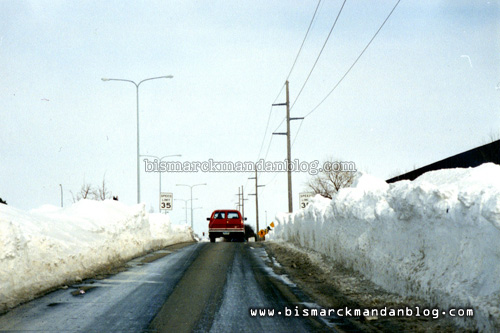 As you can see from the walls of snow lining Century Avenue, these roads were literally cut open, as plowing would do no good. Not only was the snow too deep, but it was fine, compacted "sugar snow" composed of tiny little crystals. It was rock hard.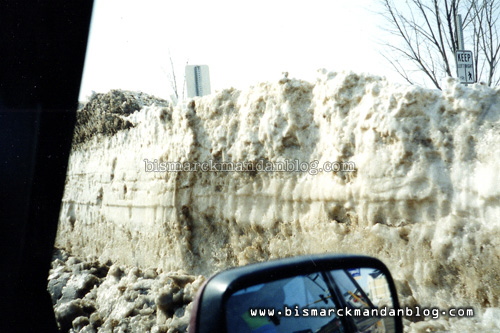 Since we were already into Spring, the sun started to work on the snowbanks right away. They're melting down pretty quickly. We weren't in a particularly low-riding car, but even along the Expressway the snow was taller than we were.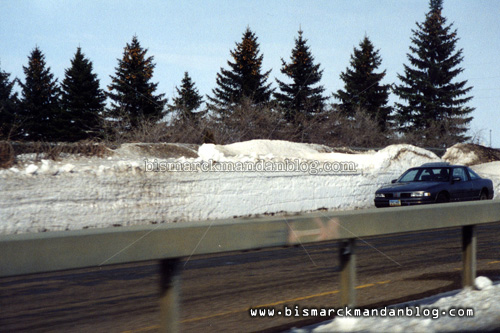 The fence along the Expressway was almost completely hidden by snow. Lots of places were packed in completely as the snow settled in and froze solid.
It was a Saturday storm, and I remember being quite put out at having some of my motorcycles stranded at the Hall of Ports for the annual Freedom Riders Motorcycle Show! At least I got to bring home some trophy hardware later.
Anyway...if you're feeling slighted by the lack of blizzard conditions (especially after all the hype over the last few days), maybe this will help get you through it!
[ 2 comments ]
( 50 views ) |
permalink
|
Click a dot to rate this entry:





( 3.1 / 734 )
---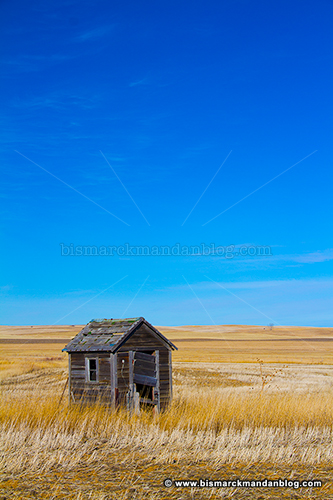 Talk about some cramped quarters! I spotted this little shack along an old county road, as usual. I caught some nice, warm sunshine and beautiful blue skies before the cold and snow came rolling in. I'm thankful for the snow, to be sure, but we in our house are ready for spring to arrive. After this week's predicted storms, March is sure to deliver plenty more weather changes.
[ add comment ]
( 10 views ) |
permalink
|
Click a dot to rate this entry:





( 3 / 130 )
---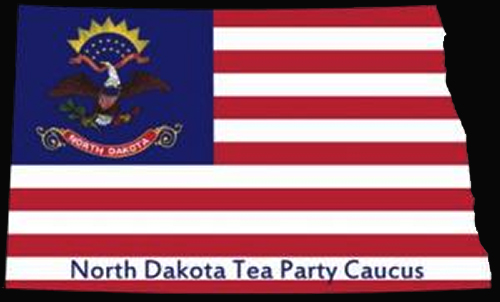 The NDTPC is excited to announce our February 25th debate in Fargo (at the Doublewood from 6:00 pm – 10:00 pm) will be televised by BEK Communications and 10 other telephone coops statewide (covering 180,000 households and counting) as well as on AM 1100 radio and streaming on sayanythingblog.com. Find the provider/channel in your area listed below. The debate schedule will be as follows: (watch for updates)
6:00 – Pre-debate show with host Chris Berg
6:30 – U.S. House Debate
8:20 – U.S. Senate Debate
9:00 – ND Governor Debate
9:30 – Post-debate show with host Chris Berg
The moderator will again be Dave Thompson from Prairie Public. Keep in mind these times may change as we continue to stress that all candidates attend the debate for each race.
__________________________________________________
Providers/Channels televising the debate are:
BEK Communications of Steele, N.D. – Channel 28
Cable ONE of Fargo, N.D. – Channel 14
Dakota Central Telecommunications of Carrington, N.D. – Channel 19
Dickey Rural Networks of Ellendale, N.D. – Channel 7
Midstate Telephone Company of Stanley, N.D. – Channel 17
North Dakota Telephone Company of Devils Lake, N.D. – Channel 151
Northwest Communications Cooperative, Ray, N.D. – Channel 23
Polar Communications of Park River, N.D. – Channel 70
Reservation Telephone of Parshall, N.D. – Channel 21
SRT Communications of Minot, N.D. – Channel 322
United Communications /Turtle Mountain Communications, Langdon, N.D. – Channel 17
Midcontinent Communications across North Dakota - Channel 322
Previous debate videos from February 20th
can be viewed by clicking here
. Scroll down toward the bottom of the page for links to individual debates.
[ add comment ]
( 17 views ) |
permalink
|
Click a dot to rate this entry:





( 3 / 167 )
---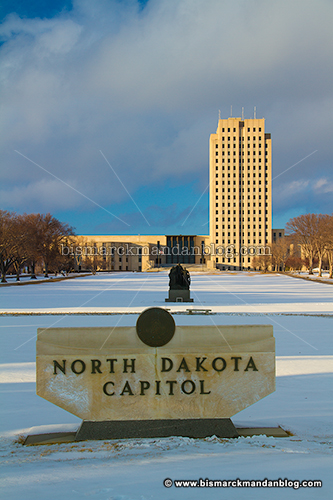 There wasn't this much snow on the capitol mall for New Year's Day, and on Christmas I actually took a photo of myself in front of the mall on my motorcycle! It feels good to actually be able to photograph the capitol with snow in front of it again. Now all we need is a couple more feet and I'll be in precipitation heaven!
[ add comment ]
( 13 views ) |
permalink
|
Click a dot to rate this entry:





( 3.1 / 116 )
---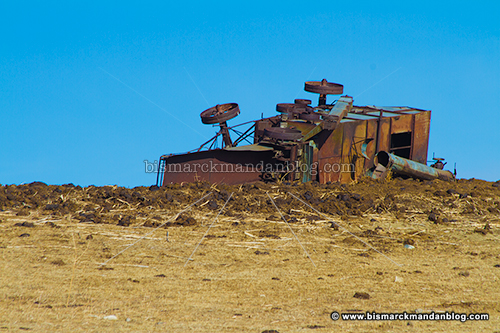 Poking around south of town I spotted this old machine rolled over at the top of a hill. I'm sure it caught a nasty wind and ended up on its side, but the fact that it was in a field full of cattle tickled my sense of humor a little. I mean...after all, does anyone REALLY know what cows do when we're not watching?
[ 1 comment ]
( 15 views ) |
permalink
|
Click a dot to rate this entry:





( 3 / 172 )
---
<<First
<Back
| 36 | 37 | 38 | 39 | 40 | 41 | 42 | 43 | 44 | 45 |
Next>
Last>>