Mandan wants to be proactive in reviving its downtown area. They've got a little mini-poll on their website at
www.cityofmandan.com
asking what kind of business you'd be most likely to visit if it were built in downtown Mandan.
A few years ago there was an effort to revitalize downtown Mandan. There was even talk of wooden sidewalks to match the historic buildings that are now being razed left and right. So what's the plan now? I'm not sure anyone knows. I think it's a little too late.
The City and the property owners should have stuck to their guns and CRUCIFIED the railroad in court. The city is still swimming on a lake of diesel fuel, some of the people affected walked away from litigation with chump change, and now we're bulldozing buildings. Why would anyone buy property along Main Street if they expect they've got a genuine EPA disaster below their feet, with no recourse against those who caused it? That was an all-or-nothing deal.
I remember my uncle telling me about having coffee at the Red Fox cafe on Main Street. There were a bunch of railroad workers that had walked over from the fueling depot (behind the McDonalds, which wasn't built then) and were having coffee. My uncle saw diesel fuel spilling all over the place and went over to tell them about it. "We're on break," was their reply. How about that union labor, huh? Well, now the rest of the city is paying for that kind of work ethic. That's just one reason why I think labor unions are such a joke...except in this case, nobody's laughing.
I remember when we moved the police department from Collins and 1st over to the newly built Law Enforcement Center. We were astonished at how cool the new building was...until all of a sudden the fumes were overpowering. We weren't allowed to go downstairs. Later on, I believe there were some employees that sued because of permanent health problems they got from working in that building.
So how would that situation translate to a guy who's got a building floating on Main Street in Mandan? He can't sell it...he can't rent it. It's not worth the money to try to renovate it because of its uncertain future. So he's stuck. That's hardly a hospitable circumstance for economic development. So now they're falling prey to the wrecking ball. Maybe we can just plow the whole stretch of city blocks adjacent to Main Street, pave it eight lanes wide, and call it the Burlington Northern Memorial Expressway.
[ add comment ]
( 6 views ) |
permalink
|
Click a dot to rate this entry:





( 2.9 / 895 )
---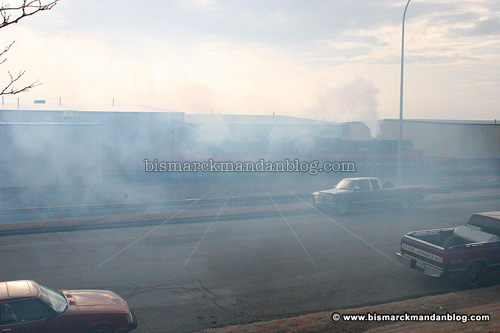 The DMVW railroad was warming up a couple of diesel-electric locomotives. There were actually two pairs but only this pair was smoking. I wonder who checked the oil? You could check it by sticking a finger in the air. It smelled like it was synthetic, too...that can't be cheap. Or environmentally friendly!
[ add comment ]
( 20 views ) |
permalink
|
Click a dot to rate this entry:





( 2.9 / 861 )
---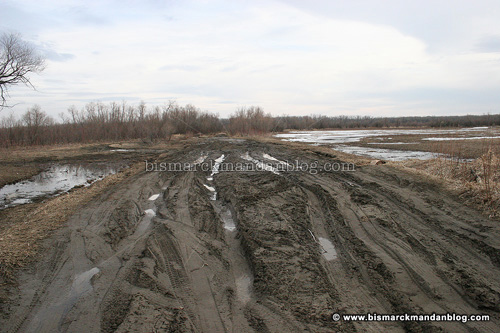 Despite a nearly
overwhelming
temptation to throw it into four wheel drive and give 'er the proverbial "onion," I backed off and called it a day. There's always the weekend...
* "Stymie" is an old Scottish colloquialism from the early days of the game of golf, meaning to obstruct a shot. For the definition of "colloquialism" please consult a dictionary or someone who's homeschooled.
[ add comment ]
( 6 views ) |
permalink
|
Click a dot to rate this entry:





( 2.9 / 727 )
---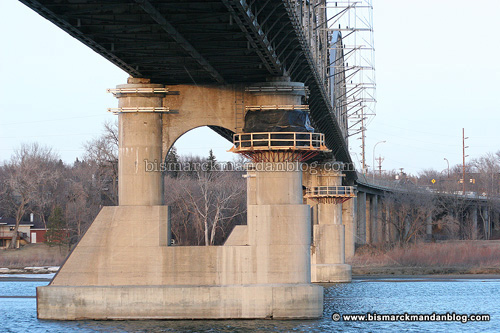 If you've driven past the Liberty Memorial Bridge lately I'm sure you've seen these scaffolds stuck to the side of two of the support columns. Work continues to put a steel liner around the two trouble spots and fill the gaps with a special concrete.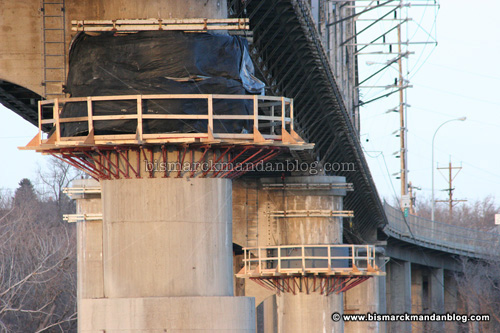 It looks like one of them is completed and the other one under wraps in these photos, which I took this weekend. I bet it's cold working up there...that's likely why they've wrapped the area where concrete is to be poured, to let it set properly.
What's weird about being near the bridge when it's closed is that it's eerily quiet in the absence of traffic. The only sound is the constant cooing of all those darn pigeons. That in itself is kinda spooky...what if they decide to revolt?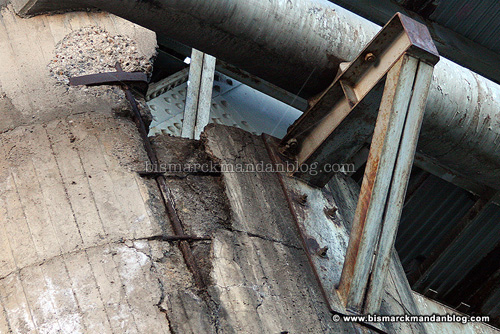 While they're at it...shouldn't they take a look at some of this stuff? I mean, if the rest of the undercarriage of this bridge has broken rebar and crumbling concrete...do we really want to reopen it? That's kinda scary.
We've all had a taste of what life will be like while the bridge's replacement is built...it's not fun. Hopefully, once the construction on a new bridge gets underway, the process of building a new one will go quickly.
Some people think this bridge is just fine the way it is, and should simply be properly maintained. Others want it scrapped in favor of a new and better one. Then there's the shock and awe brought about by its deterioration. And of course those who want it preserved as a historical item.
Personally, I think the historic appeal of this bridge died when they decided to put a concrete deck on the famous "singing bridge." Now that it appears to be rusting and crumbling away, let's replace it. But let's do so responsibly. And I sure hope the next design lasts as long as this one has!
[ 2 comments ]
( 25 views ) |
permalink
|
Click a dot to rate this entry:





( 3 / 582 )
---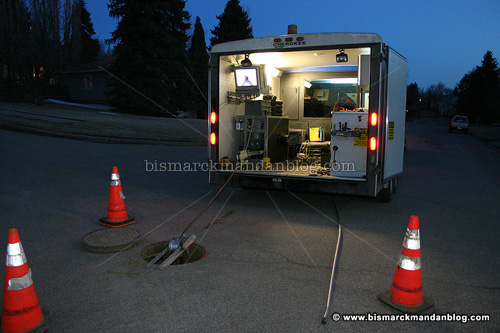 I'm a naturally curious sort of guy. I am interested in how everything works. So when I was driving down Highland Acres Road last weekend and saw this trailer parked in the middle of the road, I had to stop and investigate. At a passing glance I saw the cable going down into the manhole, the room in the front of the trailer with the guy looking out, and the video monitor in the upper corner of the trailer. Looks like something interesting's going on here.
That's where I met Jeff from Watertown, SD. He's working for a company that is going through parts of the sewer system in Bismarck and preparing it for maintenance. The city will be putting polymer sock liners in some of the sanitary sewer lines around the city. But when someone builds a house and taps into the sewer line and weld their pipe to the main line, part of their pipe protrudes into the main line. That's a problem for anyone trying to stuff a liner down the pipe. That's where Jeff's company comes in.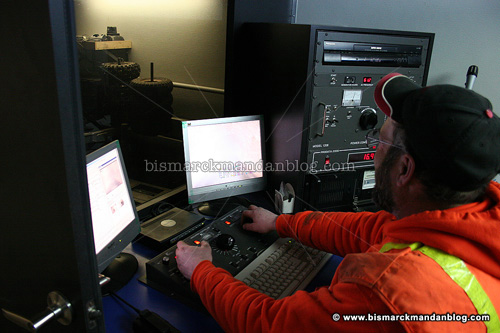 He's operating a motorized camera/light rig that drives down the pipe. From the other end of the neighborhood are the rest of the crew, driving up a machine that spins inside the pipe, flinging 3 lengths of chain and driven by 2000 PSI of water pressure. The machine grinds away the protruding lengths of pipe or any other obstructions so that the liner may be applied to the pipe later. Jeff's job is to use his camera/ light to spot protrusions and give the other guys directions to hone them out of the pipe. They communicate by 2-way radio and he tells them which way to go back and forth until the pipe is honed clear.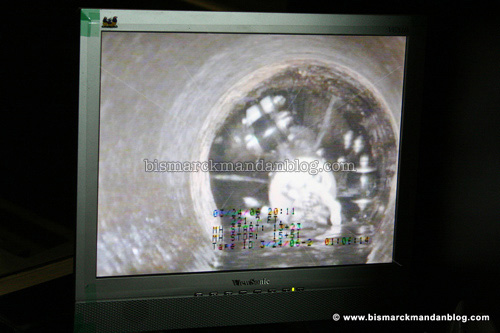 This machine does a pretty slick job. Jeff's got computers and a tape machine, and they record and log everything they do. They can then provide the city with a diagram of the length of pipe they've serviced, labeled as to where they encountered obstructions, what they looked like, how they were dealt with, and what the pipe looks like after they've cleared it. He showed me printouts of all of that stuff. It's really pretty slick.
Thanks to Jeff for the explanation. He's also got a couple of Canon digital SLRs like me and enjoys wildlife photography, so we had a really nice chat. It was quite gracious of him to explain everything he's doing and take time during his busy evening to show me all the stuff that they do.
So just remember...the reason everything works the way it does is because the city's got guys like Jeff and his crew that help maintain and upgrade the system. And they've got cool machinery to enable them to get that job done.
[ add comment ]
( 5 views ) |
permalink
|
Click a dot to rate this entry:





( 3.1 / 611 )
---
<<First
<Back
| 324 | 325 | 326 | 327 | 328 | 329 | 330 | 331 | 332 | 333 |
Next>
Last>>