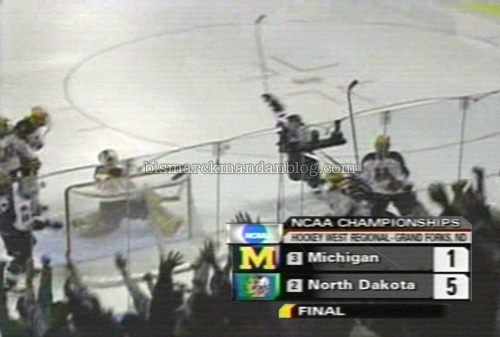 After an intense game, #1 ranked U of Minnesota is OUT. 4-3 in first OT. Holy Cross is probably saying "holy cow!" That game was followed by a 5-1 blowout of Michigan by the UND Fighting Sioux. Yeah, that's right...Fighting Sioux. Sioux. Sioux. Sioux.
I didn't know the slightest thing about hockey until 1998, when I worked my first live TV broadcast of hockey. In the downtime I got bored and went into the arena to watch a game...I was blown away. I've been a hockey fan ever since!
There's a hierarchy I follow in hockey tho; I was offered free Bobcats tickets tonight but dashed home from running around with the camera to scarf pizza and watch UND play. I got home just in time to catch a recap and the start of the first overtime period in the HC-UMN game.
This tournament wraps up Saturday night, with the winner going to the Frozen Four. If you get Fox Sports Net North, that's where you can find the hockey. I've got satellite, I don't know where they are on cable. By the way, one of the sportscasters for FSN is a lady named Marney Gellner, who used to work in local television right here in Bismarck.
[ add comment ]
( 2 views ) |
permalink
|
Click a dot to rate this entry:





( 3 / 439 )
---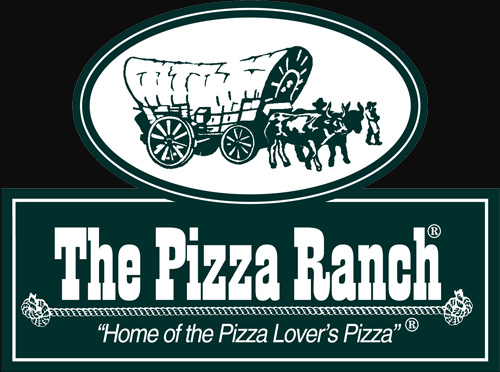 I'd seen the Pizza Ranch restaurant on Main Street in Mandan before but it hadn't clicked that this is a chain. I've actually eaten at a Pizza Ranch once before while working on the road but didn't make the connection. But I started hearing that this place is great, so we decided to go last night. That's when I finally figured it out.
We printed out coupons from
www.pizzaranch.com
but didn't need them...we got the buffet and piled on the salad and all kinds of pizza. This is a really nice pizza place! I am not the kind of guy to dig in to the Philly Cheese Steak pizza or other such varieties, but there were plenty of other, more traditional styles to pick from.
The room we sat in was decorated with memorabilia from the Mandan Fire Department, including lots of old photos which were fun to look at. I didn't check around the rest of the place as it was pretty busy. I guess the word gets around!
One other cool thing is a tidbit I found on their website in their mission statement:
"Our Vision...To glorify God by positively impacting the world we live in."
Nice.
[ add comment ]
( 5 views ) |
permalink
|
Click a dot to rate this entry:





( 3 / 505 )
---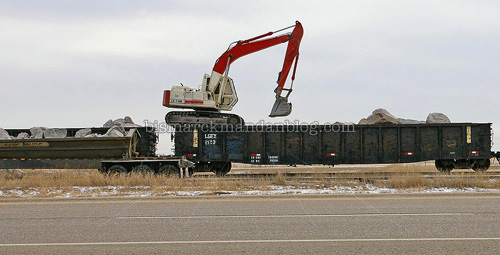 These photos were taken by my friend Jerry on Tuesday. They're wild enough that I just had to post them here. His email said:
Driving to Minot yesterday and at Coleharbor the Soo line train was loaded with big rocks. Driving around on the top of the boxcars and rocks was a backhoe that was scooping them out. He was actually able to drive from car to car scooping rocks. I did not see a ramp or anything to get up on top.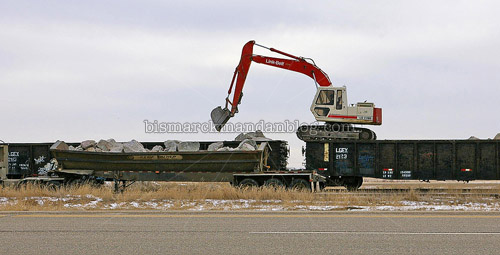 A guy's gotta be talented and nuts to pull off something like that. Hats off to whoever's perched atop that train car, scooping rocks into a truck. They certainly are taking it to the next level!
[ add comment ]
( 3 views ) |
permalink
|
Click a dot to rate this entry:





( 3 / 294 )
---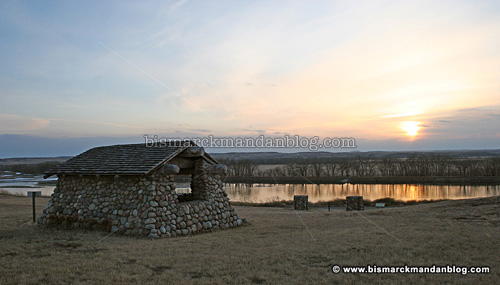 This is one of the best places in the area to go stargazing. It also used to be one of the most convenient. This little stone hut was built in the 1930s as a Civilian Conservation Corps project. That's the kind of project we need these days instead of handing out free welfare money; let the government (we the taxpayer, actually) get something for their dollar.
Anyway, I digress. This little stone hut houses a diagram of the Double Ditch Indian Village and gives a brief history thereof. It had a metal roof up until the Lewis and Clark craze started; then the whole area got a makeover with signage, walking trails...the works. The hut got a new roof and some maintenance.
It's no longer the most convenient place because Double Ditch Loop is no longer a through street there. It used to lead right past "the Hut." Whether it was really fears of the eroding cliffs giving way or just a good excuse not to have a road to maintain, the bottom half of Double Ditch Loop was destroyed and turned into a foot path. Now you have to hoof it a bit to get to this 70 year old landmark. There used to be turnstiles between the two stone columns shown in the picture there, and some wooden/stone steps. Those have since been removed.
I have fond memories of sitting up there with friends, eating Pizza Hut breadsticks and listening to music, while watching the stars and an occasional satellite whizzing by. It's far enough away from the city lights to provide great viewing, yet close enough to reach within a few minutes. Watch for deer. Since it's north of the city it provides a clear view of the northern horizon in case of Aurora Borealis. There's also a stone picnic table on the lookout point at the end of Double Ditch Loop, where the walking trail to the Hut begins.
[ 1 comment ]
( 31 views ) |
permalink
|
Click a dot to rate this entry:





( 3 / 532 )
---
Take, for instance, the current theater in which many of us have friends or family serving from the 112th here in Bismarck. They're flying helicopters in assistance with a NATO peacekeeping force, basically. Do they teach enough history in schools for our kids to know exactly why they're there? It's the mess that Bill Clinton started and didn't clean up.
I'm going to generalize here...the area of Bosnia-Herzegovina is part of what used to be Yugoslavia and consists of Bosnians, Serbs, and Croats. Seemingly they just can't get along. There was awful "ethnic cleansing" (is "genocide" not politically correct?) under Slobodan Milosevic and it had to be stopped. So, in we went. Did we do it to distract from one of Clinton's many sex scandals? Who cares...we're there. Let's kick butt.
Now, as an outsider, it seems that going the multinational route (in this case NATO / UN / EU) is a sure way not to get anything accomplished. We're still there. But is the mainstream press crying "quagmire?" Were there rallies this week saying "get out of Bosnia?" Do we get a regular casualty count on the news? No. Our guys are risking their lives over there for a worthy cause, but it's not advantageous to those who seek to go after our current President to exploit it the way they have Iraq. Plus, it might point out that the last Democrat we elected President never could handle his role as Commander in Chief. Remember those that lamented that 9/11 didn't happen during the Clinton Presidency, so he could have had a chance to shine?
Now...as far as "supporting the troops, not the war..." that's nonsense. They're inseperable. I support what my friends are doing in Bosnia. Regardless of whether the decision to go over there in the mid-90s was a Clintonian diversion, we needed to be there. Nobody else in this world has the sack to stand up to genocidal maniacs. And you won't find conservatives running down the action in Bosnia because it wasn't done by
their
President. By the way, we're defending Muslims from extermination over there...that's being conveniently swept under the rug as well.
There were thousands rallying to
mourn
the death of Milosevic, by the way. That's the kind of hatred that's over there. But who do you suppose gave him support in the USA? A Democrat, Ramsey Clark. He was AG in the Johnson administration, was on the Milosevic legal team, and is now defending Saddam Hussein. But his political allies like to compare President Bush to Hitler. On the one hand, Clark formed ANSWER (Act Now to Stop War and End Racism)...seems well-meaning, right? But on the other hand, he was quoted last week as saying,
"History will prove that Solobodan Milosevic was right."
Only a liberal can pretend to reconcile those two. And while Clark claims to want to stop war, he defends the Palestinians whose idea of a good time is to blow up a Jewish kindergarten.
I don't like hypocrisy. That seems to be all that the liberals in this country have to work with, however. It's up to those of us with common sense to point that hypocrisy out wherever we see it, and it does affect us here at home. Let's keep those guys from the 112th in our prayers and await their safe return
from their brave and worthwhile mission.
There...got a political post of sorts out of my system. Now I'm good for another few weeks! :-) And I might trademark the term Dakotacentric™, so if you'd like to license it, send me an email...j/k!
[ add comment ]
( 2 views ) |
permalink
|
Click a dot to rate this entry:





( 3 / 524 )
---
<<First
<Back
| 325 | 326 | 327 | 328 | 329 | 330 | 331 | 332 | 333 | 334 |
Next>
Last>>