This is the old Kirkwood Bank & Trust logo. It's a little dated, with its bold corporate colors, so it was apparently time for an upgrade. Adding to the need for new branding is the fact that they're no longer in their old building on South 7th Street, featured prominently in the old logo. Since they're not going to be using that building any more, it's time to ditch the shape in favor of...a leaf?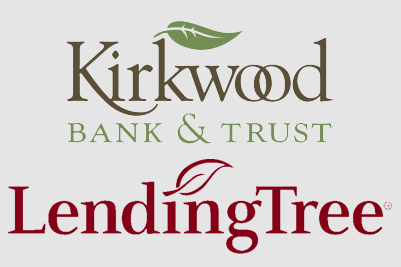 This is the new Kirkwood Bank & Trust logo. I'm an afficionado of branding and corporate identity, so it struck me as familiar the first time I saw it. It didn't take long to jog the ol' memory, and...aha! It resembles the Lending Tree logo pretty closely!
I don't know how much they paid for their new brand, or who did it, but it seems a little close to another prominent financial institution. I don't know that it's close enough to cry foul, but it certainly raises some eyebrows.
This reminds me of the time NDSU wanted new branding, so they spent tens of thousands of dollars on a new logo -- out of state, mind you -- to come up with a new one. What was it? The letters N and D stacked on top of S and U. Wheeeee. To make matters worse, it was basically identical to South Dakota State University's logo. Truly a remarkable waste of money, even in the context of North Dakota state government.
I wish I was good at logo design...I'm not. I'm good at animating other peoples' designs, which works good in my current job. But if I was designing logos for a living, I think I'd try a little harder to stay clear of someone else's trademark.
[ 3 comments ]
( 67 views ) |
permalink
|
Click a dot to rate this entry:





( 3.8 / 864 )
---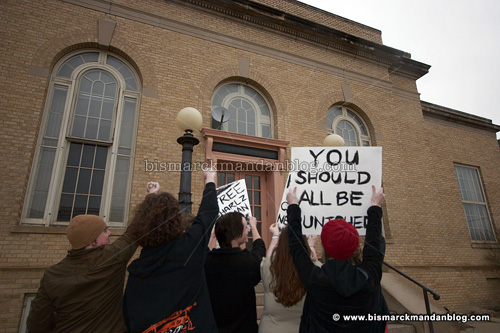 I noticed we were getting a lot of stares, so I figured I might clarify. It wasn't a real protest in front of the old Mandan Library building on Wednesday, it was a photo shoot for an album cover. We were shooting a bunch of stills to composite for an upcoming album release, in which we're filling the steps with protesters. Want more details? I guess you'll just have to stay tuned. Get it...tuned? Okay, so I'm not funny.
[ 3 comments ]
( 83 views ) |
permalink
|
Click a dot to rate this entry:





( 3.8 / 869 )
---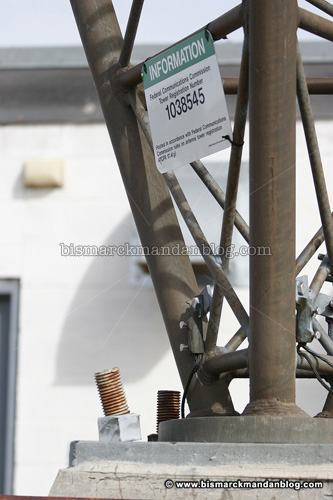 In the early 1980's the radio tower for KQDY-FM took a nasty spill in the middle of the field where its replacement stands northeast of Bismarck. The tower fell, damaging an adjacent stick and ripping the corner off the transmitter building. It's not the only such tower to do so; in the big blizzard of '97, the KXJB television tower near Blanchard also took a dive...for the second time. What I thought was unique about the KQDY tower is that the new one's screwed to the base using the same old bolts.
See the bent bolt sticking out of the concrete base? Apparently that's not a problem. I guess a guy just has to break out his big honkin' wrench, jam the nut on there as tight as she'll go, and rely on the other three to take up the slack. So be it, I guess if the thing were to fall in that direction again it would only disturb the gophers.
As many of you know, I've spent the last - wow, almost 20 years - involved in broadcasting and/or video production. I keep my ear to the ground regarding that sort of thing, and thus I picked up this little tidbit about the FargoDome. The 'Dome has just received an electronic facelift, including new a new sound system. I've never attended an event in the FargoDome, although I've worked plenty of them and scaled the catwalks high above it and run around on the roof watching the F-16's. Friends who have attended events in the FargoDome have said the acoustics aren't that great, and the buzz I heard reveals a possible reason why.
When the old loudspeakers were cut loose from the ceiling beams and lowered down, a shocking discovery was made: over half of them were stuffed with masking material! It seems that they were black when they were put up there, but later on they were painted Bison Green along with much of the gridwork up above. The drivers were stuffed with masking material so they didn't get coated in paint, and - oops - apparently most of them were never unmasked.
If you thought the 'Dome sounded a little muffled or muddy...well, perhaps that's why. But hopefully it isn't being held together with any of KQDY's bent bolts.
Oh yeah, my favorite part of the FargoDome: the catwalks. They have long, steep ramps from the stair access along the outer wall to the inner ring of catwalks up above. Those ramps are about an arm's width across and very long & steep. The catwalks get very dusty, and therefore very slippery. While carrying equipment up to the catwalks I'd often have to just use one hand to carry, with the other used to steady myself up using the handrail. When I was done mounting camera equipment etc. for whatever show I was working up there, I would enjoy taking a run and surfing down the dusty ramps. It was like being on rollerblades, but VERY high up above the ground. WOO HOO! Sometimes I miss my adrenaline junkie days...but then I remember the scars and the creaking noises. I guess memories will have to do for now.
[ 1 comment ]
( 45 views ) |
permalink
|
Click a dot to rate this entry:





( 3.9 / 790 )
---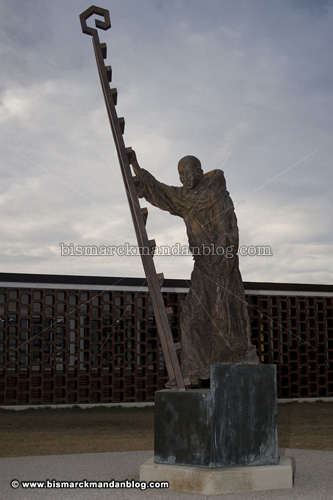 This one's going to be super easy because of the background, but it is a relatively new statue. So...have at it! I'm guessing a lot of my readers saw this statue recently, but it's not like we have a ton of statues around Bismarck-Mandan for me to throw at you. For now, this is my best attempt at stumping you!
[ 6 comments ]
( 130 views ) |
permalink
|
Click a dot to rate this entry:





( 2.9 / 437 )
---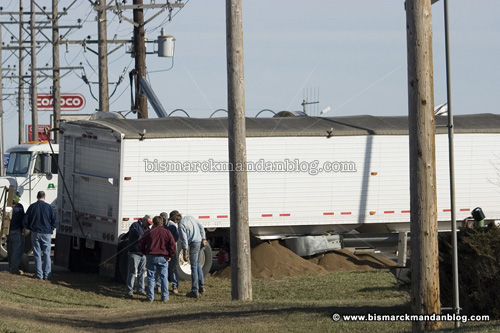 This is the reason the intersection of 3rd Street and Memorial Highway was closed for a while this afternoon. The person driving the semi apparently cut the corner too sharp, catching the guard rail and ripping open one of the belly chutes of his trailer. The contents began to spill out, which is why you can see another truck on the other side (armed with an auger) assisting with the cleanup.
We've all had days like this, haven't we? Everybody makes mistakes, it's just that the guys with the CDLs
(Commercial Drivers Licenses)
that tend to make the really big ones. After all, they drive the biggest vehicles!
[ add comment ]
( 7 views ) |
permalink
|
Click a dot to rate this entry:





( 2.9 / 541 )
---
<<First
<Back
| 248 | 249 | 250 | 251 | 252 | 253 | 254 | 255 | 256 | 257 |
Next>
Last>>