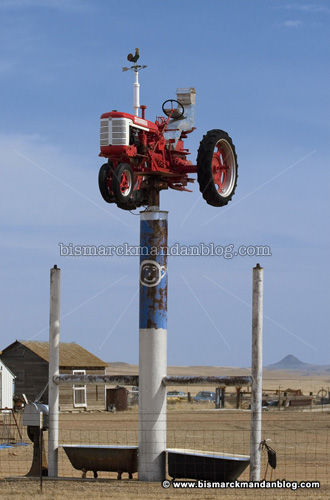 I can't explain why this Farmall tractor is perched atop a pole any more than I can explain the bathtubs at its base! It sure is eye-catching, though.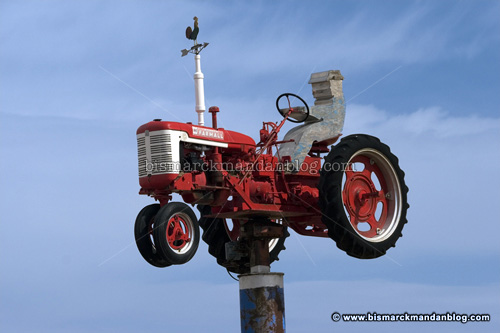 The wooden farmer perched atop this tractor has an almost Lego-like appearance. It looks like the weather has worn away at him a bit; it would be cool to see him with a new paint job!
I spent a few hours poking around west and southwest of Bismarck-Mandan this Saturday. That's when I had the opportunity to photograph this tractor on the outskirts of Glen Ullin. I found lots of other fun things at which to point my camera, and they'll show up here soon as well. None of the other ones involve boxy wooden farmers, though.
[ add comment ]
( 7 views ) |
permalink
|
Click a dot to rate this entry:





( 3 / 580 )
---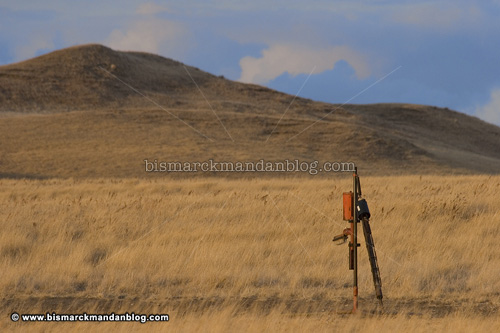 This contraption sits atop a hill near Double Ditch. At a glance from the highway, it looks like a well. Upon closer examination, however, it appears to be something else entirely. I'm not sure what...but what looked like the spout of a well is actually a brush. I'm sure it must have some sort of ranch-related use, but I'm too much of a city kid to surmise what that might be.
[ 2 comments ]
( 87 views ) |
permalink
|
Click a dot to rate this entry:





( 3.1 / 568 )
---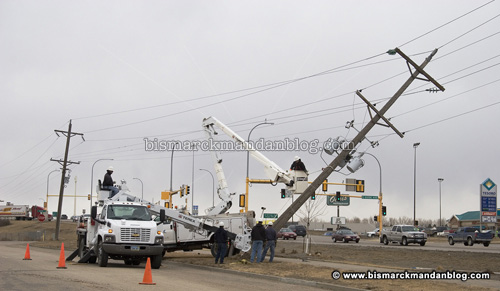 I heard the forecast and knew it was going to be windy. I didn't know it was going to be THIS windy! Not only did it make things inconvenient for an outdoor videotaping session today, I also noticed this while driving away from where I was taping.
This power pole is adjacent to the Bismarck Expressway, near Capital RV. The lines held, and the pole seems intact, so it's just a matter of getting it upright and reinforcing the soft ground. I would not want to be the guy in the bucket truck that had to lean over that thing and attach a tow line to it!
[ add comment ]
( 19 views ) |
permalink
|
Click a dot to rate this entry:





( 3.2 / 476 )
---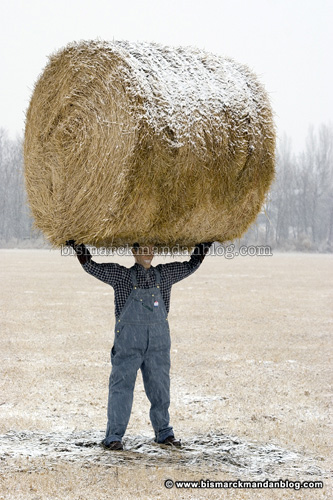 This poor fella stands along south 12th Street, sort of an agricultural Atlas who refuses to shrug. I bet he's cause some serious rubbernecking, though!
Hat tip to Brucellosis for featuring this on his blog. You beat me to the punch! I took some photos of this a while back but hadn't posted them yet, and I'm glad I waited to catch him in the snow. It helps with the fact that the background's pretty unappealing.
This is part of a political campaign display, and is accompanied by a sign for a hopeful candidate. His message: help keep District 30 strong! I'm not showing the sign, though...no free advertising. Especially considering that our three representatives down here are Republicans, so this challenger is presumably a socialist, I mean Democrat. Same difference.
I have since found out that Arnie Zent was vying for a Republican nomination for a vacated seat. My presumption was wrong, as is often the case. That drives home the old lesson: When you presume, you make a pre out of you and me!
[ add comment ]
( 18 views ) |
permalink
|
Click a dot to rate this entry:





( 3 / 472 )
---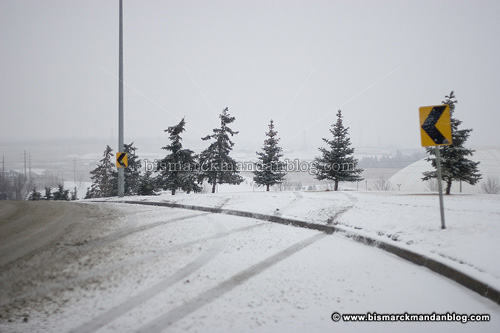 Gateway Avenue is the street that goes past Basin Electric on its way from State Street to 19th Street. At the crest of this hill the road curves to the left a little, and it's off camber as well. Naturally it becomes very treacherous when icy, as a couple of people found out tonight.
I've never made contact with either the lightpost or the tree, but I did discover the danger of this curve early on in my driving career. Thankfully I filed that information permanently in my melon, because it was particularly slick there tonight! In fact, I saw a 4x4 go by all stepped out as they tried to avoid the curb. Unlike the people whose wheel tracks appear in this photo, they were successful. The person who connected with the lightpost left some parts behind!
[ add comment ]
( 7 views ) |
permalink
|
Click a dot to rate this entry:





( 3 / 387 )
---
<<First
<Back
| 197 | 198 | 199 | 200 | 201 | 202 | 203 | 204 | 205 | 206 |
Next>
Last>>