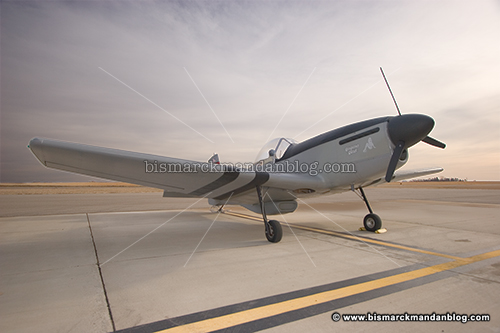 This beautiful specimen of aircraft is a homebuilt replica of a P-51 Mustang. It's not a shiny metal-skinned plane, and it's certainly much smaller, but it sure is sweet looking. The builder paid a lot of attention to detail!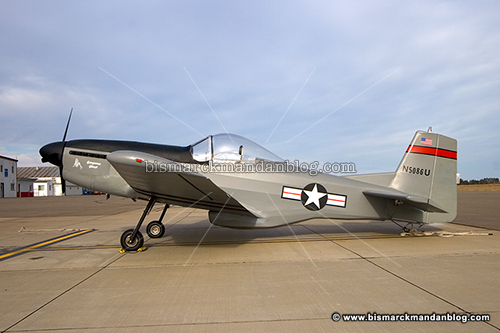 As you see from the side, this tiny little one-seater is pretty compact, with clean lines and a nice gray and black paint job.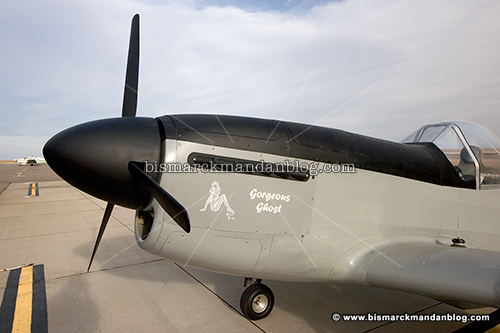 The biggest surprise: Inside the nose sits a three-cylinder engine from a Geo Metro! I'm pretty sure that fact makes this the only Geo-powered "Mustang" in existence.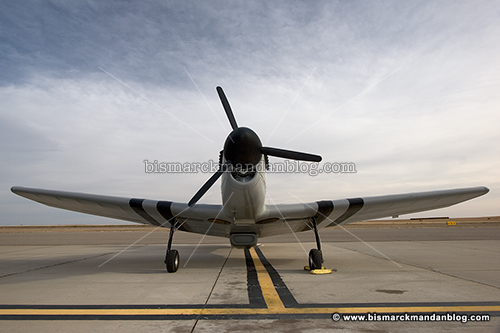 Beautiful. This plane looks graceful even while tethered to the tarmac.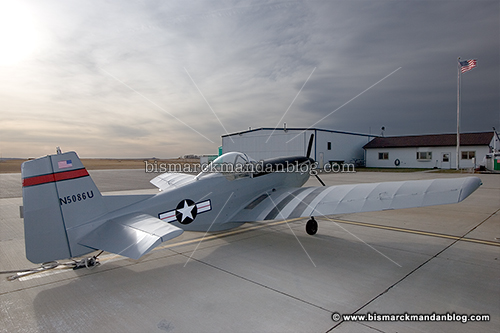 I didn't have time to hang around for some aerial shots, but had just enough to time to work some angles and thank the owner. I also didn't want to be too big an interruption to the EAA meeting.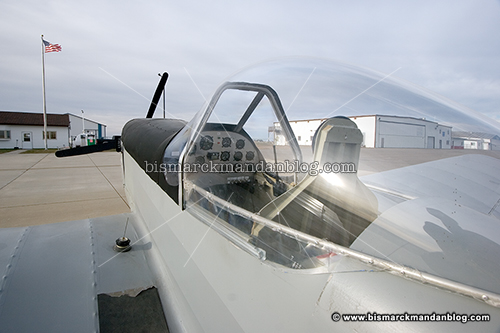 Now if only there were some real machine gun controls in here... :) It's a tight fit but it looks like the canopy offers amazing visibility.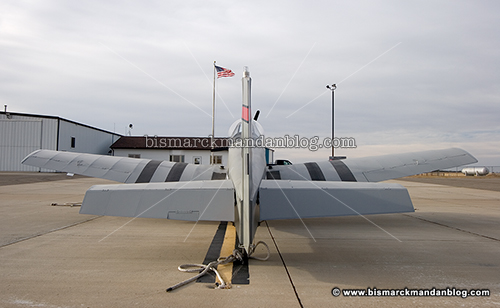 Nice tail. Again I just have to admire the craftsmanship. It's no surprise; I run into plenty of North Dakotans who display remarkable ingenuity as inventors and artisans.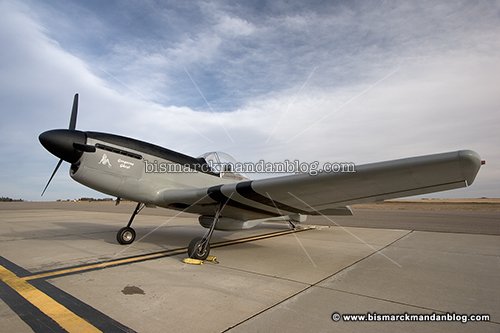 One last beauty shot before I said my goodbyes and hopped back in the truck. I had an appointment to make, so I was unable to spend more time looking at and photographing this work of airborne art.
[ add comment ]
( 3 views ) |
permalink
|
Click a dot to rate this entry:





( 3 / 328 )
---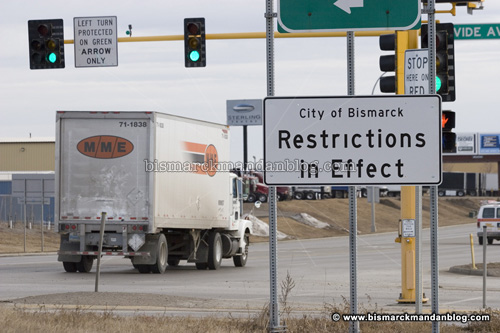 It's that time of year again: the ubiquitous "Restrictions in Effect" signs are popping up around the periphery of Bismarck. Restrictions of what nature, you ask? If your only source of information is these signs, I suppose it's anyone's guess.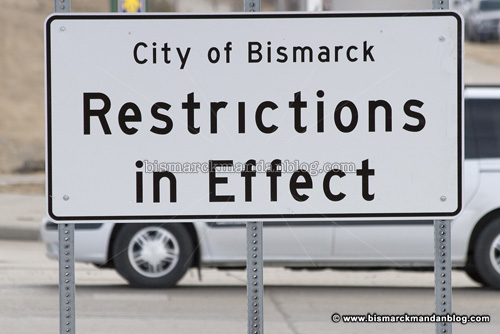 I saw these signs go up two years ago and thought they were pretty funny. Obviously it's because of the load restrictions on Bismarck roads, which I heard about on the radio, but the signs are vague enough to omit that detail. It's only after someone figured out what was missing and wedged a little "Load" in there that the signs made sense: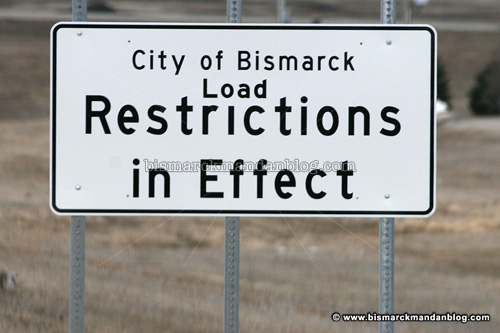 This is how the corrected signs looked last year. I was actually surprised to find an unmodified one posted up along Divide Avenue this afternoon. The top two pictures are from today, the bottom picture from last year.
As you can see in this post from last March,
I was almost second-guessing whether I'd even seen the signs without the word "Load" inserted. Today's sighting of one of the original signs is a bit of a vindication, I suppose. Now someone's going to have to dash up to Divide Avenue with another "Load" sticker!
[ add comment ]
( 2 views ) |
permalink
|
Click a dot to rate this entry:





( 3.1 / 358 )
---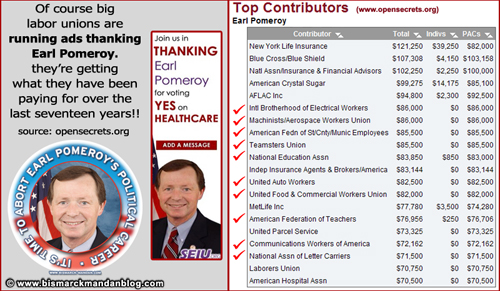 Click the image to view a larger version in a new window
If you're like me, and run a very robust ad blocker, you haven't seen the ads praising Earl Pomeroy which are being run by the SEIU labor union. I was tipped off by Rob over at SayAnythingBlog.com, actually. I thought it was very telling, since
they've been bankrolling Earl Pomeroy for seventeen years.
The fact of the matter is, the labor unions are happy because they're getting what they paid for. They want liberal lapdog politicians, and they pay top dollar for them. Earl Pomeroy has shown that he is no different.
Congressman Pomeroy, how can you claim to be a representative of North Dakota when you let the labor unions pull your strings?
According to the Bureau of Labor Statistics, only SIX PERCENT of your constituents belong to unions
. In addition, according to the union members I've talked to, few of them like the direction you Democrats are taking this nation! Only about 28% of North Dakotans favored this legislation, which means that as a
"representative"
you should not have voted for it. Thank you for showing us who you
really
represent.
Just like when the
union lackeys tried to overrun the Honk NO rally at the Federal Building
a while back, Big Labor is showing its true colors. They and their liberal political allies are crawling out from under their rocks and being bold in their agendas at just the right time, when a vast number of otherwise disinterested Americans have grown outraged and decided to enter the political arena. Good. Be as liberal as you guys can be, folks...and show people once and for all what you're about. It will have certain repercussions at the ballot box, which even ACORN-style ballot stuffing won't be able to stop.
UPDATED 3/30/2010: According to
this Politico article
, the unions are dumping $700,000 into advertising for Earl Pomeroy and his Democrat cronies! I wonder if he'll condemn this use of "out of state money" like he did
when he whined to KXMB last November
?
[ add comment ]
( 3 views ) |
permalink
|
Click a dot to rate this entry:





( 3.1 / 295 )
---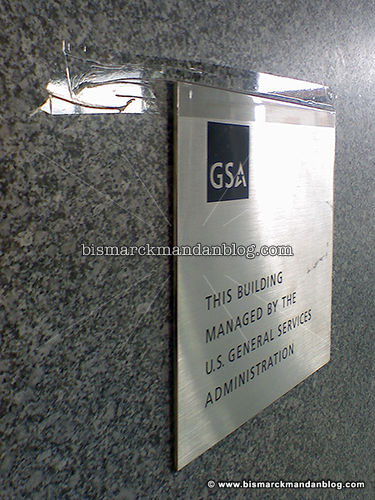 As I went to the post office to buy stamps last night, I couldn't help but notice this funny-yet-sad example of a "government fix." I see it every time I have business at the post office, and I have been taking not of it for
YEARS
. The metal plaque on the wall has been held up by a poorly-applied strip of
shipping tape
since at least 2006, and possibly earlier.
It isn't even a meticulous repair, one which would give the impression that a diligent federal worker made do with the best that they had and attempted to make repairs to the best of their ability. No, this asymmetrical and wrinkled piece of tape looks rather sloppy. Of course, a strip of shipping tape isn't usually how you attach a metal decoration to a slab of marble.
The crazy thing is that this repair will have proved itself
far
more effective than the government health care
reform
takeover; I mean, after all, the shipping tape has held up for several years for me to comment on it! Meanwhile, the Hopey-Changey nature of the health care bill is only appealing to the same sponges that thought Barack Obama was going to buy them a new car and a new kitchen out of his personal "Obama Stash." Boy, are they going to be mistaken.
Share on your Facebook or other profile with the button below:
[ 3 comments ]
( 23 views ) |
permalink
|
Click a dot to rate this entry:





( 3.1 / 295 )
---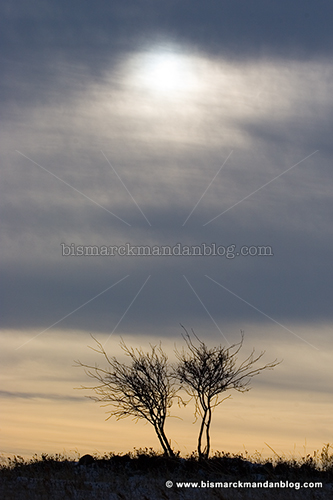 Those cloudy skies will soon be replaced with sunny ones, and I look forward to being able to take my toddlers outside without bundling them up! It's a lot easier to get the kids out the door when it's warm out, that's for sure.
This winter has been very good for photography. When I first got my camera a few years ago, I was sure I'd be putting it on the shelf for the winter. I couldn't imagine what there might be to photograph during a long, dreary North Dakota winter. I was completely wrong. The past several months have been especially fruitful, especially with conditions providing those spikes of light due to ice fog on occasion.
Even so, I'm looking forward to the photo opportunities Spring will provide! I love deep snow as much as the next person, but it's time for a new season. As the colors return, my camera and I will be ready.
[ add comment ]
( 4 views ) |
permalink
|
Click a dot to rate this entry:





( 2.9 / 306 )
---
<<First
<Back
| 109 | 110 | 111 | 112 | 113 | 114 | 115 | 116 | 117 | 118 |
Next>
Last>>