I wouldn't choose any other line of work; video production is the greatest. LIVE video production is by far the most fun. I've been on crews for sports on NBC, CBS, FOX Sports Net, ESPN Sportscenter, Outdoor Life Network, and now Showtime. In the past I took photos of our jobs but didn't have a blog to post them on! So we'll start with this show. Here's a little photo diary of the day.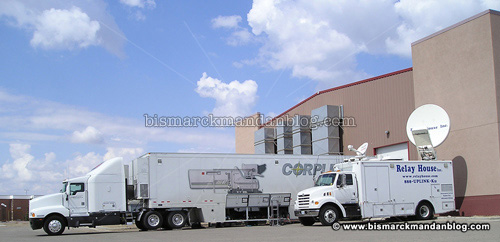 These are the trucks we used to produce and uplink the show to Showtime. The big one is the rolling production studio, the little one is a separate satellite uplink truck.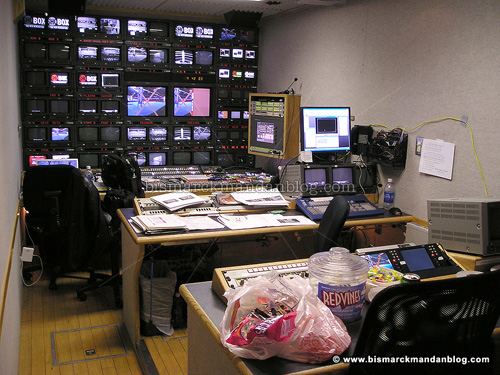 This is the production area of the truck where the directors and producers sit, along with the graphics operator. For most of the shows I've worked in the past I'm at the graphics position, but I wouldn't qualify for this show. Besides it's neat to be in the arena during the telecast too! Note the bag of candy, open can of Dew, and bin of licorice whips. You can NOT do a show like this without a lot of sugar.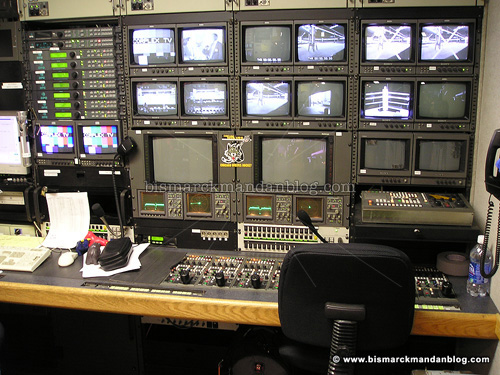 This is where all the tapes and replays are done. There are a ton of tape machines and an EVS (commonly called an "Elvis") which is a hard-disk based replay system. There are multiple operators recording multiple cameras to make sure there are replays to show the viewers. There's also another similar area to this one where all the cameras are controlled...not the focus and zoom and that kind of thing, but the balance of color balance, iris and other detail settings. That's what makes a TV show look so good, even the pro cameras need constant tweaking for quality and consistency.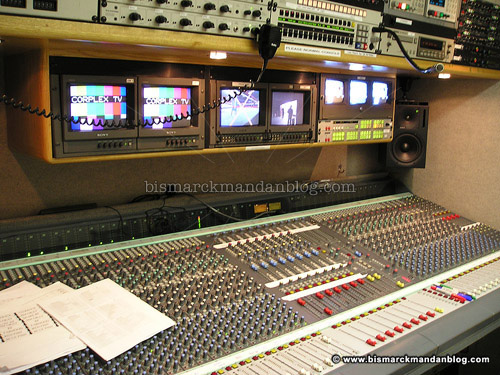 This is a separate area of the truck where the audio operator(s) work. There's a lot of equipment above that wouldn't fit into the shot. In addition, there were big mixers like this inside the arena and stuff too. The audio guys show up a day or two before the rest of us because they also take care of all our intercom headsets, hang microphones...it's very complex.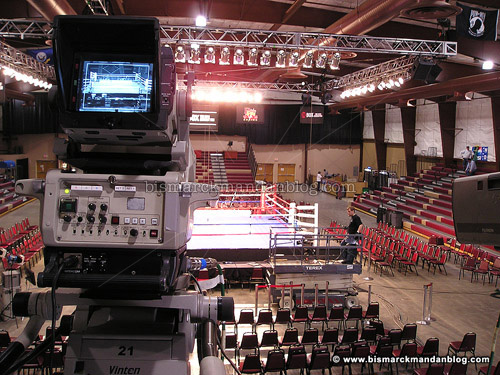 A couple hundred grand worth of camera here. These cameras take two people to assemble; just the body and lens are a foot high and a foot tall, and a foot or two long. They're enormous. But that's how ya get the good pictures from a distance! There were two of these cameras on a platform south of the ring, as you can see.
That's all I have for now; obviously I was there to work, so I could only take pictures over lunch. The truck is so full of people and so busy while we prepare for the show and during the show that there's no room for pictures then.
Another cool perk (short for
perquisite
) is the "swag" as the kids call it. That being the t-shirts and hats and stuff. After all, we're a Showtime crew. Gotta look like one. So these get added to my collection of shirts and hats with different station and network logos. Cool, huh?
One cool thing about a job like this is that
everybody works hard.
If you don't, your phone doesn't ring the next time the network is in town. It's easy to get a reputation in any business, and you can't screw around with a live TV show. The lighting guys take two days to set up, audio almost as long, and the crew that I was on started stringing cables, cameras and monitors nearly twelve hours before the show went on the air.
Everybody enjoys what they do, we're very well fed with pizza, sandwiches, and enough free Mountain Dew to crystallize a kidney. Plus it's fun to talk about other shows we've worked, swap business cards, talk about North Dakota with guys who've never been here before, and just have a good time. At least three times over the 14 hours a guy in charge would come by and say, "stop working, go eat" or "take a break" or "finish your pizza before you do that." It's all very professional and everything is well looked after.
Much of this event was staffed with video professionals from North Dakota, guys I'm proud to hang out with every time we do a show. Plus, it's not every day that we can hang out with friends from Fargo and Grand Forks, so these give us an extra opportunity to visit. The local component of these crews is a great core of guys who I've learned valuable lessons from over the years. Having started in broadcasting as a kid in the late 80s, I'm the junior guy on the crew.
I taped the show and was told that I was on the air a few times (how can you not be, sitting ringside?) but I haven't watched it yet. We didn't get back to Bismarck until this morning, and I went straight to bed. It's always fun to come back home and see what the show looks like, because on the crew, often we have no idea. And as long as we're told "good show!" at the end of the day, that's good enough for us.
[ add comment ]
( 22 views ) |
permalink
|
Click a dot to rate this entry:





( 3 / 694 )
---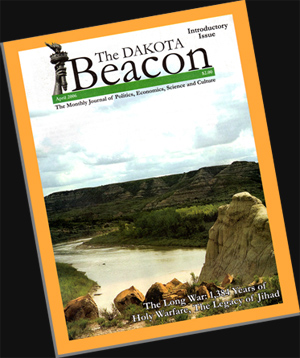 You can get a free issue of the latest issue of the Dakota Beacon at several locations around Bismarck-Mandan. Check local Tesoro convenience stores, Barnes and Noble, or various dispenser boxes like the one in front of the Post Office / federal building on 3rd and Rosser.
This is a great magazine. Local authors provide intelligent insight and there are guest authors as well. If you pick up a free trial issue and like what you read, I strongly urge you to send publisher Steve Cates a check for $20 and support the magazine with your subscription. I'm even considering a gift subscription or two for people who I know would really like this magazine.
You can download recent issues here.
You must have Adobe Reader or Acrobat to view them, but just about every computer already has that installed. If not, you can download it for free by clicking
here.
[ add comment ]
( 6 views ) |
permalink
|
Click a dot to rate this entry:





( 3.1 / 740 )
---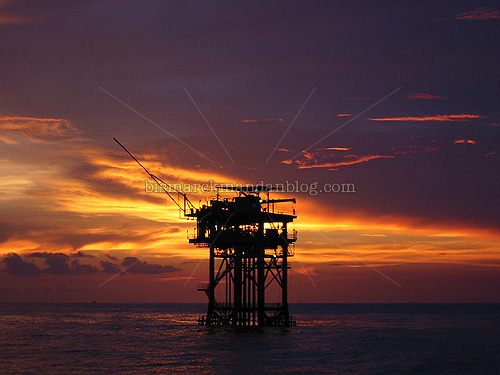 No, I didn't drive out to the coast for this. It's a first - I used someone else's image (aslo.org) for a variety of reasons. But the picture's not the point.
I don't know how many of you look at your 401(k) statements from work, or picked your own funds, or have personal retirement accounts of your own. Maybe you invest in mutual funds outside of retirement plans. I have some 401(k) and independent IRA plans that I manage through work and on my own, and they're all doing quite well, thank you very much.
I invest in aggressive funds. I'm a young guy. I also made a ton of money on my previous mutual funds through KFYR and cashed them out to buy my house, a motorcycle, and my fancy graphics and video equipment for my home studio. So it's time to get back to making money fast. Thankfully I pulled my money out right before the big Internet pucker of the late '90s. Now I'm invested in aggressive funds again.
Where do you suppose those funds go? They all invest in "Big Oil" to some extent. If you're young, and you follow the investment advice you're given, they invest heavily in such stocks. Why? Because they stand to make you a lot of money. So when the government starts talking about breaking up the "monopolies" or taxing "unfair profits" you will see it in your bottom line.
That goes for anyone who comes out of college with a skull full of nice little liberal "anti-corporation" ideas. The fact of the matter is that, in this modern economy, everything is linked together. The prosperity of everyone is linked. If you want to be an "anti" and badmouth the corporations that keep this country going and fuel your mutual funds and 401k, you'd better just pull that money back out and live up to what your mouth is spouting.
Then again, if you have a nice union job, you can be like GM workers who basically get a paycheck for life. Then you won't have to worry about retirement. That little perk means the rest of us pay an extra $1500 for every GM vehicle purchased in order to fund that nonsense. But I digress.
Maybe the fact that I'm used to paying $5-8 a gallon for race fuel for the motorcycle has desensitized me toward gas prices. It's either that or the fact that I think the cell phone companies are gouging us far worse than the Wannenbergs are. Either way, just remember that oil companies are publicly traded stocks, owned by people like you, me, and Al Gore. So be careful before you slap a bullseye on your own back.
[ add comment ]
( 10 views ) |
permalink
|
Click a dot to rate this entry:





( 3.1 / 652 )
---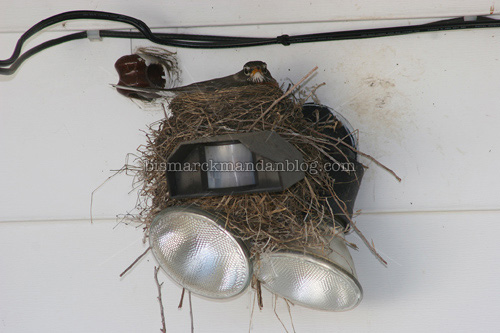 It's that time of year! We've got a robin's nest perched tightly atop one of the motion sensor lights on my house. I noticed it hadn't been kicking on when we reach the same part of the sidewalk approaching the house, so I looked up at the sensor and...aha! Nest!
I'd seen the pair of robins hunting around my yard for nest material in the past week or two. I keep a reel of lightweight string in the garage so I was able to cut a whole bunch of little six- to eight-inch lengths of string for their nest building efforts. They paid off; I can see those bits of string in the nest!
I got the sensor re-aimed without disturbing the nest, so the only downside is that she's going to be waking up whenever one of us walks by that corner of the house and trigger the lights. I just hope the nest doesn't catch fire!
As a bird owner, I find it fascinating to observe how much work they put into nest building. My birdy chews up uniform strips of paper from any source we give him (or leave unattended), stuffs them into his feathers, and attempts to haul them back to his cage to build his nest. They really are busy little workers.
[ add comment ]
( 5 views ) |
permalink
|
Click a dot to rate this entry:





( 3 / 648 )
---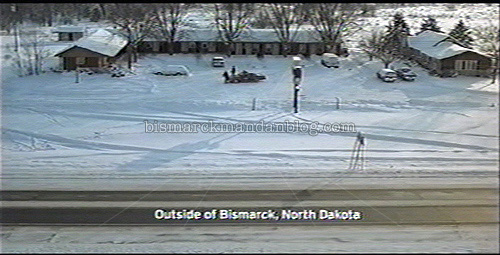 Scene from "Fargo"
This is the Hi-Way Motel, located east of Bismarck, featured in the movie. If you follow Main Avenue past the intersection with the Bismarck Expressway, you'll find it down the road a ways, near the intersection with 66th Street. I was told that the scene was actually shot here, although the picture in the movie doesn't look quite right. Some of the roof lines and tree lines look different, although the movie was released ten years ago. It could have been renovated since then. Here's how the motel looks now: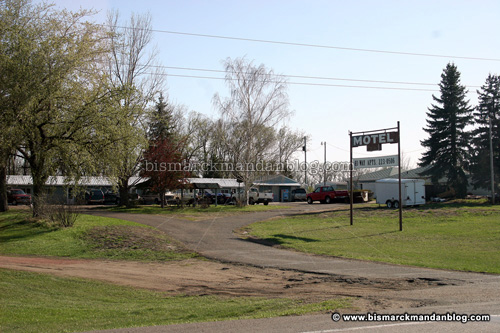 The last I heard, this place was purchased by my friend Mary, who I used to work with at KFYR-TV, and has been turned into studio apartments. I keep forgetting to ask her about that. I wonder if they have any visitors stopping in and asking about the movie?
While we're on the subject of that movie, you may remember the sad story about a Japanese woman who came through this area after seeing the movie. She didn't speak any English. The police (somehow) spoke to her at the Oasis truck stop, helped her get on a bus eastward, and she apparently got off in Fargo and headed towards Brainerd. Law enforcement found her dead of exposure by the road in western Minnesota somewhere. She'd apparently been looking for the briefcase with $920,000 in it that the bad guys buried in a snowbank next to the road! Apparently she was unaware that 1) it's only a movie, 2) snow thaws up here, and 3) that scene was shot up in Pembina County. There wasn't enough snow down here that year.
"Fargo" has been airing on the Bravo network lately, if you're interested.
[ add comment ]
( 8 views ) |
permalink
|
Click a dot to rate this entry:





( 3 / 646 )
---
<<First
<Back
| 318 | 319 | 320 | 321 | 322 | 323 | 324 | 325 | 326 | 327 |
Next>
Last>>