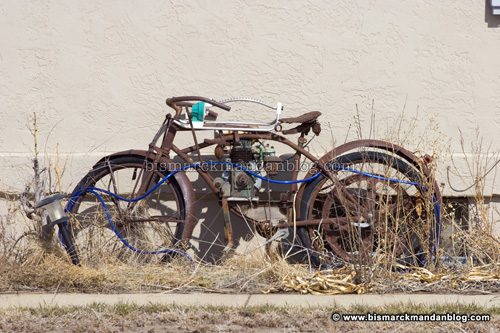 I'm not saying where this bike sits, other than that it's locked to the side of a house. I don't now its particular make or model, either, but the handlebars and rear sprocket look a lot like a early 1900s Harley-Davidson
®
(HD's lawyers want that ® in there).
This reminds me of a common misconception among cagers (car drivers) about motorcycle reliability. For some reason there's an idea out there that 10,000 miles is a lot for a motorcycle. Perhaps it's because North Dakotans don't get to ride theirs as much, or maybe it was just something that has passed along from one uninformed non-biker to another. Maybe it came from those old AMF Harleys, I don't know. But it ain't true, folks.
I know people who have put lots of miles on motorcycles, even surpassing the 100,000 mile mark for some of them. All that's required is simple maintenance. The fact of the matter is that a properly maintained motorcycle will run nearly forever; however, many motorcycles are simply neglected to death.
If you sat a brand new 2008 motorcycle out in the sun next to your shed and left it there, it would deteriorate just like any mid-70s enduro that you might see decaying in a trailer park along your daily commute. Cars left to sit soon rot as well, and even a house deprived of residents will soon fade and begin to lean. Everything needs reasonable maintenance.
As far as the relic in the picture above goes, I bet it would have some value with the rust buffed off. I can't help but be really curious as to its make and origin. If I ever have some spare time again in this lifetime, perhaps I'll compare it to some photos of vintage 1900-1910 motorcycles. Its true identity could be surprising, maybe even to its owner.
[ 2 comments ]
( 34 views ) |
permalink
|
Click a dot to rate this entry:





( 2.8 / 398 )
---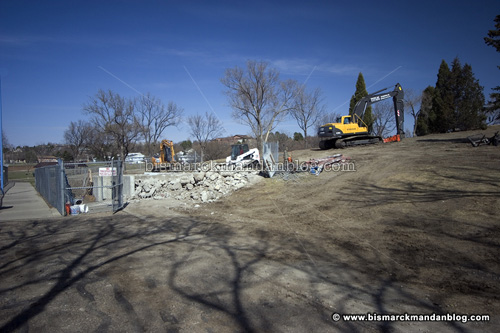 I hope this means we're getting a new waterpark! I know this is going to be sad news for those who grew up with the water slide at Hillside Park, but it is no longer there. It had aged beyond repair and the kids had figured out how to launch over the side, so it was time for it to go. I guess the pool is staying, though.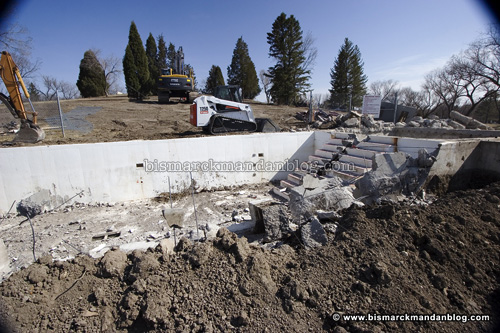 This is all that's left. I have heard talk about people wanting to get an aquatic center like Dickinson has, and that'd be a welcome addition to our list of recreational facilities in this town. For now I guess we'll have to go to a hotel or the Mandan Community Center and ride the indoor slides, which are much smaller but still fun.
[ 1 comment ]
( 31 views ) |
permalink
|
Click a dot to rate this entry:





( 2.9 / 376 )
---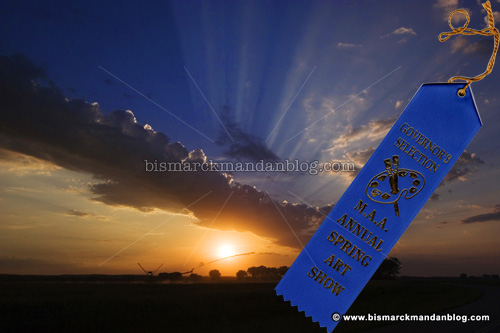 I forgot to mention that I had a pleasant result from the MAA show at the Community Center. Last year I won the People's Choice in photography with a large metallic print of the bridge photo you see above in this blog's header. I also won a gift certificate from a frame shop, for which photo I have already forgotten. Of course I was hoping to repeat this year. This year's results didn't equal last year's, but I didn't walk away empty handed.
The photo you see above won the Governor's Selection award, which was awarded by a representative of the Governor's office. Who that ended up being, I don't know...maybe it was in the program. It was still a cool distinction, especially for such a novice. I realized early on when I picked up this hobby in 2005 that being in the right place at the right time is a requirement of any good photo, and this photo is the result of such timing. I'm just blessed in that I happen to end up at the right place at the right time a LOT these days, and never go anywhere without my camera!
[ add comment ]
( 3 views ) |
permalink
|
Click a dot to rate this entry:





( 3 / 338 )
---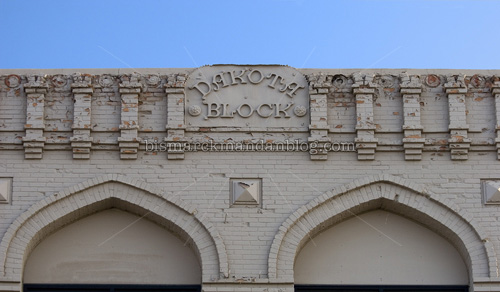 I sometimes bemoan the fact that many of Bismarck-Mandan's historic buildings are falling to the wrecking ball and bulldozer (and, in some cases, a skidsteer on the second floor!). That's why it's important to appreciate them while we've got 'em. I haven't posted many of the photos I have taken of unique local building features, but perhaps I'll do more of that in the future. This could be akin to my "identify the statue" posts that I have done until I started running out of statues.
I left the building name intact on this one, so it should be pretty easy to find. Can you identify this building?
[ 4 comments ]
( 58 views ) |
permalink
|
Click a dot to rate this entry:





( 3.1 / 351 )
---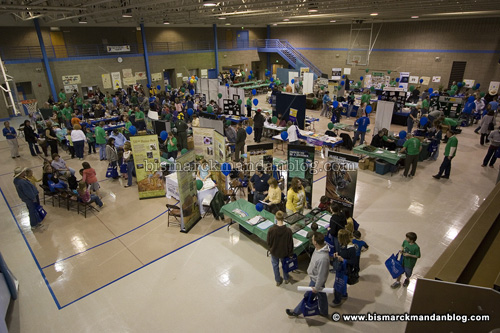 I had a little extra time tonight despite working late, so I thought I'd stroll through the Earth Day festival at the National Guard armory in northeast Bismarck. I drove my gas guzzling truck up there, of course...I've been meaning to ride to work on one of my motorcycles that gets 50 miles per gallon, but so far haven't done so.
As you can see from the photo above, the event was well attended. I was dreading whether this would be some sort of ridiculous global warming convention, and I was pleasantly surprised to say that it was not. Instead I found lots of folks who want to be good stewards of North Dakota's resources. There were a few mentions of climate change, but these days I think it's hard to get funding without pandering to the lunatics a bit. For the most part this festival was all about displays from folks who, in true North Dakota fashion, like to take a sensible approach to safeguarding North Dakota's treasure of clean land, water, and air.
I will cry foul on one thing before I go on praising this event: they were handing out compact flourescent light bulbs at the front. I didn't take any pictures of the folks handing them out, and I didn't walk up and challenge them on handing out those stupid, expensive mercury bombs. These bulbs are an environmental hazard, made in China by factories that couldn't care less about their impact on the environment. My GE light bulbs in the cupboard say "Assembled in the USA" on the box, by the way. But if you think you're having a positive impact on the environment by having these weak, headache-inducing compact flourescent bulbs in your house, you're fooling yourself. Their manufacture is putting mercury into the environment, either by their Chinese manufacturing or when one of them breaks. No thanks, I'll stay incandescent. Whew...glad I got that off my chest!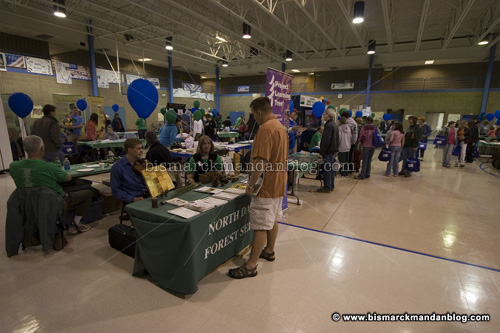 Back to the good parts of the festival. There were booths from agencies whose missions are to take care of North Dakota's natural resources, such as the USDA, Game and Fish, NRCS, Fish & Wildlife Service, and others. I've worked with some of these agencies so I can attest to the good that they're doing.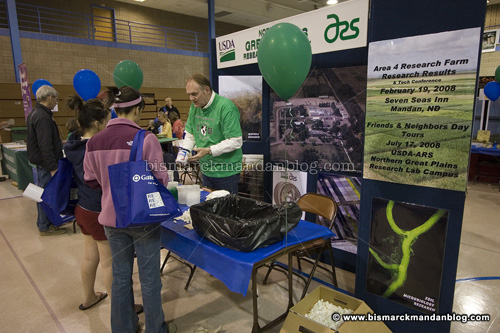 There was plenty of information on hand, and some demonstrations were given at certain booths. The Dakota Zoo had snakes and bugs on hand, and there were other opportunities for the kids.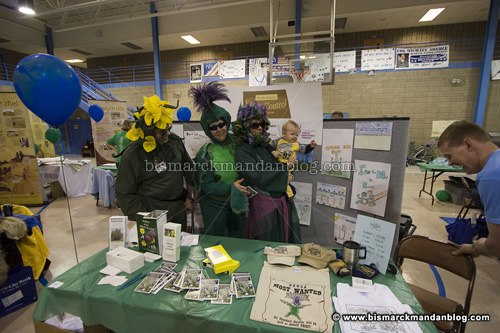 This kid did NOT want to get his picture taken with a weed or three. Awwwwww!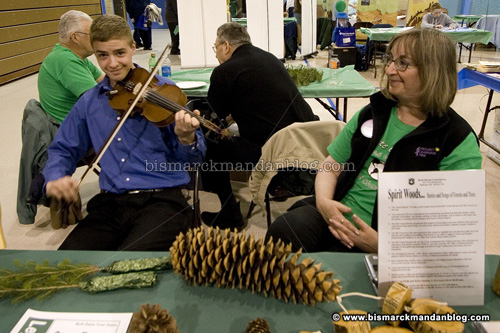 This booth came complete with a fiddler. I wonder if it's a bluegrass thing...get it? *nudge* *nudge* Okay, maybe my wife's right...I'm not funny.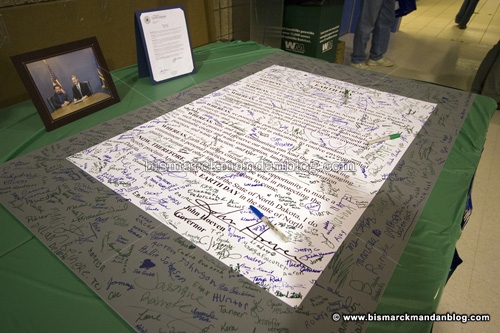 The Proclamation. It was covered with signatures. Although I had a good time at the festival, I don't subscribe to the Earth Day thing. I think being responsible is a personal decision, one that is made every day. For instance, I recycle things like batteries, but not every piece of trash that comes from our household. I like to conserve water, buy half-sized paper towels, and turn off unnecessary lights. I do these things because they make sense, not because I'm "saving the planet." It's that type of rational sensibility that North Dakotans display in their care for the environment in our state, and I think this festival celebrated that nicely.
[ 15 comments ]
( 109 views ) |
permalink
|
Click a dot to rate this entry:





( 3.1 / 382 )
---
<<First
<Back
| 193 | 194 | 195 | 196 | 197 | 198 | 199 | 200 | 201 | 202 |
Next>
Last>>