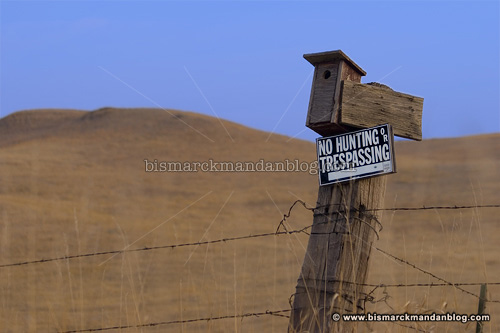 I spotted this oddity along old 10 west of Mandan. Just go with me on the whole idea of the birdhouse dwellers posting the sign, okay? In that case, I can understand the whole No Hunting thing.
I have been known to post a windmill photo or two. I've had plenty of "fallen farms" to boot. Things like this, however, are a more elusive part of that North Dakota prairie charm. They're harder to spot, but they make very rewarding photos when they catch the eye.
This is also the photo featured on my April calendar, described in the post below. You can download it by a link from that post or in the pane to the right.
[ add comment ]
( 2 views ) |
permalink
|
Click a dot to rate this entry:





( 3 / 276 )
---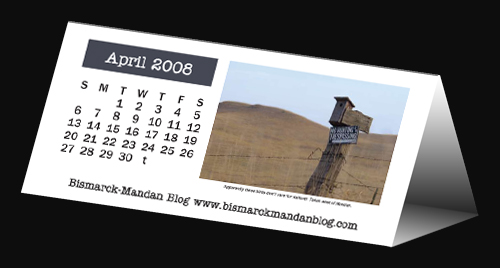 If you think I'm pokey on this month's calendar...talk to my accountant! I still haven't turned in my itemizations for my taxes. Argh. Five days into April, however, I have a calendar available for download. It features a photo of a birdhouse west of Mandan which is adorned with a No Trespassing sign. It's a somewhat funny photo if you attribute the sign to the residents of the birdhouse.
I've got one of those rare moments where both little boys are sleeping (I'm playing "Mr. Mom" today) and I can sneak off to get things done. Of course, rather than tally up my freelance stuff so I can get my taxes done, I do fun things like play around in Photoshop and Illustrator. Now I'm sure there's a gun around here that needs to be cleaned, or that new transmission that needs to be put in my nitro RC truck, or a motorcycle that needs to be detailed for Spring...
Oh yeah, if you want the calendar in PDF format, look for the Download pane on the lower right or simply
click here.
It will open in Adobe Reader, unless you're one of the four people on the planet that doesn't have it yet. Or you can right-click on that link and select "Save As..." to download it without opening the file.
[ add comment ]
( 2 views ) |
permalink
|
Click a dot to rate this entry:





( 3 / 266 )
---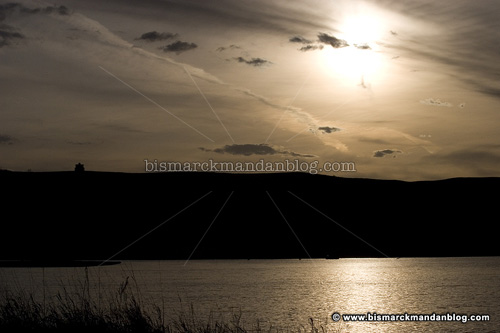 We had a pretty golden evening tonight. Not just in the sky, either. I took little PJ to the park and went down the slide with him in my lap...over, and over, and over, and over. We climbed around the playground equipment, went to the mall to buy some targets and ammo for this weekend, then on our first daddy-son trip to McDonald's. Man, what fun we had!
[ 3 comments ]
( 24 views ) |
permalink
|
Click a dot to rate this entry:





( 3.1 / 244 )
---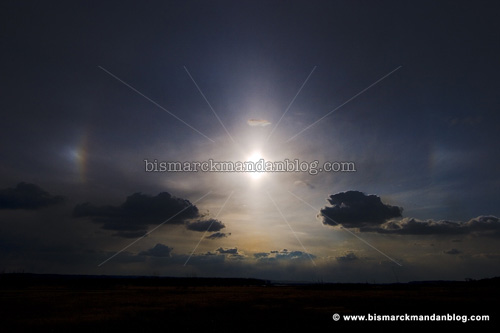 One might suspect that I titled this post because I was listening to ZZ Top on my iPod when I took the picture. That would be true, but it also has a double meaning.
I was down at the rifle range at McLean Bottoms, trying out a new rifle. I've got several friends that have bought guns in the past week or so as well, it's like we're contagious or something! But this was just a solo trip down to the range after work to run two ceremonial rounds through it, one through each of the magazines issued with the rifle. The ammo was a gift from a friend, who turned our Sioux Hockey Night into an impromptu "gun-warming party" as he put it. I'm honored. Oh yeah, while I was in the area I stopped at the pistol range as well and heated up my Glock for good measure.
Back to the sundogs in the photo. The reason they're somewhat "dirty" and that there's a yellowish tinge to the horizon is that there was a pretty large grass fire underway north of Highway 1804. I saw it as I worked my way down to the river bottoms. It was throwing up a pretty good cloud of dirty looking smoke, which happened to drift right across the sky above and west of the pistol/rifle ranges. All in all, it was an eventful little after-work trip!
[ add comment ]
( 3 views ) |
permalink
|
Click a dot to rate this entry:





( 3 / 291 )
---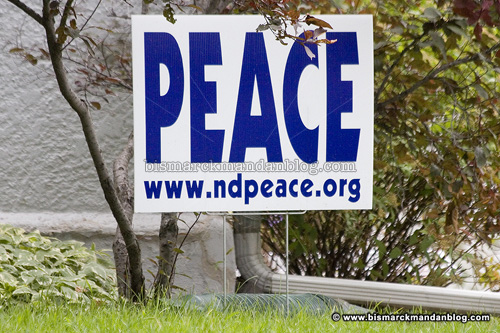 (Bismarck) The North Dakota Peace Coalition called for immediate withdrawal from North Dakota this week, after describing the situation here as "a quagmire with no end in sight." In light of numerous homicides and other violent crimes in 2007, said NDPC representative Karyn Van Possum, "the continued cost of the North Dakota occupation in the lives and health of our citizens is exceeding our expectations...not that the deaths of North Dakotans should have ever been within our expectations."
When asked if a resolution in the state legislature along the lines of the Mathern/Kretschmar Pacifism Resolution was being considered, Van Possum indicated, "...that's certainly a possibility. What better way to demonstrate support for our citizens than to get them out of harm's way? Staying in North Dakota will not work and is not worth the price."
Van Possum continued: "The list of atrocities committed in North Dakota include: an asphyxiated newborn in December, the high profile killings of two college coeds in Minot and Valley City, the beating to death of a man in Grand Forks in October, and the April slaying of a Sykeston couple in which their home was burned to the ground in an effort to conceal the crime. That's only the tip of the iceberg. Even now, the local news is reporting a possible kidnapping in central North Dakota. In August, someone hit a young man in the head and tried to run him over with a pickup. Obviously North Dakota is not safe for North Dakotans. We need to keep our citizens safe. We support North Dakotans, just not their mission. It's time to bring them home...er, well, somewhere safe, anyway."
When not busy fighting to end all fighting, many of the ND Peace folks keep busy by forming an endless array of coalitions, councils, and other "dot orgs" to champion such causes such as deviant sexual practices and preferences, pseudo-peace through capitulation to all enemies of freedom, and the worship of the Earth rather than its creator. Populating these organizations, attending the occasional protest and/or drum circle, and standing in black in front of the capitol keep many of them too busy to find a productive place in society. "But we care," stressed Van Possum, "and that's the important part."
While they concede that our presence in North Dakota is unlikely to diminish any time soon, the peaceniks vow to remain resolute. "There's no giving up on giving up," Van Possum said. "It takes courage to stand up for running away."
(I didn't have time for a new April Fool's joke, so I decided to recycle a little satire from an earlier post. It doesn't take an intellectual giant to make these people look silly. They do 99% of the work themselves.)
[ 1 comment ]
( 12 views ) |
permalink
|
Click a dot to rate this entry:





( 3 / 305 )
---
<<First
<Back
| 196 | 197 | 198 | 199 | 200 | 201 | 202 | 203 | 204 | 205 |
Next>
Last>>