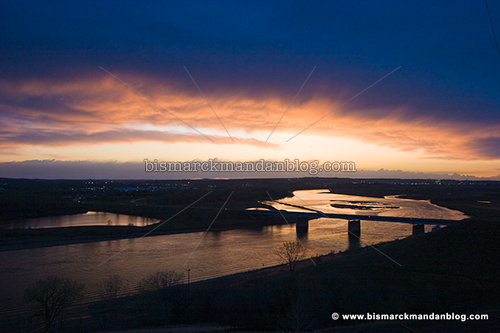 I used to post a lot of sunset photos when I was single or married
sans
children, even having a regular "Thursday Night Sunset" feature. Now that the weather's nicer, the sun is setting later, and my toddlers are older (and ambulatory), I hope to take in a few more of these. As you can see, while I've been busy lamenting the demise of Hillside Park, I still have plenty of other vantage points in my photographic arsenal.
[ add comment ]
( 4 views ) |
permalink
|
Click a dot to rate this entry:





( 3.1 / 321 )
---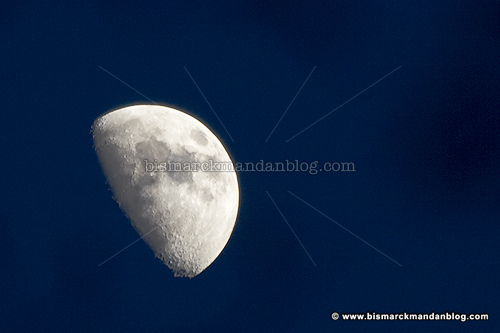 While hiking back to my truck from what used to be Hillside Park, I noticed this moon peeking through the branches over my head. Naturally I broke out the tripod one more time and took a quick shot of it!
The past few days have been weird in that they've started out so cloudy and then cleared up just in time for some nice evening skies. I'll take 'em.
[ 3 comments ]
( 29 views ) |
permalink
|
Click a dot to rate this entry:





( 3.1 / 340 )
---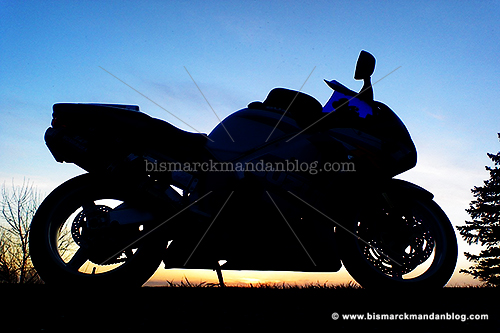 Pretty good photo for a cell phone, eh?
During many of my bachelor years I'd ride motorcycle year-round. These days I don't enjoy the same opportunity, but I've got other fun stuff to do all winter (ie, toddlers). Besides, I am down to only three motorcycles in the garage these days. I used to use one of my more "spare" motorcycles for spring riding. There are several reasons:
First, there's the issue of North Dakota roads in the spring: the leftover sand spread in the winter will sandblast your motorcycle. The sand combined with the winter road grime can make for some challenging surfaces. "Cage" (car) drivers are not accustomed to looking for motorcycles. The sun is still low enough in the sky to shine into people's eyes, making it even more difficult for them to see you.
Now that the weather and roads been nice for a while, I got my license plates renewed, new tires mounted, and I've gotten some other things out of the way, my riding season has officially begun. Yes, it's much later than years past, but I'm not worried. My little boys are old enough to take on short rides now, and my gracious wife makes sure I get time to ride or work in the garage when I express a desire for it. In other words, my life is far better balanced now than it was when everything revolved around my motorcycles!
[ add comment ]
( 10 views ) |
permalink
|
Click a dot to rate this entry:





( 3.1 / 419 )
---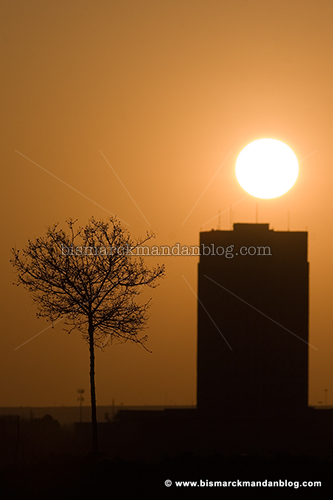 This shot is brought to you despite the best efforts of the CIty of Bismarck which, having never found a park they couldn't screw up, have topped themselves with the recent reconfiguration of Lions Hillside Park in northeast Bismarck.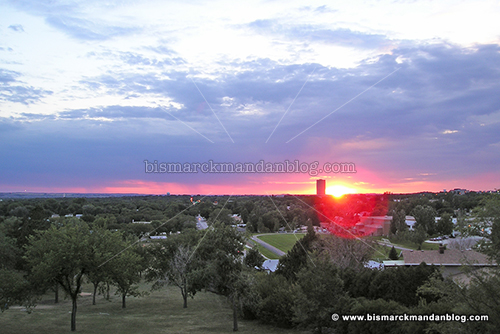 For decades, there hasn't been a better place to take a photo of Bismarck, especially at sunset or during moments of severe weather. You drive to the top, sit on one of the park benches or near the flower beds, and enjoy perhaps the single finest view of the City of Bismarck. There's no higher vantage point in town worth mentioning...and now it's completely inaccessible by anybody but hikers!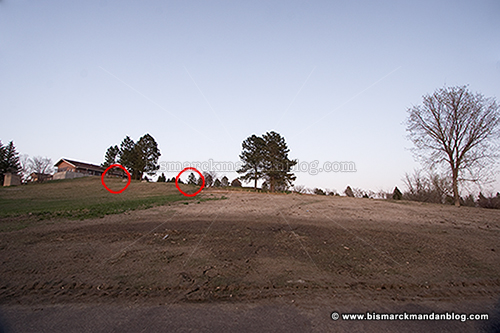 You see, when they "improved" the park they not only ripped out the road leading to the top of the park, but they also removed the walking paths as well! The path has been replaced with one long asphalt path that winds around the perimeter of the park, but there are no crossover paths at all and it doesn't even come near the top of the park! If you want to get any closer to the city's best vantage point, you're going to have to hike. At this point that means a trip through the dirt and straw covering the ravaged area where the road once existed. See those little red circles? Those are the benches where people used to sit to enjoy our fair city.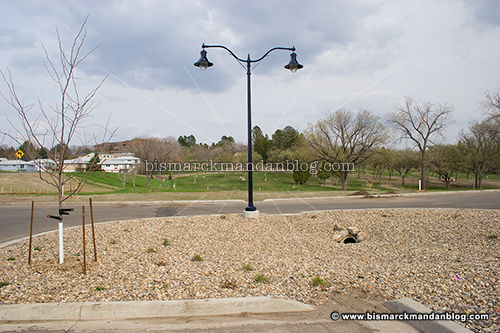 UPDATE:
Instead of driving to the top of the park to observe our fair city, this is the closest you can get to the top within the park. If you're mobility impaired or lugging a 21 pound camera bag and an expensive tripod, you might not like hiking all the way up to the top. Too bad! You can park in St. Mary's Cemetery and hop the fence, I suppose. What were they thinking? You can't even
SEE
the top of the park from here!
If you were a teenager or older in the 80's, you remember Sertoma Park in its heyday. You could drive into the park on the north end, where the walking path exists now. The road hugged the tree line all the way through the park, providing ample access to the sandbars below the Memorial Bridge. During the summertime, those sandbars would be packed with people enjoying the river, playing frisbee, sunbathing, or just hanging out by the water. The area was literally carpeted with people having a good time.
Well, the City of Bismarck apparently couldn't stomach that, because they broke up Sertoma Park into a bunch of confusing little pods that do not provide more parking than before and totally obliterate ease of access to the sandbar. As a result: none of those pesky kids having a good time out in plain view! Only in recent years have people with boats begun to repopulate Bismarck-Mandan's sandbars during the summer.
I don't know what was such a huge problem about having vehicle or walking access to the top of Hillside Park, but obviously somebody thought there was a need to put a stop to it. In doing so they ruined the last truly great park in Bismarck, depriving many of its citizens the best view in town, and leaving photographers like me scratching our heads in bewilderment as we wonder just what in the world they were thinking. It's as if they wants to torpedo our enjoyment of the area on purpose. Thanks a lot, guys. You just guaranteed that this park will see a tiny fraction of the use it once enjoyed. I hope that was worth the taxpayers' money.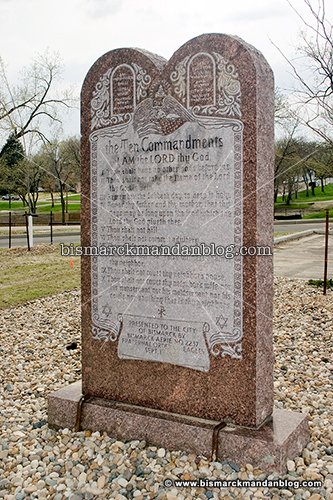 UPDATE:
Since I don't want to be all negative, even when they've screwed up one of my favorite places to go with my camera, I would like to point out that the park does have its own Ten Commandments display, which is a huge positive in my book. It doesn't change my feeling about the rest of the park's destruction, but I was very happy to see it here.
Also, the work here isn't completed. It looks like all the roads and paths that are planned have been installed, however. It's a shame, because that's the part that's so messed up! The other improvements are fantastic. There's still time to at least get a foot path up to the top of the park; however, citizens who have a problem hiking that far have likely lost their ability to enjoy this park with ease forever.
[ 2 comments ]
( 39 views ) |
permalink
|
Click a dot to rate this entry:





( 3.2 / 354 )
---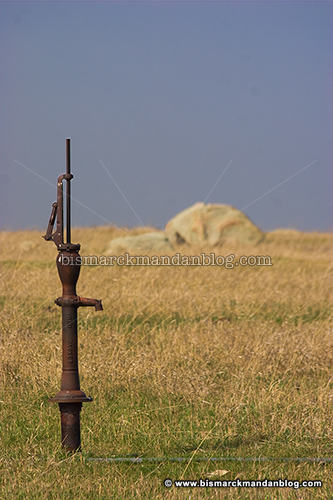 I'm always intrigued when I find an old well out in the middle of an otherwise vacant field. I ponder whether or not there was an old farmstead there at one point, or perhaps a windmill to drive the pump. In this case there's no sign that there was ever a building foundation there, although there are some big rocks nearby.
I've spotted a few of these while out perusing the back roads of central North Dakota. They're not always easy to see, but I'm starting to get an eye for this kind of interesting stuff as I wander.
[ add comment ]
( 3 views ) |
permalink
|
Click a dot to rate this entry:





( 3 / 361 )
---
<<First
<Back
| 104 | 105 | 106 | 107 | 108 | 109 | 110 | 111 | 112 | 113 |
Next>
Last>>