Bumped from November 23rd, 2006: University AD apologizes for UND's presence at their tournament, Clint gets quoted by Dartmouth Review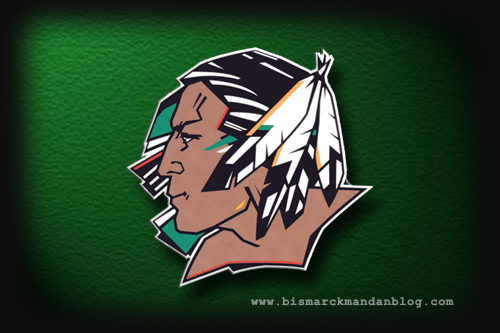 Josie Harper, apparently the Director of Athletics and Recreation at Dartmouth College, sent this letter to the Dartmouth newspaper:

I am writing to strongly denounce the historical and recent affronts to the Native American community at Dartmouth and to offer the support of the athletics department in playing a leading role to combat racial, ethnic and sexist ignorance and intolerance on our campus.

At the same time, I must offer a sincere apology to the Native American community, and the Dartmouth community as a whole, for an event that will understandably offend and hurt people within our community. In late December, we will host a men's ice hockey tournament that includes the University of North Dakota Fighting Sioux. UND is one of 14 colleges or universities that continue to maintain a Native American name and image to represent their athletic teams.

Let me state clearly that UND's position is offensive and wrong. When we scheduled UND nearly two years ago to participate in our tournament, we did so without considering their team's nickname and symbol. Perhaps we should have, but I deeply regret that we didn't.

On Friday, as I was traveling on College business, a member of my staff met with the Native American Council to discuss our hockey tournament and to offer our apology for the pain that it will cause. In the days and weeks ahead, I will develop a specific and continuing plan to address issues of respect and tolerance within the athletic department as well as considering a policy for scheduling athletic contests against institutions that support offensive nicknames and symbols.

This is my response, a draft of which was sent to The Dartmouth:

I was surprised by Josie Harper's letter apologizing for the "pain" caused by hosting the UND Fighting Sioux at their hockey tournament. I had no idea that Native Americans were present in such great numbers at Dartmouth and were so easily offended by our state's tribute to the brave spirit of the Sioux warriors.

Right now North Dakota is under attack by a select few out-of-state advocates of political correctness. They claim our logo, drawn by a Native American artist, is "hostile and abusive." I invite them to actually visit us sometime. Our highway signs and Highway Patrol cars have Native American figures on them. The hospital near my house has an area devoted to burning sage and other traditional Native American healing practices. UND itself hosts dozens of programs for Native Americans including the INMED program, which trains one fifth of the nation's Indian physicians, as well as cultural programs, eight publications, and seven student organizations.

The only oppression I've heard of is of Native students who don't mind the nickname. They're treated like the Midwest's version of an "Uncle Tom" by the PC police. Archie Fool Bear, chair of the Standing Rock Sioux Tribe judicial committee, says his tribe's leadership doesn't represent the vast majority of tribal members. He said, "We went to a hockey game, and they talked about the courage and integrity of the Sioux people. We looked at each other like, 'Wow, we don't even honor our Sioux warriors or veterans like this on the reservation.' " How do the politically correct crowd honor this tribal elder? By trying to oust him from the tribal government.

We'd be just fine if a bunch of out of state PC liberals would quit trying to tell us how things need to be out here in flyover country. Perhaps if our team showed up named the UND Brave White Men we'd be more welcome. Then again, every single special interest riding Josie Harper's politically correct bandwagon would then have a unifying reason to apologize for North Dakota's painful presence. In the mean time, the only place we'll apply real pain is on the ice, where it belongs...and actually exists.

Political correctness is insane. Heaven forbid we should offend anybody, anywhere, at any time! That is, of course, they happen to be white, heterosexual, Christian, male, or any combination thereof. Those are oppressive qualities and should be attacked at any opportunity.
This post was originally written on November 23rd, 2006. It resulted in my response being printed on the Dartmouth Review website (although I don't know if it ever made it to print).

To share using Facebook or other media, use the button below.
[ 1 comment ]
( 3515 views ) |
permalink
|
Click a dot to rate this entry:





( 3.1 / 705 )
---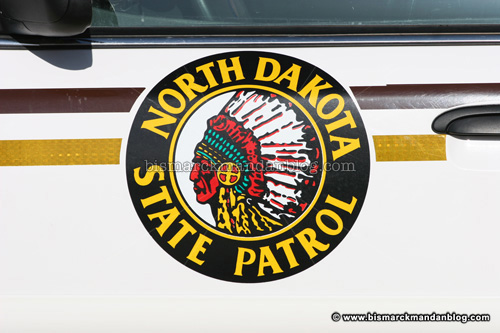 There I was, minding my own business with my camera, when I saw it - parked behind the Law Enforcement training building at BSC. A vehicle with a hostile and abusive (by NCAA standards, at least) logo stuck to both sides of it!
I was shocked an amazed at the way this law enforcement vehicle boldly insulted the native American people of this great state by using such an offensive logo on the sides of the vehicle. Is this logo meant to imply that Indians are more frequent offenders of the law than other North Dakota citizens?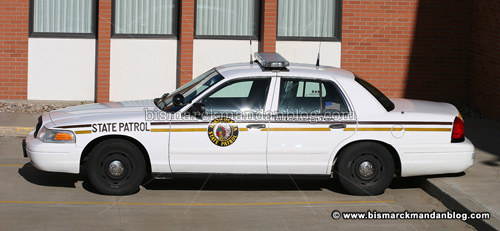 Someone should put a stop to this hateful abuse. It's one thing when the tribes suddenly decide they're not honored by a sports logo any more, but for crying out loud...this is law enforcement! Other states should stop their reciprocity with North Dakota and stop honoring our driver's licenses until this issue is resolved. They should stop extradition of arrested criminals to North Dakota until the State Patrol ceases to use this hostile and abusive way of identifying itself.
(See what happens when you take their silly anti-UND argument to its logical end?)
(This post originally appeared May 9th, 2006. To share via Facebook or other means, use the button below.)
[ 4 comments ]
( 108 views ) |
permalink
|
Click a dot to rate this entry:





( 3 / 781 )
---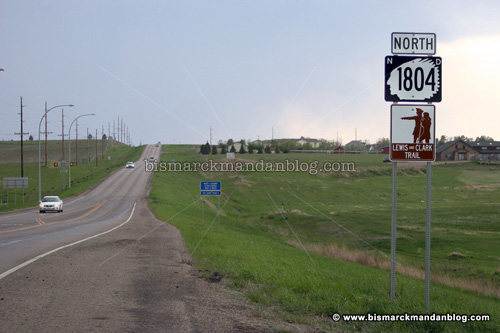 Thanks to the heightened awareness of such things by the ever-vigilant and always fair NCAA, it's easier for the untrained eye to spot hostile abuse such as that perpetuated near this highway which runs through Bismarck. Who would have suspected that right here, under our very noses, such an act of abusive hostility would be committed?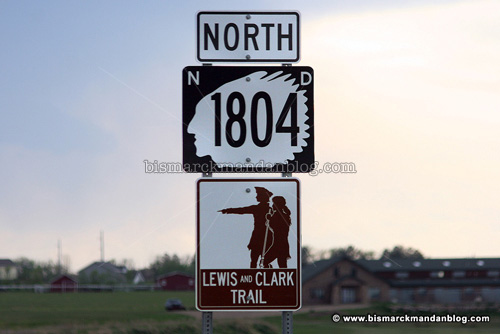 Here's a closer look at the offending sign. Notice how smugly it portrays the highway number 1804, for the year the hostile and abusive Europeans came through this land on their voyage of destruction, contained within the shape of a Native American wearing a ceremonial headdress. I mean, they might as well have posted a cartoon of Mohammed and a DaVinci Code poster on this sign!
They did, however, put the cherry on top by portraying those hostile, abusive European imperialists on the sign below the 1804. Notice the absence of Sakakawea (or Sacajawea, or Sagagawea, or Sacagawea...heck, they change the pronunciation every time the white people finally learn it) on this sign, despite her important contribution to their journey as a guide.
So, the next time you want to take that scenic jaunt along the river between Bismarck and Washburn, or head down to the sandbox that used to be Beaver Bay before the Army Corps of Engineers laid waste to it, make sure you look away from these hostile, abusive signs along the way. Perhaps we can get the roads banned from the postseason.
If you're new to the 'blog, I don't hold a prejudice against the indigenous peoples of North Dakota, in fact the opposite is very true. I do, however, think the whole UND Fighting Sioux controversy is ridiculous and am merely illustrating what happens when you take their argument to its bitter end. Oh, and the DaVinci Code is blasphemy. But you don't see Christians out firebombing embassies or anything.(This post originally appeared May 18th, 2006. To share via Facebook or other means, use the button below.)
[ 1 comment ]
( 48 views ) |
permalink
|
Click a dot to rate this entry:





( 3 / 626 )
---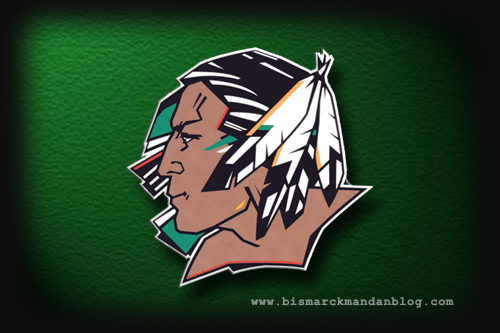 The UND Fighting Sioux nickname appears to be on its way out the door
, with a bunch of unelected government bureaucrats voting to change the "hostile" and "abusive" team name of the UND Fighting Sioux to placate a few busybody liberals.
Members of various Sioux tribes have voiced their support for the nickname and logo, with one tribe even putting it to a popular vote in which the logo won. Of course, the liberal activists blamed the victory on "uneducated" Native Americans, whatever that's supposed to mean. Condescension, anyone? This is what happens when "people of color" don't understand the do-goodyness of busybody liberals...the way these people are looked down upon by said liberals accidentally sneaks out.
I have even seen a photo on the news from when the school first adopted the Fighting Sioux nickname. Members of the tribe were present, proudly, adorned in ceremonial clothing. It was an honorable event.
While the reservations face epidemic suicide, meth and alcohol abuse, and sexually transmitted disease problems, they instead resort to fighting amongst themselves about a nickname and logo which most like. Besides, I'm willing to bet that most people who don't like the UND Fighting Sioux nickname and are fighting for its demise have never set foot on a reservation. This is just more Political Correctness run amok. You want a target then, folks? Just let us make a few subtle tweaks to our mascot and then you can let your hatred fly:



This is my (poorly drawn due to haste) rendition of the logo for the UND Valiant White Men. We're proud of our heritage and our perseverence as we, men and women of German, Norwegian, Slavic, and other descent made a home for ourselves here on the rugged Plains. To show our respect for such a hard-working people, we should honor them by choosing our team name/logo/mascot in their honor. We could even commission an authentic white artist to design the logo; after all, it was a Native American artist who designed the "hostile and abusive" logo used by UND.

Of course, nothing could be more "hostile" and "abusive" to the PC crowd than a white guy. See, for so long it's only been the Native American crowd, or at least vocal activists fighting in their name, who have been granted the ability to take potshots at the University (which thought it was making a gesture of respect by choosing the name Fighting Sioux). This way, EVERY minority can slap on their Victim uniform, march in unison, and rally against the evil aggressor, the oppressive white heterosexual Christian male. Join the fun, gang! It's open season!

Personally, I agree with the people interviewed on the evening news a long time ago who said "let's keep the nickname and the logo, and who cares if we host postseason play." Tell the NCAA to get bent, kick butt in hockey, and fight for what we believe in.

And while we're on the subject, maybe you would like to click here and see the DOZENS of programs that "hostile" and "abusive" University offers for Native American students. Recruitment programs. Retention programs. Incentives. Organizations. Publications. I have a friend who's 100% Native American who went through the INMED program at UND, which helped him tremendously due to his race and afforded him opportunities he'd never have had otherwise. So let's not make this the case of the Evil Big Bad University vs. the Poor Victimized Native Community.

If the name and logo go, let's pull the plug on these special favors with it (in the name of equality and race neutrality, of course)! Sure, they do a lot of good and are worthy programs, but we don't dare put the interests of one race ahead of any others...if that's what we're told we're doing and must stop with the Fighting Sioux nickname, then certainly we can't do it with something more important like higher education!

Thanks to Claus Lembke for being the sole voice of reason on the Board in this matter. Sadly, nobody else had the sack to stand up and second his motion to reconsider.

Update: Oh yeah...got called a "racist" already before 8am, by somebody IN MINNESOTA! This is NOT about race. It's about a bunch of "Politically Correct" liberals with an agenda. I've got friends and family of a variety of races and I don't think of them as "this ethnic group or that." We're all just people...and yes, we're all different! That's what makes it interesting. Didn't Martin Luther King, Jr. have a dream about a day when people would not be judged by the color of their skin, but by the content of their character? As long as race continues to be an industry, a tool of intimidation by self-proclaimed "compassionate" liberals, Dr. King's dream is a distant reality...if not altogether fantasy.




[ 4 comments ] ( 75 views ) | permalink | Click a dot to rate this entry:





( 3.2 / 316 )
---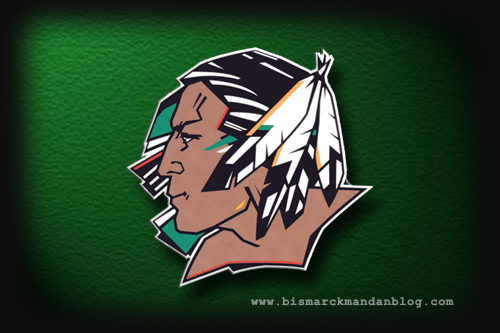 You can see a graphic of the bracket results by clicking here.



I guess the fans and readers of Hockey News didn't get the memos sent out by the politically correct busybodies at the NCAA and various UND campus organizations, eh? By the way, according to this Hockey News fan and reader poll, the Fighting Sioux jersey won by 58% to 42%. That's a greater margin than the last Presidential election. If Barack Hussein Obama can claim a mandate with 54%, then so can the Fighting Sioux with 58%!

It's been a long time since I last posted on the subject, so I thought maybe I would go ahead and show some photos of other "hostile and abusive" logos in central North Dakota: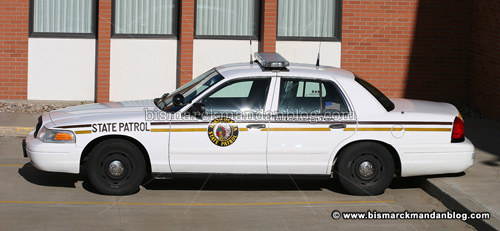 Perhaps you've seen one of these lately, hopefully not after a fender-bender from yesterday's slippery roads. But look closer: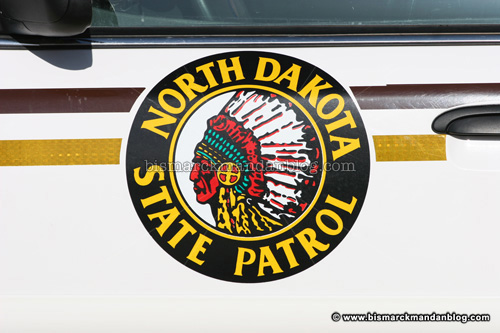 Uh oh. "Hostile and abusive" according to the NCAA! Good thing they can't threaten our law enforcement like they do our University!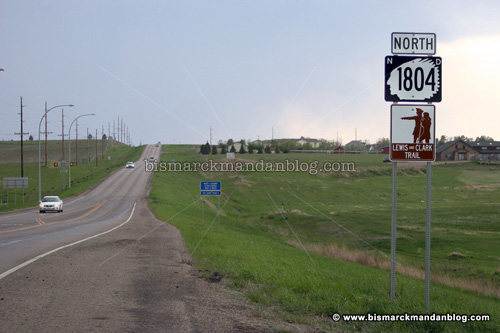 Suppose you want to take a nice drive along the Missouri River on the Bismarck side. You get all loaded up in your Prius with your favorite Garrison Keillor CD and head for the highway, when...*gasp*...you guessed it: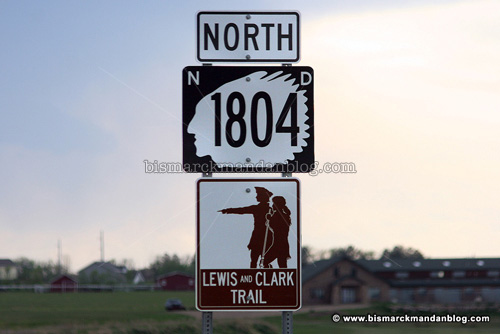 "Hostile and Abusive" Highway. Is there no place for a politically correct self-righteous multiculturalist to flee the evil oppression? Apparently not. Of course, such a malady is self-imposed.

Thankfully there are a lot of hockey fans out there who see through the faux anguish of the politically correct few who wring their hands over the bold Fighting Sioux logo. I am confident that, when put to a vote, this logo will win acceptance with both tribes and we can keep it.

Previous post on this subject, #1: link

Previous post on this subject, #2: link

[ 1 comment ] ( 20 views ) | permalink | Click a dot to rate this entry:





( 1.9 / 748 )
---
<<First
<Back
| 107 | 108 | 109 | 110 | 111 | 112 | 113 | 114 | 115 | 116 |
Next>
Last>>