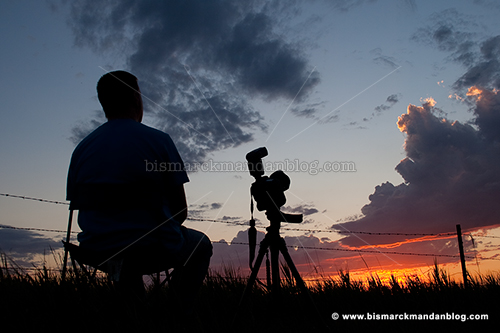 Anybody else gettin' tired of waiting for it to get nice out and
stay
that way? My cameras and I are.
[ add comment ]
( 21 views ) |
permalink
|
Click a dot to rate this entry:





( 3.1 / 223 )
---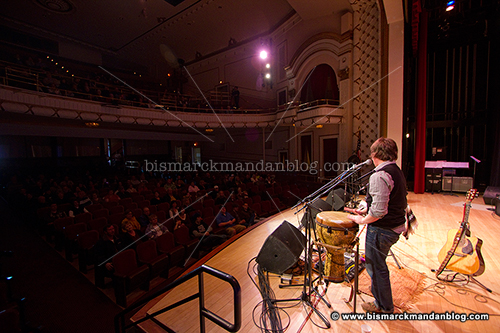 Consider the ravens: for they neither sow nor reap; which neither have storehouse nor barn;
and God feedeth them: how much more are ye better than the fowls? -Luke 12;24
This counsel from Jesus was a good starting point for Luke Graner as he performed at the Belle Mehus a while back.
You may remember my photos from the event.
Being a Bible lover myself, I caught on pretty quickly to the opening tune.
Luke uses a very interesting method to construct his music, using a Boomerang looping device to build his songs in layers as we watch and listen. Many times he'll have multiple instances of his own voice accompanying him. Thus, for the first song, Luke sang with Luke from the Gospel of Luke. Fantastic.
Wanna see and here it?
Dakota Media Access has posted it here (Windows Media format).
[ add comment ]
( 21 views ) |
permalink
|
Click a dot to rate this entry:





( 3 / 307 )
---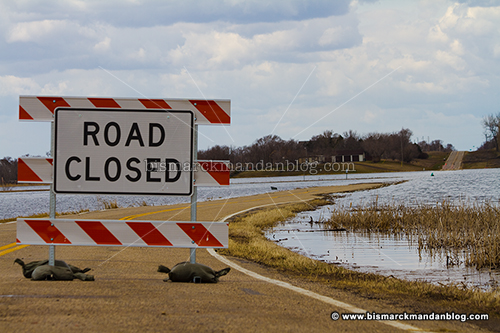 During one of my frequent photography outings around the outskirts of town, I came upon a little bit of flooding out in the Apple Creek area. This portion of Apple Creek Road at the intersection with 106th Street normally has water on both sides, but the water has overtaken the road for the time being.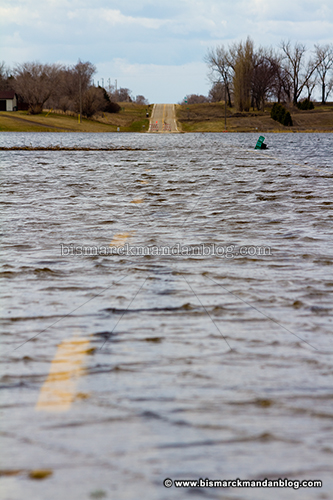 For a pretty good stretch of this road, the water is not very deep; it's simply over the surface of the road. I parked the truck well back from the barricades and hiked in for a little while to get some cool photos.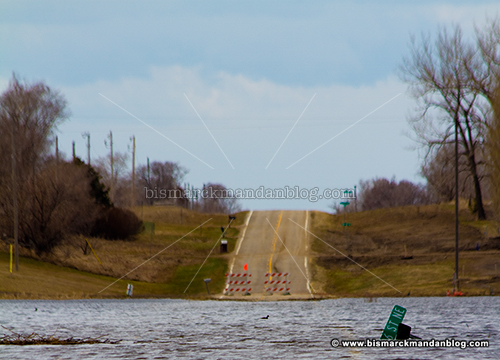 This shows the sign at the intersection with 106th as well as the point where the road emerges once again from the water. Those barricades you see in the distance are not the first ones blocking the road; it'd be a pretty bad experience to come over that hill from the west and only then find out that the road is closed (and under water!)
Hopefully we've all seen the last of spring flooding for now, and that things will get back to normal. We're long overdue for some beautiful spring weather...just ask my kids, my cameras, and my motorcycles!
[ add comment ]
( 13 views ) |
permalink
|
Click a dot to rate this entry:





( 3 / 215 )
---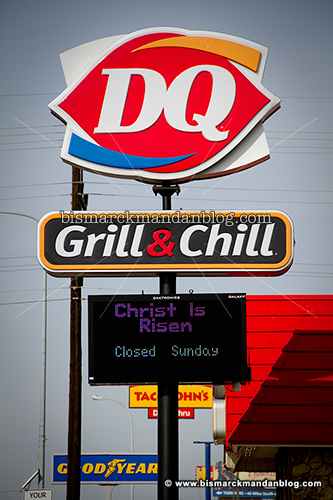 On my way to our monthly photography club Coffee and Cameras meeting I noticed this on the sign at the Mandan DQ. I wholeheartedly agree. I'm excited to support businesses willing to make such a declaration. Christ is Risen - Alleluia, Amen!
[ add comment ]
( 15 views ) |
permalink
|
Click a dot to rate this entry:





( 3.2 / 323 )
---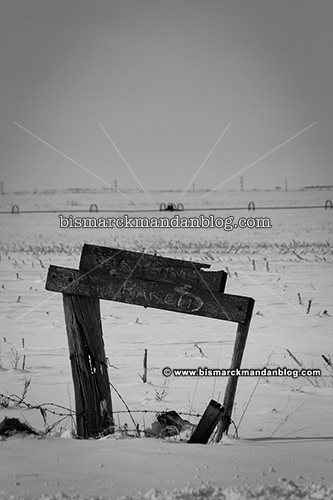 One cold, blustery day (gee, we've had a lot of those lately) this faded sign for the Skyline Ranch west of Washburn caught my eye. Technically I suppose it's part of
Hensler, but who's blinking?
[ add comment ]
( 23 views ) |
permalink
|
Click a dot to rate this entry:





( 2.9 / 262 )
---
<<First
<Back
| 65 | 66 | 67 | 68 | 69 | 70 | 71 | 72 | 73 | 74 |
Next>
Last>>