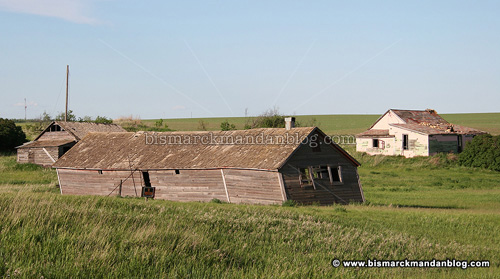 This row of buildings sits right off County Road 138 in Morton County, just west of the MWWS water tower that went up a few years ago. The land it's on is farmed but the buildings look as if they've been untouched for quite a long time. I have a habit of staying clear of them for reasons such as trespassing and critters...besides, in this case I need to stay back to fit all three buildings into the frame!
There's something about these dilapidated old farm buildings, or what's left of many of them, that has a somber charm unique to North Dakota. That's why I need to photograph falling farmsteads whenever I see them.
[ add comment ]
( 5 views ) |
permalink
|
Click a dot to rate this entry:





( 3 / 652 )
---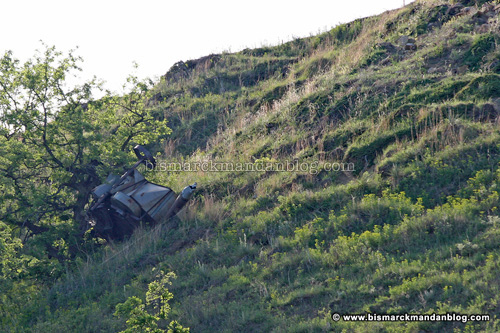 Yeah...ya wanna just go get that and put it back? Looks like the wind took this old threshing machine and toppled it from its perch high atop the bluff above.
This site will greet you just as you start the voyage "Around the World," where my friend Barry and I took our motorcycles on Memorial Day. In a
previous post
I took the route that goes past the Sweet Briar school, but you can also end up taking a slightly more scenic route by turning left on Lyons Drive, just west of Mandan.
This is a particularly scenic drive these days now that the fields have greened up. Rolling plains, sharp valleys and a winding road make for an enjoyable drive.
[ add comment ]
( 5 views ) |
permalink
|
Click a dot to rate this entry:





( 3 / 653 )
---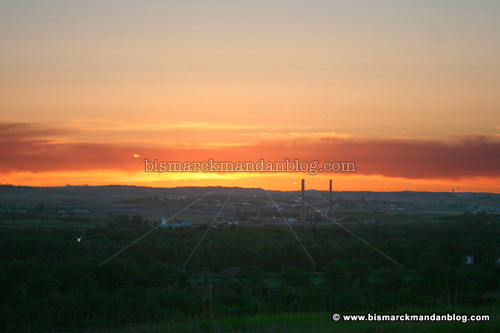 The sky was afire tonight as my wife and I pulled up to a certain hill with our cameras. I wanted to show the entire horizon, as the colors were spectacular, but this particular slice of the sky was most interesting. With this sunset Memorial Day has once again come and gone. That means you're probably reading this on the job...get back to work!
[ add comment ]
( 17 views ) |
permalink
|
Click a dot to rate this entry:





( 3.1 / 657 )
---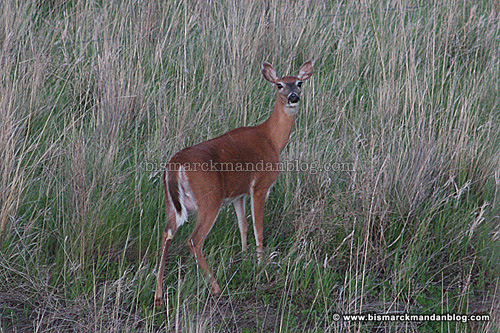 As you go down Burnt Boat road toward Pioneer Park, you'll see a street heading north to a hill overlooking River Road. It's a new housing development that's been off to a bit of a slow start but is seeing more development lately, including new roads being paved. To the east of this road is a wide expanse of untouched land in a wide, sloping valley.
That's where I spotted this doe tonight. This area of grassland extends all the way back over to Divide Avenue where it turns into Tyler Parkway, by the fire station. It's a prime hideout for deer during the day as well as at dusk, when I saw this one.
[ add comment ]
( 12 views ) |
permalink
|
Click a dot to rate this entry:





( 3.1 / 652 )
---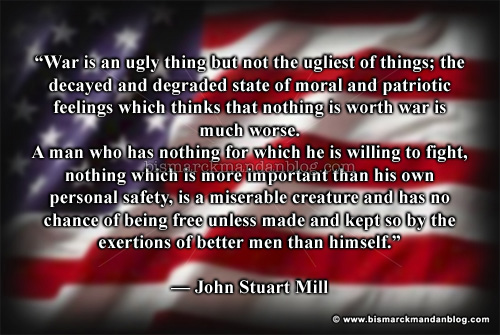 What do you think of when you think Memorial Day? Do you think of graduation? Camping? The opening weekend of the Medora Musical? Or just Monday off? Regardless of what Memorial Day means to you, it is a day (along with 364 others every year) that was purchased for us by the brave men and women whose lives, sometimes the loss thereof, protect and defend our country and our freedoms.
Anyone who thinks that "war is not the answer" is deluded by the luxury of a sheltered existence, one brought about by this country's might and sacrifice on the field of battle in the past. Truly evil people will not be contained by dialogue, and this world is full of them. Notice that only the USA still stands up to anyone in this world, and it's able to do so because of the superior armed forces standing up for us each day.
Thank you to all who serve and have served. To my friend Reed and the rest of the 112th I want to say that I'm proud of you, I pray for you, and I eagerly await your return home.
[ add comment ]
( 5 views ) |
permalink
|
Click a dot to rate this entry:





( 3 / 661 )
---
<<First
<Back
| 311 | 312 | 313 | 314 | 315 | 316 | 317 | 318 | 319 | 320 |
Next>
Last>>