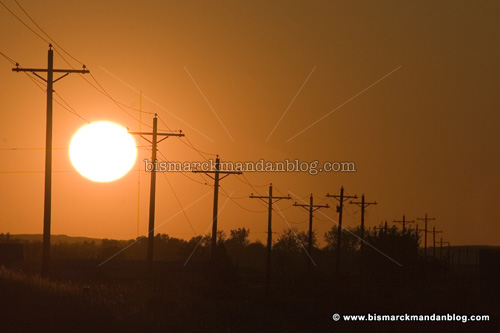 Power lines stand fast
Or are those telephone wires?
Sun comes wand'ring past
[ 2 comments ]
( 34 views ) |
permalink
|
Click a dot to rate this entry:





( 3 / 407 )
---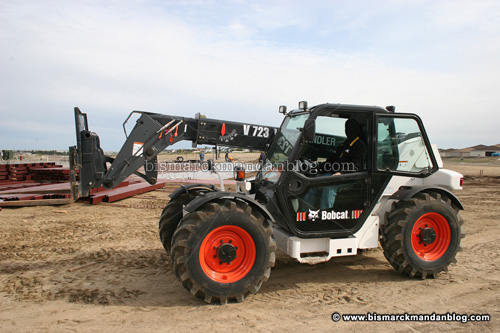 The call came early Tuesday morning. Five semi loads of steel beams had arrived! Our church's new building project is about to take a huge leap forward. But someone has to unload and inventory this stuff, and they needed another guy.
Two of us got to run that shiny new turbo-diesel VersaHandler (it's a rental). I have forklift experience from working in my parents' warehouse, but that didn't compare to unloading giant steel beams with this thing! It has all-wheel steering, a self-leveling adjuster via rocker switch, and a joystick control for all the boom and fork operations. Talk about a trip!
I have to admit, I was scared silly while running this thing. I was unloading really wide steel beams, several at a time, with my pastor and other close friends working below. I like those guys, including the truck driver sitting atop the steel giving me directions, so I'd hate to drop a beam on any of them! Plus it would be expensive to replace any damaged steel. Thankfully, I didn't drop or bend anything.
This machine was fun in a number of ways. I have to admit that there was a stretch of time where I wanted nothing more than to get OUT of the cab and away from the stress of wielding those giant beams around on uneven ground! But as soon as I got out of the cab to return to work, I felt a longing to get back in and start white-knuckling my way around the truck again. Sadly, my time in the machine was over. I could spend a few hundred bucks and rent it myself, or $140,000 to get one of my own. Instead I'll just wait for the next load of building materials to come and hope we rent it again!
A preacher said a while back that there will be two types of people that walk into our new church building when it's completed. The first type will look around and say something like, "Wow! This sure is a nice place!" The second type will say something like, "I remember when we were up all night hanging that sheetrock over there" or "It sure looks different than when we first started framing out the walls" or even "I remember when so-and-so started painting this room with the wrong color!"
The point is, participation has its blessings. We get to feel some ownership in this new building if we choose. For instance, one of our church members works for the company pouring the concrete for this building. I can't describe how happy he looked while out grooming the concrete of the slab on Tuesday! It was really encouraging to see. When I first typed up this post, I was excited about getting to run that fancy new loader. But what really sticks with me is the excitement of being part of something bigger. That kind of excitement sticks around a lot longer.
[ 1 comment ]
( 37 views ) |
permalink
|
Click a dot to rate this entry:





( 3.3 / 340 )
---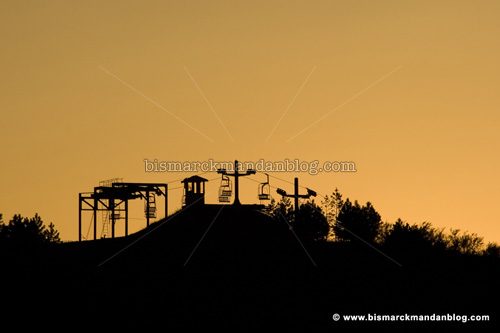 I happened to be south of Mandan a couple nights ago and caught the silhouette of one of the ski lifts at Huff Hills against the sunset sky. I don't know if they run these during the summer, but I would guess that they don't.
I used to work for mountain operations at Big Sky back in the 80s. For part of that time I ran a ski lift or gondola, depending on the day. Later on I was simply paid to snowboard...not a bad gig if you can get it! Big Sky runs some of their lifts in the summer for hikers and mountain bikers, and while I know some guys like biking Huff Hills, I don't think they get to take the easy way up the hill.
One of my mountain bike friends heard the metallic sound of something striking his bike frame as he went down the hill out at Huff. In the instant that he looked down, he saw that it was a rattlesnake that had been surprised by his fast descent and struck at his bike. Thankfully the snake hit the bike and not his leg! I wonder if you can chip a fang on titanium...
[ 1 comment ]
( 56 views ) |
permalink
|
Click a dot to rate this entry:





( 2.9 / 326 )
---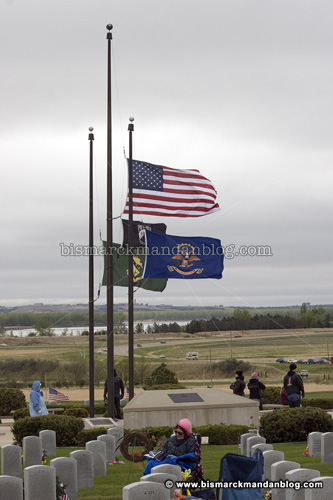 The flags were ordered half staff in the morning. As this day is one of pride as well as solemnitude, they would soon return to full position at the end of the ceremony.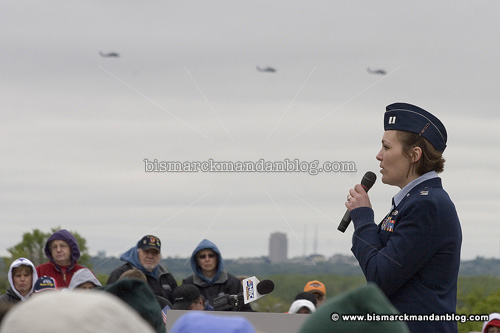 Penny Ripperger, 119th Wing, ND Air National Guard. Master of Ceremonies today. Note the ND state capitol building and Blackhawk helicopters in the background...the view from out here is remarkable.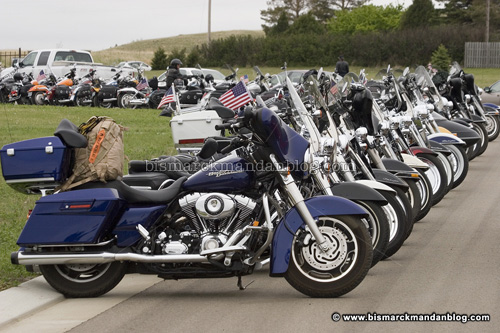 Lots of motorcycles and cars. I got there early, but as I left I saw cars parked along Highway 1806 for nearly a mile in addition to the parking set aside for them. Number of North Dakota Peace Coalition bumper stickers spotted: zero.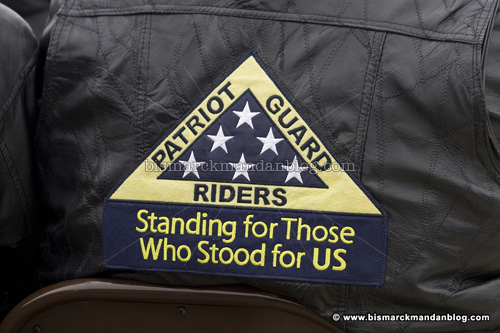 Patriot Guard Riders were in attendance. I was lugging camera gear so I used four-wheeled conveyance this morning. Plus, my bikes don't have cupholders.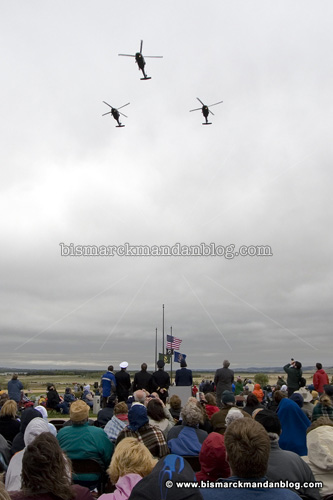 Flyover by the UH-60 Blackhawk helicopters based in Bismarck.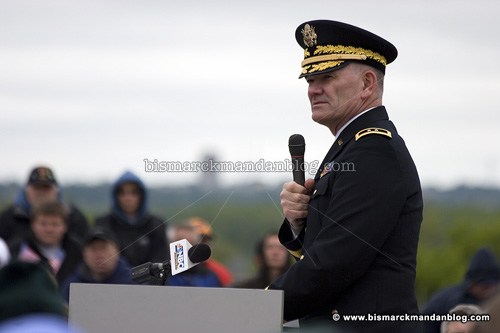 Major General David Sprynczynatyk. One of the few people with a last name harder to spell than mine. His wife is a city commissioner in Bismarck.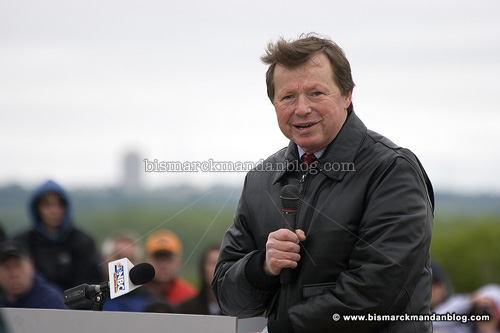 109th Congress.
House Resolution 891, declaring that the USA will prevail in the Global War on Terror.
Resolution includes: "honors all those Americans who have taken an active part in the Global War on Terror, whether as first responders protecting the homeland, as servicemembers overseas, as diplomats and intelligence officers, or in other roles; ... declares that the United States will prevail in the Global War on Terror, the noble struggle to protect freedom from the terrorist adversary."
This man, Earl Pomeroy, voted NO.
But he never misses a photo op.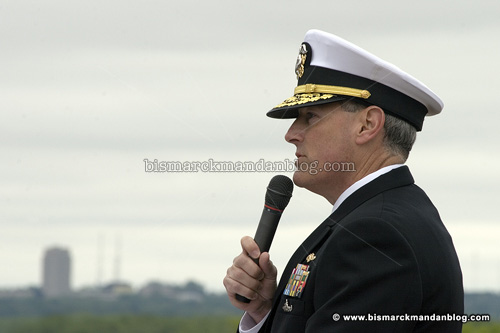 Vice Admiral Jeffrey L. Fowler, Bismarck High School graduate and current Superintendent of the US Naval Academy. His parents got to see him address the ceremony as keynote speaker today!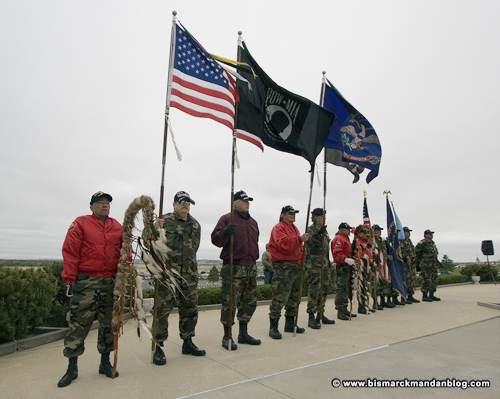 The color guard from Standing Rock. The brave Native American warrior is NOT a thing of the past.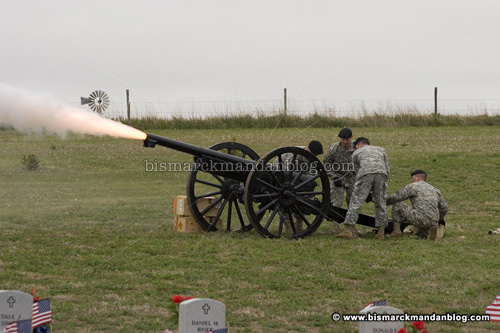 Following the rifle volley, the cannon salute. The cannon was fickle today, but the crew performed admirably. Only those of us close up could probably see a few finicky rounds being unloaded. In true North Dakota and Bismarck-Mandan Blog fashion, there's a windmill in the background.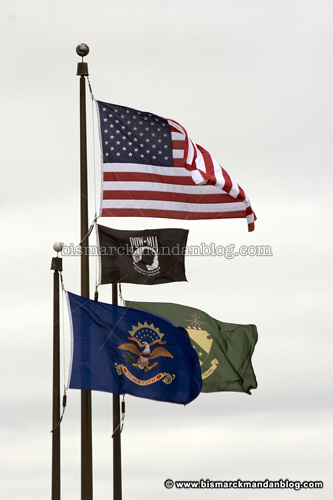 Flags returned to full staff. We don't just mourn our fallen military personnel, we rejoice in the honor of their service...and not just those who have given the ultimate sacrifice. Anyone who wears the uniform is a true American hero for their service. I for one am grateful for the freedoms I enjoy due to their steadfast defense of our nation.
That's pretty much it. I have other photos as well, but these tell the story of the day pretty well. All this typing has also helped me regain feeling in my fingers; working a camera with gloves on isn't very realistic! I hope you enjoyed this look at the ceremony and I ask that you take a moment to consider the brave men and women who carry the safety of our nation and our freedom on their shoulders.
[ 3 comments ]
( 42 views ) |
permalink
|
Click a dot to rate this entry:





( 2.9 / 347 )
---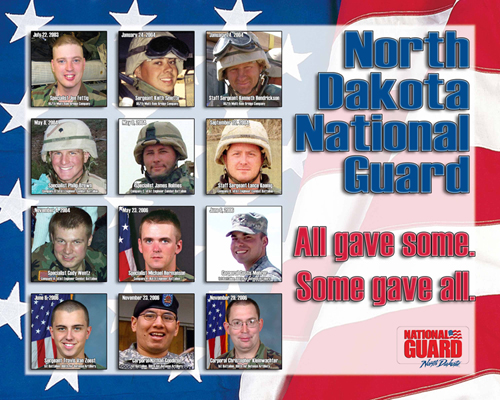 You can find a copy of this poster on the North Dakota National Guard website by clicking
here
. This weekend, as we honor the sacrifices of all soldiers who died defending our freedom and our nation. the loss of several North Dakota soldiers in the modern war on terrorism is particularly fresh in memory.
As far as I'm concerned EVERY soldier who ever served receives my honor and respect, and not just on Memorial Day. Does a soldier have to die in battle to sacrifice? No, sir. For instance, the day they enlist they give up a lot of their freedom so that they can be prepared to protect ours. They give of their time. Their families do, too. They pay the toll in injuries in training and on the battlefield, many of them career ending. And, yes, many pay with their lives. How great a cost they pay for our freedom!
There are two memorial ceremonies being held this weekend. For a program of the events taking place at the Veteran's Memorial Cemetery out near Fort Lincoln, click
here
. Patriot Guard Riders and other riders will be participating. Vice Admiral Jeffrey Fowler, superintendent of the US Naval Academy, will be the keynote speaker.
It doesn't have to be Memorial Day for a person to reflect on the sacrifice of US military personnel. Having a day to devote to their memory, however, is a special opportunity to make sure that we express our gratitude as a nation. Oh, and hopefully
the flag is flying at the North Dakota State Capitol this year.
That was pretty embarassing last year.
[ 1 comment ]
( 13 views ) |
permalink
|
Click a dot to rate this entry:





( 3 / 334 )
---
<<First
<Back
| 189 | 190 | 191 | 192 | 193 | 194 | 195 | 196 | 197 | 198 |
Next>
Last>>