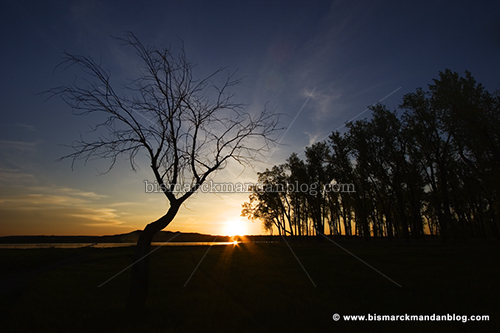 This is the shot I went down there to get. Obviously I got it. But the sun and its colors were just getting started...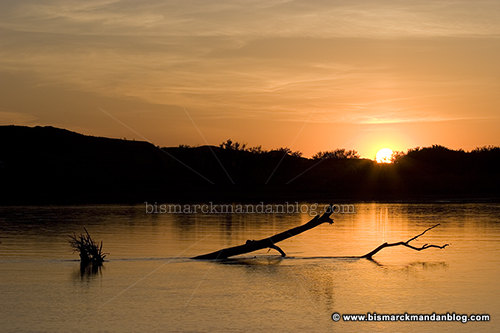 This tree was out in the river channel a ways and proved an ideal foreground subject. By this time the sun was beginning to cast a deep gold color across the sky. It wasn't the only thing sticking out of the water, however.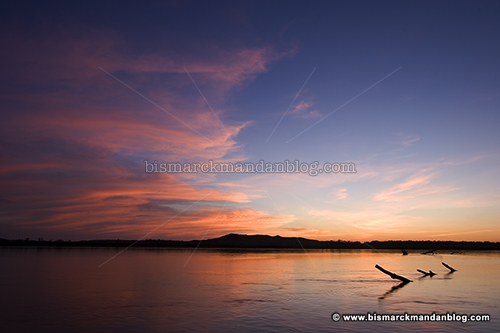 As clouds moved in from the south, the sunset took on more of those familiar red and pink hues, offsetting the deep blue of the sky. I had found a new foreground: these three sticks, stumps, branches, or whatever.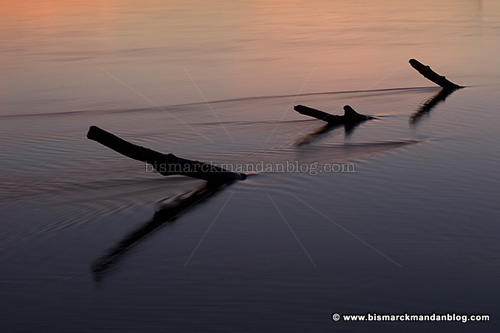 This is a long exposure to smooth out the ripples of the river as well as the wake left downstream of each of these protruding branches. It was tricky to get it just right.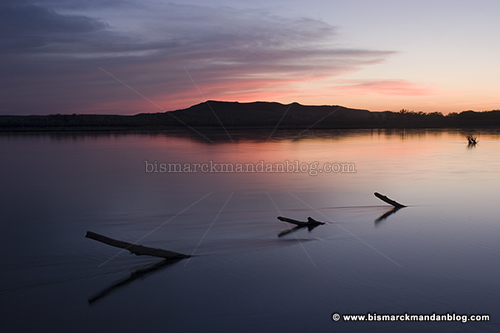 The end of the sunset, with the reds and pinks turning to purples and pale blues. Time to check for ticks, hop back in the truck, and start working my way back to civilization. Mission accomplished.
As you can see from these photos, one sunset can provide quite a variety of different shots. These were all taken within 100 yards of each other, yet they look like different locations on different evenings. It's simply a matter of patience. Start with a good location, arrive early, stay late.
[ add comment ]
( 4 views ) |
permalink
|
Click a dot to rate this entry:





( 3 / 296 )
---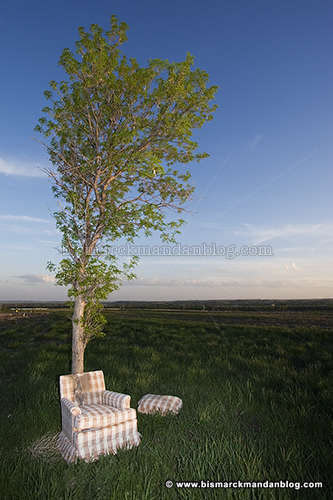 If you find yourself on Promontory Drive, you may notice this lone little tree standing in a vacant lot. It's been visible in a number of my sunset photos in the past year or two, and it's grown quite a bit since I first saw it. Now there's a chair under it. It's a ratty chair, but it is well placed nonetheless.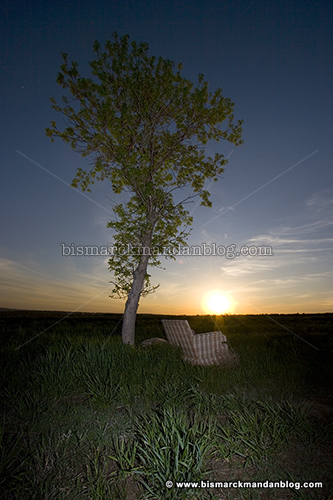 When the spring sunset arrives, this chair is a prime place for viewing. Somebody had their thinker cranked up to MAX when they put the chair here. They apparently consume a lot of energy drinks too, judging by the cans I saw next to the chair.
This isn't the first time someone's deposited a piece of furniture in this area. Before the roads came this far out, there was a dusty old double-track trail leading to the edge of the hill overlooking River Road. At the end of that road was just enough clear space to turn around, and occasionally a sofa or chair of some sort. Things are a little more accessible now that there are paved roads, but this is just a continuation of times past. Obviously I'm not the only one gazing at the sky around here!
[ add comment ]
( 10 views ) |
permalink
|
Click a dot to rate this entry:





( 2.9 / 266 )
---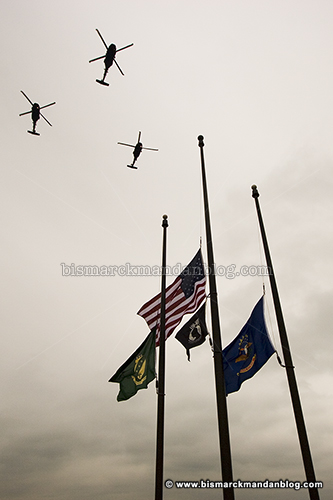 The sound of Freedom.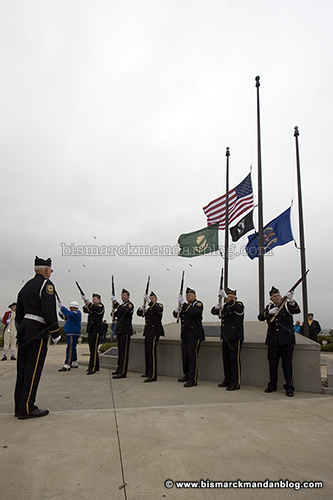 Yes, I had ear plugs. And I was able to avoid being hit by flying brass (visible in this photo).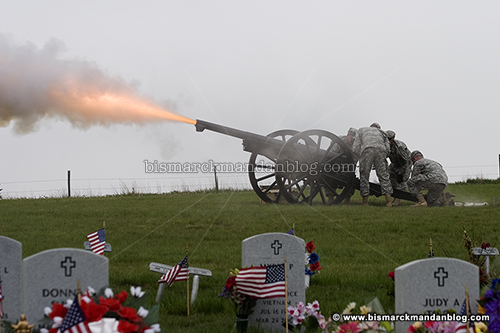 The cannon, she was a harsh mistress. Must be because she's French.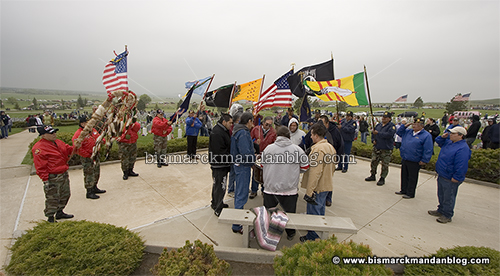 A drum circle followed the program ceremony, with two honor songs. I was able to shake the hands of most of the drummers and give them my thanks afterward.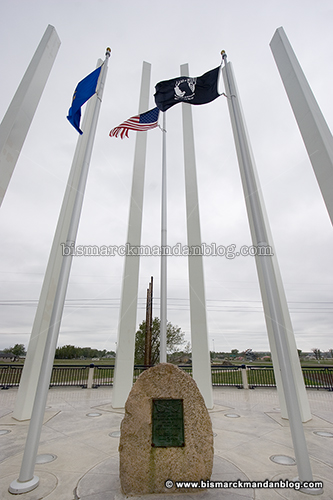 By the time I got back to town, the flags had been raised to full staff at the Memorial Bridge.
Custom calls for them to be raised at noon.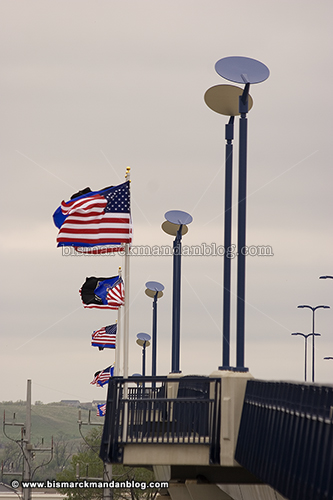 Flags flew at each of the military stations along the new bridge.

Once again, I'd like to convey my thanks to everyone who serves in our military. I'd also like to convey those same thanks to anyone whose loved one serves. They sacrifice right along the servicemen and women which comprise our nation's forces of freedom.
[ 1 comment ]
( 10 views ) |
permalink
|
Click a dot to rate this entry:





( 2.9 / 261 )
---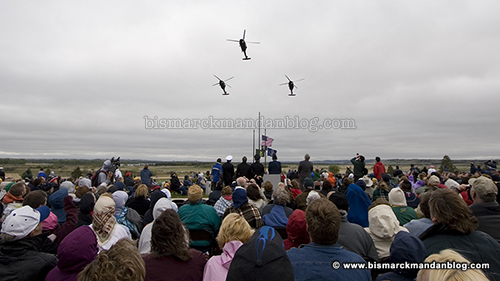 I put together a little video tribute for Memorial Day late last night. I was moved to do so by something President Obama said in his speech at the Arizona State University commencement this year:
"...we've become accustomed to the term 'military superpower'... forgetting about the qualities that got us there. Not just the power of our weapons, but the discipline, and valor, and the code of conduct of our men and women in uniform."
At first I was
really
bent at the way this radical leftist spoke. I interpreted his words as meaning that the military had forgotten those qualities! What an awful thing to say! However, in the spirit of letting my temper cool down before going at it, I took another listen and decided to give the President the benefit of the doubt.
I looked at his words in a different light. In this context I took it to mean that, among the other things he denigrated his own nation for, the American people have forgotten the qualities of our heroic military men and women. That's still a slap in the face to America, albeit a somewhat less offensive one to our soldiers and their loved ones. And, I figured, something that's quite far from the truth.
On this of all holidays, I reasoned, it was especially important to let the soldiers who see this website know that we have
not
forgotten them. We have not forgotten their character. We have not forgotten their loyalty to their nation and their mission. We have not forgotten that their families and loved ones sacrifice by their side, saying goodbye to Mommy or Daddy, spouse, child, or friend for months at a time as they serve in harm's way. How dare you, Mr. President, even insinuate such a thing?
I stand by my interpretation of the President's words. I tried to read the actual text by Googling it online, which was interesting - the version on the Huffington Post stripped this part out! Perhaps they're afraid of others making the same interpretation as I initially did. In any case, like I said, I'll give the President the benefit of the doubt...and that ain't pretty, either.
Like millions of Americans, I pray for our soldiers. I'm ever aware of the fact that somebody, somewhere is putting their life on the line for my freedom and the safety of my family. I'm also aware that somebody who loves that soldier is without them right now as they serve. It's a humbling thought, and it's one that provokes instant anger at the thought that
anyone
thinks we've forgotten them. On that note, here's the meager tribute I assembled:
If you don't see playback controls, move your cursor over the video window.
If you or someone you love serves in our military, I want to convey my thanks to you on this holiday weekend. Please give no weight to the words of the President (or his teleprompter, it's hard to know who decides what escapes the President's lips) or people like him whose goal is to deride this nation and remake it in their own twisted image. The people who hold America and its core values dear are mindful of your commitment and thankful on this day and every day.
[ 3 comments ]
( 34 views ) |
permalink
|
Click a dot to rate this entry:





( 3 / 277 )
---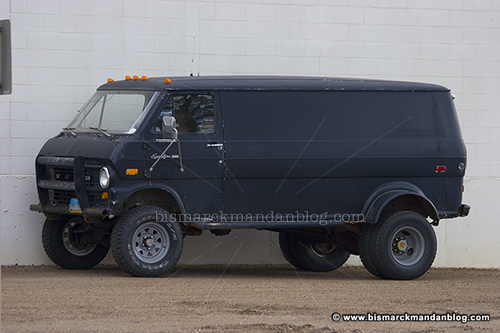 My boys and I spotted this rugged looking Ford Van conversion tonight. Yep, it's got four tires on the back. I guess it's ready for some heavy cargo, since it can't pull a fifth wheel trailer. Interesting.
I'd say this whole homemade 4x4 thing is getting out of hand...but isn't that the point? I'd hate to discourage this kind of creativity and ingenuity. Besides, it's exactly the opposite of what liberals want us to do, drive silly little deathtraps in a vain attempt to "save" the planet they worship.
For any of you who haven't seen them all, here are a few of the other creations I've spotted in Bismarck-Mandan: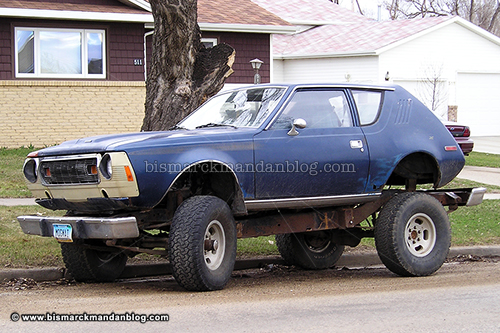 This little Gremlin conversion scores big points for the license plate:
MOGWAI
.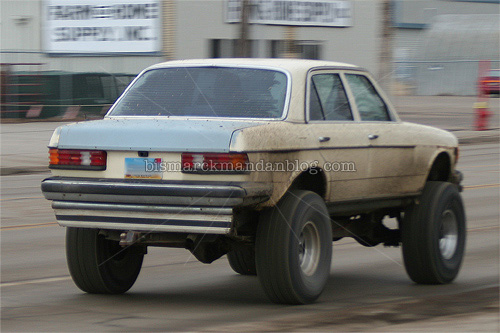 Nothing says class like a Mercedes sedan. Apparently if you don't like the ride height, it's possible to give it a little boost (along with some four wheel drive for good measure).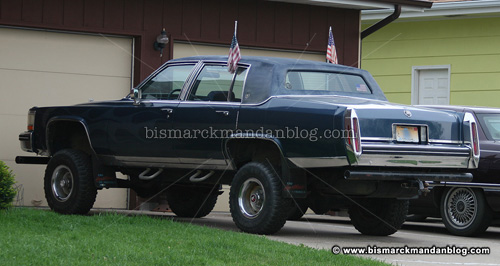 Equally classy is the Cadillac sedan, which happens to bolt on to a Suburban (by the look of things) chassis. The step rails are a bonus in my book. This is in the nicest shape of all the conversions I've seen.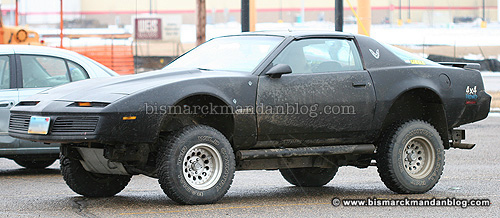 Knight Rider had a lot of gadgets, but I'm pretty sure that four wheel drive and a Vortec V6 were not among them. There's a ZR-2 model S-10 chassis underneath this Firebird.
There's one other 4x4 I haven't seen around here since the mid 1990s: a pinkish-red pearl El Camino, or possibly Ranchero, which was last seen on the used car lot at Cedric Theel. Who knows where it eventually ended up. If I spot that one, I'll count my collection complete. Of course, that's what I said before I saw the Gremlin.
[ add comment ]
( 13 views ) |
permalink
|
Click a dot to rate this entry:





( 2.9 / 273 )
---
<<First
<Back
| 143 | 144 | 145 | 146 | 147 | 148 | 149 | 150 | 151 | 152 |
Next>
Last>>