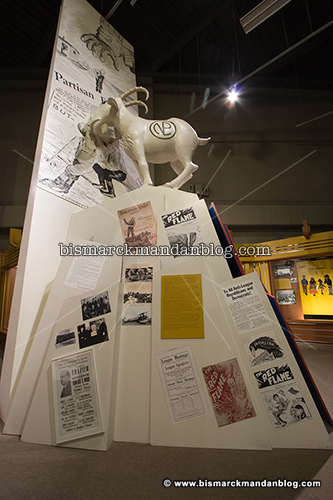 In the political portion of the North Dakota Heritage Center is an interesting display devoted to the Democrat-NPL political party. I never refer to Democrats as "Democratic" because the ideology to which they're enslaved is the very antithesis of that. There are some interesting tidbits on this display that I think prove quite insightful.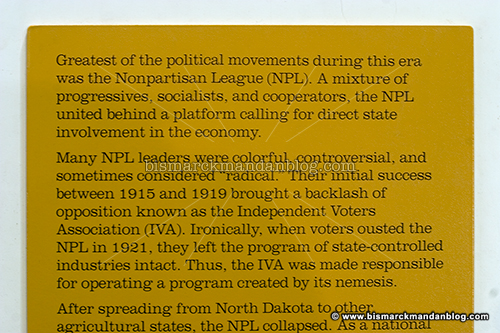 This descriptive plate seems rather fawning and praising, doesn't it? It refers to the NPL movement as "the greatest" and its leaders as "colorful." I wouldn't expect any less from the sort of academics tasked with museum duty. Interesting as well is this line: "A mixture of progressives, socialists, and cooperators..." Call a member of the Dem-NPL party a socialist now, and they shriek and recoil as if you've brandished a cross toward a vampire. A fitting metaphor, I think.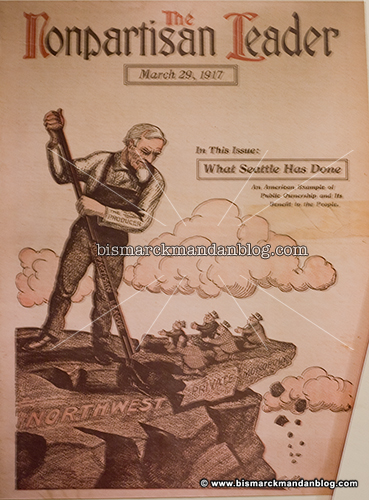 Anytime you see literature talking about "the worker" or that sort of thing, you're dealing with communists, socialists, labor unions, progressives, statists...they're all cut from the same mold. It appears that the NPL tried with the farmer what labor unions tried with the worker. Thus they substituted "producer" or "farmer" for "worker." The caption of this photo promotes a story: "An American Example of Public Ownership and Its Benefit to the People."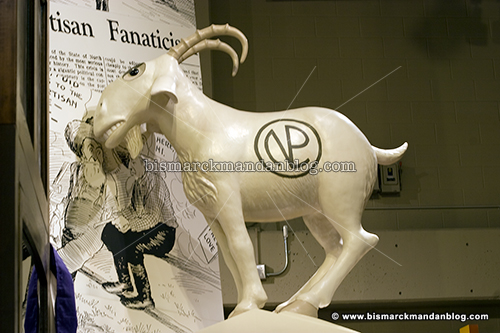 The party adopted the goat as a mascot, indicating that it "fights with its head." I've always thought that the jackass used by the Democrat party is far more appropriate.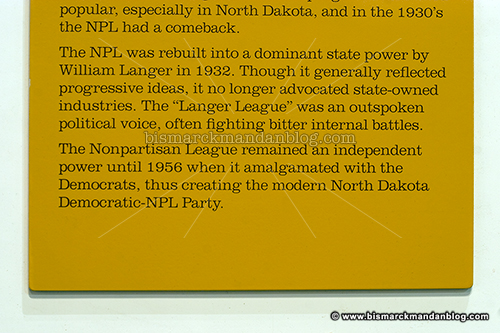 Check out that last line: "The Nonpartisan League ... amalgamated with the Democrats, thus creating the modern North Dakota Democratic-NPL Party." This helps explain why we've got socialist ideas coming from the likes of Comrade Dorgan, whose solution for everything is to unionize it, and his ilk. Thankfully, North Dakota voters are waking up and preparing for corrective action this November.
It's also very telling how these people can never be honest about what they believe. For instance, do you think
Tracy Potter will be promoting the fact that he called North Dakota "terribly embarassing" for passing anti-abortion legislation in 2007?
I think not.
Look at the history, and the present becomes more clear. They're finding the boldness that many of them once possessed, and they're playing on a national stage. They're feeling all Hopey-Changey, and that's when they show us who they really are. Now let's do like we did in the past: put a stop to this bankrupt, corrupt ideology and oust those who subscribe to it.
To share this article, use the button below.
[ 4 comments ]
( 35 views ) |
permalink
|
Click a dot to rate this entry:





( 3.1 / 224 )
---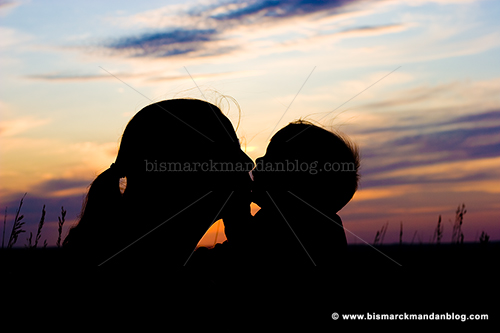 Her children arise up, and call her blessed; her husband also, and he praiseth her. --Psalm 31:28
I just want to take a minute to brag on my beautiful wife, the sweet Mommy of my two little blond-haired miracles. She's a selfless, caring girl who I could not live without. I must say that, as we approach a milestone anniversary in our marriage, that I've been growing ever closer to her recently...and being a husband and Daddy is the most amazing experience.
She's really gracious in letting me take off with my camera or hang out in my expansive Garage Majal with the motorcycles and stuff, too.
[ add comment ]
( 5 views ) |
permalink
|
Click a dot to rate this entry:





( 3.1 / 313 )
---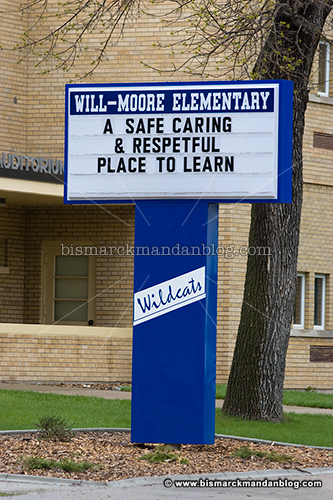 I'll admit it: I have a disorder. If I'm handed a sheet of paper filled with text, the typographical and spelling errors will typically leap off the paper, grab
my
me by the ears, and divert my attention toward themselves. It's like putting on a pair of 3D glasses. It's a suitab
l
e disorder, as I'm a proofreader and former city & county Spelling Bee champion. Sometimes I find some fun ones, like the sign above.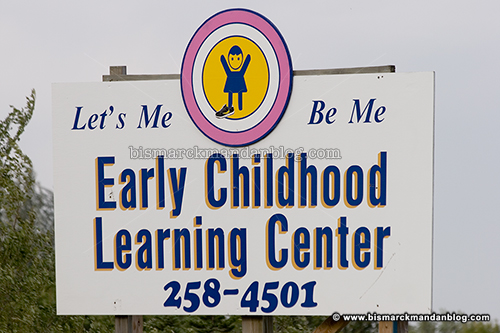 I derive no glee from pointing out the typos of others. While I don't believe in karma, typographical or otherwise, I can't help but wonder if I'm about to make a similar mistake while writing about the errors I find. Uh oh. It
is
2:45 in the morning, after all (I woke up hungry). Is it unreasonable, however, to expect schools and learning centers to proofread their signs for obvious spelling or punctuation errors? I think not.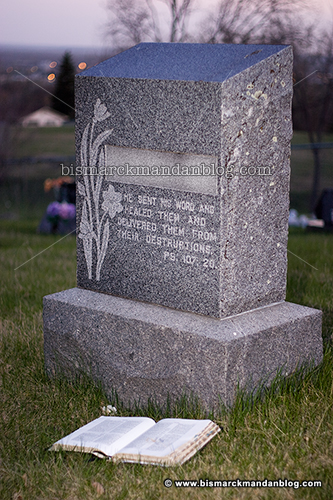 This reminded me of something I spotted a week or two ago, as I was hiking back from
what used to be Hillside Park
. While attempting to approach the top of the "park" I figured that the best I could do was to park in St. Mary's Cemetery and hop the fence. On the way back to the truck I got an eerie feeling. My "spider-sense" was kicking in, so I stopped and turned slowly. Yep...there it was: a typo.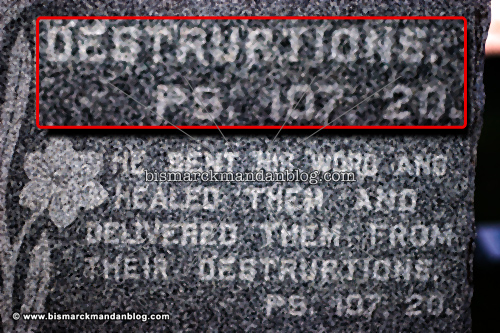 I've intentionally obfuscated the name on this stone, which actually sits in the middle of several markers of the same last name. Since I pretty much have a King James Bible handy as often as I do my camera bag, I grabbed one and compared the text on the stone to Psalm 107:
He sent his word, and healed them, and delivered them from their destructions. (v20)
Uh oh. The stone clearly says "DESTRURTIONS." Dang.
Well, I'm sure I'll go ahead and make a ton of typographical errors now. Feel free to point them out. I've earned it. While I don't believe in "typo karma" I do have a strong appreciation for irony! In the mean time, I've shoveled enough Frosted Flakes into my head to choke a donkey...and now it's time to return to bed.
UPDATE: We have a winner!
Kudos to my friend Ken, who spotted a typographical error in the very first paragraph of this post (and called to verify that I didn't plant it there on purpose). I didn't remove it; rather, I just put a line through it and corrected it for the world to see. See? No one is immune from the sinister typo...especially those of us who point them out in other people's work!

Dawn found the second one. Sigh...
[ 1 comment ]
( 17 views ) |
permalink
|
Click a dot to rate this entry:





( 3 / 351 )
---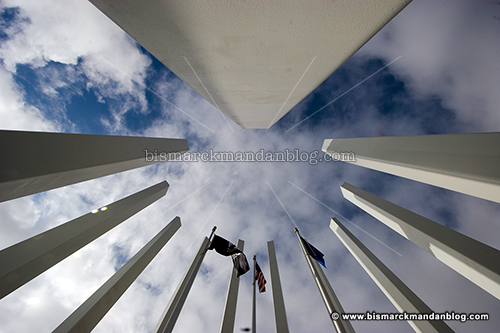 Bismarck and Mandan each have their own memorials at their end of the new Liberty Memorial Bridge. There are more attractions to this area yet to come! Keep a keen eye under the bridge on the Bismarck side. I'm not sure what may be planned on the Mandan side...hopefully a complementary park is to be built.
[ 1 comment ]
( 9 views ) |
permalink
|
Click a dot to rate this entry:





( 3 / 307 )
---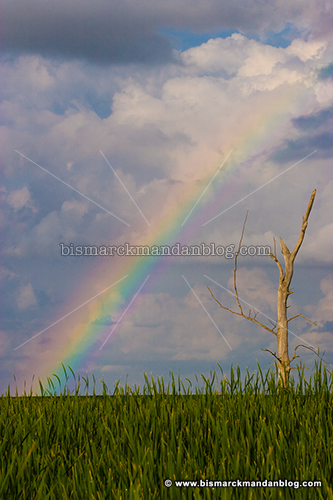 I love the fact that color is slowly returning to the Bismarck-Mandan area! Sometimes it takes a little rain to make those colors appear.
[ add comment ]
( 3 views ) |
permalink
|
Click a dot to rate this entry:





( 3 / 352 )
---
<<First
<Back
| 103 | 104 | 105 | 106 | 107 | 108 | 109 | 110 | 111 | 112 |
Next>
Last>>