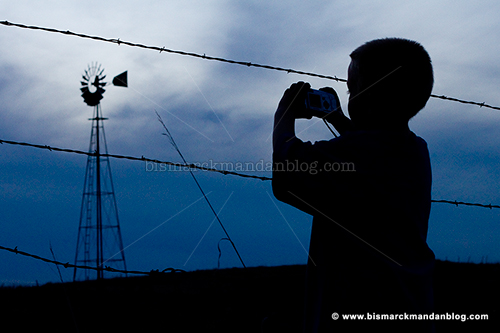 My little 3 year old was quite excited about getting to hop in the truck with Daddy and to have his own camera, my very first point-n-shoot Olympus that I've had for quite some time now. We wandered across the landscape, took a walk together, and then went in pursuit of the sunset. I told him we could find a windmill, and he thought that was an excellent idea...so off we went.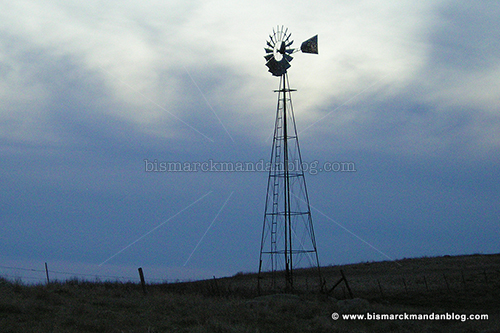 This is one of his photos, a snapshot of a windmill on a minimum maintenance road north of Bismarck. We actually arrived a little late for the sunset...not because the sun had gone down, but because a line of clouds had moved in across the horizon, cutting our time short. Nevertheless we were still able to get some windmill photos in before going home for a story and bedtime.
[ add comment ]
( 8 views ) |
permalink
|
Click a dot to rate this entry:





( 3.1 / 339 )
---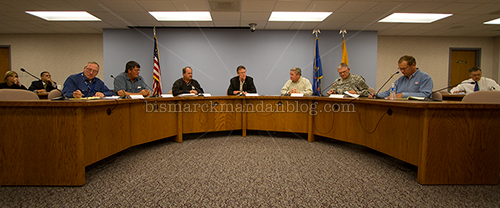 I couldn't help but wince a bit when someone at a daily Missouri River Flood Briefing repeatedly mentioned misinformation on "the blogs" and by "the bloggers" a couple of days ago. Personally, I was sitting in one of the Operations Centers doing my job instead of blogging, but I was still a little put out by that remark.
I don't know there WERE so many Bismarck- or Mandan-specific blogs, actually. I like
Randy Hoffman's site
and (even though we're ideological opposites) I enjoy
Cat's writing
. So who's spreading all the misinformation?
Well, certainly it isn't me. In fact, aside from some campy photos of the swamped riverboat, I've been far too busy to even get out an see the flooding in person. Even if I did, I think the past several years have proved that I've behaved responsibly overall in what, where, when, and how I post stuff on this site.
I guess it's not so much personal offense as it is the way many people speak about "bloggers" with disdain. Having worked in the communications industry for decades, I could cite plenty of examples of irresponsible journalism from various media outlets in this town. Having a set of call letters or a printing press doesn't give you any more credibility than the guy who has discovered a story and wants to articulate it.
Being a "citizen journalist" or "blogger" doesn't make one righteous or noble, either; however, anyone who claims having a J-school degree somehow gives you a)credibility, b)accuracy, or c)integrity needs to wake up and smell the coffee.
As you should have deduced by now, I'm an information junkie. As usual, I have a few links that you may find useful. Rather than act like I have all the answers, I like to point you to the people who do. I haven't seen these linked anywhere else, so here goes: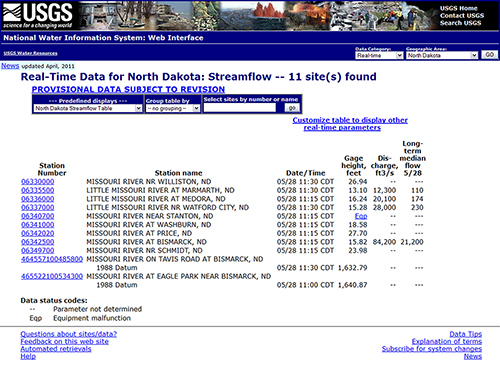 If you're wondering what the river stage is at various measuring points, just click below:
waterdata.usgs.gov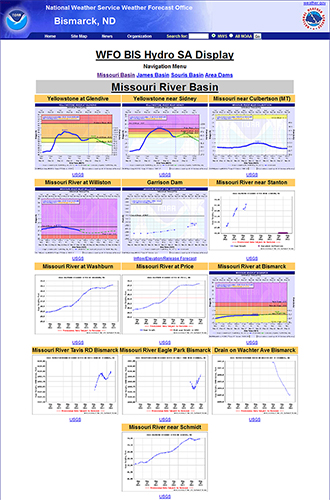 You can find all kinds of data about the Missouri and other rivers in our area with graphs of all by clicking below:
www.crh.noaa.gov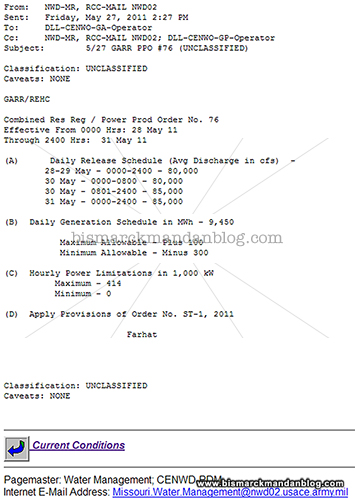 This page will give you the daily water release orders issued for the Garrison Dam within the Army Corps of Engineers:
usace.army.mil Orders page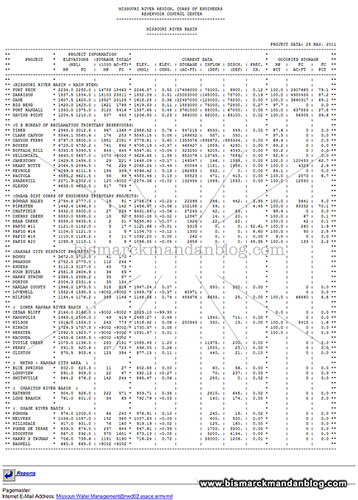 My favorite, which gives you a TON of information about just about every aspect of the various dams and reservoirs in our area of concern, can be viewed by clicking below:
usace.army.mil Reports page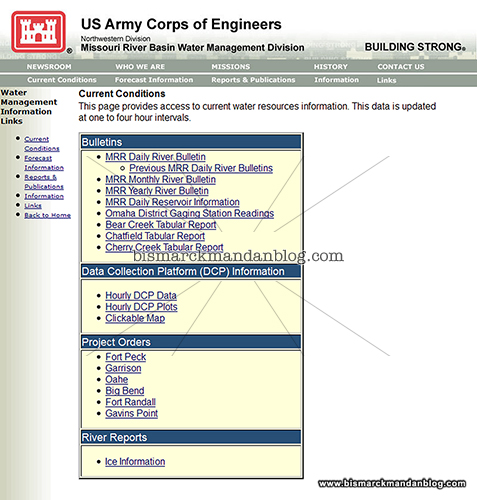 There's quite a variety of information available at the US Army Corps of Engineers' Missouri River Basin Water Management Division's website, just click below:
usace.army.mil NWD-MR page
I said it before, I'll say it again: I don't pretend to have all the answers, but I probably have some hyperlinks to help you inform yourself. Having said that ad nauseum and after posting all those links to dizzying information above, let me point this out:
bismarck.org and cityofmandan.com are STILL your best bet for reliable information.
Not facebook, not your neigbor, not even local media.
Do yourself a favor and find your own information from the source. Find out your home's elevation, watch the river, learn what a river release rate means in relation to a river stage level and how that stage level relates to elevation. Once you get your noodle wrapped around triangulating rate/stage/elevation, you will be able to assess your flood risk very quickly. Better yet, you'll see through much of the other misinformation.
[ add comment ]
( 12 views ) |
permalink
|
Click a dot to rate this entry:





( 3 / 322 )
---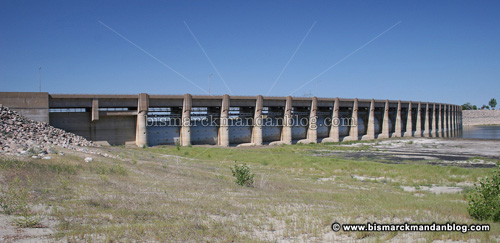 With all this talk of how high the Missouri River will be due to releases from a full Lake Sakakawea, I was reminded of a time not too long ago where the big lake was in the hurtlocker, desperately in need of water. I looked back in my photo collection and was quickly able to find these examples.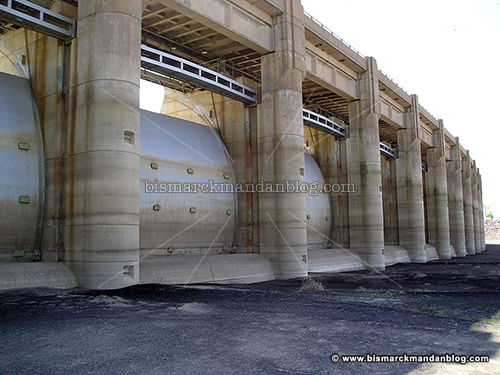 I was on a motorcycle trip and found myself in the Pick City - Riverdale area, and stopped on the east end of the Garrison Dam to eyeball things a little. I was amazed to see that the water wasn't even anywhere near the spillway gates. In fact, I was able to walk up to them on dry land. Sensing an opportunity, I did so.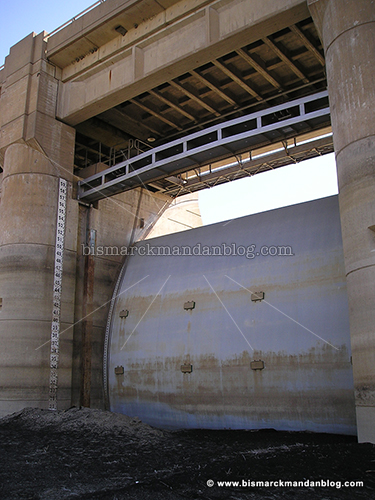 Here you can see the markers for observing the lake level, something quite unnecessary in this photo. I could remember back in 1997, when water was lapping over the top of these monster spillway gates. Fast forward seven years, and they were facing nothing but sand and sediment.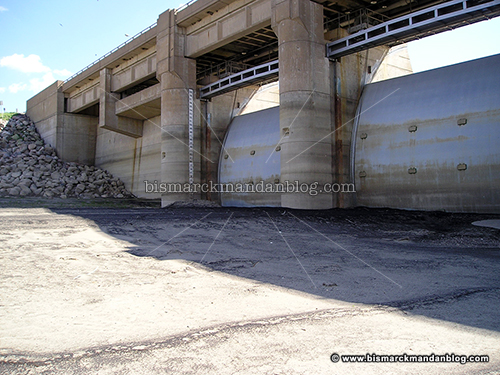 Of course, here we are another seven years out from the Flood of '97, and the pendulum has once again swung in the direction of overwhelming amounts of water. I haven't had the opportunity to visit the dam this spring, but I imagine it's quite a sight. It's interesting how we've seen such wild extremes in seven year intervals.
Remember this post in 2018, if it's dry and we're desperately in need of water! What a difference seven years can make.
[ add comment ]
( 22 views ) |
permalink
|
Click a dot to rate this entry:





( 3 / 34 )
---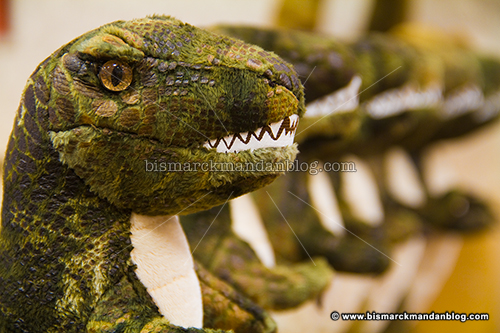 My 3 and 4 year olds are reading these days, with voracious appetites at times. Upon reaching a milestone, we had a party at Barnes & Noble for little PJ where he got to pick out some new books and celebrate. Well, there was something else with a voracious appetite in the kids' section: these stuffed T-Rex dinosaurs! I couldn't resist a quick photo.
[ add comment ]
( 15 views ) |
permalink
|
Click a dot to rate this entry:





( 2.9 / 176 )
---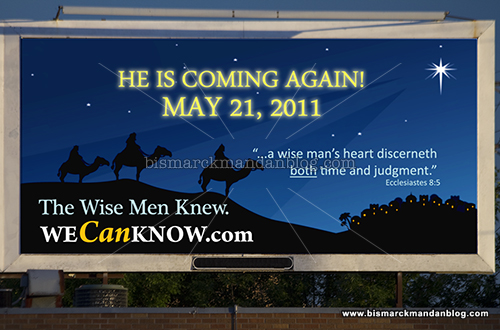 Those words won't be much consolation to the biblically ignorant folks who bought into Harold Camping's so-called "prophecy"...actually, they were banking on it actually BEING the end of the world. Of course, anyone who spends time studying the Bible saw through this charade instantly. Let's see, take some really convoluted and erroneous math, throw out the book of Daniel and other prophetic books,
completely
ignore the very words of the Lord Jesus Christ, and voila'! You've got yourself a prophecy!
Let's not forget what Jesus said about His return:
"But of that day and hour knoweth no man, no, not the angels of heaven, but my Father only." (Matthew 24:36)
"Watch therefore, for ye know neither the day nor the hour wherein the Son of man cometh." (Matthew 25:13)
"Be ye therefore ready also: for the Son of man cometh at an hour when ye think not." (Luke 12:40)
I read into the eschatology of these folks when people first started buzzing about it. Aside from all the nuts & bolts of the end times according to the Bible, which I don't have time to dissect here, the Lord Jesus Christ makes it quite clear Himself that we're not going to be able to predict or know. That's enough for me...case closed.
I grew up Catholic, which means I didn't always know what the inside of a Bible looked like. After I became a born again Christian and started studying my Bible, I was amazed at what I found therein. Old and New Testament correlated each other, scripture contextualized scripture, and I was blown away at what an amazing inspired book it is. It's also a book that, when taken out of context, is a favorite weapon of all types of charlatans.
What about the poor folks who buy into this? Foretold by the apostle Paul:
"For the time will come when they will not endure sound doctrine; but after their own lusts shall they heap to themselves teachers, having itching ears; And they shall turn away their ears from the truth, and shall be turned unto fables." *II Timothy 4:3-4)
There's one sure way to avoid being suckered in by this sort of thing: study your Bible. ALL of it. In context. Second, don't give heed to anyone who's got a $75 million dollar "ministry" and makes his livelihood from "prophecy" and end times "theology."
[ add comment ]
( 20 views ) |
permalink
|
Click a dot to rate this entry:





( 3 / 239 )
---
<<First
<Back
| 62 | 63 | 64 | 65 | 66 | 67 | 68 | 69 | 70 | 71 |
Next>
Last>>