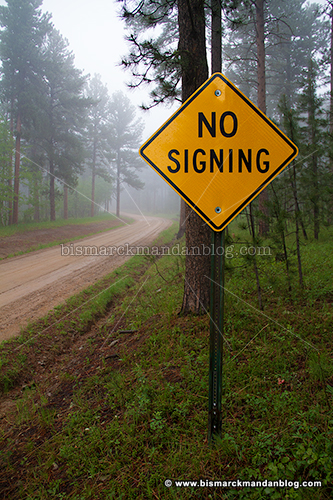 I came upon this sign on Friday, one which presents two separate quandaries depending on your interpretation. First: a sign saying no signing? Gotta love the sweet irony of that one! Second: do they have a problem with the hearing impaired? After all, how are they going to communicate? I find this sign horribly discriminatory against people with disabilities in that regard. Signs are often a great source of humor, and this one provides multiple opportunities.
I just thought of something *gasp* - what if it's also a typo, and they really don't like
singing
?
[ add comment ]
( 2 views ) |
permalink
|
Click a dot to rate this entry:





( 3.1 / 134 )
---
Looking back at one of the most memorable Memorial Day addresses I've heard UPDATE: Now with text of his address available for download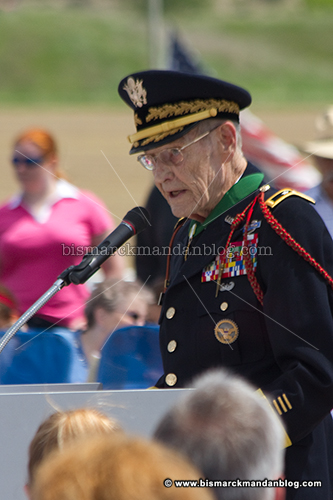 Let's not forget that Memorial Day is about one thing: honoring fallen heroes who died defending our freedom. I typically attend the ceremony held for such purpose at the Veterans' Memorial Cemetery each year, the most memorable of which was in 2010. It was during that ceremony that I witnessed a stirring address by C. Emerson Murry, former Major General of the ND National Guard. He was the keynote speaker of the event, and a very memorable one at that.
The words that struck me the most from his keynote address are best paraphrased as follows: "To be born free is an accident. To live free is a responsibility. To die free is an absolute obligation." That made me set my camera in the grass and hastily type it into my phone so I wouldn't forget it. Maj Gen Murry fulfilled that obligation, and it's due to such men and women of our armed forces that we enjoy the freedoms we take for granted.
The National Guard provided me with the text of his remarks in PDF format from an issue of the Guardian magazine, and I'm pleased to be able to provide you a link to that PDF:
(Click Here)
It was the last chance I had to hear him speak; Maj Gen Murry passed away in September of that year. You ought to take the time to read about the life of this remarkable man
by clicking here
.
[ add comment ]
( 2 views ) |
permalink
|
Click a dot to rate this entry:





( 3 / 119 )
---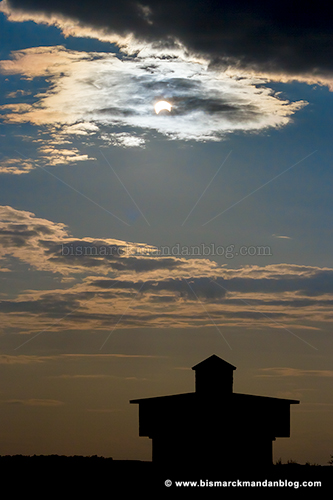 My boys and I ventured out to Fort Lincoln on the night of the eclipse to see how visible it would be. I don't own a welding helmet (yet) but figured I might still be able to get a good shot if the cloud cover helped a little bit. It did...sorta. Things were still bright and I found myself wishing for a ten-stop neutral density filter. I ran out of patience and we took off, perhaps a little early, but I felt like it was pointless trying to get a shot while so ill-equipped.
I looked at this shot tonight from the beginning of the eclipse and it's actually not that bad. If I'd waited a little longer for the sun to approach the horizon, backed off a bit to bring the blockhouse and sun closer in size, and waited for the clouds to roll and the eclipse to proceed more fully, I might have had something. This photo isn't a total loss, but sadly it's only a hint at what could have been.
We did run into some folks who had built a neat pinhole viewer out of a long slender box with a window cut in the side. It made it very easy for my little guys to see the eclipse while not being tempted to look at the blinding sun. As a photo trip it was only a partial success, but I think as a father-sons trip it worked out just fine.
[ add comment ]
( 1 view ) |
permalink
|
Click a dot to rate this entry:





( 3.1 / 103 )
---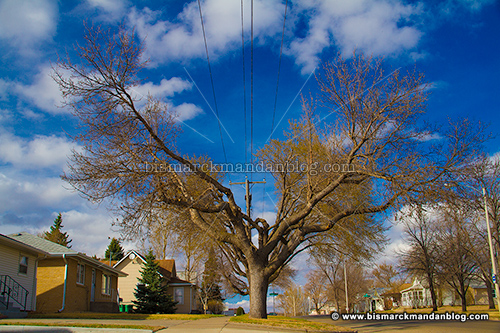 What do you do when those cute little saplings you planted in the 80s start encroaching on overhead power and/or phone lines? Well, sadly, you've gotta cut 'em. As you can see, that can get a little awkward.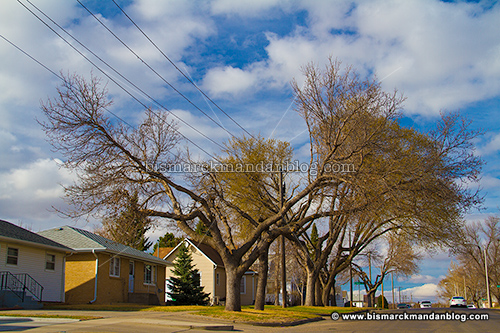 I got a chuckle when I noticed this line of trees on South 12th Street a while back. I've seen the same sort of phenomenon along Divide Avenue as well, and I'm sure it's not an isolated situation.
If trees are becoming a hazard near power lines on or near your property, you can fill out an online request on MDU's website and request that they come and trim the trees back to a safe distance. As the pictures above indicate, sometimes the result of all that safety is a sight that would make Edward Scissorhands proud.
[ add comment ]
( 2 views ) |
permalink
|
Click a dot to rate this entry:





( 3.2 / 157 )
---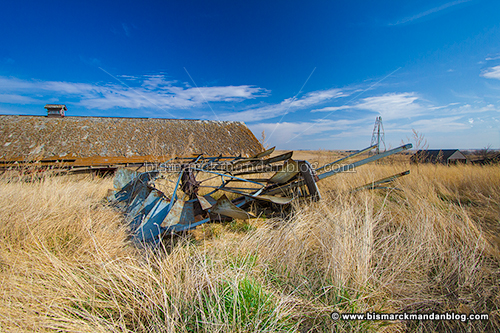 So there I was, working this abandoned farmstead with my camera along with my good friend Ken...when I noticed something right in front of me that had escaped my attention the entire time I'd been there: a windmill. You'd think that, with my penchant for photographing old windmills, it would have been the first thing I'd have found; however, this one was lying face-up in the grass at least a hundred feet from where one would expect to find it.
It would be interesting to find out the story behind this...the absence of twisted metal leads one to believe it was removed and not torn asunder by the prairie wind. It wasn't talking, but I'm glad it did manage somehow to attract my gaze so I could try a few angles for my "Fallen Farms" series.
[ add comment ]
( 2 views ) |
permalink
|
Click a dot to rate this entry:





( 3.1 / 109 )
---
<<First
<Back
| 28 | 29 | 30 | 31 | 32 | 33 | 34 | 35 | 36 | 37 |
Next>
Last>>