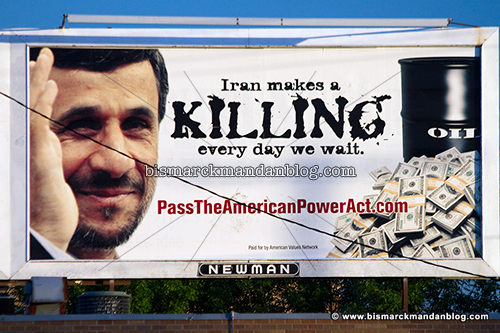 I suppose it's appropriate to have a whopper like this near the offices of professionals like Earl Pomeroy, Byron Dorgan, and Kent Conrad. This billboard is part of an orchestrated campaign to fool people into supporting "The American Power Act" - by not letting you know that it's a repackaging of the Kerry-Lieberman "Cap & Trade" act, designed to decimate our nation's energy industry. Energy...say, isn't energy a very significant part of North Dakota's economy?
Not only is this bill a total disaster for North Dakota and the nation at large, but it has another few interesting flaws:
The "Renewable Energy World" website, which is vested in the sorts of "green energy technology" bandied about by liberals bent on killing the energy industry, has an article titled
"American Power Act Contains Little Direct Support for Renewables."
The "World Climate Report" website, which purports to be "the Web's longest-running climate change blog", has an article posted which calls the American Power Act
"climatologically meaningless."
For instance, even if this bill worked like clockwork (which never happens), they
might
lower temperatures by a couple hundredths of a degree over the next hundred years!
The folks at American Thinker have an article posted which points out that the Act is merely
"a sugar coated version of Cap and Trade."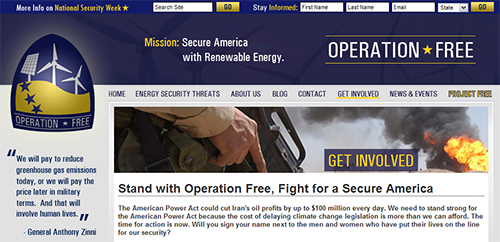 Hey, guess what? It gets better! If you actually visit "PassTheAmericanPowerAct.com" you'll get the site above. Looks pretty conservative and jingoistic, doesn't it? The only thing it seems to be missing is a flattering photo of George W. Bush. There's only one problem: It's a sham.
That web address actually bounces you to the servers of DemocracyInAction.org, a liberal activist group that apparently hosts all kinds of different websites for "progressive" causes. Here's how they describe themselves:
"DemocracyInAction, a 501(c)3 nonprofit organization itself, believes technology can be a decisive force for social change. We exist to empower those who share our values of ecological and social justice to advance the progressive agenda."
Operated by a company called Salsa Labs, and oriented around the same sort of "community organizing" as our hapless President.
Here's a list of their clients, which includes a bunch of liberal nonprofits like Code Pink and a bunch of liberal Democrat political campaigns.

If I had the money, I'd simply rent the billboard next to it and put up something like this. It wouldn't take much, and it would help put some truth right next to the Big Lie that is trying to kill jobs and take control of more Americans' lives in the name of the Global
Cooling
Warming
Climate Change hoax.
[ add comment ]
( 3 views ) |
permalink
|
Click a dot to rate this entry:





( 3.2 / 325 )
---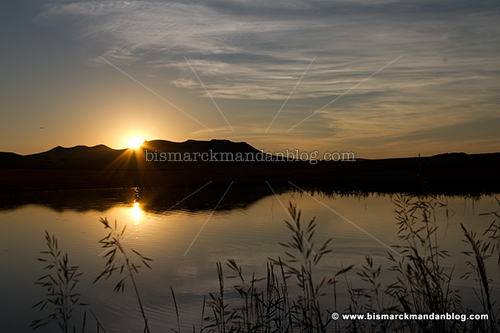 Bismarck and Mandan have plenty of cool places from which you can observe and photograph our wide open skies. Last night I took the opportunity to bolt over to one of them, a secret little spot out in the middle of nowhere. I had to be careful because the recent rains could have turned it into a muddy mess, and I didn't want to get my truck stuck.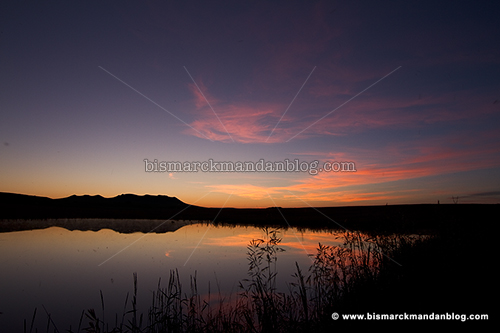 Shortly after I arrived, the colors in the sky began to change. The golds faded and the reds and purples emerged.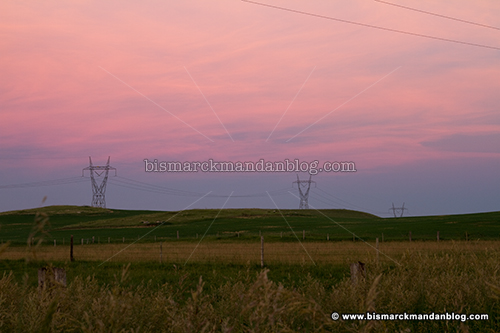 As the sky behind me turned pink, I spun around to take some quick photos of the line of stoic power line towers leading over the horizon.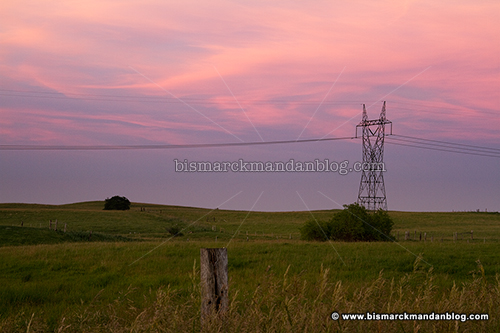 Most of these are new towers; the old ones which previously stood here were decimated by the spring ice/slush storm which deprived many area citizens of electricity for a long time.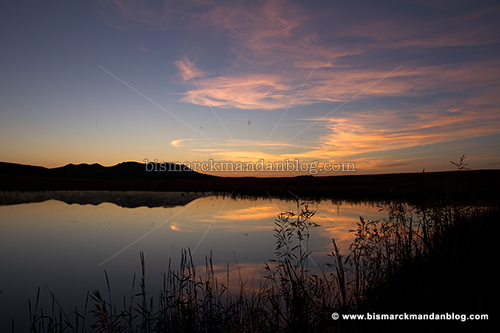 The sky's last display was for the remaining clouds to turn brilliant orange, then fade to a dull gray. The sun had finished the day's work and dusk was here. I turned the truck around and headed for home, pondering the multitude of colors I'd seen in such a short span of time.
[ add comment ]
( 1 view ) |
permalink
|
Click a dot to rate this entry:





( 3.2 / 260 )
---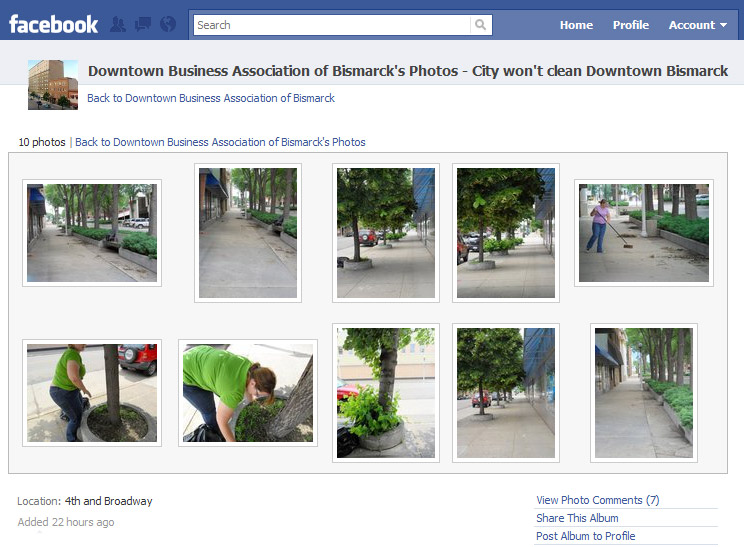 Click the image for full size screen capture
Keeping its tradition of expecting special treatment at the expense of others, the Downtown Business Association of Bismarck has put it out on the World Wide Web for everyone to see.
Here's a quote from their Facebook page:

"The DBA is asking the city to PLEASE SEND SOMEONE TO CLEAN UP DOWNTOWN Bismarck! It has not been taken care of in months. Dawn and Kate cleaned 4th and Broadway this warm afternoon. We don't care where you get the help or money, just do it. The city "OWNS" the area and therefore should be taking care of it. With Urban Harvest starting, let's show everyone the great city center. Pass this along!"
That's really interesting. The City "owns" the boulevard and sidealks in front of my property, but I have yet to see someone come by and mow or maintain it for me. When someone throws trash on it, I don't see a city worker come by to pick it up. When the snow flies in the winter, I'm the one driving the snowblower around to clear my sidewalk, driveways, and those of my neighbors. This includes rental property that I own. That's fine; I'd rather take care of it myself...and I expect the rest of the property owners in Bismarck, including downtown businesses, to abide by the same standard! Is that so wrong?
If the DBA wants downtown Bismarck to be maintained, I respectfully submit that they look in the mirror. The property owners are responsible for the sidewalks and boulevards in front of their property. Isn't it enough that the costs of beautification efforts for the downtown area have been spread out among all Bismarck citizens? If the businesses downtown don't have the time to maintain the sidewalks adjoining their property, it's time to hire someone to do so.
This comes from an organization that
told the Boy Scouts and other charitable organizations that they couldn't sell beverages with concessions at the annual street fair.
When the no-beverages policy first started, I heard from Boy Scout parents who were floored and feared how that would impact their fundraising efforts for the Scouts.
So, after taking money from the Scouts and other non-profits, the Downtowners want the violins of sympathy to start playing for them because we taxpayers aren't paying to have someone clean their sidewalks for them? Are they serious? I guess we'll see. I think it takes a serious lapse in judgement to even suggest such a thing. In any case, I think they may have a hard time getting people to sympathize with them.
Here's one for you, Downtowners: the next time I see a City employee cleaning or maintaining my sidewalks or boulevards, I'll ask them to take a trip downtown and perform the maintenance downtown Bismarck businesses are apparently unwilling to do...or think they're entitled to have someone else do for them for free.
[ 11 comments ]
( 90 views ) |
permalink
|
Click a dot to rate this entry:





( 3.1 / 304 )
---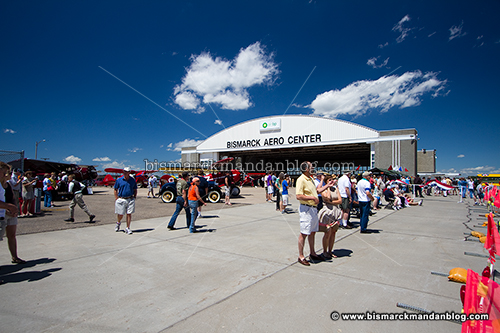 The
American Barnstormers Tour
flew into town today and made quite a popular appearance at the Bismarck Airport. I showed up just after noon and the place was crawling with enthusiastic patrons.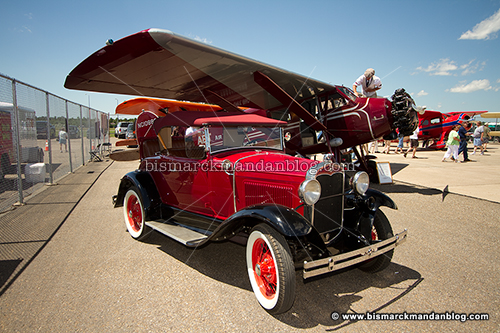 Not only were there plenty of vintage aircraft both on the tarmac and in the air, but a plethora of antigue cars adorned the area as well. Some even matched the aircraft quite nicely! Note the attentive pilot doing some detail work on his plane's windshield.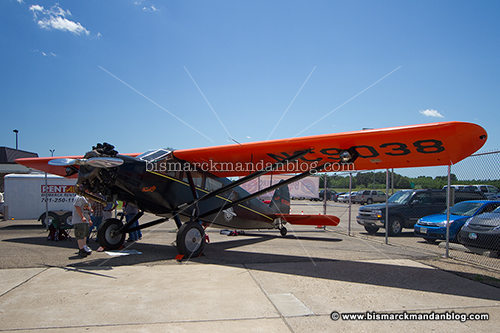 This plane had far more wood used in its construction than I would ever have expected. Let's take a look inside...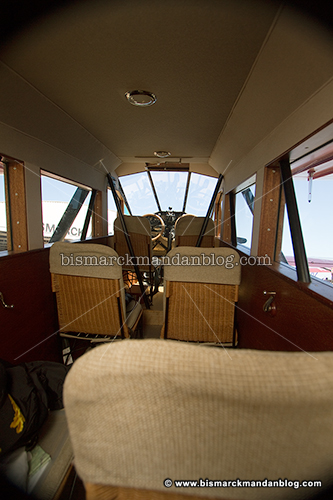 Why yes, those windows DO have cranks. Have you ever rolled down your window while on a commuter flight before? I didn't think so.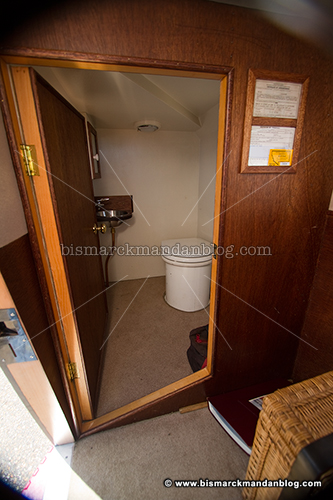 This photo does not do this little bathroom justice. The doorway is just barely high enough for my 3-year-old to walk through without ducking! He thought a potty just his side was pretty cool.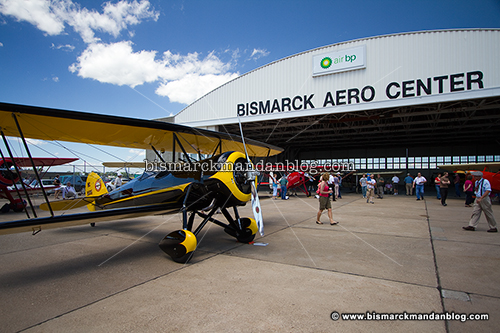 Even though the hangar was mostly empty, that didn't stop a lot of people from mulling around and eyeing the old building. Its construction is really cool, actually. I should have photographed the arcing wooden rafters.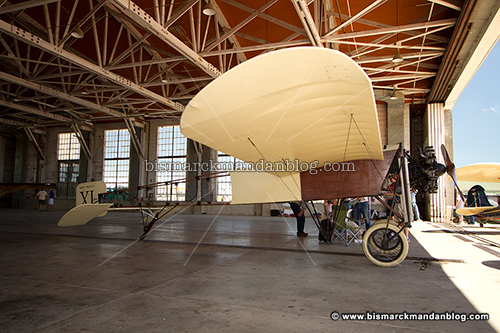 The oldest entry in the shoe: the 1909 Bleriot. Pretty wild looking, isn't it? The cross-section of the wing is pretty neat, too. Instead of the teardrop shape you'd expect, it's actually an arc-shaped wing. Come check it out Monday or Tuesday.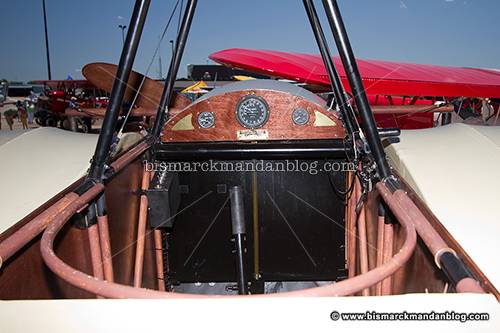 The antithesis of a modern jetliner cockpit: three gauges and a stick. I couldn't see what kind of pedals it might have, but I did see a modern transponder or radio device on the left.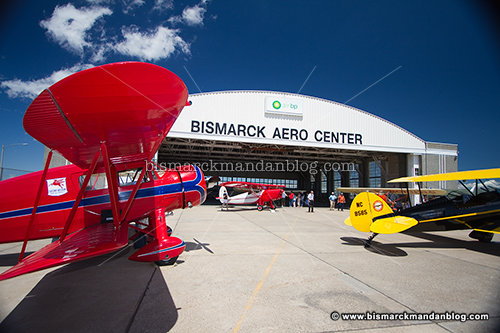 While it was a bit breezy, making things very interesting for the dozens I saw taking rides in the classic biplanes, the weather was perfect for this kind of event. Hopefully things continue for the next couple of days, so everybody who wants to take it in can do so.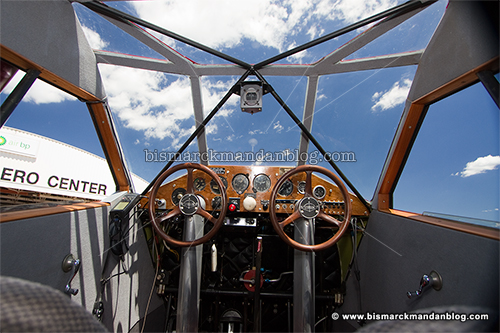 One last shot: an airplane with a steering wheel? Well, two actually. The craftsmanship on these old airplanes is remarkable. They really are a unique sight to behold, and admission is free. Make sure you take the opportunity to visit Bismarck Airport in the next couple of days, or your chance will fly away!
[ add comment ]
( 4 views ) |
permalink
|
Click a dot to rate this entry:





( 3.2 / 256 )
---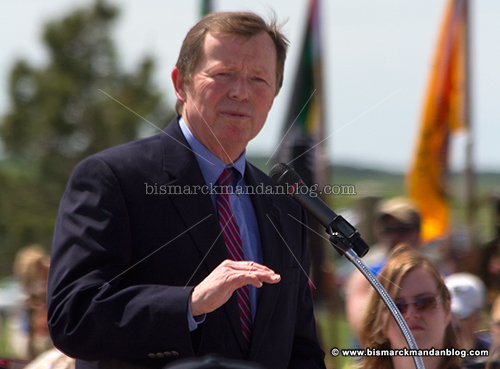 I'm up to here in filthy Labor Union money!
I've been decrying Earl Pomeroy's indebtedness to big labor unions for longer than I can remember. Just last week I posted about this, so scroll down if you missed it. Labor unions, which represent less than seven percent of North Dakota's workers, are the majority of Earl Pomeroy's top career-long contributors. They're bankrolling a lot of those ads for Earl that are flooding the airwaves lately. And they're getting what they paid for!
I'm glad to note that finally the mainstream media is picking up on this,
most notably this article in the Washington Times
. They're connecting the dots too, and it's really not that tough once someone starts paying attention. The problem (and reason why North Dakota elects Pomeroy, Conrad, and Dorgan) is that nobody has been paying attention for a long, long time. Times have changed, and they don't bode well for Earl.
The legislation mentioned in the WT article can be summed up like this:
- First, Labor unions wrangle and cajole benefits from employing businesses like a giant tick bleeding a dog dry. They do whatever they can to force these employers to provide benefits far and above what normal working families receive, and which are in many cases unsustainable.
- Next, when they're on the verge of bringing the employer to the point of closing up shop and leaving all those union employees to twist in the wind, they go to folks like Earl Pomeroy to write up a government bailout.
- In the end, the business gets screwed, the union hacks get what they want, we taxpayers get the bill, and Democrats get money and rent-a-thugs for their election campaigns.
We're watching, Earl. We're doing the math and watching your every move. You'd better start looking for a new job come November. Maybe one with a big, fat labor union benefits package!
[ add comment ]
( 1 view ) |
permalink
|
Click a dot to rate this entry:





( 3.3 / 265 )
---
<<First
<Back
| 96 | 97 | 98 | 99 | 100 | 101 | 102 | 103 | 104 | 105 |
Next>
Last>>