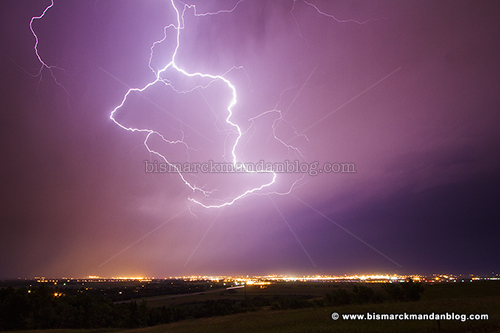 A wonderful fact to reflect upon, that every human creature is constituted to be that profound secret and mystery to every other. A solemn consideration, when I enter a great city by night, that every one of those darkly clustered houses encloses its own secret; that every room in every one of them encloses its own secret; that every beating heart in the hundreds of thousands of breasts there is, in some of its imaginings, a secret to the heart nearest it! --Charles Dickens
As I sat in the chair reading Dickens this evening I was reminded of a conversation with a friend earlier in the week. He remarked that I'm one of the most curious people he's met, and that it was meant as a compliment. It's true, I'm notoriously curious...and that's one major reason I started this Blog way back when. That's why the passage quoted above struck a chord within me as I read it tonight.
As a boy growing up in the Rocky Mountains (if at all) I remember looking out over the city below one night and realizing exactly what Dickens describes; each light in the city represents a home, full of people, doing whatever they're doing, feeling whatever they're feeling, and so on. It was an epiphany upon which I dwelled some time ago as I stood atop U-Mary hill with my camera, taking a wide-angle photo of Bismarck-Mandan. In fond remembrance I decided to take another such photo tonight.
As I reached the top of the hill I realized that a storm was approaching. I've taken almost 80,000 photos in my lifetime, but never really chased lightning; however, in this case it was a target of opportunity. As luck would have it, I was in the right place at the right time as a few giant lightning bolts danced across the frame. I may have to try this more often!
(Yes, the post title is a hat tip to the song title by the band Live)
[ add comment ]
( 9 views ) |
permalink
|
Click a dot to rate this entry:





( 3.1 / 126 )
---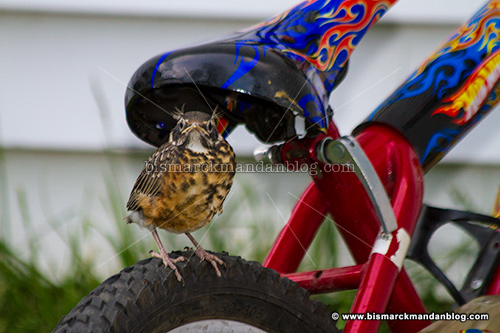 It's that time of year, when fledgeling robins leave the nest and learn to fend for themselves. We have a lot of worms in the soil on and around our property, so naturally we have a lot of robins as well. Early in the summer we start seeing the speckled robin chicks around the place, ambulatory but not quite taking flight with any great proficiency, hanging out for their parents to help them find sustenance.
This one somehow found a way to perch on my boy's Hot Wheels bike, and I think he really liked the feel of the tire on his toes. He spent a great deal of time there before flying off toward the wood pile in search of his mommy. She was hovering about but reluctant to swoop in with dinner since my two little guys and I were there watching, so we decided to head into the house for their bath time and let the robins have their dinner.
[ 1 comment ]
( 21 views ) |
permalink
|
Click a dot to rate this entry:





( 3.3 / 91 )
---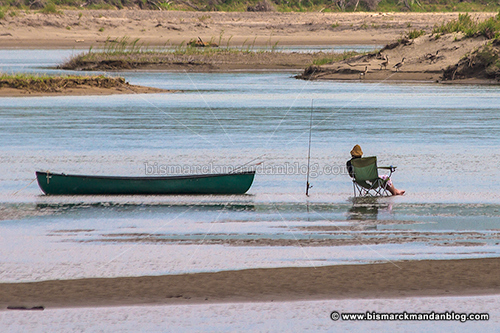 While on family vacation at Cross Ranch this weekend, I took a little time to attend a photo seminar and to strike out along the shoreline of the Missouri River for a little while with my camera. I consider any photo trip to be a success if I come back with even one interesting photo. In this case, I spotted the fisherman above.
For me, photography is a storytelling tool. I thought it very interesting that this guy had utilized the very shallow water over a sandbar to set up shop, complete with a chair and a pair of rodholders, to enjoy a little fishing. While in the middle of the Big Muddy, and technically still in the water, he'd used the sandbar to find a nice parking spot out in the middle of it all. But there was more to the story: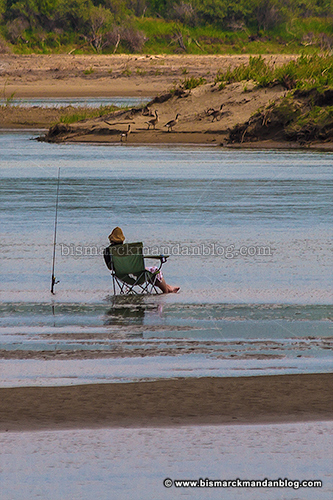 I didn't even notice this until looking at the photos back at home, but he's watching a gaggle of geese going ashore on the far side of the river. Things like this made it interesting to pore through my collection of various shots in this setting. While this was the only interesting thing I saw on my photo walk, I was able to explore different aspects of my shots as I cropped in for more detail.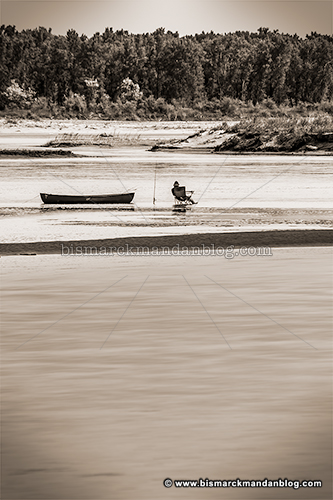 Back to the storytelling aspect of my photo walk...I wanted to show that this fisherman is actually out in the middle of the river, so I employed a trick from the photo seminar I attended at the Cross Ranch Visitors' Center: use telephoto to compress more distance within the frame. I was already shooting this setting with my 300mm lens, so by backing off a little bit I was able to include a lot of river in the foreground and show that this scene really does take place out in the middle of the Big Muddy. I like the black and white treatment because I think it conveys the simplicity of just sitting out in the water with a tiny boat, a lawn chair, and a couple of fishing rods while the world goes by.
When I went back to camp with my camera, I thought I'd made the bare minimum of one interesting photo. What I found was, although I only shot one setting, I had captured details which only made themselves apparent later when I had the opportunity to look at them full-size. Although I didn't realize it at the time, my photo trip had been far more successful than I could have known simply looking through the viewfinder.
[ add comment ]
( 12 views ) |
permalink
|
Click a dot to rate this entry:





( 3 / 103 )
---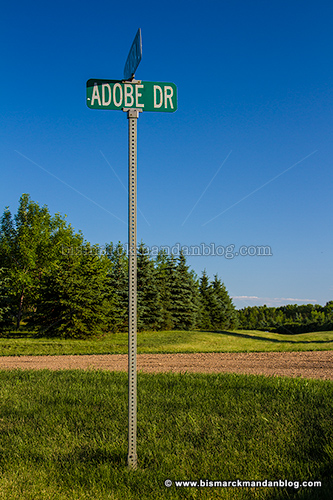 Poking around in northwest Bismarck I came upon this sign for Adobe Drive. Of course I had to stop and grab a photo; I'm a huge Adobe fan since I use Creative Suite products at home and at work for video, audio, animation, graphics...the works.
That got me thinking...if I was a developer and wanted to plat out a neighborhood, it'd be great to put together Adobe CS product names like Illustrator Avenue, Premiere Lane...or something double geeky like Flash Drive!
Of course, there are naming conventions for streets in Bismarck that would disallow that, but it's still fun to think about.
[ 1 comment ]
( 51 views ) |
permalink
|
Click a dot to rate this entry:





( 3.1 / 90 )
---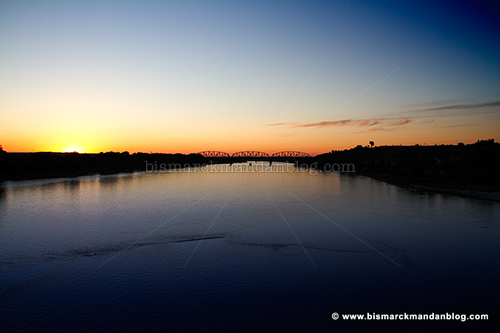 The new Liberty Memorial Bridge has one fatal design flaw: the pedestrian walkway is on the south side. There's very little to look at that way even on the best of days. The view to the north, however, is an entirely different story: the historic Northern Pacific railroad bridge, a wide expanse of open river, and of course the sunset. After my second consecutive 13+ hour work day I determined it was time to walk out on the bridge, on
the longest day of the year
, and see the sun set at its northernmost point. The sky even decided to cooperate, so it was a beautiful way to wrap up the day.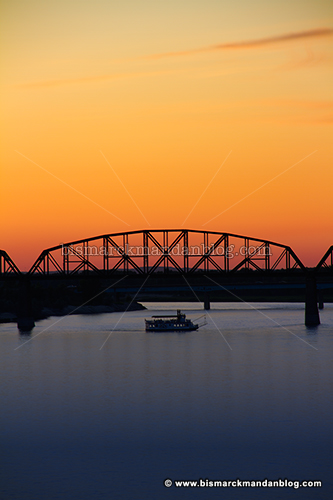 As I was brainstorming a way to frame my shot, I noticed the river boat pulling a
Crazy Ivan
underneath the NP bridge. It hovered there for a while before chugging upstream. It was a perfect example of the nice, leisurely feel I was enjoying for the evening. My long work week had come to a close, I was out with my camera on a gorgeous summer evening, and all was well. I also had Lost Lander playing on my iPod, augmenting the mood:
This video for Lost Lander by Stefan Nadelman is so visually stunning and absolutely perfect for this song, I just had to include it. Please give them three and a half minutes of your time and watch it. He calls it "the additive evolution of prime numbers" and it looks both organic and hypermathematical all at the same time.
Have a good weekend - get out and enjoy this wonderful world!
[ add comment ]
( 18 views ) |
permalink
|
Click a dot to rate this entry:





( 3 / 82 )
---
<<First
<Back
| 24 | 25 | 26 | 27 | 28 | 29 | 30 | 31 | 32 | 33 |
Next>
Last>>